Rumor Has It - November 2020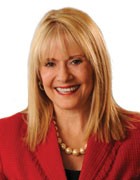 Click the Buzz Me button to receive email notifications when this writer publishes a new article or a new article in this column is published.
They met at SMU in Dallas. Allison Cooley and Jared Rosen met 12 years ago, but they did not become an item until they were set up as each other's dates to a wedding. The love birds flew from one continent to another during their courtship. Last year in Sydney, Australia, Jared chartered a seaplane for lunch at a restaurant on a hill overlooking a bay and popped the proposal. They said I do on Sept. 12 in the backyard of Allison's childhood home with 16 guests and Maggie and Molly, their dogs. They honeymooned on a private island in Aruba with wild flamingos mingling around. Wildly happy parents of the couple, Byron and Roz Cooley and Dr. Jeff and Lisa Rosen, get to celebrate again when the couple have a ceremony at their original place in Beaver Creek in September 2021. A second honeymoon will be to the Maldives and Africa. Wild!
In her free time. When she's not gardening or in a water aerobics class, Mary Grace Landrum is most often found as a volunteer at Landrum Middle School, with the West Houston Leadership Institute or with the Gathering Place at St. Cecilia. She also will help oversee the Rebuild Texas Fund to assist Texans recovering from Hurricane Harvey, as she was just reappointed to the OneStar National Service Commission.
When will we meet? When Sara Boyle got her first teaching job, she did not expect it would be a virtual experience. On the plus side, she admits she got to ease in with virtual learning before dealing with in-person classroom management. She was surprised how much practice it took to get her tech skills to flow smoothly, but her students were patient. Sara teaches journalism at Spring Branch Middle, with classes that range between 10 and 25 students.
Escape the furnace. While Houston temps were 103 degrees, Beckye and Steve Gross took Lily, Aiden and Simon to an escape from the heat to Angel Fire in New Mexico for two weeks. When they went, they said, there were no known cases of Covid in the county. Besides enjoying 40 degrees at night, they hiked every day, visited a natural hot spring, water rafted and went horseback riding. Angel Fire gets its name from the brilliant sunsets.
Welcome to Hunters Creek. Dianna and Hung Nguyen moved from inside the Loop late summer, looking for good-match schools and more space. Dianna is impressed by how kind and friendly their neighbors have been while meeting them on walks. The couple are both native Houstonians. Hung, a sports enthusiast, plays golf and enjoys a nip of whiskey while Dianna enjoys wine and getting children Taylor and Kyle to cook with her. The children spend time with their many cousins and have recently picked up a new favorite pastime of watching the neighborhood squirrels.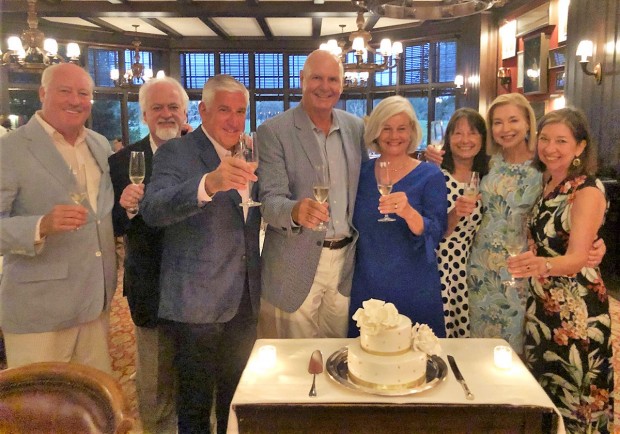 Memories for 40 years. It may have been 40 years ago when Cecily and Rick Burleson married, but when relaxing at a rented home in Sea Island, Georgia, with three of Cecily's former bridesmaids and spouses (Lynn and Ty Kelly, Meredith and Fielding Cocke, and Lisa and Ralph Betancourt), all still BFFs, it seems like yesterday. Then they celebrated with their sons and daughter-in-law, JR, Jeb and Callie Burleson. In their own little world, it seemed that there was not a pandemic to be found, only serenity.
The traveling shoe. On a family trip to Colorado, Julie Atlas Taylor stopped for a bathroom break in the pitch dark for her hubby Jeremy Taylor, whose new rainbow shoe fell out of the car unnoticed. Julie took a photo of the Milky Way while waiting for Jeremy's return. Upon arrival at the Frisco condo, the missing shoe was noticed. On the return trip two and a half weeks later, Julie found her photo of the Milky Way and used the coordinates to find the spot of the "rainbow." Shoe enough, it was on the side of the road waiting for the right foot.
Stay active. Donna Milstein has never sat still in her whole life. That's why when Covid-19 became a reality, she changed hers and those around her without skipping a beat. She created the Four-Leaf Towers Social Club at her high-rise residence so that the members could boost each other's spirits, solve problems, laugh together and even play virtual bingo. Donna started with Zoom activities, twice a week, beginning with a virtual cocktail party to help each other through uncharted waters. Speaking of waters, Donna, certified in aqua rehabilitation, also led the Mermaids water aerobics (women and a Merman) three times a week for an hour of exercise and camaraderie while water distancing. Donna's Dine-Ins was created to support local restaurants with meal deliveries to the residents weekly, with the help of Noura Nessim coordinating. 
The train ride. It was so much easier than Linda Suib expected. Take Amtrak across the country through 50 cities. AAA was her chosen choo-choo guide. She decided what cities to go to and how long to stop on the 12-day journey with friends Mark Stern and Rena and Harvey Zidell. She was surprised by how beautiful train stations were. There were lots of stops, and they got out in New Orleans to walk the empty streets and sightsee. Other longer stops were Chicago and Washington D.C., Portland and Los Angeles, where they stayed a few days and saw the Hollywood Walk of Fame. 
Have some good news to share? Email us at [email protected].
People in this article:
Allison Rosen
,
Jared Rosen
,
Byron Cooley
,
Roz Cooley
,
Jeff Rosen
,
Lisa Rosen
,
Mary Grace Landrum
,
Michael Landrum
,
Sara Boyle
,
Beckye Gross
,
Steve Gross
,
Lily Gross
,
Aiden Gross
,
Simon Gross
,
Dianna Nguyen
,
Hung Nguyen
,
Taylor Nguyen
,
Kyle Nguyen
,
Cecily Burleson
,
Rick Burleson
,
Lynn Kelly
,
Ty Kelly
,
Meredith Cocke
,
Fielding Cocke
,
Lisa Betancourt
,
Ralph Betancourt
,
JR Burleson
,
Jeb Burleson
,
Callie Burleson
,
Julie Atlas Taylor
,
Jeremy Taylor
,
Donna Milstein
,
Noura Nessim
,
Linda Suib
,
Mark Stern
,
Rena Zidell
,
Harvey Zidell
Want more buzz like this? Sign up for our Morning Buzz emails.
To leave a comment, please log in or create an account with The Buzz Magazines, Disqus, Facebook, Twitter or Google+. Or you may post as a guest.