Rumor Has It - December 2020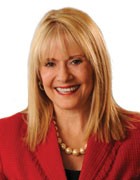 Click the Buzz Me button to receive email notifications when this writer publishes a new article or a new article in this column is published.
Not your normal 90. How would she include the whole family in a photo when they were so spread out during Covid? Marlene Bursten struggled with the puzzle for husband Larry Bursten's 90th birthday. Problem solved with life-size cut-outs of the family members who would not be able to travel from South Carolina. The others came in from Los Angeles, Dallas, Chicago and Aspen. Everyone was rapid Covid-tested before the party, and you found your seat at the table by a place card with a photo of a famous person with the same first name as yours. Marlene was Marlene Dietrich, and Larry was Larry David. A custom piñata of Larry's head hung from the balcony, and one of his canes was used to create a smashing splatter of candy. A photo book, "All About Larry," had memory pages from friends and family and a tag line on the back that said, "More to Come."
Cooking up some fun. Since April, a Spring Valley cul-de-sac on Hilldale has had a monthly socially distanced do. Often, Jerry Kent and his steak cooker and/or Steve Bass with his Cajun recipes are highlights. It is the right amount of organized chaos that pulls everyone together as they bring food, tables and chairs to the street. In the mix are Laura and Jerry Kent, Jennifer and Steve Bass, Ashley and Ryan Lewis, Sonia and Terry Greiner, Julie and Ray Gambino, Jenna (Jackson) and Brendon Gilbert, Bertha and Larry Vale, Melinda Barre, Angela and Greg Schroeder, Joy and Don McCormack, and Becky and John Sutjak. These Hilldale cul-de-sac residents provided dinner from Demeris Bar-B-Q for Spring Valley Village first responders, to show appreciation of their service.
A patio party. When Heather Horwitz Nelson moved to Hunters Creek, she was pleasantly surprised at how friendly all the neighbors were and so happy that there were so many children. Most days she would see them in the street from inside her house. With the help of the neighborhood directory, she found those with the youngest children and her immediate neighbors and invited them to a fall-oriented lunch on an outdoor patio at Carrabba's. She had age-appropriate party favors for parents to take home. It was the first time several neighbors had met, and a properly distanced group hug was given to Heather.
Lots of Files. It was a milestone birthday for Barbara Files that lasted a month. Many of her friends wanted to plan a party for her but felt uncomfortable in a large group, so they took her out one-on-one to restaurants with outdoor dining. Her family surprised her with a Zoom call, where they joined in from all parts of the country, while son Jason surprised her at the door with many treats, and daughter Jessica had her fave meal of rack of lamb, scallops and filet mignon sent from Mastro's. File those memories away. 
Charity starts at home. This year with Covid, the National Charity League (NCL) chapter was creative about the annual Mother-Daughter Tea, with a virtual meeting. Instead of the freshman girls welcoming and serving the guests, the Memorial chapter had aprons monogrammed with the names of the girls and put together tea boxes for pick-up in advance of the tea. The members also brought a donation of pantry goods for East Spring Branch Food Pantry and Casa de Esperanza. Involved new members Daisy Van Nuis, Mia Dowler, Riley Warnica, Addie Melster and Helena Adham agree lessons to be learned from a pandemic keep on giving. 
Giddy up. Anne and Chris Richardson flew Carolyn Faulk and Peggy and Wayne Hollis on Richardson Air to the Professional Rodeo Cowboys Association's Gold Buckle Knock Out at the 80,000-acre Cervi Family Ranch in Stoneham, Colo. They were there to watch the top 20 saddle bronc and bareback riders in the PRCA compete for spots for the National Finals Rodeo, which is normally held in Vegas, but, because of Covid, it will be in Arlington in December. It was an impressive once-only experience.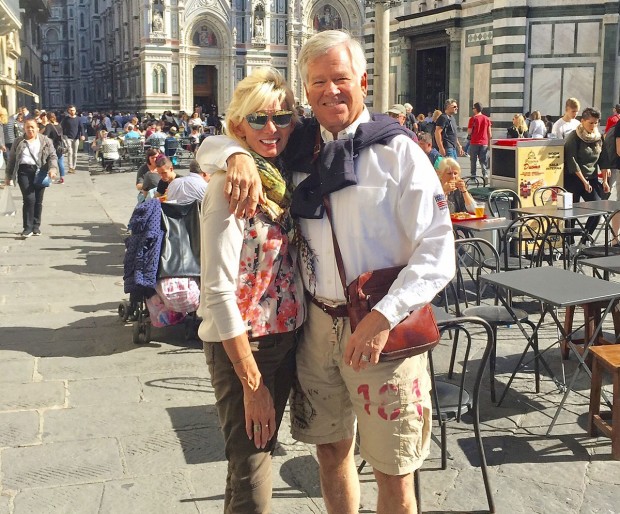 Quarantined in Italy. When Terrie Hogan Turner renewed her permesso, which allows her to stay at her second home, Villa Ercolano, in Citta Di Castello in the Umbria region each year for six months or more, she found she had to be quarantined for 14 days. The assigned doctor called daily while she submitted her temperature twice daily. Nurses gave her a Covid test, and the police came by to make sure she stayed home without guests. When hubby Mike came in, he was subjected to the same ritual. After quarantine, the pizza oven was brought to life, with local friends to share with but no one more ready than Mike, who ate pizza at 10 a.m. They had to leave earlier than planned, as Italy planned another lockdown. 
A charming fight. When friends got to a bar late to watch the Cowboy vs. McGregor UFC fight last January, they found a vacant reserved table. When the people whose table it was showed up, handsome Charles Kousoulis offered to share, and nine months later he was engaged to the lovely Angela Hosko, who stole his heart and table. On a trip to Washougal, Wash., their luggage was lost, with the engagement ring inside for the surprise proposal. With much relief, it arrived around midnight. Charles, Angela, her sister Jennifer and Erik Zamudio went on a hike, with a stop on a beautiful veranda. Charles asked Jennifer to take a "photo" which was code for "take a video – I'm about to propose." A spring wedding is planned.
No humidity. Meredith and Keith McCarthy, with Meredith's 88-year-old mom Sally Alcorn, found a respite at Mackinac Island with a gorgeous lake, 72 degrees, no humidity and no cars. Although Keith went as a child, with fond memories, they all went to experience the Grand Hotel. They took a horse-drawn carriage ride to sightsee and hiked the many trails to see the vast vacation homes, a mix of modern and 100-year-old homes. The island is a getaway for celebrities to avoid the paparazzi. Mackinac Island sits in Lake Huron, between Michigan's Upper and Lower peninsulas.
A trick and a treat. Friends gathered to surprise Larry Feingersh on Halloween for his birthday, which was actually a few days before. The surprise was at his own house since one knew where the hidden key was.  His son, Harry Feingersh, took him flying to keep him away until 7 p.m. for the surprise. Larry tried to arrange a party for himself, but since it was Halloween all his friends were "busy" with their grandkids but agreed to "meet on Sunday." Larry, known as a prankster, finally had the tables turned on him on this trick-or-trick night. Gary and Donna Bumpass were the first to arrive.
Have some good news to share? Email us at [email protected].
People in this article:
Marlene Bursten
,
Larry Bursten
,
Jerry Kent
,
Steve Bass
,
Laura Kent
,
Jennifer Bass
,
Ashley Lewis
,
Ryan Lewis
,
Sonia Greiner
,
Terry Greiner
,
Julie Gambino
,
Ray Gambino
,
Jenna Gilbert
,
Brendon Gilbert
,
Bertha Vale
,
Larry Vale
,
Melinda Barre
,
Angela Schroeder
,
Greg Schroeder
,
Joy McCormack
,
Don McCormack
,
Becky Sutjak
,
John Sutjak
,
Heather Horwitz Nelson
,
Barbara Files
,
Jason Files
,
Jessica Files
,
Daisy Van Nuis
,
Mia Dowler
,
Riley Warnica
,
Addie Melster
,
Helena Adham
,
Anne Richardson
,
Chris Richardson
,
Carolyn Faulk
,
Peggy Hollis
,
Wayne Hollis
,
Terrie Hogan Turner
,
Mike Turner
,
Charles Kousoulis
,
Angela Hosko
,
Jennifer Zamudio
,
Erik Zamudio
,
Meredith McCarthy
,
Keith McCarthy
,
Sally Alcorn
,
Larry Feingersh
,
Harry Feingersh
,
Gary Bumpass
,
Donna Bumpass
,
Heather Nelson
,
Dianna Nguyen
,
Sharon Brier
,
Lou Ann Chae
,
Melissa Higgins
,
Marnie Medina
,
Natasha Becton
,
Tiffany Bollis
,
Angie Kinsel
,
Kim Warnica
,
Dana Applegate
,
Cindy Gerow
,
Lauren Rutherford
Want more buzz like this? Sign up for our Morning Buzz emails.
To leave a comment, please log in or create an account with The Buzz Magazines, Disqus, Facebook, Twitter or Google+. Or you may post as a guest.