On a Lighter Note: National Rubber Ducky Day
Click the Buzz Me button to receive email notifications when this writer publishes a new article or a new article in this column is published.
"Rubber Duckie, you're the one. You make bath time lots of fun. Rubber duckie I'm awfully fond of you!" 
Ernie sang these lyrics about his beloved rubber duckie on Sesame Street in 1970. The song became a billboard sensation and was nominated for a Grammy. National Rubber Ducky Day is on January 13 to honor Sesame Street's Rubber Ducky's birthday. 
Rubber Ducks have been around since the 1800's providing generations of bathtub fun. Dive right in to see how rubber ducks keep Buzz fans quacking up.
In October 2000, aquatic physical therapist Lee Ann Payne was excited to assist patients in a brand new 94 degrees heated therapy pool inside her practice's recently opened River Oaks offices. 
Lee Ann shared, "My colleagues and I joked about how I was going to see patients in the giant bath tub. That analogy prompted my boss to buy a rubber duckie wearing sunglasses to place in the pool during sessions. Unfortunately, the duck tended to get sucked into the filter and require frequent rescuing, so we decided to put him in a safer place".  
Lee Ann explained that the pool area was enclosed but had one wall with large windows looking into the main clinic area so "land" patients could see what was happening in the pool and vice versa. A small ledge under the windows made the perfect rubber duckie perch. Not wanting him to be lonely, patients started bringing him some friends. 
Lee Ann laughed, "As with any collection, it always starts with one. People added comical and interesting ducks to our display including ballerinas, princesses, sports, Halloween, Monkey Duck, Marx brothers, Donald and Daisy Duck, Betty Boop, Uncle Sam, Elvis, Superman, and, to round it all off, Jesus. 
"One of my co-workers would joke and tell patients to look at our duckeration," said Lee Ann. "We had them all accounted for in case there was an 'abducktion.' The corny jokes could go on and on. I used the ducks to motivate patients to do certain exercises by placing their favorite duck by the poolside as a focal point to get through the session."
She continued, "The display of ducks brought joy to all and was a great icebreaker during initial evaluations, something to laugh about when patients were in pain, and a unique part of our clinic that patients will always remember."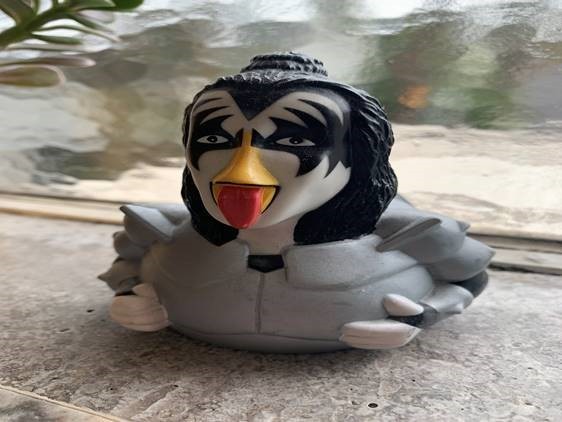 When the offices relocated fifteen years later, the duck collection had over 100 different ducks. Lee Ann saved a few of her favorites to display by her home bathtub including KISS's fire breathing rocker Gene Simmons.
Carole Eastburn's rubber duck themed tables always make a big "splash" at West University Baptist Church's Table Grace women's events. Amongst the plates and silverware, ducks line up hoping to hop into the big centerpiece tub full of Mama ducks floating on iridescent bubble globes. 
"I love rubber ducks, the variety and the quirkiness of them," said Carol. "They have a cheerful way about them and folks seem to always smile when they see them.  Even when it rains, there is a sense of 'making the best out of the situation'.  A favorite quote I had on a keychain for a while was 'Have a Ducky Day'."  
Watching thousands of yellow rubber ducks diving into Houston's Buffalo Bayou is quite a sight to see. Spectators cheer on the quacky athletes floating to the finish line. Ducks are adopted to win prizes and the proceeds benefit AFA, a Houston-based non-profit that provides youth music education that encourages kids to sing and playing music. The next Bayou City Duck Race is Saturday, November 6, 2021.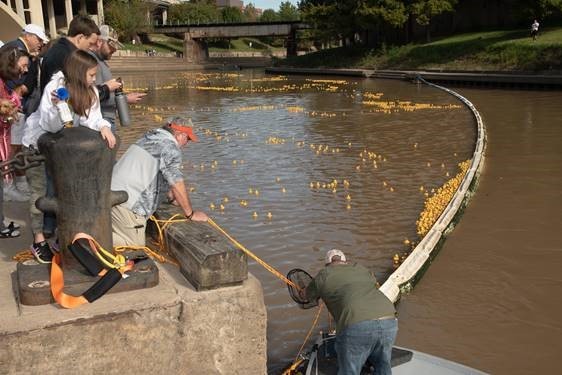 Our son Thomas' first birthday party was rubber duck theme. Afterwards, we put a few leftover rubber duck decorations by his tub. I occasionally picked more up on trips, for holidays or ones that make me smile. Visitors usually start laughing when the see dozens of toothless ducky grins smiling from our guest bathroom.  
Our rubber duck life came full circle last spring when we gave Thomas' fellow high school graduates, Class of 2020 cap and gown rubber ducks. I suggested Thomas take all our ducks to college and put them in the community bathroom. He politely declined. But rumor does have it that a few different colleges dorm windowsills and desk shelves just might have some rubber ducks smiling back at them.
Want more buzz like this? Sign up for our Morning Buzz emails.
To leave a comment, please log in or create an account with The Buzz Magazines, Disqus, Facebook, or Twitter. Or you may post as a guest.