Art in the Street
A pop of color on our commutes
Click the Buzz Me button to receive email notifications when this writer publishes a new article or a new article in this column is published.
All the world's a ... canvas? In Houston, artists have taken to the streets, bringing their craft to traffic intersections around the city.
In a project called Mini Murals, artists organized by UP Art Studio have joined forces over the past six years with the City of Houston, area nonprofits, and civic leaders to brighten otherwise dull traffic-signal control boxes with hand-painted murals.
Sheila Hall, a Buzz resident as well as an artist and aspiring muralist, loves to hunt for them with husband Jim and 8-year-old son James. "When I see a new one I haven't noticed before, I get a little excited because each mural is different from all of the others," said Hall. "Then with the more familiar ones, I start to have favorites, so I am happy to see them too." Her husband's favorites are the boxes painted to blend into the background. He looks at them as a sort of mural "hide and seek."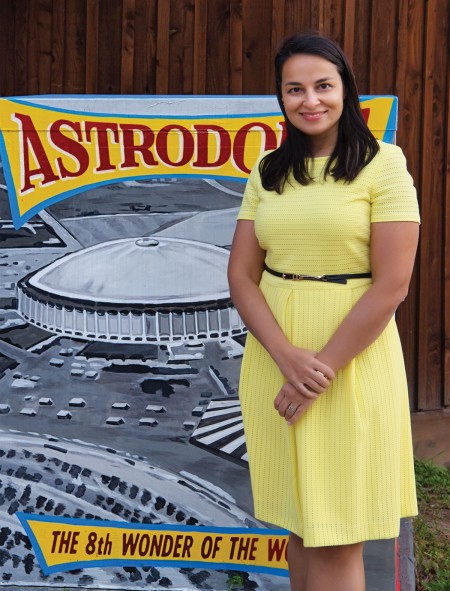 Hall would love to paint mini murals herself one day. "I believe art can change people's lives and that living with original art adds a special energy to an environment that is not the same as a reproduction. The mini murals exist right with people; I don't have to make an effort to go to the museum to see them. They're right on my regular route."
She has been watching the project spread across the city in recent years with joy. "Take all the wires and poles that make our city run and add delight to the scene – that's the mini murals. It elevates the look from something that's practical, sometimes ugly, or at best unconsidered and makes it something with a purpose."
The first round of 31 murals was commissioned in Houston's District K, the southwestern part of the city reaching into Fort Bend County, by the late Houston City Council Member Larry Green. The popular project exploded throughout Houston and even launched in Austin. With subsequent sponsorship (from $2,500 to $4,500) from other city council members, as well as community-improvement groups like Memorial Management District and nonprofits such as ROCO, more than 300 mini murals have been installed around Houston since the project's launch, with more in the works. Most are commissioned with clear guidelines for the subject matter, and other designs are purely the brain-child of the artist.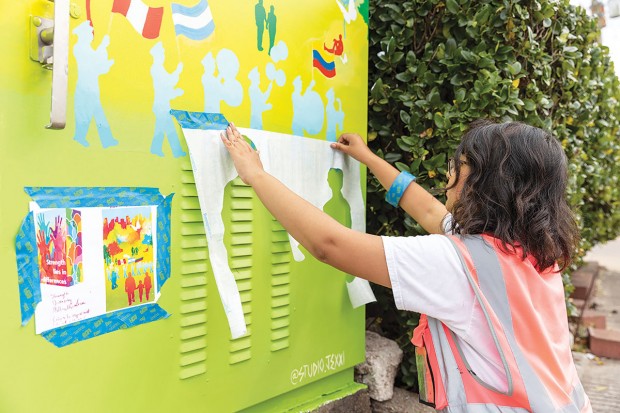 Muralist Jessica Padilla, better known as Jexxi in the art world, has painted more than a dozen mini murals in Greater Houston. Her designs range from the futuristic – robotic fingers reaching to touch human fingers in Memorial – to honorable – four female Supreme Court justices in The Heights. 
"Art in general just makes me smile, so my hope is that it makes someone else happy too," said Padilla. The goal, she said, is "civic pride through civic art."
One prominent mini mural created by Padilla is the whimsical "Let's Play" box in Highland Village at the corner of Drexel Drive and Westheimer Road, across from the Apple Store. The bold mural showcases musical instruments – a trumpet, clarinet, maracas – swirling around the cube on a crimson background, inviting passers-by to stop for a playful photo imitating a musician. 
"The goal is for the design to be visually appealing up close, but not too complex for the people driving at a distance," said Padilla. "I usually try to do simple backgrounds featuring big images and text or simple shapes and silhouettes. Whichever design, I like to use bright, vivid colors because they get people's attention, and I think they really liven up the scenery."
Another mural by Padilla is "Strength Lies in Differences" on Bellaire Boulevard at Chimney Rock and Gulfton, featuring hands reaching upward in a rainbow of colors.
Aside from the unusual size of the painting surface, the setting – en plein air – presents its own set of challenges.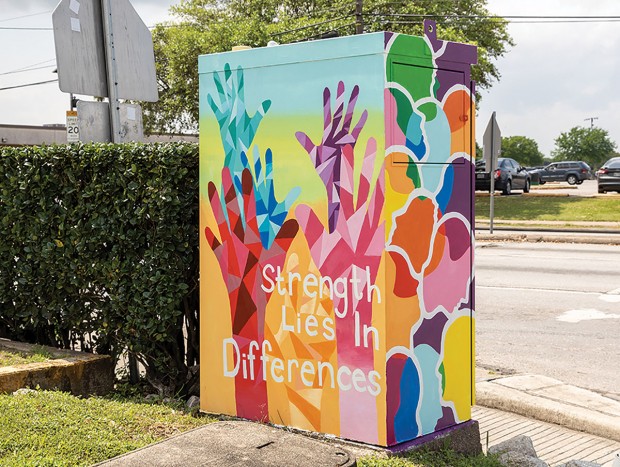 "Making murals on a smaller scale is easier in that it's faster," said Padilla. However, "I'm used to painting indoors, so for me, the weather affects me the most. It's really easy to get heatstroke in Houston when you forget to take breaks and sip water, because you're just so in the zone."  The winter months can leave her with cold fingers, which struggle to keep a brush steady, and Houston's unpredictable rain patterns are a whole other story. 
The shape of the boxes requires some forethought, as well. "The design can be a single image wrapping around the entire box, but avoiding putting detailed things on the edges of the box can get frustrating," said Padilla. Passers-by can only see one side at a time of this rectangular prism, and details can get lost in the curve of a corner. "The box could also have a different design on each side, so that means deciding which side or sides are most visible to the public." 
Padilla, a Houston native, said she is inspired by the impact this project has had in the community. "I've even had kids ask me how they can get into art when they grow up. It makes me so happy to know we're encouraging creativity to young minds, in addition to spreading a message and a bit of happiness where there normally would be a plain metal box."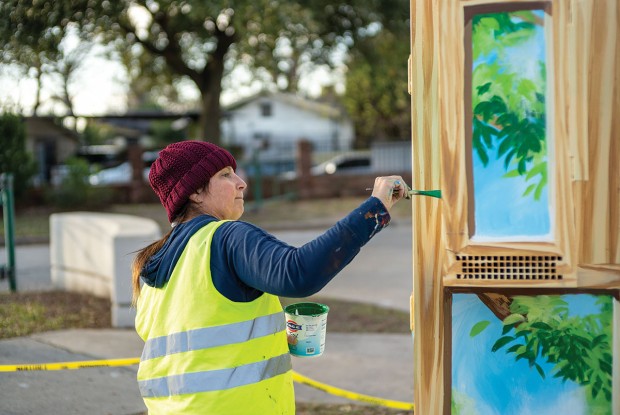 I love that the project spreads beyond the areas prone to have art or landscape design," said muralist Anat Ronen. "I love that the project is ever evolving and includes different artists and different styles and supports the artists in the community. I love that, little by little, we manage to change – even if temporarily – the urban landscape for the better."
In Houston's Museum District, Ronen's mini mural featuring familiar classics greets visitors on Main Street at Wentworth – setting the mood for a rendezvous with the masters. Watch for it on your left soon after exiting northbound Highway 59 and turning right onto Main Street, just past the ARKA furniture store. 
Ronen included homages to Vincent Van Gogh's Starry Night, Johannes Vermeer's Girl with the Pearl Earring, Michelangelo's The Creation of Adam from the Sistine Chapel, and Piet Mondrian's geometric primary colors.
"When I paint other people's art, especially the masters, I try to get into their heads and understand how and why they painted the way they did. I learn a lot," said Ronen, who also creates art with sidewalk chalk. "In my pieces made with chalk, in festivals, it's very common to replicate pieces from the past."
Often a mini-mural sponsor brings ideas to the table; other times, an artist is given a blank slate. UP Art Studio, the design studio working as the middleman between sponsors and artists, keeps a catalogue of ideas submitted by artists for sponsors to peruse. One design Ronen submitted more than four years ago recently found its way to a traffic-signal control box at Moody Park (alongside the rail line on Fulton Street at the entrance to the Moody Community Center) in an unexpected yet powerful way.  
In January, the city recognized Human Trafficking Awareness Month with four boxes in northside Houston funded by the City Council representative for District H, Karla Cisneros, and Mayor Sylvester Turner's Office of Human Trafficking and Domestic Violence. The boxes showed a hotline to call with reports of human trafficking (1-888-373-7888) alongside a mural selected by the community. The selections included Ronen's leafy tree framed by a wooden border, with a cardinal breaking the illusion of the frame by resting in the forefront.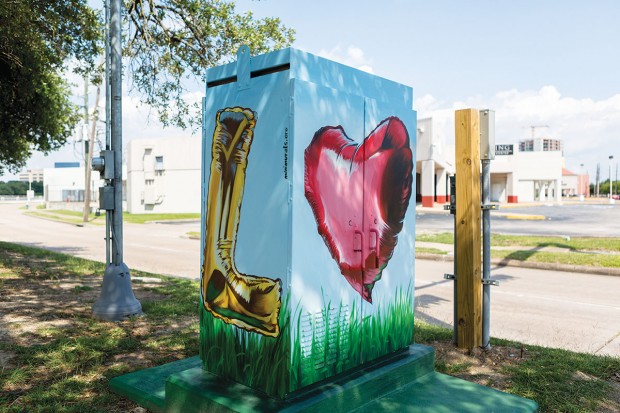 "The thought behind it is a nature pod, an escape from urbanity in a sense," said Ronen. "I can see how it resonated with them – maybe in the sense of having a window to a different reality and escape from life. I added the cardinal to bring some more life into the scene and signify freedom."
Ronen was surprised to realize the impact of these pint-sized murals, expecting their diminutive nature to be far less impressive than her large-scale wall murals, which can also be seen all around the city. 
"Coming from the street-art arena, bigger is better, and those boxes, in the urban setting, are quite small. I didn't think they would have any impact," said Ronen. "The impact is huge."
In the Medical District, at South Braeswood Boulevard and Kirby Drive, Ronen transformed a box into four cheerful and colorful mylar balloons – each in the shape of the letters L, O, V, and E, with a heart for the O, so the mural is "a pop of color, an eye candy in the midst of urbanity. My thought process was: 'The traffic light box has four facets; the word love has four letters."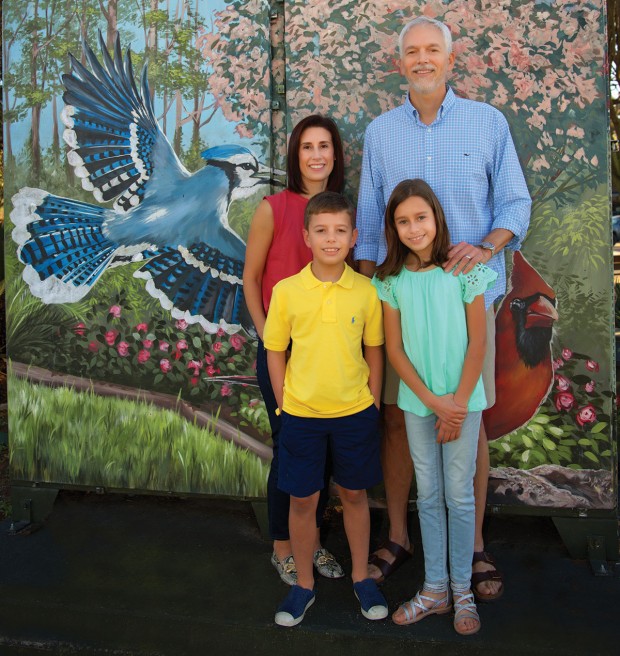 Megan and Chris Jordan, Buzz residents, keep their eyes peeled for murals when cruising around town with their two kids, Lauren, 10, and Matthew, 8. Megan works as a broker for refined products, and Chris is a lawyer specializing in municipal law and public finance. On her pre-pandemic commute to work, Megan used to admire the pink flowers adorning the traffic control box at Bellaire Boulevard and First Street sponsored by City of Bellaire and painted by Gelson D. Lemus (also known as "w3r3on3").  
Now, she frequently passes the Houston Fire Station 37 mini mural, ablaze with an homage to the firefighters – which can be found across from the station on Stella Link Road south of Bellaire Boulevard. It was sponsored by former Mayor Pro Tem and Council Member Ellen Cohen.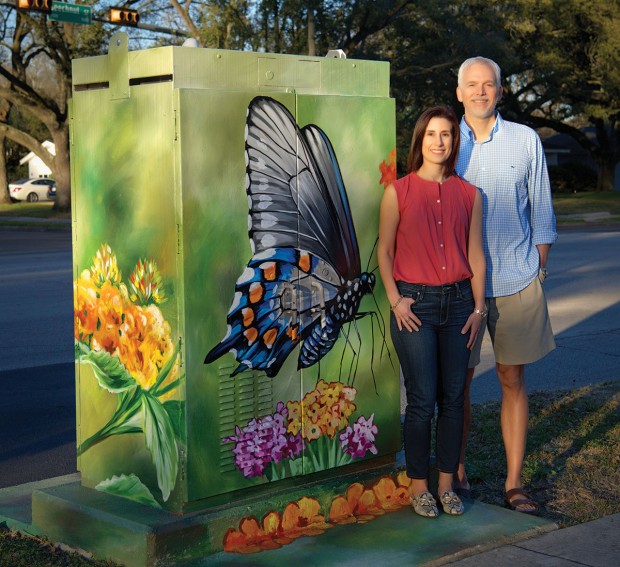 The Jordan family enjoys playing at Evelyn's Park on Bellaire at Newcastle, where the nature-themed mini murals, sponsored by City of Bellaire and painted by Lemus, pay homage to the scenery. 
"I like that my kids can see art in a different form," said Megan. Her children enjoy creating art at home, and the mini murals around town serve as a new form of inspiration. They can see art "doesn't have to be on paper or a canvas."
Looking for artists now
The deadline is March 15 for Texas artists to apply for the next round of the Mini Murals Program organized by the Mayor's Office of Cultural Affairs and UP Art Studio. To apply – and to discover more about the existing 300-plus murals and their creators – see minimurals.org.
Want more buzz like this? Sign up for our Morning Buzz emails.
To leave a comment, please log in or create an account with The Buzz Magazines, Disqus, Facebook, Twitter or Google+. Or you may post as a guest.