Families on safari
Click the Buzz Me button to receive email notifications when this writer publishes a new article or a new article in this column is published.
Freyja and Travis Lauritsen were all set to go on safari in the summer of 2020. But, as with so many other families, their travel plans were waylaid by the pandemic.
"We were going to go to Tanzania and do a deep dive in the Serengeti," recalled Freyja. "We had it all put together and finalized over Spring Break – but obviously the whole world went on hold, so we said, 'We'll try for summer 2021.'"
But then the stars lined up just right for a trip over Christmas. The Kenyan government had opened up tourism in a safe way in limited areas, their friend and tour operator Andy Biggs told them. You had to have a PCR test for Covid to come into the country; the camps were required to have clear protocols; the staff had to quarantine ahead of time away from their villages and stay in the camp. Andy was organizing a tour for his family and needed a few more people to fill up the slots so they could get their own private camp.
"Yes, you had to get there, but once you got there, it sounded pretty safe," said Freyja. "So then the decision became: 'Do we really want to do this?'"
They would be in the middle of the game reserve, with their own family and in their own tents.  Their three children – Lydia, Caris and Henrik – were already back in school at Memorial High School and Spring Branch Middle School, so exposure was a fact of life.
Travis's parents were invited as well, and for the once-in-a-lifetime opportunity to make these memories with their grandchildren, they were willing to take the risk.
And so it was that the Lauritsens spent an unforgettable week in Kenya, most of it in a remote bush camp in the Maasai Mara region. "We spent five solid days on amazing game drives in jeeps, interactions with the Maasai people at our camp, and overall an amazing experience," said Freyja.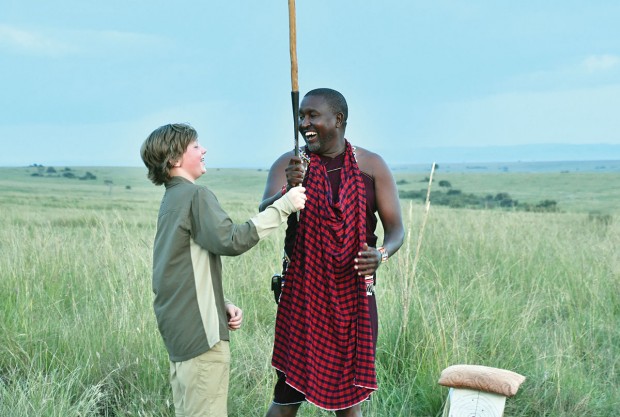 The pandemic shut down safari tourism for months, but that shutdown is now officially over, said Andy. "People are starting to plan their trips right now. And they're wanting to get outdoors because nature heals. People are not looking to travel to big cities; they're looking to travel and have unique experiences in wilderness," said Andy, citing Travel + Leisure on "Why This Could Be Your Year to Take a Safari." 
Likewise, it's a good time to support community-based businesses in hard-hit regions like Africa whose economies depend on tourism. That's a major focus for Tanzanian native and safari planner Mefi Pishori Alapat, who says, "Africa needs you as much as you need Africa."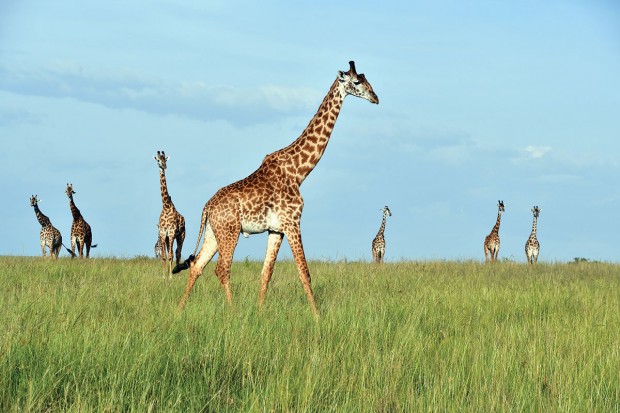 The Lauritsens' trip began with two nights in Nairobi with a visit to the Sheldrick Wildlife Trust, an elephant orphanage and nonprofit that rescues and raises abandoned infant elephants. Then it was off to a private camp on the edge of the Masai Mara National Reserve. They were taken to their Hemingway-style tents, each one with its own bathroom and king-sized bed. That night they would open the tent flaps and hear the hippos down by the river.
At each tent, a Maasai warrior stood watch all night to ensure the safety of the guests. "If a hyena or lion wants to come into your camp, it's not a problem," said Freyja. "The Maasai use their spears, not guns, and the animals are born into a reserve with no weapons, so there's no fear."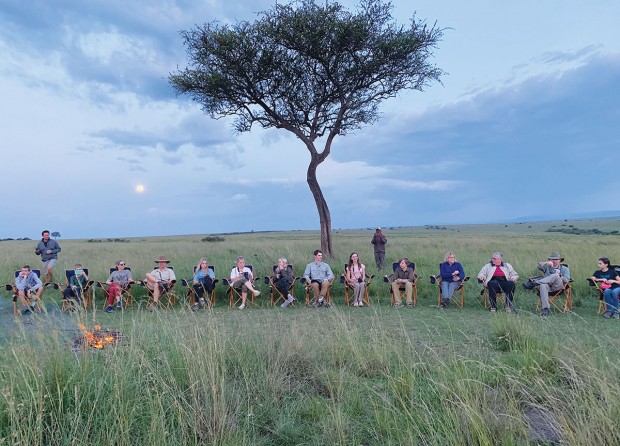 Their Maasai companions were a highlight. They were able to enjoy plentiful interactions, and before it was over, they had become friends, with one of them becoming a pen pal.
Highlights included a mother cheetah with four new babies and a herd of giraffes standing stock-still, as if in formation. One of the most unforgettable experiences happened when they came across an old, very thin male lion. He had dug a huge hole trying to catch a warthog, a small tusked pig, and was covered in dirt and mud.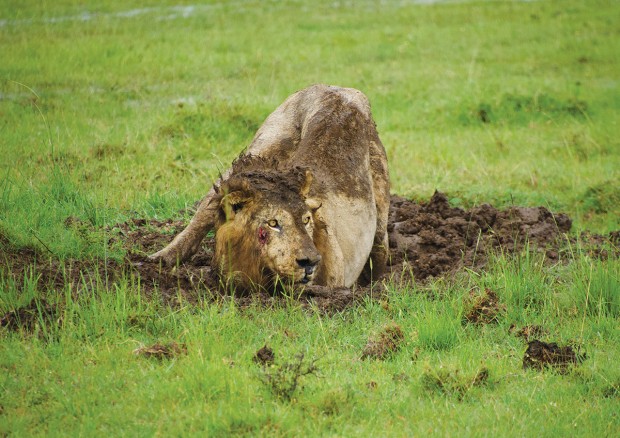 There they watched mesmerized as a natural drama unfolded for more than an hour and a half. "He was trying so hard to dig out that warthog, flipping upside down, burning all his energy. When he came up, his face had been ripped under his eyes." They realized the lion was starving. "You could see how skinny and desperate he was," said Freyja. "The guides said that was one of the most unique hunts they'd ever seen."
Natalie Engineer had a lifelong dream of going on safari. Born and raised in the south of France by Indian parents, she would go much further than Africa before zeroing in on that goal. Natalie, an oil trader, and husband Vipul, a project manager, ended up settling in Bellaire in 2011 and traveled the world from there. But safari was always in the back of Natalie's mind; she and the children – daughter Alisah, 11, and son Ariyan, 9 – would go to the zoo every weekend and dream. "It was something that was always very dear to me," she said.
So for her 40th birthday, she and Vipul decided to finally take the leap; they would treat themselves and the kids to a Tanzanian adventure. Natalie had read about a safari lodge that supports the environment and the communities of its workers – Singita.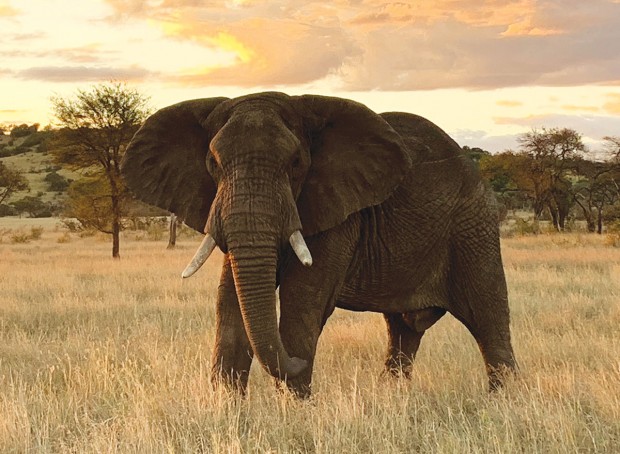 "It was a great place to go – not only because it's a great way to see Africa but also because it was a way to do the small part that we could." She booked their trip with Mefi (Tanzanian native and safari planner Mefi Pishori Alapat), who knew about the lodge, for August of 2019. And their guide ended up being the same one who had served as a guide to the Obamas when they were there on safari.
The trip was everything they'd dreamed of and more. They flew from Houston to Qatar and stayed a couple of nights there in Doha to acclimate to the time difference. From there they flew to Kilimanjaro and boarded a small plane to take them to the heart of the Serengeti. 
"That experience was out of this world because you land – not on a runway, but on the Serengeti itself, and giraffes and all this wildlife is right near you as you deplane. And then on our way to our lodge we had a little detour and there was a lioness who was feasting on a wildebeest. And she was literally less than two feet away. And with little kids in an open-air Jeep, you're very nervous; but my kids were amazed by seeing this wildlife so close."
Like the Lauritsens, they rose early every day and went on a game drive, spending up to six hours in the jeep every day. "Never once did my kids complain," she said. "They were mesmerized."
She gave each of the kids a Polaroid camera and a journal, and every day, between morning and evening game drives, they would write about their experiences and draw pictures of what they'd seen.
"It was like being in a movie for them, with all these amazing wildlife creatures around you," said Natalie. "We spent two hours just watching a cheetah fail in her hunt – she was trying to get an antelope, and she missed. Eventually, she found a baby antelope and was able to kill it, which was a little emotional – but it's just the circle of life, if you will."
One night they couldn't even go back to their lodge for a while because an elephant herd was crossing in front of their jeep, so they had to stop and wait. Another day, they saw two teenage elephants fighting, and the mother trying to separate them, as the baby slept through it all on the sidelines. 
Back at the hotel, the wildlife was plentiful as well. A family of monkeys was an endless source of entertainment – but prone to mischief.
"They liked to play in our pool; for them it's a party resort," she recalled with a laugh. "One day they came trying to steal Alisah's markers. They were playing with our towels and we were watching them behaving like children."
All too soon it was over, and all that was left were the memories – and journals and pictures. On the flight back they spent some time perusing them.
"Seeing the safari through my kids' eyes was hilarious," said Natalie. "They saw different things than I did."
The Lauritsens, too, treasure their photos and memories, and they are quick to urge others to follow their lead. 
"There's a lot of travel shaming going on; travel is kind of dicey these days. You want to do the right thing, but you want to live your life," said Freyja. "We chose Africa knowing we'd be out in the open with a private group of people who had all been tested. We tried to do a vacation that was somewhat Covid-friendly and take advantage of this awesome look at the wild with our family."
Editor's note: Buzz travel columnist Tracy L. Barnett is a Lowell Thomas travel journalism award winner and longtime travel and environmental writer. Email her at [email protected] to share your own travel tales.
Want more buzz like this? Sign up for our Morning Buzz emails.
To leave a comment, please log in or create an account with The Buzz Magazines, Disqus, Facebook, Twitter or Google+. Or you may post as a guest.