What's In Season?
At the farmers market in early summer
Click the Buzz Me button to receive email notifications when this writer publishes a new article or a new article in this column is published.
After a bumpy start to the spring planting season – when Winter Storm Uri halted progress and led to massive replanting efforts by farms across the state – the fields are bountifully growing our early summer produce now.
At the farmers market or in your weekly farm share, look for tender fruits and vegetables like zucchini, green beans, cucumbers, strawberries, and – yes – tomatoes. Grab your tote bag and some cash, and let's go.
Tomatoes: Let's start with the most exciting of all summer produce: tomatoes. Homegrown Texas tomatoes are (nearly) effortless to enjoy and don't even require a recipe.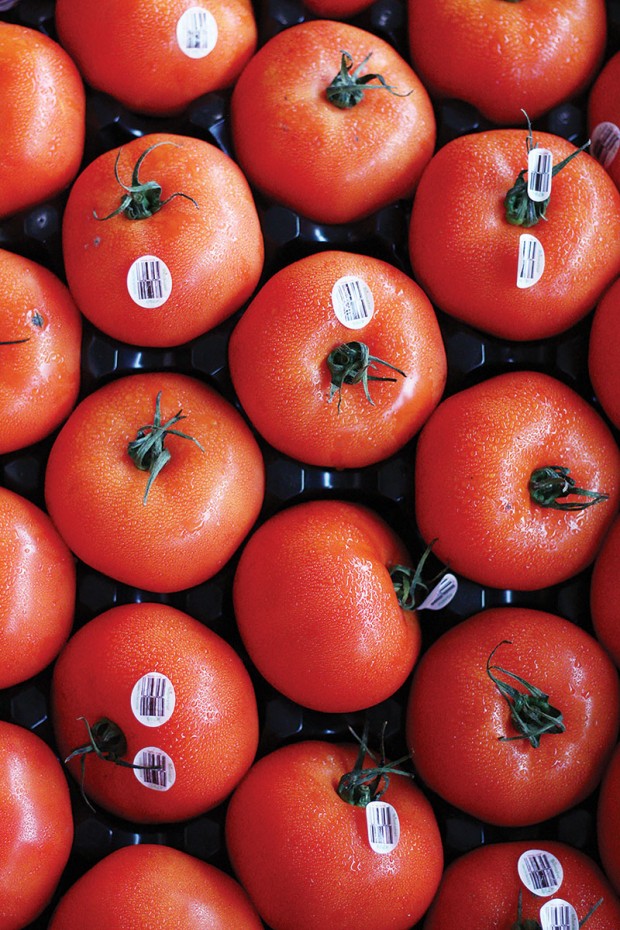 You can keep it vegetarian with a tomato-and-mayonnaise sandwich topped by a sprinkle of salt and pepper, or go all in with a classic BLT. 
With only a few minutes of effort, brighten any Mexican-inspired dish with a refreshing pico de gallo:  Dice tomatoes, red onion, garlic, jalapeño, and cilantro, and toss with a squeeze of lime and dash of salt. 
Get a quick and vitamin C-rich dinner on the table in no time by simmering tomatoes with olive oil and garlic, then tossing with any cooked pasta and some fresh basil. Presto! Tomatoes have become the star of a dish you won't soon forget.  
Green beans: Green bean plants thrive in Houston, and their gentle grassy flavor lends itself to many cuisines – such as Asian stir fry and Thai curry.
One simple, comforting and seasonal dish on constant rotation at my home in the summer features green beans with homemade pesto and pasta. A large, stone mortar and pestle pound the pesto ingredients into a rich paste, amplifying its flavor while releasing the ingredients' oils, but a food processor will also do the trick in less time.
Adapted from America's Test Kitchen
¼ cup pine nuts, almonds or walnuts, toasted
3 garlic cloves, peeled
½ teaspoon salt
2 cups packed fresh basil leaves, torn
2 Tablespoons fresh parsley leaves (optional)
¼ cup extra-virgin olive oil
¼ cup finely grated Parmesan cheese or Pecorino Romano
In a mortar, pound the nuts, garlic, and salt into a paste with the pestle. Add basil one handful at a time and mash into the nut paste; repeat with remaining basil and parsley. Stir in olive oil and parmesan. Season with salt and pepper to taste.
3 cups green beans
16 oz. bite-sized pasta, such as gemelli or penne
½ cup basil pesto
Snap off the stem end of the green beans, then snap beans in half to make the beans bite-sized, if desired. Blanch green beans in generously salted, boiling water until bright green, about three to five minutes. Scoop out green beans with a sieve, then quickly cool in an ice bath. Return water to boiling, add pasta, and cook following instructions on box. Reserve half of a cup of pasta water, and strain pasta. Return pasta to pot off the heat. Toss pasta with green beans and pesto. Add a splash of pasta water to loosen the pesto and coat the pasta. If desired, top with drizzle of olive oil and sprinkling of parmesan. 
Cucumbers: There's just something about a bright, refreshing pickle straight from the fridge on a hot summer day. (I won't get into how oddly nice it is with a little peanut butter.) With cucumbers at their peak, be sure to get a basket from the farm stand and plan to make an easy refrigerator pickle with this super quick and satisfying recipe.  
Brine:
2 cups apple cider vinegar
2 cups water
1 Tablespoon salt
1 Tablespoon black peppercorns
¼ cup of sugar
In the jar:
1 or 2 jalapeño peppers, sliced into rings
6 cloves of garlic, peeled and smashed
5-6 cucumbers, sliced into discs or spears
Place jalapeños, garlic, and cucumbers in a jar. Bring all brine ingredients to a boil in a saucepan. Remove saucepan from heat for 30 seconds, then pour brine mixture into the jar over cucumbers. Cover loosely and leave on counter to cool completely. Once cooled, seal tightly and refrigerate. (You can add a little more salt or sugar to adjust to taste, if needed.) The pickles will last up to three weeks in the refrigerator.
Zucchini: A few summers ago, I was hunting for dinner ideas to use up a surplus of zucchini and summer squash. You only have to say "pizza" once to sell me on the idea, so this one was a no-brainer after I ran across the recipe. After trying it, we immediately added it to our summer meal rotation. Trader Joe's sells plain and herbed pizza doughs in a bag in their produce section; it is a perfect solution if you don't have time (or desire, let's be honest!) to mix your own dough. 
Adapted from Smitten Kitchen
1 Tablespoon olive oil, plus more for fingertips
16 ounces uncooked pizza dough (or focaccia dough)
2½ pounds (about 5 small-medium or 3 large) zucchini or other summer squash, trimmed
1½ teaspoons fine sea salt
2 cups (8 ounces) coarsely grated gruyere cheese
2 to 3 Tablespoons plain breadcrumbs
Heat oven to 450°F with a rack in the center. Brush a full-sized rimmed sheet pan with olive oil. Set dough on pan and loosely cover with greased saran wrap or a damp kitchen towel to allow dough to relax for 20 minutes. Remove cover and use oiled fingertips to gently press the dough across the pan to its edges. If holes form, just pinch them together. 
Use the large holes of a box grater to grate the zucchini. In a large bowl, toss the zucchini with salt. Let stand for 30-60 minutes until the zucchini has wilted and released its water. Line a colander with a dark-colored dishtowel, add zucchini, and twist to squeeze out as much water as possible. Back in the large bowl (wiped out if still wet), toss the zucchini with the gruyere shreds and breadcrumbs, being sure to break up any clumps of zucchini. Taste the mixture; it should be seasoned enough from the salt, but you can add more, plus ground pepper or pepper flakes if desired. 
Spread the zucchini mixture over the dough, going all the way to the edges of the pan and piling it a bit thicker at the edges, where it will brown first. Bake for 20 minutes, until the topping is golden. Remove from oven, cut into squares, and dig in.
Strawberries: Strawberries are a blink-and-you-miss-it early summer fruit in Texas. There is no more satisfying way to enjoy berries than in a light and sweet, yet brightly tart, crumble of strawberries, blackberries, raspberries – any berry you've got. Don't forget the side of vanilla ice cream or pour-over of cream. 
And here's an insider tip: Make extra crumble topping to keep in your freezer for the next time you have excess fruit and an unexpected need for a special treat. (Try it once, and the craving will hit you when you least expect it.) This recipe is endlessly adaptable for the fruits of all seasons – think peaches in late summer or apples in fall.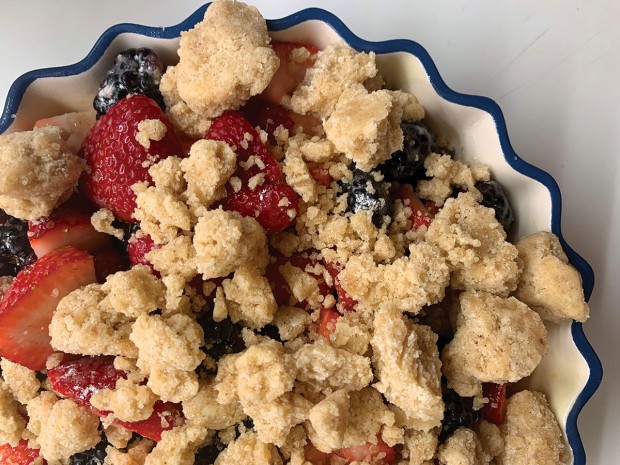 Adapted from The Kitchn  
Filling:
6 to 7 cups fruit, enough to almost fill pan
½ to 1 cup granulated sugar, depending on the sweetness of the fruit
1 to 3 teaspoons freshly squeezed lemon juice
1 to 3 Tablespoons cornstarch, depending on juiciness of fruit
1 teaspoon ground spice, such as cinnamon, ginger, or nutmeg (optional)
Crumble topping:
1 cup all-purpose flour
½ cup packed light or dark brown sugar
1 teaspoon baking powder
½ teaspoon ground cinnamon (optional)
¼ teaspoon salt
8 Tablespoons (1 stick) unsalted butter, at room temperature
Heat oven to 375°F with rack in center position. Coat a 9-by-9-inch or 11-by-7-inch baking dish with butter; set aside.
Prepare the fruit filling. If necessary, dice the fruit into bite-sized pieces, removing any stems, seeds, or inedible parts. Toss the fruit with sugar, lemon juice, cornstarch, and any spices in a large bowl. Use more sugar and less lemon juice when cooking with tart fruits, like rhubarb and blackberries, and less sugar but more lemon juice for sweet fruits, like peaches and plums. (Just taste the fruit you're using and adjust to taste.) Use more cornstarch with very juicy fruits like plums and less with firm fruits like apples. Pour the fruit filling into the baking dish. Transfer the fruit filling into the baking dish.
Prepare the crumble topping. Whisk the flour, sugar, baking powder, cinnamon, and salt together in a large bowl. Cut the butter into a few large pieces, and toss these in the dry ingredients. Using your fingers, a fork, or a pastry cutter, work the butter into the dry ingredients until large, heavy crumbs are formed. Scatter the crumble topping evenly over the fruit.
Bake until the fruit juices are bubbling around the edges of the pan and the topping is firm to the touch, 30 to 35 minutes. Let the crumble cool for at least 15 minutes before serving. If transporting to a picnic or party, let the crumble cool completely to give the fruit filling time to set.
To make a crisp: Add ½ cup of old-fashioned rolled oats or ½ cup chopped nuts (or both) to the topping.
Farmers markets in Houston
Houston Farmers Market, 2520 Airline Drive, Daily, 5:30 a.m. to 6 p.m.
The Houston Farmers Market, an open-air covered market in the Heights, has seen three years of transformation since a new owner launched renovations with a goal of carrying its 79-year history as a farmers market into a modern experience. Featuring both new and generations-old vendors, the market is the only daily farmers market in the city. Coming to Houston Farmers Market this summer: a full-service restaurant named Wild Oats, focusing on locally sourced Texas cuisine, by chef Nick Fine of Chris Shepherd's Underbelly Hospitality group.
In addition, check out these nearby markets:
Braeswood Farmers Market, 8620 Stella Link at Braeswood, Wednesday, 3 to 7 p.m., and Saturday, 9 a.m. to 1 p.m., 8601 Chimney Rock, Sunday, 10 a.m. to 2 p.m.
Freedmen's Town Farmers Market, 1320 Robin St., Saturday, 9 a.m. to 2 p.m.
Heights Mercantile Farmers Market, 714 Yale St., second and fourth Sundays, 9 a.m. to 1 p.m.
Memorial Villages Farmers Market, 10840 Beinhorn Road, Saturday, 9 a.m. to 1 p.m.
Rice Village Farmers Market, Kelvin Dr. at Amherst St., first and third Sundays, 10 a.m. to 2 p.m.
Urban Harvest Farmers Market, 2752 Buffalo Speedway, Saturday, 8 a.m. to noon
Want more buzz like this? Sign up for our Morning Buzz emails.
To leave a comment, please log in or create an account with The Buzz Magazines, Disqus, Facebook, Twitter or Google+. Or you may post as a guest.