Texas' Third Coast
Click the Buzz Me button to receive email notifications when this writer publishes a new article or a new article in this column is published.
The last lazy days of summer are upon us, but there's still time for a quick getaway – or a not-so-quick one, if you've got the time. Being Texan is a blessing in this regard because you're just a day trip away from the legendary Third Coast – as some have affectionately referred to this 367-mile stretch of Gulf Coast from Port Arthur with its Pleasure Island, Miracle Beach, and swamp tours all the way to the bright blue waters of South Padre Island. 
The Texas coast offers a stunning variety of experiences – from the rustic nature experience of North Padre Island and Mustang Island State Park to the more urbanized feel of South Padre Island. With 70 miles of coastline in between, there's something for every mood and every member of the family.
South Padre with the family
Lauren Harte and husband Kevin Hargrove have explored a good bit of that coast. Often they've shared the adventure with their little ones: 7-year-old Ellis, 5-year-old Miles, and now, 2-year-old Hannah. They've enjoyed Galveston together frequently, and they've also explored North Padre, Mustang Island, and Port Aransas. Last year they wanted to get to know a bit more of Texas, so they planned a road trip to South Padre Island.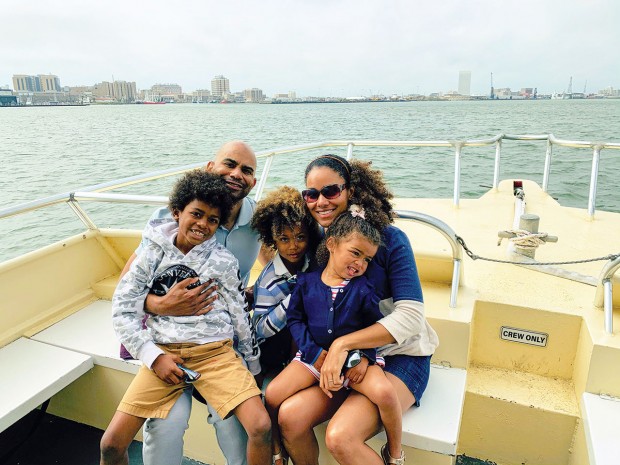 Lauren, who grew up in New York, had never been there; Kevin had been in his college days for Spring Break partying, but they both wanted to see a different side of the island.
"We had heard that it was really family-friendly, and it's really pretty. It's further south, it's closer to Mexico, with prettier water, and there's a lot to do," said Lauren. 
So they rented a townhouse with a pool just a block from the beach for a week in August, loaded up the car, and made the 5.5-hour drive. "We just brought a bunch of beach supplies and food for the road – they have pretty much everything you would need there, so not a ton of trip preparation was needed," she said. 
First impressions: "It seems like a nice beach town. It has lots of restaurants, beautiful weather… I was struck by the fact the water was so blue and the sand was so nice and soft – so we headed straight to the beach, which is where the kids wanted to go."
There was no shortage of things to do. One day they rented a chartered speed boat with a captain, who took them to an uninhabited island, where they snorkeled and looked for seashells and did some dolphin watching. Another day they went to the South Padre Island Birding, Nature Center and Alligator Sanctuary, where the kids held a baby alligator and different kinds of frogs and snakes. A self-guided tour took them around the refuge and to the observatory, where they could look out on the water on one side and the dunes on the other.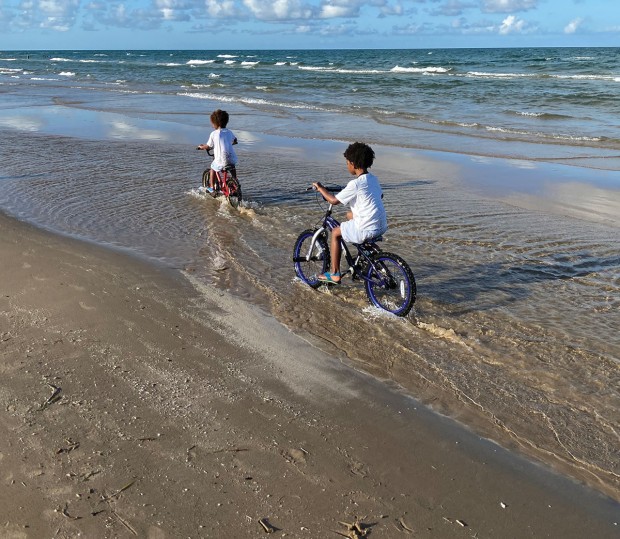 They spent time at the Sea Turtle Rescue Center, admiring the creatures in recovery from injuries sustained in the wild. And they walked through the marsh along the Laguna Madre Nature Trail, observing the habitat from different observation piers.
"You can sit there and reflect and have a peaceful moment by the water – fish were jumping out of the water, and the kids thought that was cool," said Lauren.
Another day they decided to drive back across off the island through Port Isabel to Laguna Atascosa National Wildlife Refuge. A car breakdown stranded them there – but it could have been much worse. They had landed near a lake with a shelter, so they had a picnic and played near the water while they waited for roadside assistance to come and repair the vehicle.
Treasured memories include hanging out at the beach and at the pool, riding bikes on the beach, and watching fireworks from the balcony. "It was so nice to be there for the full week to be connected to nature," said Lauren. "We loved it so much I booked a return trip – there were still things we didn't see that it had to offer. It was so relaxing and a really great getaway."
Father-daughter fishing escapes
Bill Sengelmann's father was an avid angler, and when he was 15, his dad started taking him bay fishing in the Lower Laguna Madre, one of only three hyper-saline lagoons in the world. Port Mansfield, which is where they would traditionally go, is known as Redfish Landing for the fantastic redfish populations that inhabit its waters. 
"The bug kind of bit me, so that's how I got started," he recalls. About 20 years ago he began fishing with a guide named David Rowsy, who soon became a dear friend. He bought into a cabin with seven other men on an island at the mouth of Baffin Bay, about a 45-minute boat ride from Corpus Christi, where conditions are similar to those of Port Mansfield. The cabin became his retreat, where he'd go to escape the pressures of daily life in the city.  
"It's beautiful," he says. "You can hang out and get away from everybody."
Bill's getaway island is one of many that are formed from the dredging of the intercoastal canal. His island is simple, just a rustic bit of sea, sand, and sky that his cabin buddies share with the four other houses on the island – and that's just the way they like it. The only way to get there is by boat, with a 40-minute ride from Bluff's Landing in Corpus Christi, so often they have the whole island to themselves.
When daughter Gretchen turned 15, Bill invited her on a father-daughter fishing trip – what would turn out to be the first of many. The bug bit Gretchen, too, as it turned out, and she was soon just as passionate about bay fishing as was her father and her grandfather before him. 
The Sengelmanns do wade fishing, which is where they stand in the water with their waders, sometimes up to chest-deep. 
"The first day she jumped in that water, and we fished for a total of seven hours," he marveled. "That's a long time for a newcomer, and she loved every second of it. Her first catch was a 28-inch redfish."
That trip was 12 years ago. Now Gretchen is 27 and a speech pathologist at Easter Seals, and the fishing trips with Dad have become a special part of life. Sometimes brother Sam, 25, comes along, too, though it's never quite become the passion for him that it has for Gretchen.
"It feels like meditation, like a breath of fresh salty air – just a way to press the pause button," says Gretchen.
The father-daughter duo never use live bait, they only use artificial lures – a technique that they say increases the challenge and the sportsmanship factor. They go to bed early the night before and get up at 5 or 5:30, getting out on the water by 6 or so, catching dozens of redfish, flounder, speckled trout and others. A trip in early June was typical; they caught 50 or 60 fish, keeping only the very best five or so for themselves, Grandpa, and a friend or two.
"I just think it's special for a father and a daughter to have something like that – I feel like it's rare," said Gretchen. "It's fun to see that part of his life, and definitely it's deepened our bond. 
Whether I have daughters or sons I do intend to carry that on, and it's something I hope I continue to do forever."
From sea to shining sea
Bee Vines is from Malaysia and Singapore, so the sea has always been an important part of her life. She was delighted when, a couple of years ago, her three boys developed a love for bay fishing. So she and her partner, Rene, along with Logan, 16, Atticus, 14, and Paden, 11, load up the car and head to the family bayhouse in San Leon, on Dickinson Bay, every chance they get.
"It's a good getaway – the kids love fishing, and the good thing is, we eat what we catch," said Bee.
San Leon's laid-back, authentic atmosphere sets it apart from the sparkle of Galveston; there's a reason why Texas Highways magazine referred to the town as "a taste of the real." The only chain store is a Dollar General, and the locals are a resilient and self-reliant breed – mom-and-pop entrepreneurs and Vietnamese shrimpers are more common here than tourists. Its beaches are intimate, and its sunsets over the long wooden piers are enchanting. Boat-to-table seafood establishments like Pier 6, Topwater Grill, and Gilhooley's Restaurant and Oyster Bar regularly inspire diners to make the 40-minute drive from Houston, though they may not know they're going to an unincorporated place known as San Leon.
Bee's family has a membership in Freedom Boat Club in Galveston, which offers members access to their entire fleet, so they just pick a different boat each time; sometimes it's a pontoon boat, sometimes a fishing boat. Members pay a monthly fee, and the club takes care of the rest: maintenance, cleaning, storage, insurance, and repairs. Bee has learned to drive, so sometimes she takes her turn at the stern.
It's been fun watching the boys learn to become experienced fishermen.
"They all have their own fishing poles, and they are very independent when it comes to fishing," she said. "They know how to bait, cast, and reel in the fish – and they are always the first to volunteer when it's time to clean the fish – and that's something very challenging, as you have to gut and clean the fish before you cook it.
 "The best part is the fight – especially if you find a big fish," said Bee. "It's the patience to wait until the fish gets really tired. You have to have the strength to wait."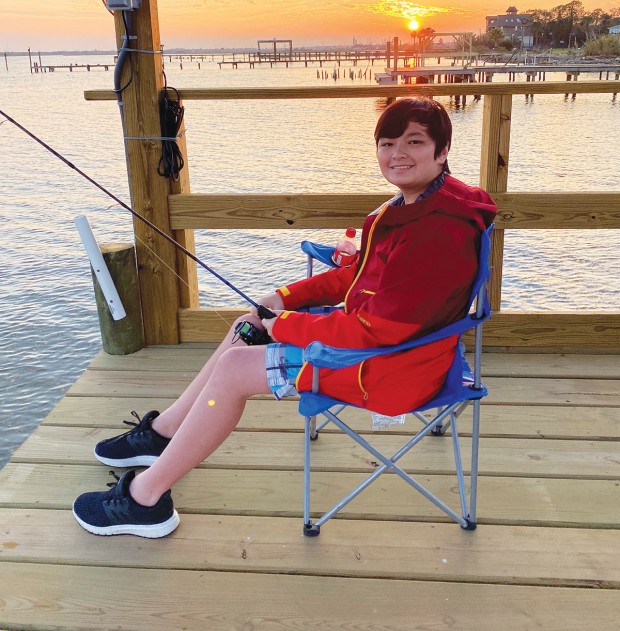 One time they'll never forget was when one of the boys hooked a massive black drum and fought over 30 minutes until the line snapped against the wooden pier. The boys took turns to fight the fish, and Bee witnessed teamwork and brotherhood.
"The kids were so disappointed, they were speechless," she said.
The experience of being by the coast has been incredibly enriching for them, she said. "It opens up their horizons, it takes them away from the devices – it's taught them about patience," she said. "They can sit there and listen to music, and the family time is important – we really treasure that. Being close to nature, you feel really happy. Being able to ground your feet in the sand and get rid of negative energy is a plus."
For more, see Waterfront Dining: In Bayview, Bacliff, and San Leon by Dai Huynh. 
Editor's note: Buzz travel columnist Tracy L. Barnett is a Lowell Thomas travel journalism award winner and longtime travel and environmental writer. Email her at [email protected] to share your own travel tales.
Want more buzz like this? Sign up for our Morning Buzz emails.
To leave a comment, please log in or create an account with The Buzz Magazines, Disqus, Facebook, or Twitter. Or you may post as a guest.