Artisanal bread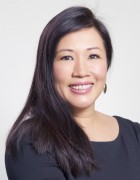 Click the Buzz Me button to receive email notifications when this writer publishes a new article or a new article in this column is published.
Bread is magic. The baker is the wizard. Flour, salt, water, and yeast are the ingredients in the cauldron. Time is important, too. Top-quality artisan bread dough ferments for at least 18 hours to develop a tangy, wine-like complexity.
The result of such simple ingredients is captivating. First, a ball of dough – soft and supple as a baby's butt – is transformed by radiating heat into a dark chestnut-brown round, or boule in French. Then, still warm from the oven, the country bread – weighing 1¼ to 2 pounds – is broken apart by hand, and out comes a whiff of the gentle flavors of wheat and fermentation. It is one of the great pleasures of life. All you need is good European butter to slather on the soft interior crumb and coffee to start the morning.
It has gotten easier for Houstonians to buy this kind of artisanal bread with the advent of several new bakeshops. Magnol French Baking, Badolina Bakery & Café, and White Elm Café & Bakery have joined the stellar lineup of Kraftsmen Baking (611 W 22nd St.),  Artisana Bread (965 Pinemont Dr.), French Riviera Bakery (3100 Chimney Rock Road), French Gourmet Bakery (2250 Westheimer Road), Common Bond Bistro & Bakery, and Three Brothers Bakery. (The last two have several outlets.) And, of course, we need to mention the wholesalers, such as Cake & Bacon, Slow Dough Bread Co., and Bread Man Baking Co. 
With this kind of momentum, we anticipate more artisanal-bread shops to open. Meanwhile, here are three to explore. 
Badolina Bakery & Café (5555 Morningside Dr.) is a 1,500-square-foot, made-from-scratch gem in Rice Village. This tiny bakery has only three tables inside. So instead, most customers are on the verdant patio, sipping gourmet coffee and savoring an amazingly moist and aromatic gluten-free, dairy-free orange cake or another dessert.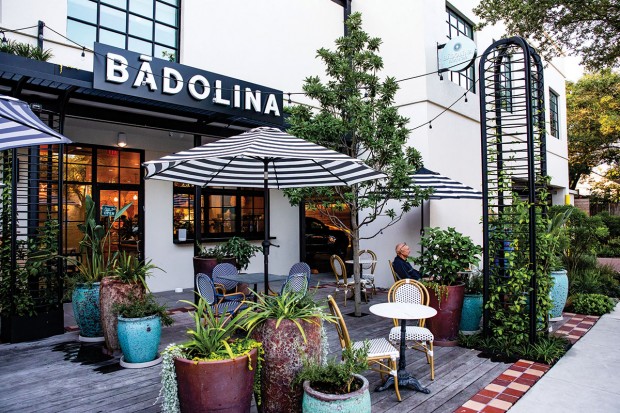 Various Israeli baked goods are available from executive pastry chef Michal Michaeli, such as spinach-and-cheese burekas and sambusak, a softball-sized, hand-held bread "empanada" stuffed with eggplant, tahini, tomatoes, and a boiled egg. In addition, Badolina preciously displays five or so rustic breads inside round wall cubicles. A unique offering is the sourdough bread, a dusky orb with sour cherries to balance the smoke. Challah is available only on Fridays, along with babka, an Eastern European yeast-risen coffee cake. 
"This project is born out of passion," says partner Itai Ben Eli of Sof Hospitality, which also operates Doris Metropolitan. "In Israel, you can find a bakery on every corner. Buying bread is a daily ritual. I remember my father waking up early to buy fresh buns to make sandwiches. Having day-old bread is almost a crime." 
Magnol French Baking (1500 N. Post Oak Rd.) buzzes with activity on a recent Sunday morning. A crowd of people waits to get inside. The line wraps around the red-brick building.  It is only 8:30 a.m. Houstonians rarely pack into restaurants and cafés before 10:30 a.m. on the weekend. But these folks know to get here early because Magnol frequently runs out of its popular double-baked almond croissants. 
Before his expansion, Magnol chef-owner Otto Sanchez recalled people lining up as far as Hempstead Road, leading to the bakery. He hadn't planned on this when he opened his wholesale bakery in March 2019. 
The goal was to sell organic, rustic boules and oblong batards and baguettes to restaurants only, and then in the second year, he might test the water by retailing croissants. In the third year, he might add a few more pastries and maybe even desserts. After all, Magnol, tucked deep into a nondescript office strip, isn't visible from Hempstead Road. It would take time to build a retail business, or so Sanchez thought. 
Within three months of opening, he and partner Matthieu Cabon started selling plain and chocolate croissants to the public. It snowballed, and now, there is a glass case brimming with tarts, cookies, eclairs, canneles, and madeleines. Nearby are trays of freshly baked croissants and shelves with baguettes and other styles. The terms boule and batard refer to the bread's shape. A boule is round, and a batard is oblong.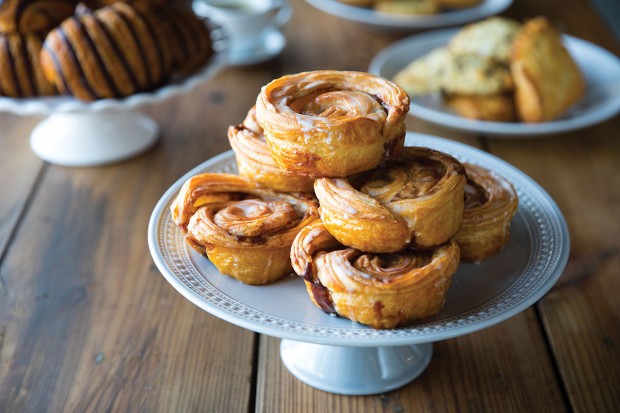 Recently, Magnol expanded its 250-square-foot retail lobby to 750 square feet and added a 300-square-foot patio. Magnol has built a loyal following of foodies and chefs through word-of-mouth, even if its prices are a few bucks more than other bakeries. But it's worth it, fans say, because it's all in the fine details. 
The butter in the croissants comes from Normandy. The Mariage Frères teas are flown in from Paris. The olive oil and kalamata olives for the bread are carefully sourced from Greece by a small purveyor. Sanchez's flours – six different kinds – are freshly milled, less than two weeks old upon arrival. But the key is "The Mother," the source of his levain, the fermented starter he adds to bread dough. The Mother is seven years old, and the older the "Mother," the more complex the flavor of his naturally leavened rustic bread.  
The crust crackles when you slice Sanchez's French country bread. But it's not tough or chewy. The crumb – or tender interior – is soft, moist, and riddled with holes created from the expanding fermentation gasses during proofing. It tastes yeasty, nutlike, and underlined with a subtle tang that lures you back for another bite. 
White Elm Café & Bakery (14079 Memorial Dr.) is the brainchild of Chico Ramirez, who sold his share of Field & Tides in the Heights to open a 3,445-square-foot, chef-driven concept in the Memorial area. It was an ambitious project. Ramirez wanted an in-house bread and pastry program, which involves bread economics. 
Will it pay off? This question is what drives the majority of restaurants to buy their loaves and baked goods. Still, Ramirez strongly believed making your bread would fill an empty niche in the Memorial area. He also wanted to control the quality of his products, so he hired 29-year-old executive pastry chef Jamie Orlacchio.
On most days, diners in the cozy private dining room can fork into sky-high, tender quiches while watching Orlacchio prep, roll dough, and simmer chocolate sauce through a large window with a view of the pastry kitchen. 
Orlacchio wanted to be an optometrist, but then the baking bug bit, and she enrolled in the pastry program at the Culinary Institute LeNotre. She credits French master chef and Etoile Cuisine owner Philippe Verpiand for her brioche. Later, she worked with chef Otto Sanchez at La Table, just before he opened Magnol.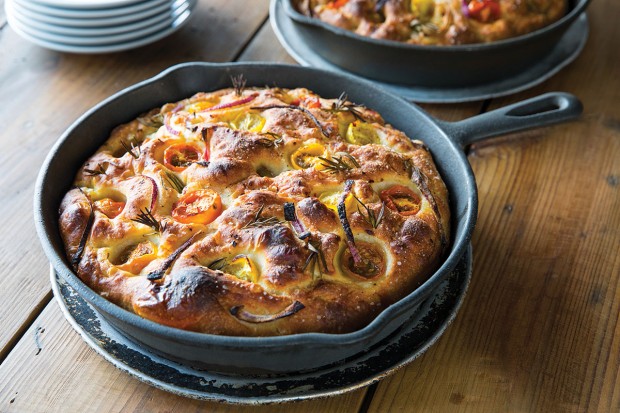 These days, she fills White Elm's pastry case with 20-plus baked goods, including croissants, scones, tarts, and muffins. Generally, she offers four different soft loaves, including pain de mie (plain white bread) and pumpernickel. Her best-sellers are the cranberry walnut loaf and French baguette. She says one of her favorite things is to tear off a piece of baguette and slather it with Jif peanut butter and apple butter. 
Here is a recipe for apple butter and White Elm's muhammara, a tasty red pepper spread that can be used on sandwiches or as a dip and even added to soups and stews for an added kick and complexity.
This delicate spicy red pepper spread has its roots in Lebanon and North Africa. It goes great with bread and pita. This recipe is from Chez Nous chef-owner Stacy Simonson, who designed White Elm Café & Bakery's menu. For your holiday party, spread muhammara on a sliced baguette and top it with creamy feta. 
2 (12 ounces) jars of roasted red peppers
1 cup walnut 
½ cup breadcrumbs 
¼ cup chopped garlic
4 Tablespoons pomegranate juice
2 teaspoons molasses
1 teaspoon salt
In a food processor, chop red peppers for 20-30 seconds. Add walnuts, breadcrumbs, garlic, pomegranate juice, molasses, and salt. Continue to process until you have a semi-smooth consistency. Don't over process, and you'll want a little bit of texture to the spread. Season with more salt to taste.  Transfer to a large or two mason jars. Seal the jars and store them in the refrigerator for up to 10 days. Makes 2 cups. 
White Elm Café & Bakery executive pastry chef Jamie Orlacchio grew up slathering apple butter on warm toasts. Set it out in a bowl with cheeses and bread for the holidays or put it into mason jars to give as gifts. 
1¼ pounds tart cooking apples, such as Granny Smith (about 4 medium)
1 pound ripe pears (about 2 medium) 
1½ cups apple cider or apple juice
1 cups granulated sugar 
1 Tablespoon fresh-squeezed lemon juice, strained
1-2 cloves 
¼ teaspoon ground cardamon 
Half of a cinnamon stick 
Core, peel, and cut apples and pears into quarters. Place apples and pears into a 4- to 6-quart heavy pot or Dutch oven with apple cider. Bring to a boil; reduce heat. Simmer, covered, for 30 minutes, stirring occasionally.
Press apple-and-pear mixture through a food mill or sieve. (You should have 3½ to 4 cups.) Return pulp to pot, and stir in sugar, lemon juice, cloves, cardamon, and cinnamon. Bring to a boil and reduce heat to low. 
Cook, uncovered, over very low heat for about 1 to 1½ hours or until thick enough that mixture mounds onto a spoon. Stir often to prevent scorching. Place the pot in a sink filled with ice water; stir apple butter to cool. Ladle into half-pint freezer containers, leaving a 1/2 -inch headspace. Seal and store in the refrigerator for up to 2 weeks or freeze up to 6 months. Freezing may darken apple butter. Makes 2 to 3 half-pints. 
Toast appetizers
Hors d'oeuvres are a must for any cocktail party, but it's no fun to grind over tiny finger foods. Our pastry gurus and chefs say toast appetizers are quick and easy. They're also great for using up day-old bread. Slice the bread into triangles or use a cookie cutter to make circles before toasting. Allow the bread to cool completely, then go crazy. Below are 10 super easy inspirations from our chefs, many straight from the cupboard. 
1. Hummus (storebought or homemade) topped with caramelized onions or chopped fresh jalapeños. 
2. Almond butter with thinly sliced Granny Smith apples.
3. Basil pesto topped with cherry tomato halves and shaved Parmesan cheese.
4. Finely chopped smoked salmon sprinkled with chopped chives and a dollop of crème fraîche.
5. Thinly sliced prosciutto sprinkled with Aleppo pepper and drizzled with extra-virgin olive oil.
6. Mashed avocado, seasoned with garlic salt and black pepper, then topped with sliced hard-boiled eggs.
7. A spoonful of goat cheese, topped with sliced, riped figs and drizzled with syrupy balsamic vinegar.
8. Sliced brie topped with sliced pear or apple, then drizzled with honey and seasoned with fresh cracked black pepper.
9. Slices of Stilton blue cheese topped with a teaspoon of either raspberry preserve or onion jam.  
10. Ricotta cheese with sliced strawberries and drizzled with honey. 
Editor's note: Buzz dining columnist Dai Huynh is a James Beard food-journalism award winner and longtime Houston-based restaurant writer.
Want more buzz like this? Sign up for our Morning Buzz emails.
To leave a comment, please log in or create an account with The Buzz Magazines, Disqus, Facebook, Twitter or Google+. Or you may post as a guest.