From Little League to Rice
José Cruz Jr.'s team is at home
Click the Buzz Me button to receive email notifications when this writer publishes a new article or a new article in this column is published.
José Cruz Jr. stands near home plate at Rice University's Reckling Park, surveying the green field edged by grandstands and oak trees, with Med Center towers shooting skyward beyond the outfield. He smiles. "Look at this ballpark!" he says enthusiastically. "I mean, I have the greatest backdrop in college baseball here. It is a joy to wake up every morning and come to work. I am very excited to be back."
Cruz, one of the top players in Rice baseball history, is back in a big way. This is his first season at the helm of the university's more-than-100-year-old baseball program. For Cruz, whose career has taken him from Bellaire High School to Rice University to the MLB, returning to campus is like coming home.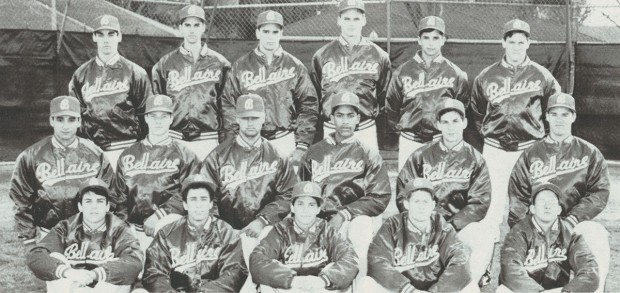 And Cruz is making it feel like home, too. The team's 40-man roster includes his son, Antonio, along with a large contingent of other local players. Cruz is keen on making Rice the place to play. "To me, it is personal because I like the guys who are from our area to be here," says Cruz, the 22nd head coach in the school's history, who also wears 22 on his jersey. "I mean, how do we not have guys from West U and Bellaire be here? It is a special place, and back in my day, something that happened often was a baseball player from Bellaire coming to Rice."
And it's happening again, with a slate of players who grew up playing baseball with and against one another just blocks from Rice now sharing the diamond together.
Freshman pitcher Parker Smith was a Bellaire Little League standout. When he was a child, an auction item at the league's fundraiser won by his parents helped fuel his end goal. The prize was throwing out a ceremonial first pitch at a Rice baseball game. On the day of the game, Smith strode out to the mound and threw a strike.
"I am a homegrown, hometown kid playing for the hometown team," says Smith. "I was 10 and wide-eyed, and now it is a reality. My dream was wearing the pinstripes on Friday night and being the Friday night starter, and now I have a chance to be that. I get to pitch off that mound every time I go out there. I am just ecstatic for this season. I grew up going to Rice baseball games and Rice baseball camps and wanting it to be me out there playing."
That's the kind of buzz Cruz wants to keep going. "I am really excited to have Parker here. He is a Bellaire graduate," he says. "Hopefully we get that freeway going again."
Smith is proud that he is among the "countless guys" Bellaire High School has sent to Rice. "There is a tradition of winning at Bellaire that is the same at Rice," he says, "and I just want to carry that on."
In Bellaire, Smith lived a few streets away from teammates Jack Ben-Shoshan, who graduated from St. John's School, and Tanner Fox, an Episcopal High School graduate. The trio were Bellaire Little League All-Stars together but as high schoolers were team rivals.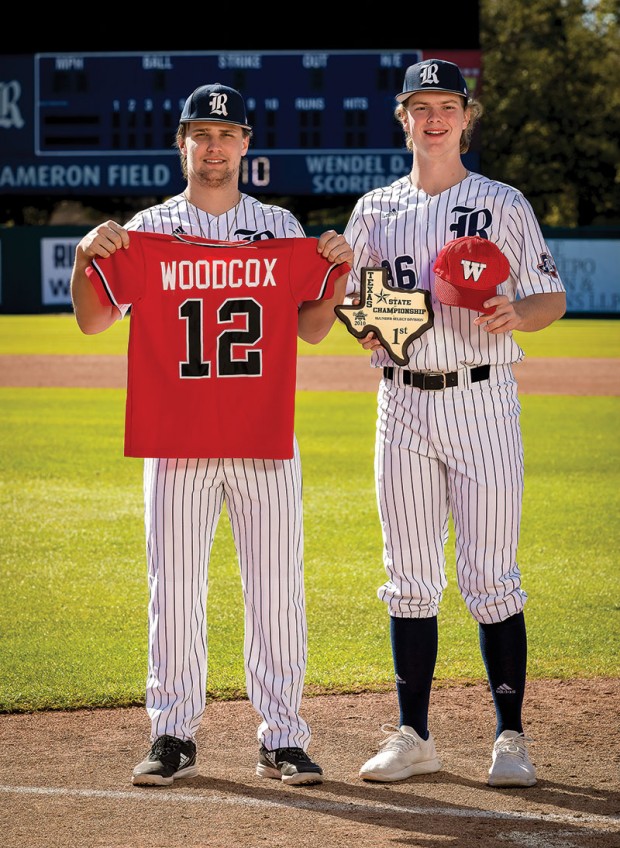 Freshman infielder Ben-Shoshan loves that Cruz recruits locally. "Houston, in general, has so much baseball talent, and Rice is getting all the really good people who live an hour or less away," he says.
Growing up in West University Place, sophomores Drew Woodcox and Tom Vincent lived a stone's throw from Rice campus. The pair played select baseball and West U Little League together and then ended up at different high schools: Woodcox at Lamar and Vincent at Memorial.
"As for playing baseball with Drew all those years ago and now again, I will say that it's crazy that was 12 years ago and we have been connected through baseball all these years," says Vincent, a left-handed pitcher. "Now, it's so nice to be together again." Woodcox, an infielder, agrees and says playing baseball for Rice has the bonus of having a built-in family fan base. "My parents are really excited about coming to all the games," he says. "All of my relatives can come to all of my games."
Drew's mom, Kristen Woodcox, says it's a dream come true for their family. "Rice has been an integral part of Drew's life since he was born," she says. "From pushing him in his baby jogger around the Rice track to attending Rice baseball camps and games as a young boy and even playing in a state playoff game as a junior in high school at Rice, it simply feels like home."
That's just the kind of atmosphere Cruz aims to establish. "I feel like, in many ways, we are this community's team," he says. "We are all the surrounding areas' team. I want to create that environment, and I want our program here to be a social event, to have people come out and have a good time and enjoy it – and hey, we are pretty good baseball."
Cruz has a lot to work with when he markets his program – quality baseball with a top-tier education. That's something he knows first-hand: When he graduated from Bellaire in 1992 and went to Rice, he was one of Coach Wayne Graham's first premier recruits. "José's decision to play for Wayne Graham was a paradigm shift for the baseball program," says Chuck Pool, Rice's assistant athletic director for athletic communications. "That opened the floodgates, which was a stunning flip at an academic school, where we now had a national-caliber baseball program along with the already established academic reputation."
Cruz says being a student-athlete at Rice is all upside. "It is a good business move for any good baseball player to go to Rice simply because not only do you have a nice, beautiful baseball stage to play baseball on, but everybody has a lot of professional eyes here, so we are going to have a lot of exposure, so on that side of life, it's really good. So on the other part of it, which is the academic part, which is the networking part, which is basically the part about being a successful human, this place here breeds it."
Cruz says he is bringing a fresh approach to the team's baseball training. "We are playing what I like to call a modern baseball game, a lot of different ways of introducing concepts through data and what the data means and how you can be efficient," he says. "The word has spread, and a lot of people are starting to come here and look at what we are doing and taking a look at our pitching lab and how we are utilizing it, taking a look at how we are doing our defense, taking a look at how we are shifting people, how we are doing a lot of things and how we are approaching the game. I think it is attracting a lot of attention because it is different than what has ever been done here."
The Rice "Pigpen" Pitching Lab, named after Jeremy and Melinda Thigpen, captures motion and compiles data on each pitcher. "The data we can get from the lab is like resources that Major Leaguers have," says freshman pitcher David Shaw. "I have thrown there twice, and I have already made a mechanical change to help me. It's such a blessing."
The cumulative pride for the program is felt by both coaches and players. "I have been a Rice baseball fan my whole life, and I have noticed some of the big names in Rice baseball history, like Anthony Rendon, played all four years at Lamar High School," says Shaw. "Some of the most successful players in Rice baseball history went to school five miles away. Wayne Graham knew the Houston area had some of the most concentrated talent around. The fact that our roster is local-heavy is a good sign. We are chasing getting back to the Wayne Graham era."
Graham took over the baseball program in 1992. At the time, the baseball program had never won a conference championship, after 80 years of competition. Graham turned the program around and led the team to 23 consecutive NCAA appearances and 21 championships in 27 seasons, and the team won the College World Series in 2003.
That's a legacy Cruz wants to bring back.
When I was a kid at Post Oak Little League, I remember Jared Plank, and when I was at Kinkaid, I watched Drake Greenwood," says Shaw, a graduate of The Kinkaid School. "They were both legendary players who I looked up to in a big way. And now my locker is 10 feet away from them – it is pretty amazing!"
That's a word Cruz likes to use as well. "My staff is amazing," he says. "It's family here." Cruz's family roots run deep on campus. Cruz and wife Sarah have two other children in addition to Antonio: Trei, who was also a Rice baseball standout and now plays pro baseball, and Alisa Loren, who attends SMU. Additionally, Cruz has named his father, the former Houston Astros fan-favorite José Cruz, "special assistant to the head coach." Cruz says that it means a lot having his father around and that "he might just be in the dugout" during games and practices.
With Antonio playing, now there are three generations of Cruz baseball players on one field at the same time. "In an official capacity, that is new in that regard, but I have been coaching him since he was born," says his dad. "I am so happy for him, and I never thought all of this would be possible here, and hopefully he will have a good year."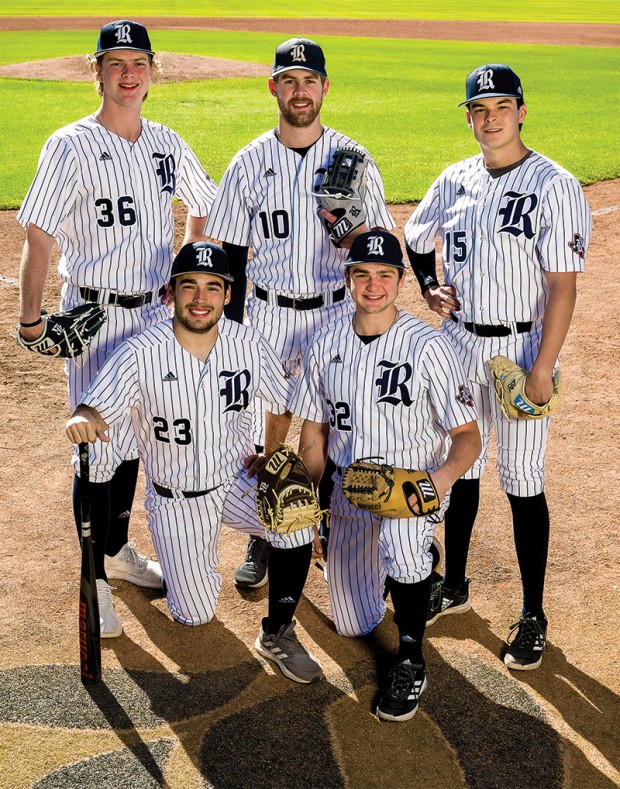 Antonio says he is excited to have both his father and his grandfather helping guide him and the team. "Now that Dad is the coach, it makes me have even more pride wearing the R," says Antonio, a junior outfielder who graduated from Episcopal High School. "That's something we always talked about wearing: the R.
"I felt like a piece of me was missing when Dad was with the [Detroit] Tigers [as a coach under A.J. Hinch]. He wasn't able to watch my games. Our schedules were the complete opposite. Selfishly, now I have a mentor to guide me. Now, having a leader around the clubhouse, it's great for staying focused every day and doing well. It feels right."
Editor's note: Writer Karen Vine Fuller contributed research to this editorial package.
Owls in the neighborhood
by Karen Vine Fuller, contributing writer
Many of today's Rice Owls began their baseball journeys as run-the-bases-backwards tee-ball players and can thank patient volunteer coaches in Bellaire Little League, Post Oak Little League, West U Little League, the Spring Branch-Memorial Sports Association, and other local organizations.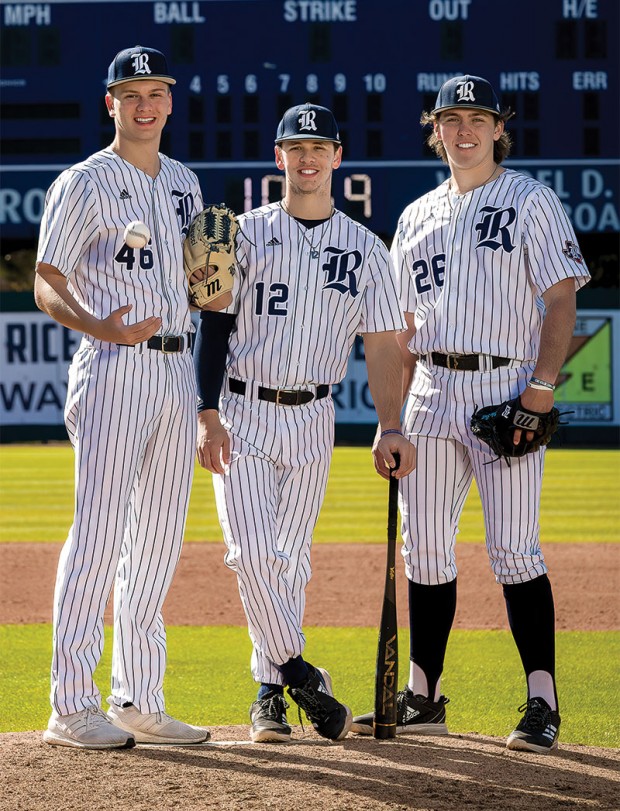 Current players went to Buzz-neighborhood schools that include Horn Elementary, Hunters Creek Elementary, Memorial Middle School, Pin Oak Middle School, River Oaks Baptist, River Oaks Elementary, Spring Branch Middle School, St. Francis Episcopal, West University Elementary, and Wilchester Elementary.
And then came the intensity of high school. These nearby schools all have graduates on the Rice team: St. John's School (Jack Ben-Shoshan), The Kinkaid School (Drake Greenwood, David Shaw), Stratford (Cullen Hannigan, Mark Perkins), Memorial (Ben Dukes, Jared Plank, Jack Riedel, Tom Vincent), Second Baptist (Dalton Wood), Bellaire (Parker Smith), Lamar (Drew Woodcox), and Episcopal (Tanner Fox, Antonio Cruz).
See the Rice baseball schedule, which is already underway, here.
If you have someone age 6 through eighth grade in your house who loves baseball, check out Rice's youth summer camps here.
People in this article:
José Cruz Jr.
,
Antonio Cruz
,
Parker Smith
,
Jack Ben-Shoshan
,
Tanner Fox
,
Drew Woodcox
,
Tom Vincent
,
Kristen Woodcox
,
Wayne Graham
,
Chuck Pool
,
Jeremy Thigpen
,
Melinda Thigpen
,
David Shaw
,
Anthony Rendon
,
Jared Plank
,
Drake Greenwood
,
Sarah Cruz
,
Trei Cruz
,
Alisa Loren Cruz
,
Jose Cruz
,
A.J. Hinch
,
Cullen Hannigan
,
Mark Perkins
,
Ben Dukes
,
Jack Riedel
,
Dalton Wood
Schools in this article:
Bellaire High School
,
Episcopal High School
,
Horn Elementary
,
Hunters Creek Elementary School
,
The Kinkaid School
,
Lamar High School
,
Memorial High School
,
Memorial Middle School
,
Pin Oak Middle School
,
River Oaks Baptist School
,
River Oaks Elementary School
,
Second Baptist School
,
Spring Branch Middle School
,
St. Francis Episcopal School
,
St. John's School
,
West University Elementary School
,
Wilchester Elementary School
Tags:
Rice University
,
Rice University baseball
,
Rice baseball
,
Reckling Park
,
Houston
,
Rice baseball history
,
College Baseball
,
College Sports
,
Sports
,
Baseball
,
Sports in Houston
,
Houston sports
,
Baseball in Houston
,
Houston baseball
,
Bellaire Little League
,
West U Little League
,
Post Oak Little League
,
SBMSA
,
Spring Branch-Memorial Sports Association
Want more buzz like this? Sign up for our Morning Buzz emails.
To leave a comment, please log in or create an account with The Buzz Magazines, Disqus, Facebook, Twitter or Google+. Or you may post as a guest.