Power to the Peeps
Click the Buzz Me button to receive email notifications when this writer publishes a new article or a new article in this column is published.
Peeps, the iconic chick and bunny marshmallow candy, have been appearing in Easter baskets around the world for nearly 70 years. Approximately two billion Peeps are made each year. That's a lot of Peeping!
Not everyone is a fan of the candy itself. But there are many creative ways in which "peeps" celebrate this Easter treat. Chew on these ways Buzz residents show their Peeps love: 
Wanda Harding confessed, "My mother scorned Peeps as solid sugar and I inherited this attitude, but I love the Peep art car!"
If you have attended the Houston Art Car Parade over the last two decades, you may remember the Peep Jeep.
Jeep owner, John Gregory, and friends created the Peep Jeep around 2002. The Peep Jeep participates in the Art Car Parade every other year, with a different theme. The car is covered with approximately 5,000 Peeps.
"People always are surprised when they realize it is actual Peep candy," John said. "We decided to stick with Peeps as the material just because it makes people happy."
The Peep Jeep has also made visits to local schools, where kids are always excited to see the colorful candy car. Learn more about the history of the Peep Jeep in this interview with John and see the Peep Jeep in action during the Houston Art Car Parade.  
When visits to the library in-person were canceled due to Covid, Harris County Public Library's South Houston branch came up with some delicious ideas. Youth Program Librarian Selenia Paz led a Peeps Diorama Contest and Peeps Twinkie Car Craft program. (A diorama is a model representing a scene with three-dimensional figures, usually in miniature.)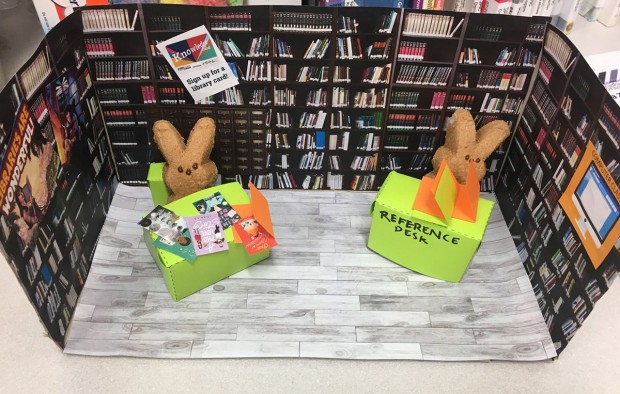 Branch Manager Clara Lopez said, "The diorama craft allowed teens to be creative with books they had read in the past or anything related to the library. The children also enjoyed making cars for Peeps out of Twinkies and especially liked that craft because they could eat it, too!" 
Although Peeps are just 28 calories, if you're looking to work off some of your extra Easter calories, a fun way is to participate in the "Running with my Peeps" virtual run coordinated by Medal Dash. Participants sign up to run or walk at their own pace and everyone receives a t-shirt, race bib, and medal. People are loving the Peeps medal emblazoned with the classic Peeps pink bunny and yellow chick.
 
Adam Levinson, co-founder of Medal Dash, shared, "We've been excited to mail out almost 6,000 race packets in the last week from our home base here in Houston to all 50 states and active military members around the world. We look forward to putting smiles on many people's faces this coming Easter with this fun event." A portion of the proceeds benefit Feeding America. 
Lots of people enjoy Peeps fashion. One Bellaire neighbor took a blue and a pink bunny marshmallow and ran an earring wire through the top of each one to create a fun pair of earrings. 
A creative Peeps fan was invited to an Easter Bonnet Party requiring all the guests to wear a hat. When he learned that prizes would be awarded, he was inspired to use a hot glue gun to cover an entire wide-brimmed hat in Peeps. He was surprised at just how many Peeps it took to cover the hat, and just how many pounds those little bunny and chick marshmallows could weigh once they were put all together! He was thrilled to win first place. His hot tip for working on crafts with Peeps is to let them sit out unwrapped for a day to harden a bit, which makes it easier to work with them.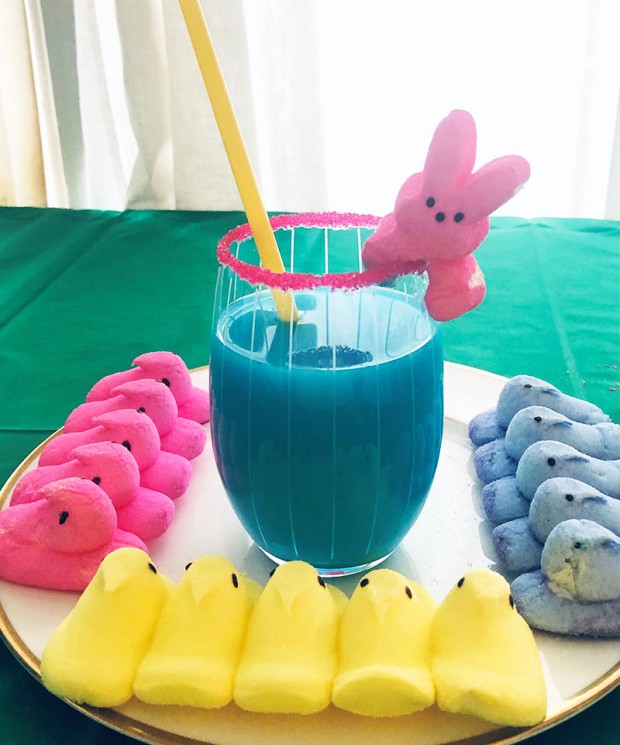 All this crafting and nibbling on Peeps can make adults thirsty. Might be time for Hap-PEEP Hour! There are fun Peep recipes online like this one or just make your favorite drink and garnish by placing a Peep on the rim or dropping a chick into your drink to let it float around a bit. Or you can make pastel-colored Peep Infused Vodka. Directions: Fill jars with 8-10 same-colored Peeps. Cover with vodka. Put on a lid and soak overnight.
Julie Kuenstle doesn't love the marshmallow candy. "I always loved to hate those things!" she revealed. "But they are so dang cute." 
Cheers to Easter, Spring, and Peeps! 
Peep these fun videos:
Peep diorama contest sponsored by the Washington Post. This video is one year's first-place winners sharing some diorama tips.
Find more Peeps recipes and crafts here.
Want more buzz like this? Sign up for our Morning Buzz emails.
To leave a comment, please log in or create an account with The Buzz Magazines, Disqus, Facebook, Twitter or Google+. Or you may post as a guest.