Parks Guide
Happenings in Houston's green spaces
Click the Buzz Me button to receive email notifications when this writer publishes a new article or a new article in this column is published.
For the past two years I've lived in a studio apartment in downtown Manhattan. It's cozy. And by cozy, I mean small. When I work at my desk, I can hear everything – angry drivers honking on the streets down below, millennials laughing as they throw a beer back at the bar across the street, a dog yapping on the other side of my wall. As much as I love the energy and excitement of the city that never sleeps, this experience has taught me to appreciate Houston's miles and miles of sprawl, and in particular, the city's parks. (No disrespect to Central Park.)
During my frequent trips home to Houston, I love checking out the city's green spaces – Houston is home to nearly 650 of them, according to the conservation organization Trust for Public Land, and that list is constantly growing. Read on to learn about new developments and upcoming events at a few of our favorites.
4400 Bellaire Blvd.
Hours: Sunday-Thursday, 5 a.m.-11 p.m., Friday-Saturday, 5 a.m.-12 a.m.
Parking: Free parking in the West lot (accessible from Newcastle St.) and East lot (accessible from Mulberry Ln.)
Restrooms: Available inside Betsy's, open 8 a.m.-9 p.m. Monday-Sunday
Dog-Friendly: No
Evelyn's Park sits on five acres of land in Bellaire, on the site formerly occupied by the landmark Teas Nursery. Brothers Jerry and Maury Rubenstein purchased the land when the nursery closed in 2009 and then donated the land to Bellaire under the condition that it be used as a park and named after their mother, Evelyn. The park has become a neighborhood fixture and features trails, a pavilion, an event space, and a restaurant, Betsy's. (I highly recommend their breakfast tacos and iced coffee!)
In April, the park celebrated its fifth anniversary and offered the public a glimpse into new park features including the Trevilion, an artfully designed shade structure with seating. Other upcoming, anticipated features include two additional shaded areas – the Solar Pavilion and the Veranda – along with separate playscapes for older and younger children and an interactive Splash n' Play. An opening date has not yet been set for these additional features, all part of the park's Phase 2 developments. Evelyn's Park also offers free events including live music on Friday evenings and Tai Chi classes on Tuesday mornings.     
6501 Memorial Dr.
Hours: 5 a.m.-11 p.m. daily
Parking: Metered parking available in Eastern Glades, Golf Course, Tennis Center, and Fitness Center. Visitors can pay using a credit card, cash, or pay-by-app via ParkHouston.
Restrooms: Available in Cullen Running Trails Center, Clay Family Eastern Glades, fitness center, and tennis center
Dog-Friendly: Yes, on leash only
At 1,500 acres, Memorial Park is Houston's largest urban park. Before Memorial Park was a park, it was a World War I training camp (Camp Logan), where 70,000 soldiers prepared for battle. Now, the park is an oasis of running and biking trails, a golf course, picnic areas and more. Thanks to a private donation from the Kinder Foundation, Memorial Park is experiencing an unprecedented upgrade through a 10-year-master plan, expected to be completed in 2024, the park's 100-year anniversary. In 2020, the Clay Family Eastern Glades opened, adding new walking trails, wetlands, and the Hines Lake. Coming later this year is a Land Bridge and Prairie, which will connect the north and south sides of the park and help manage stormwater. Already, the city celebrated the opening of Land Bridge tunnels, that allow for eastbound and westbound vehicular traffic along Memorial Drive.
The park's summer fitness classes, which include meditation on Thursday evenings and yoga on Monday evenings, begin the week of June 6. The classes are free, but space is limited. Sign up online here.
3801 Eastside St.
Hours: Open 24 hours
Parking: Paid lot and street parking along Eastside St. and Wakeforest Ave.
Restrooms: Available near the performance stage
Dog-Friendly: Yes, on leash throughout the park and off leash inside the small and large dog parks
Levy Park sits in the heart of Upper Kirby and offers an array of free activities from Zumba exercise classes to family story time. My favorite park event is the movie night – grab a picnic blanket and some friends (you can bring your dog, too!) and enjoy a free film screening. Check out the park's event calendar online for upcoming happenings.
Hours: 6 a.m.-11 p.m. daily
Parking: Available at Lost Lake, Eleanor Tinsley Park, and The Water Works, as well as along Allen Pkwy., Memorial Dr., and city streets surrounding Buffalo Bayou Park.
Restrooms: Available in the Wortham Insurance Visitor Center, Lost Lake Visitor Center, and Lee and Joe Jamail Skatepark
Dog-Friendly: Yes, dogs are allowed on a leash throughout the park and off leash inside the Johnny Steele Dog Park, open 7 a.m.- 8 p.m. daily.
Buffalo Bayou Park stretches from Shepherd Dr. near the Rice Military neighborhood to Sabine St. downtown. You'll find beautiful views of Houston's skyline along with plenty of green spaces, including Eleanor Tinsley Park and The Water Works. Another attraction is the Waugh Bridge, under which thousands of bats emerge every evening around sunset. From June-August, the Buffalo Bayou Partnership is offering special programming highlighting bees, their "Summer Species." Events include a nature walk to learn about pollinators, an informational session about beekeeping, and kids' crafts. See upcoming events here.
3018 Emancipation Ave.
Hours: Daily, dawn until dusk
Parking: Free parking in the lot on Tuam St. across from the baseball fields as well as street parking along Emancipation Ave., Tuam St., and Hutchins St.
Restrooms: Available in the Emancipation Park Recreation Center
Dog-Friendly: Yes, on leash only
As the city's oldest park, Emancipation Park carries with it a storied history. In 1872, community members of Houston's Third and Fourth Wards purchased the 10 acres of parkland in order to commemorate the end of slavery, Juneteenth. The park was donated to the city in 1916 and until 1940 was the city's sole park for African Americans. The park fell into disrepair for a number of years but in 2011, the city launched a capital campaign to install new facilities. Renovations were completed in 2017 and the park was rededicated during the annual Juneteenth celebration that year. This year marks the 150th anniversary of Emancipation Park's Juneteenth Celebration, which will take place Saturday, June 18 and Sunday, June 19. Free admission; tickets required. 
700 Heights Blvd.
Hours: Daily, dawn until dusk
Parking: Available along 7th St. and Heights Blvd.
Restrooms: None
Dog-Friendly: No
Situated in the heart of the Heights neighborhood, Donovan Park is a child's paradise. The 25-year-old park, run by the Houston Heights Association, features entirely wooden structures, including castles, a train kids can climb in, and a shaded picnic area. The park also has traditional playground activities including swings and slides.
1700 Hermann Dr.
Hours: Monday-Sunday, 6 a.m.-11 p.m.
Parking: Free parking available at the Sam Houston Monument (Lot A), the central lots in front of the Houston Zoo (Lots G & F) and across the street (Lot H), and near Miller Outdoor Theatre (Lots E & D).
Restrooms: Available along the eastern edge of McGovern Lake
Dog-Friendly: Yes, dogs are allowed on leash, though an off-leash dog park is in the works! Read more about the McWilliams Dog Park, expected to open this year.
Hermann Park is home to several Houston landmarks, including Miller Outdoor Theatre, the Houston Zoo, and the Hermann Park Golf Course. The park recently broke ground on a new project, The Commons, which includes 26 acres of multi-use space in the park's southwest corner. The new space is slated to be completed in January 2024 and will feature a two-acre playground with swings, a water play station, a space adventure area, a wooded enclave and more. In the meantime, check out the McGovern Centennial Gardens, which include themed gardens and an expansive lawn. Grab a blanket and book (or, if you recall my February article, your dog and date!) for a laid-back afternoon in the sun.
15200 Memorial Dr.
Hours: Monday-Sunday, 7 a.m.-10 p.m.
Parking: Public parking lots on Memorial Dr., Dairy Ashford Rd., and on Sam Houston Tollway
Restrooms: Public restrooms and showers available along the trail
Dog-Friendly: Yes, on leash only
This park runs east-west along a six-mile stretch of the Buffalo Bayou, and it's a prime destination for Houston runners and bikers, with more than 10 miles of trails on the banks of the bayou. The park also includes picnic areas and a playground, and it's a hotspot for wildflowers.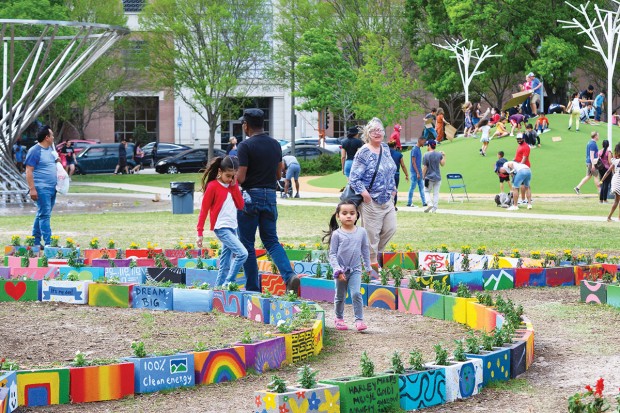 1500 McKinney
Hours: 6 a.m.-11 p.m. daily
Parking: Metered parking available on the park's perimeter and garage parking available in Avenida Central at 1002 Avenida de las Americas.
Restrooms: Public restrooms located on the south side of Alkek Building
Dog-Friendly: Yes, on leash only
Discovery Green opened in 2008, offering a green space in the middle of downtown. The park offers many free events year-round, including exercise classes, kayaking, cultural festivals, and art exhibitions. The newest exhibition is Labyrinth by Houston artist Reginald C. Adams. The interactive labyrinth is made of flowering plants inside of hand-painted cinder blocks. It's open to the public until June 30. The artist will lead a Solstice Walk as part of the International Day of Yoga celebration Tuesday, June 21, 8 p.m.
2441 Munger St.
Hours: Daily, dawn until dusk
Parking: Free parking on Munger St. in front of the park and on streets in the surrounding neighborhood
Restrooms: None
Dog-Friendly: Yes, on leash only.
Smither Park is a quirky and creative urban space in Houston's East End. The park features an elaborate "Memory Wall" covered in whimsical, brightly colored mosaics. The park also includes a meditation garden and is a venue for performances and workshops. Next door is The Orange Show, an architectural monument constructed by the late Jefferson David McKissack. The folk-art space is a creative collection of bizarre objects like wagon wheels, tractor seats, and gears.
Editor's note: See this month's Buzz Baby by Annie McQueen for ideas of fun summer activities with little ones, including baby-friendly parks and splash pads.
Want more buzz like this? Sign up for our Morning Buzz emails.
To leave a comment, please log in or create an account with The Buzz Magazines, Disqus, Facebook, Twitter or Google+. Or you may post as a guest.