Rumor Has It - July 2022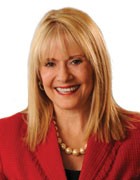 Click the Buzz Me button to receive email notifications when this writer publishes a new article or a new article in this column is published.
­Choices. It was a new business venture for Channing Daik and Luke Cochran, but Kathryn Austin was already a three-time pro in setting up a lemonade and cookie stand. The popular spot on Hedwig got busy in the first hour with fifth-grade graduates who had money to spend. School was out for the summer when the three decided to go into business. Choices for sale: Berry-ade, Lemonade, or two Oreos for $1. Inflation!
First class. Lots of green and white balloons floated on top of 20-25 cars as the Hunters Creek Elementary School fifth-grade graduates paraded down the street and around the school to commemorate their graduation, which is the first one in the newly built school. Principal Robye Snyder revealed a painting made by the Class of 2022 that will hang on the wall. In the crowd, the PTA planning committee applauding were Marci Lane, Jenn Daly, Robyn Canterbury, Ashley Goforth, Angie Kinsel, Alicia Kimmel, and Kendle Dardis. One group of friends in green caps and gowns was Armani Scott, Vale Barrios, Maryam Al-Chalabi, Charlotte Werner, Mila Prpa, Haven Huskey, Alessandra Perez, and Lily Terral.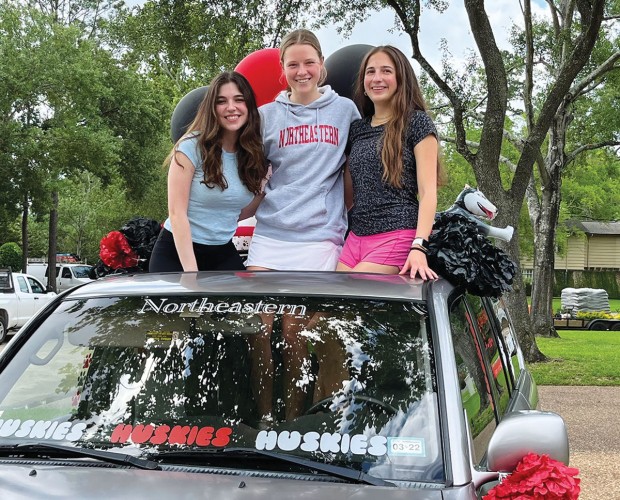 A new tradition. To celebrate graduation, many Memorial High School seniors cheered from approximately 150 vehicles decorated in the colors of the universities they will attend as they rode down Piney Point Road. Lydia O'Neill had her SUV decorated with black and red balloons for Northeastern University in Boston, where she will major in business and design. After her ACL heals, she hopes to be a part of the soccer team. In her car were friends Sophia Marshall (Southwestern University) and Sutton Walsh (Rice University). Proud parents, Brenden and Heather O'Neill, and neighbors lined the street with alumni groups. One neighborhood had brunch and mimosas (for 21+) as they celebrated. Others sighted in the parade were Phillip Augenthaler, Luke Bissinger, and Ellie Vlahakos.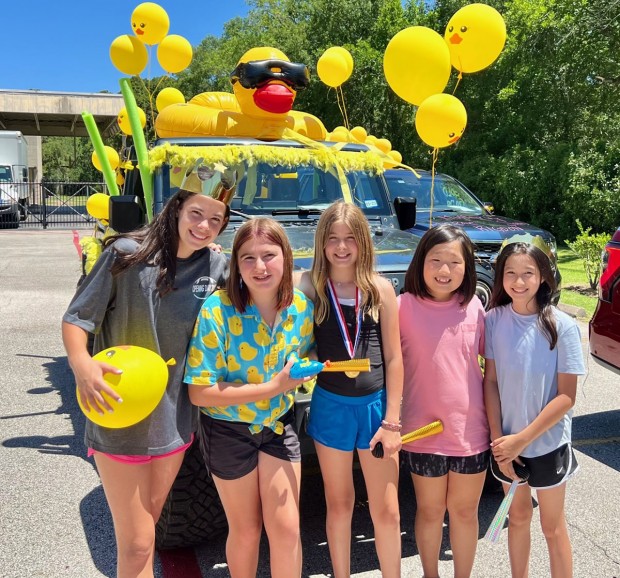 On to middle school. It seemed since the school will be torn down this year to make way for a new one with modern amenities, there were extra hurrahs at the Memorial Drive Elementary fifth-grade graduation where Chief Ray Schultz spoke. A car-ade with 15 cars whimsically decked out with ducks, flamingos, horses, fiesta, pom poms, or mermaids paraded down Piney Point. Kudos to Amy Huynh, Jill Davis, Whitney Janke, and Julie McCuen for making it special. Hannah Smooke, Violet Huynh, Henry Davis, Claire McCuen, Ellie Kwak, Brook Knowles, and Charlotte Riley, Mason Mirza, and Mary Mae Bechtol were spotted in fun cars. The afterparty at the Forest Club included food and a DJ and each child received a photo of the class and a banner and a paper about themselves. Fifth-grade graduations have come a long way.
Dogs and the military. Sometimes when a soldier experiences so much trauma they can't lead a normal life, a dog can provide emotional support. The gals at the FIDF (Friends of the Israel Defense Forces) Women's Brigade Luncheon at Riva Mitzner's home got first-hand stories from a veteran of the elite airborne combat rescue and evacuation Unit 669, Omri Shafran. A very passionate fan about the PTSD Service Dog Program in the mix was Claudia Selzer. In place of dog collars, party favors were necklaces from Freida Rothman.
Vintage party! It was a 50th anniversary for Bellaire High School sweethearts, Nancy and Jack Dinerstein, who met in junior high and married on February 6, 1972 at the Warwick Hotel after their University of Texas graduation. Their family expanded to three sons (Brian and Liz, Ross and Liz, and Brad and Brittany) and six grandchildren. A couple emulating Nancy and Jack, dressed as a bride and groom, greeted guests on roller skates for their 50th at The Astorian. A James Coney Island "hostess" and Lees Den "hostess" were stationed inside strolling tables containing mini-James Coney Island hot dogs and one with Chinese appetizers. Buffet stations continued with an ode to Houston landmarks from the '70s with backgrounds of The Stables, Youngblood's Fried Chicken, and Maxim's, where the Dinersteins were engaged. After family toasts, guests savored the four-foot-high wedding cake, replicated after their original cake, and custom cookies resembling Nancy and Jack's faces.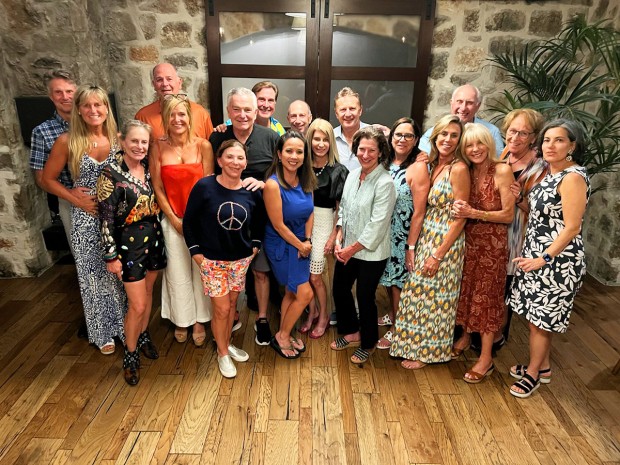 Pickle! A group of 19 Picklers from The Houstonian tripped to Horseshoe Bay Resort for a weekend of pickleball instruction and play. Organized by members Tad and Tricia Wade, the weekend extravaganza included a special private dining experience at Horseshoe Bay Yacht Club. The 120-degree temp on the court did not deter these avid fans. A few previously injured but brave men played in orthopedic boots. A few of the players are Leslie Robinson, Donna and George Buenik, Carol and John Hess, Jan Pasternak, Renee Tappe, Bob and Joyce Diamond, and Heidi Modaro. Bangers.
No seafood here. The travel miles were expiring, and Frances Rubin was determined to use them on herself. She and Scott Frisbie jetted off to Turks and Caicos for some funshine, snorkeling, and boating with an inflatable chair for two. Although surrounded by seafood, these two dined on tenderloin, burgers, and jerk chicken. Their fave dining spot was at Grace Bay Beach. Despite the hassle of getting a Covid test for their return, no one looked at it.
An art journey. She found her calm inner self in aquatic art, growing up in Mumbai, India overlooking the Indian Ocean and finding rapture on dives off the Texas Coast. Janavi Mahimtura Folmsbee will unveil her permanent art installation at George Bush Intercontinental Airport's connector tunnel between terminals D & E called Aquarius Art Tunnel this summer. Once inside the tunnel, scalloped hammerheads and a variety of sea creatures are on the very long 240' art mural. She has made a big splash from being a 2009 graduate of The School of the Art Institute of Chicago.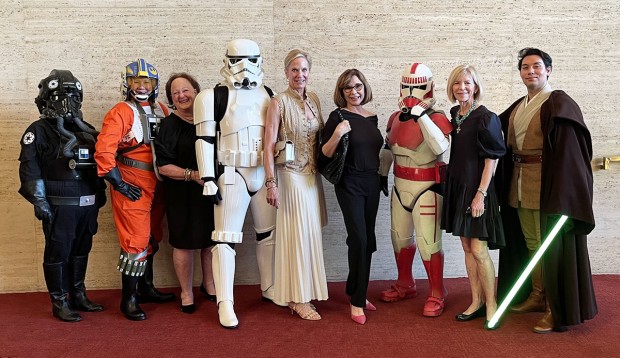 The force was with them. A group of gal pals from the Salvation Army Women's Auxiliary, Helen Perry, Pam Sengelmann, Kristy Liedtke and Deborah Dunkum, got together for The Best of John Williams: Star Wars and More concert by the Houston Symphony and volunteer chorus at Jones Hall. The music themes were from blockbuster favorites, such as Memoirs of a Geisha, Schindler's List, Jaws, Star Wars, Harry Potter, and more. An unexpected photo opp occurred when conductor Steven Reineke and cast members dressed as Star Wars characters showed up at The Lancaster where they waited for their car and kept them engaged about upcoming concerts.
Real love. When Kathy Foster and Bill Jones opened Casa de Esperanza with $500 in 1982 to foster children in crises, they had no idea it would later be the longest running program in the United States for children impacted by HIV/AIDS. The services have since expanded. On May 1, they honored their Hands of Hope parents and Casa's caregivers at The Revaire, chaired by Mary Ellen and Scott Prochazka. The inaugural recipient of The Kathy Foster Spirit of Service Award, former firefighter Mary Haynes was honored for being a residential foster parent for over 20 years who opened her heart to more than 115 children. Some of the many underwriters were Collier and Richard Blades, Karen and Henry Dixon, Sylvie and Gary Crum, Flo McGee and Wade Upton, Chinhui and Eddie Allen, Meg and Kirk Gentle, and Bonner and George Ball.
20th anniversary. The Crafting a Legacy Spring Luncheon honored Catherine Morgan and benefited the Houston Center for Contemporary Craft at the River Oaks Country Club. Catherine's love for the arts inspired the founding of the HCCC, a place where the public can experience art in progress. Trudi Spring Allison shared amusing stories about the honoree after opening remarks from HCCC board president Brad Bucher and executive director Perry Price. Guests purchased one-of-a-kind items from the pop-up art shop. With support of the honorary chairs Emelda J. Douglas, Glen Eichelberger, Anne Lamkin Kinder, Mike Morgan, Sara Morgan, Kathryn Rabinow, Kim Kabler Rootes, and Ann T. Shaw, the event craftily raised $400,000.
Have some good news to share? Email us at [email protected].
People in this article:
Channing Daik
,
Luke Cochran
,
Kathryn Austin
,
Robye Snyder
,
Marci Lane
,
Jenn Daly
,
Robyn Canterbury
,
Ashley Goforth
,
Angie Kinsel
,
Alicia Kimmel
,
Kendle Dardis
,
Armani Scott
,
Vale Barrios
,
Maryam Al-Chalabi
,
Charlotte Werner
,
Mila Prpa
,
Haven Huskey
,
Alessandra Perez
,
Lily Terral
,
Lydia O'Neill
,
Sophia Marshall
,
Sutton Walsh
,
Brenden O'Neill
,
Heather O'Neill
,
Phillip Augenthaler
,
Luke Bissinger
,
Ellie Vlahakos
,
Ray Schultz
,
Amy Huynh
,
Jill Davis
,
Whitney Janke
,
Julie McCuen
,
Hannah Smooke
,
Violet Huynh
,
Henry Davis
,
Claire McCuen
,
Ellie Kwak
,
Brook Knowles
,
Charlotte Riley
,
Mason Mirza
,
Mary Mae Bechtol
,
Riva Mitzner
,
Omri Shafran
,
Claudia Selzer
,
Freida Rothman
,
Nancy Dinerstein
,
Jack Dinerstein
,
Brian Dinerstein
,
Liz Dinerstein
,
Ross Dinerstein
,
Brad Dinerstein
,
Brittany Dinerstein
,
Tad Wade
,
Tricia Wade
,
Leslie Robinson
,
Donna Buenik
,
George Buenik
,
Carol Hess
,
John Hess
,
Jan Pasternak
,
Renee Tappe
,
Bob Diamond
,
Joyce Diamond
,
Heidi Modaro
,
Frances Rubin
,
Scott Frisbie
,
Janavi Mahimtura Folmsbee
,
Helen Perry
,
Pam Sengelmann
,
Kristy Liedtke
,
Deborah Dunkum
,
Steven Reineke
,
Kathy Foster
,
Bill Jones
,
Mary Ellen Prochazka
,
Scott Prochazka
,
Mary Haynes
,
Collier Blades
,
Richard Blades
,
Karen Dixon
,
Henry Dixon
,
Sylvie Crum
,
Gary Crum
,
Flo McGee
,
Wade Upton
,
Chinhui Allen
,
Eddie Allen
,
Meg Gentle
,
Kirk Gentle
,
Bonner Ball
,
George Ball
,
Catherine Morgan
,
Trudi Spring Allison
,
Brad Bucher
,
Perry Price
,
Emelda J. Douglas
,
Glen Eichelberger
,
Anne Lamkin Kinder
,
Mike Morgan
,
Sara Morgan
,
Kathryn Rabinow
,
Kim Kabler Rootes
,
Ann T. Shaw
Want more buzz like this? Sign up for our Morning Buzz emails.
To leave a comment, please log in or create an account with The Buzz Magazines, Disqus, Facebook, Twitter or Google+. Or you may post as a guest.