Degust's Javi Becerra and Rico Mackins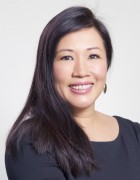 Click the Buzz Me button to receive email notifications when this writer publishes a new article or a new article in this column is published.
On one end of the dining room is a black-framed picture of Dorothy – arms crossed, brows raised – and a quote at the bottom: "Go to sleep, sweetheart. Pray for Brains." Nearby are photos of her cohorts – Rose, Sophia, and Blanche, i.e., "The Golden Girls." Their familiar faces and witty quotes help set the tone and break the ice because expectations are high as couples and groups of four drift through Degust's wooden-and-glass doors.
Maître d' David Smith passes out glasses of a sparkling Spanish Cava to guests in the waiting room, with painted blue skies overhead and the walls lined with flowering plastic vines. Once everyone is accounted for tonight's sold-out tasting, each party is escorted into the dark, adjoining dining room with cushioned high-top chairs around two gleaming white bars that form elliptical rings around an open kitchen with overhead lights.
Tonight, each person has paid $140 for dinner. Wine pairing is an additional $65. In times like these, there's little room for error. Degust has one shot to captivate, and restaurants, whether prix-fixe or à la carte, rely on repeat business to thrive. Executive chefs Javier "Javi" Becerra and Erico "Rico" Mackins know this, and they reiterate that "guests are here for the food, but they're also looking for an experience." In short, it's food theater.
As diners savor honey-laced eggplant chips dabbed with silky red pepper Romesco sauce, the chefs – in unison – use long needles to plate crispy duck confit with fresh apricot and hazelnuts nestled in a swirl of avocado puree and peppery micro-greens: "It's a ballet. Every step was planned and timed, so everything flows," Rico says.
Degust seats only 20 diners and is among the new crop of multi-course tasting rooms that have opened in the past couple of years, joining the likes of March, Hidden Omakase, Neo, and 5Kinokawa. Some chefs credit the emergence of tasting-centric establishments to the rise of omakase, in which you leave multi-course choices of sushi and sashimi in the hands of the chef. These days, New York City is awash with omakase spots, and it's trending in Houston. Hai Hospitality, Uchi's Austin-based parent company, announced plans to open a 12-seat omakase room at the former Southside Espresso space on Westheimer this winter.
Back at Degust (7202 Long Point Road), chefs Javi and Rico are surveying the 12-plot garden next to their squat pale-gray building encircled by iron fencing and a big parking lot: "I was thinking about getting a few go-karts and charging people to drive around the parking lot," jokes Rico, who adds that the eastern end of Spring Branch is a tough location for high-end food: "But we are up to the challenge, and the area is gentrifying."
Along this scrappy stretch of fast-food restaurants, washeterias, taquerias, and apartments, it's easy to drive by the nondescript restaurant. You must squint to see the small glowing emerald-green letter signage near the front door, with its triangle-shaped "u" in Degust, a shortened version of the French dégustation, which means "tasting."
Diners arrive 20 minutes before the 6 p.m. seating, followed by another service at 8:30 p.m. But before the first guest arrives on Thursday night, Javi, Rico, and their sous chefs Morgan Conliff and Joaquin Mendizabal spend Tuesday and Wednesday prepping. Because the restaurant is open only on Thursdays, Fridays, and Saturdays, it can operate with a small team of six and no waitstaff. Javi and Rico plate the food and serve 10 courses plus an intermezzo, usually a refreshing fruit lollipop coated in homemade tajin seasoning. Javi and Rico appreciate the interaction with diners, allowing them to see guests' reactions firsthand rather than rely on a waiter's reports. It's a nightly motivator to tweak and create new dishes to keep diners engaged, particularly regulars like Susan Brown, who has been to a dozen or more Degust tastings.
"It might be more. I've been to so many, I've lost count," the chemist admits. "I've been to all the tasting rooms in town by myself and with large groups of friends, but I always come back to Degust. Some of those tasting places leave you feeling a little hungry. Do you know what I mean? That's not the case with Degust. I feel satiated."
Since Javi and Rico took over Degust, they've charted a course that has earned them word-of-mouth buzz and kudos from Esquire. Last November, the magazine named March (1624 Westheimer) and Degust among the Best New Restaurants in America for 2021. Esquire's editors wrote that with its autobiographical menu, Degust "is just the right type of weird," and that its imaginative olive baba-yogurt bread is "true brilliance."
The multi-course menu mirrors the authors' diverse backgrounds: Javi was born and raised in Mexico City, and Rico – proud of his Native American, Norwegian, and African American heritage – is a Midwesterner.
Rico, 45, washed and cooked in restaurants around Minneapolis since he was 16. Then, the graduate of Le Cordon Bleu moved to Houston to get out of the cold and landed in the kitchens of chefs Robert Del Grande and Ryan Pera. Meanwhile, Javi, 35, spent his mid-20s as a successful but unhappy commercial lawyer in Mexico City. In 2012, Javi applied to the Culinary Institute Lenôtre in Houston and never looked back, landing his first culinary job a year later as lead cook for chef Fritz Gitschner at his now-defunct 60 Degrees Mastercrafted. He then spent about three years as BCN's chef de cuisine, followed by a yearlong stint in Tokyo opening a high-end Mexican restaurant. Upon his return, Javi helped open MAD in River Oaks with BCN executive chef Luis Roger.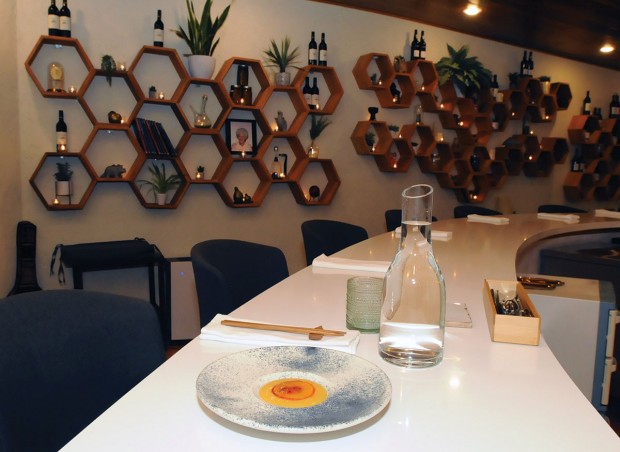 Last January, Javi and Rico started working as sous chefs at Degust, a concept from opening chef Brandon Silva and the Kirby Group, which operates Wooster's Garden and Heights Bier Garten. Then six months later, Silva abruptly left, and the Kirby Group asked the duo to take charge. They agreed, but only if they could be co-executive chefs.
Javi is by-the-book and exact, while Rico thinks outside the box but relies on Javi to rein him in. Together, they come up with unique twists on familiar dishes, like ceviche, with an interpretation rivaling New York's three-Michelin-star Le Bernardin, famous for its faultless seafood preparations.
Degust's ceviche comprises plumb, juicy lime-cooked lobsters, and crispy cucumber batons bathed in a tangy coconut mole sauce. Teensy, tiny flower-shaped mango, and slivers of pearl onion and chili peppers add color and contrast: "Rico and I complement each other," Javi said. "Besides, I'm a twin. I'm used to sharing."
Javi and Rico putter in their garden, harvesting ripe tomatoes, eggplants for their chips, and Fresno and jalapeno peppers for their menu. Above them are fragrant rows of seven-foot-tall licorice-like Mexican hoja santa, which they use in the blue corn and Texas beans entrée on their vegetarian tasting menu. Holy basil, Mexican peppermint, marigold, green chives, fennel, elderberry, Malabar spinach, and lavender plants scent the humid summer day. For the chefs, Tuesday afternoon usually starts by surveying what herbs and vegetables are at their peak. More than half their dishes rely on the bounty from their garden.
Javi and Rico map out their menu's specifics based on their harvest, with slight variations in their dishes each week. Degust's menu has been described as Spanish- and Mexican-inspired dishes with a Japanese influence. Guests eat with chopsticks, but Degust's food isn't really Spanish, Mexican, or Japanese. The chefs hate to label their food because it's eclectic and inventive, but with familiar flavors. If Javi had to describe their menu, he would call it Modern American because it encompasses many cultures and influences.
Gladys Knight's soulful Midnight Train to Georgia is followed by disco era icon Vicki Sue Robinson belting out Turn the Beat Around. Chefs Javi and Rico follow the rhythm as they ladle Texas peach gazpacho into wide-rimmed round soup bowls. Music helps the chefs to focus and calm nerves. Meanwhile, their guests bounce to the beat as they chat and smile, waiting for the next course.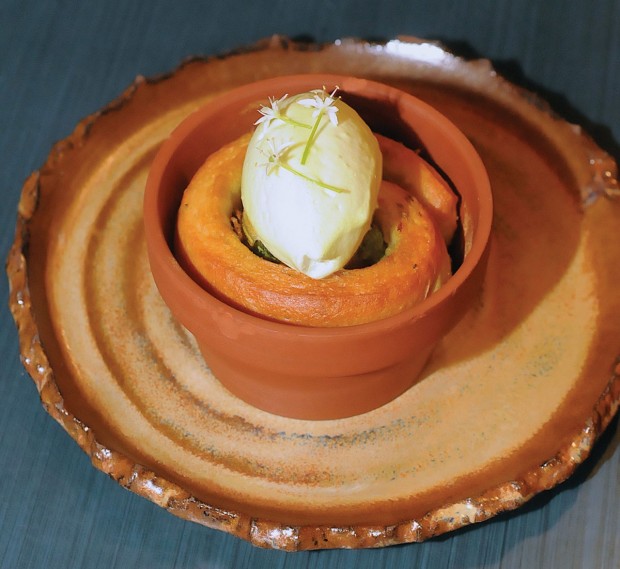 Dinner is drawing to a close. Throughout the evening, Javi and Rico have taken turns introducing and explaining each dish. Rico takes the stage – normally cool, calm, and collected, but now laughing nervously: "This next dish always makes me nervous because there is always someone who doesn't like blue cheese no matter what. So, if you don't like blue cheese, please just take a bite just to ease my mind."
Bite by bite, the room is silent, then diner Jeramy Roddy glances at a neighboring diner's barely eaten Basque-style blue cheesecake topped with a dollop of preserved tomatoes, framed by tiny, thin slices of fresh red tomatoes.
"You don't like it?" the Upper Kirby resident asks the nearby guest with an untouched cheesecake. "Oh man, I could have it for breakfast – every day."
In June, the first freestone – the Harvester variety – kicks off Texas peach season. Other varieties – Flameprince, Parade, and Fairtime – wrap up the peach season in mid-September, but there's still time to make and enjoy this refreshing, velvety third course from Degust, served chilled with a paper-thin slice of caramelized peach:
1 ½ cups Texas peaches – pitted, peeled, and sliced
¾ cup Roma tomatoes, seeded and skinned
1/8 cup yellow bell pepper
1 thin slice of day-old bread broken into pieces
3 small garlic, roughly chopped
1/3 cup sherry vinegar
1 tablespoon salt, or to taste
¾ cup extra virgin olive oil
In a blender, combine peaches, tomato, bell pepper, bread, garlic, sherry vinegar, and salt. Puree mixture at high speed until relatively smooth. Reduce speed to slow and slowly add the extra virgin olive oil to emulsify the gazpacho. Strain the soup through a sieve and chill for at least an hour or overnight before serving. Makes 4 cups.
Degust guests get a bag of these to take home. These compressed sugarcane "piglet" cookies are chef Javi's favorite growing up in Mexico. Enjoy with a cup of coffee.
1 1/8 cups piloncillo or one sugar-cane cone
¼ cup water
1/8 teaspoon cinnamon
1 star anise
1 clove
3 1/3 cups all-purpose flour
2 tablespoons baking soda
1 ¾ tablespoons baking powder
1/3 cup vegetable oil
1 ½ eggs
1 tablespoon milk
Preheat the oven to 350 degrees. Make the syrup by chopping the piloncillo into pieces and transferring the raw sugar to a saucepan with the water, cinnamon, star anise, and clove. Simmer over medium-high heat until piloncillo dissolves completely. Reduce heat to low and simmer, allowing the spices to infuse into the liquid as it thickens. Remove syrup from heat and allow it to cool completely before adding the liquid to the cookie mixture.
In the bowl of an electric mixer fitted with the paddle attachment, add flour, salt, baking powder, baking soda, vegetable oil, and half an egg. Mix at low speed until everything is just combined. Incorporate syrup into the cookie dough, lightly cover the dough with plastic wrap, and let it rest for 30 minutes.
Using a rolling pin, roll out the dough with quick, short movements until it's about ¼ inch thick. Using a pig-shaped cookie cutter, cut out as many cookies as you can. Transfer them to the cookie sheet with a spatula, being very careful so they won't break apart. Place cookies at least 3 inches apart to allow them to spread. Gather up the remaining dough and roll out and cut out more cookies. In a small bowl, mix the remaining egg with 1 tablespoon of milk. Brush cookies with the egg wash and bake for seven to nine minutes or until golden brown.
When the cookies come out of the oven, allow them to cool for at least 20 minutes on a rack and store them in an airtight container.
Note: Mexican piloncillo or panela is raw, pure cane sugar and can be used like other types of sweeteners. Unprocessed, golden-brown piloncillo has a rich, molasses-like flavor, although it doesn't contain any molasses.
Editor's note: Buzz dining columnist Dai Huynh is a James Beard food-journalism award winner and longtime Houston-based restaurant writer.
Want more buzz like this? Sign up for our Morning Buzz emails.
To leave a comment, please log in or create an account with The Buzz Magazines, Disqus, Facebook, Twitter or Google+. Or you may post as a guest.