Serving up Sweet Summer Fruit: Spotlight on Watermelon Season
Click the Buzz Me button to receive email notifications when this writer publishes a new article or a new article in this column is published.
Every summer, our dad would take great care in picking out watermelons. I remember him showing me the art of thumping the watermelon with your hand and listening for a deep hollow sound to find the best, ripest ones. 
The moment of truth came at home during the official watermelon cutting ceremony. We waited with bated breath and fingers crossed as the rind cracked open to reveal if Dad had indeed picked a winner with beautiful bright red insides. Then the true test was trimming a small sliver to see if it tasted as good as it looked. Then the declaration, "It's sweet! We got a good one!" Let the summer celebrating revelry begin! 
Join in the "bright-red-fruit, shiny-green-rind, black-teardrop-seed-deliciousness-running-down-your-chin" celebration honoring Watermelon Month in July and Watermelon Day Aug. 3. 
Growing up in a small Texas town, Steve Jenkins has fond memories of junior high summers, when Steve and his friends would camp out in each other's yards. The boys would raid one another's campsite, causing whatever havoc 12-year-old boys could cause. Because they all knew each other's campsite would be raided, they tended to set up booby traps around their campsites, mainly trip ropes.
He remembers: "One memorable camping adventure put a three-acre watermelon patch between us and our opposing tribe. The guy that owned it allowed us to pick 4 or 5 melons because he knew we would anyway, and he was a good man. There were watermelons everywhere, all shapes and sizes. Some so big we wouldn't even try to take them. We grabbed our bounty and went to our campsite. After getting our campfire going, we broke open our watermelons and started eating handfuls at a time. All four of us had stuffed our faces so much they were stained red.
"Suddenly we heard screams. Looking out past the campfire light, we saw some figures running towards. As they got closer, we realized they were our friends from the other tribe, holding big watermelons high above their heads. They started screaming 'Attack, attack' and started waving the watermelons. About three steps later, they hit our booby trap and down came four boys headfirst into their 'attack watermelon.' Those watermelons exploded as soon as they hit the ground with each kid's face right in the middle of it. Between our broken melons and their busted melons, our campsite looked like a watermelon war zone, except there was only laughter for a long time.
"The only heartbreak out of it was when our parents made us clean it up, but it was worth it." 
Condit Elementary Cats Nora and Chloe Raffle love eating sweet juicy watermelon all summer long and all year long too. Nibbling at their favorite red and green fruit has been good training, and they are now professionals at not getting too messy when they eat it…even if the slice of watermelon is bigger than their faces!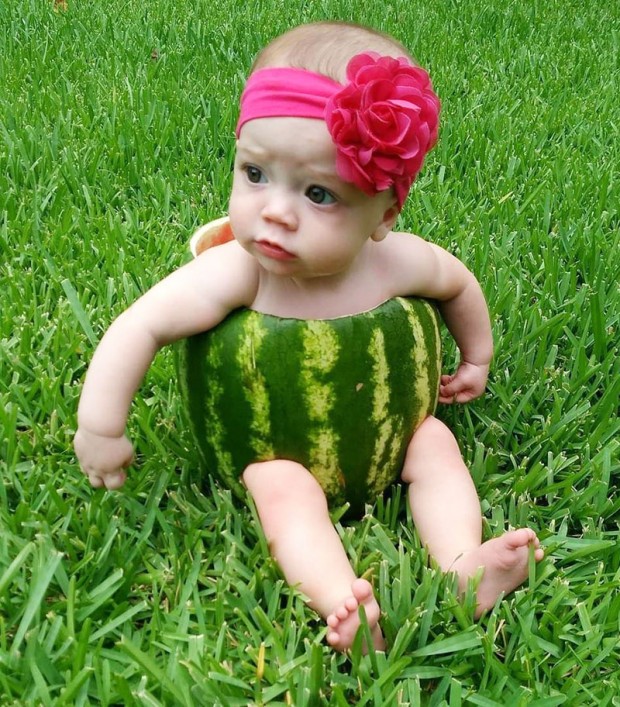 You may have heard of taking baby pictures next to a pumpkin in the fall, but have you heard of taking a photo of your baby in a watermelon in the summer?! Fun mom, Miranda Hagee, and her adorable daughter, Myla, did just that. Miranda's big tip? "We did this a few years ago when our youngest was six months old. Be sure to get one that is big but not one that's too long and skinny."
A shark attack was reported at Reese Perlman's fifth birthday pirate party. None of Reese's Pilgrim Lutheran Preschool friends were harmed, but the shark did bite some less fortunate guests…the skewers of fruit. 
Reese's crafty mom, Kim Chau, made a watermelon shark with fruit skewers spiking out. There was a pirate island cupcake cake, so the shark watermelon was attacking the island. 
Kim shared, "You need a sharp carving knife for scoring out the teeth and it helped watching lots of YouTube tutorials available. The eyes are made out of grapes. Kids loved the set up and were all willing to eat anything from the shark's mouth!" Additional creative watermelon serving bowl ideas include a baby in a cradle, a BBQ Grill, and a porcupine with toothpick quills. 
Laura Towber shared, "I make Watermelon Salad every Memorial Day to kick off the summer salad season. It's so refreshing, juicy, and sweet, and great to eat with chicken or fish. The addition of tomatoes, avocado and red onions give it a savory twist."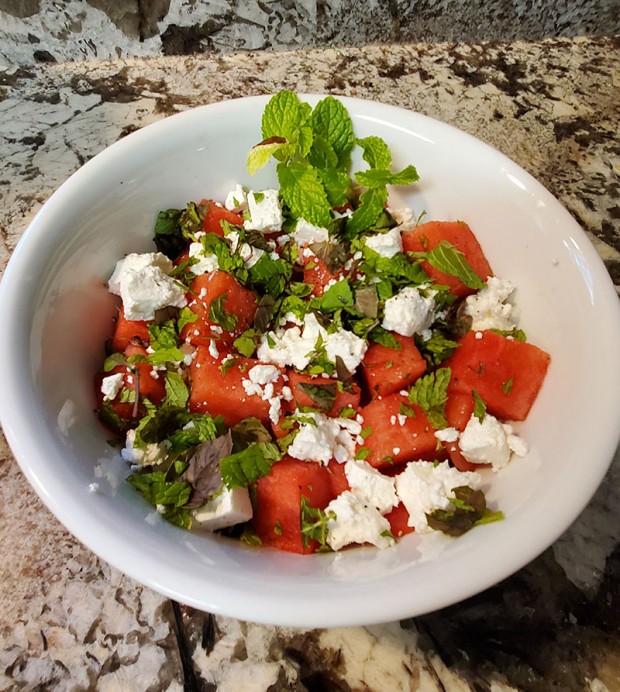 Laura Towber's Watermelon Salad
For the Watermelon Salad: 
6 cups cubed watermelon 
½ cup feta cheese, cut into 1/4-inch cubes
1/3 cup fresh mint leaves, chopped
1/3 cup fresh basil leaves, chopped
Optional adds: Chopped tomato, chopped red onion, avocado 
For the Summer Vinaigrette:
1/4 cup apple cider vinegar
1/2 neutral oil, like avocado oil
1 tsp of honey 
1 tsp Dijon mustard
Salt and pepper
Combine salad ingredients. Lightly dress the salad right before serving. Note: Salad ingredients are flexible, but the fresh herbs are key. 
More Watermelon Fun
The 3rd Annual Houston Watermelon Dash 5K takes place Sat., Aug. 6. Celebrate staying fit and healthy with watermelon. A great family event!
7:30 a.m. 5K & 10K start; 9:30 a.m. Kids/Family Walk Start
Karbach Brewing Co.
2032 Karbach, Houston, TX 77092
Guess who else in your house can enjoy watermelons? Dogs and cats! Yes, your four-legged friends can safely enjoy the red fleshy part (but avoid the rind and seeds). Expect lots of tail-wagging.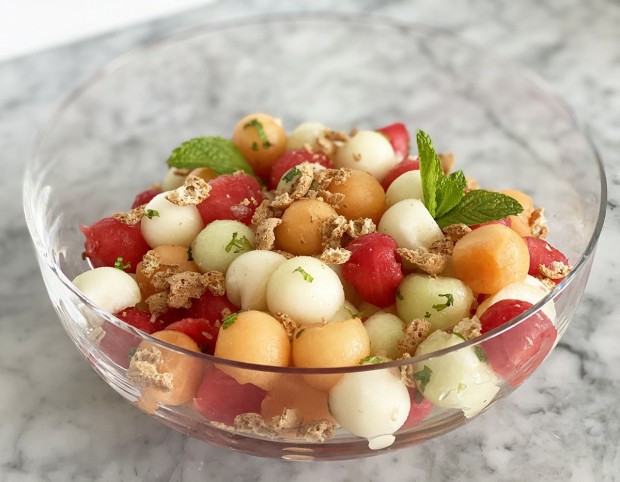 More Watermelon Recipes
Watermelon Pizza
Watermelon Grilled Steaks
Fruicuterie Board
Watermelon and Arugula Salad 
Summer Watermelon Salad 
Cold Melon with Mint and Amaretti Cooking Crumbles 
Summer Watermelon Salad with Honey Orange Vinaigrette 
Watermelon Cocktails (21+):
Remember in your mid-20s when vodka-infused watermelon felt like the "classy" jello shots? Now you can be even "fancier" drinking wine out of a watermelon.
Watermelon Mojitos  
Minty Watermelon Poptails
Want more buzz like this? Sign up for our Morning Buzz emails.
To leave a comment, please log in or create an account with The Buzz Magazines, Disqus, Facebook, Twitter or Google+. Or you may post as a guest.