Wise Words for Incoming College Freshmen
Click the Buzz Me button to receive email notifications when this writer publishes a new article or a new article in this column is published.
A new school year is rapidly approaching, and for a number of students, this means the start of their freshman year of college. Such a big change can be scary and exciting all at the same time. To help guide this year's incoming freshman, we reached out to students who've gone through it already. Read below to hear the wise words of some incoming college sophomores: 
Macey Schmitz graduated from Memorial High School and learned a lot in her first year at the University of Arkansas. The highlight of her year was learning how to lean on her peers for support and simultaneously learning more about herself. "My favorite thing about this past year was finding a community of friends who turned out to be my family away from home," Macey said. She was surprised to find that she was not alone in feeling nervous about making new friends and tackling college classes. "Everyone feels the same way," Macey realized. For her, the most important item to have in her dorm was all the storage under her bed. Dorms can be small, so it's important to use up every inch of space you can! In addition to investing in plenty of storage, Macey advises college freshmen to be flexible and open-minded. "Say yes to as much as you can – I met some of my best friends just from saying yes!" said Macey. 
Ramsey Ruffeno graduated from Duchesne Academy of the Sacred Heart and attends the University of Texas at Austin. Ramsey enjoyed exploring her more specific academic interests alongside peers from all different backgrounds. As a radio-television-film major, she loved "learning more about the media and different aspects of how everyone consumes and produces pieces of the media on." Going into college, Ramsey was nervous about being in a new environment, but she found that the change was actually quite adaptable. "I didn't know how much easier navigating campus actually turned out to be." Part of this new environment was navigating life in a dorm. Ramsey remarked that "a Brita water holder is an essential dorm room item!" Ramsey wants this year's graduates to know that they shouldn't be afraid of reaching out to make new friends, especially using technology. "Social media is a really great tool, and I wish to connect with more people to build a friend network early on."  
Philip Soh went to Memorial High School and will be a sophomore this fall at the University of Texas at Austin. His favorite part about the past year was the opportunity to meet new people and create new friendships. He found that in comparison to high school, time management became much more important. Especially at the start of college, it's easy to become overwhelmed with all sorts of opportunities and responsibilities, so knowing how to divide your time is key. Philip found that the key to enjoying your dorm experience is making sure to personalize your room. "The most important things for living in a dorm are the personal items that make it yours," said Philip. Philip wants incoming freshmen to understand that whatever they are feeling, they are not alone. "Everybody is insecure and you shouldn't try to be someone you're not," said Philip. "Just be kind to everyone and everything will work out," he added. 
Emily Burnett went to St. John's School for high school and will be a sophomore at Barnard College. This past year, she enjoyed meeting new people and exploring subjects she wasn't able to in high school. Going into college, she didn't realize how much of an adjustment it would be. "I had a great first semester, but it definitely took me longer to adjust to the college workload and living away from home than I thought it would," she remarked. To make this transition just a little bit smoother, she recommends bringing lots of snacks to have in your dorm. Her other advice to incoming freshmen is to not let big activities at the beginning of the year, like orientation, completely overwhelm you. "Other people feel the same way and it gets better once orientation is over…don't be scared to talk to people either," she said. 
Jack Dragna attended Memorial High School and spent his first semester of college at the University of New Mexico. He transferred to A&M at the start of the spring semester, and he's looking forward to his sophomore year. In the past year, Jack learned a lot about himself, and especially about what he wanted and needed in order to be successful. Before he got to college, he didn't expect that having a schedule would be so incredibly helpful. "Always having a routine is important as well," said Jack. Whether it's writing things out in a planner or utilizing an online tool like Google Calendar, staying on top of your responsibilities can really help navigate such a big change. He found that while living in a dorm, it was important to have a designated study space in his room. "One thing that is a must for a dorm is an area, separate from your bed, that you can sit down and study and not be distracted," said Jack. Going into college, Jack didn't know much about his college's campus or the surrounding area, and he found that exploring is key to enjoying your time at college. "Don't be scared to go outside your comfort zone," said Jack. 
After graduating from Memorial High School and navigating her first year at College of Charleston, Meagan Whatley has some great advice for upcoming freshmen. She really enjoyed experiencing a new city and meeting new people. She didn't expect that everyone would share her feelings of fear and nervousness. "I realized that everybody was dealing with things in their own way, and even if their lives might look perfect, they're probably feeling the same things as you are," said Meagan. Meagan thinks all freshmen should make sure to bring a good fan and plenty of storage, especially for under the bed. She wishes that she had known not to let the little things bother her. "It's all about how you approach a situation," said Meagan. She thinks new freshmen need to remember to make the most of opportunities that come their way and reach out to people. "Do your best to say yes to things that interest you and don't be afraid to ask people to dinner," said Meagan. 
 
Greydon Fenn graduated from Memorial High School and is going into his second year at Baylor University. His favorite part about the past year was the newfound sense of freedom that comes with being away from home. For him, the food was one of his least favorite parts about starting college. "I didn't expect how terrible the dining hall food would be," said Greydon. He encourages everyone starting college this fall to make sure to bring shower shoes. If your dorm has communal bathrooms (or even if not), you definitely won't want to forget a pair! Graydon realized this year that the people really do make the place. "If you find your people at your school, it will make the experience one million times better," Greydon said. "You should surround yourself with people you enjoy and people you want to be like," he added.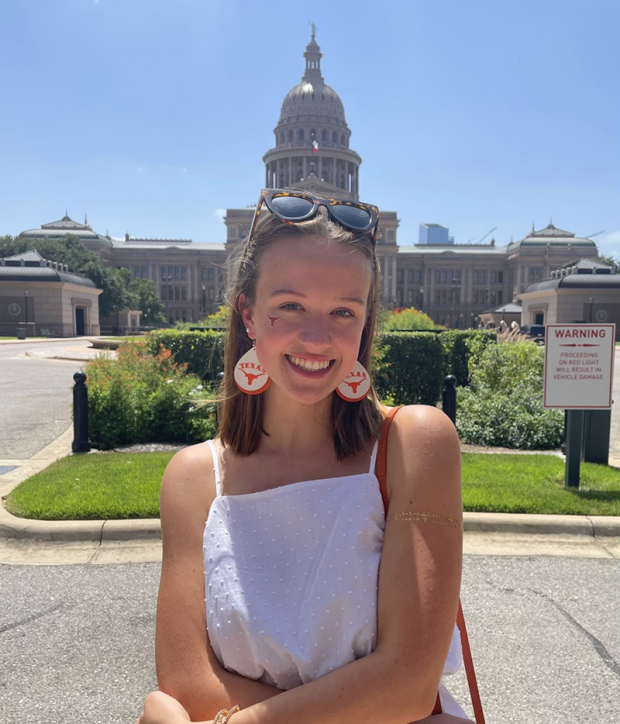 Taylor Franklin attended Memorial High School and will be a sophomore next year at The University of Texas at Austin. She loved getting to meet new people, and she found that she really enjoyed dorm life. "It was so fun having a roommate and having almost like a year-round sleepover," said Taylor. Going into college, Taylor thought the hardest part would be being away from her family. What she didn't expect, though, was how difficult it would be to adjust to a new city. "While I love Austin, for a while I missed Houston and knowing where to drive without a map. A lot of my favorite places like the bookstore and coffee shops I had to hunt for," recalled Taylor. Moving to a new place is exciting and fun, but also may take some time to get used to. Adjusting to a new living space can also have its ups and downs, and Taylor found that a blackout sleep mask was essential for her while living in a dorm. She wishes she had realized earlier the wide range of organizations that would be available for her to join on campus. "You don't have to try to fit into one that you don't mesh with," said Taylor. Taylor also wants to remind incoming freshmen to be aware of their new surroundings. "Watch where you're going so you don't get a concussion halfway through the semester like I did," Taylor warned. 
Emmanuel Ramirez just completed his first year at the University of Texas at Austin after graduating from Lopez Early College High School. He loved experiencing football games and getting to meet new friends. He didn't expect that he'd have as much free time as he did. He realized that it is important to personalize your dorm room. "Bring something meaningful from home to remind you of where you came from," said Emmanuel. Emmanuel wants incoming freshmen to remember to make the most out of their time in college. "It'll go by quickly so go to every game and hang out with friends," said Emmanuel. He's learned that while school is important, making connections with others and letting your personality shine are worth focusing on as well. 
Just like my peers, I learned a lot from my first year of college. I attend Wake Forest, and I really loved creating new routines and finding my new favorite spots in a new environment. I wasn't expecting that the year would fly by as fast as it did. There are so many exciting experiences that come with being a freshman, and it's definitely a surreal experience when, all of a sudden, it's time to pack up your room and go back home. Make sure to have extension cords and long chargers for your dorm room. Outlets aren't always in the most convenient spots, so it's best to be prepared for anything! I wish I had known that things will be constantly changing throughout the year, not just at the very beginning. It's super important to stay open to new experiences and new people and maintain good connections, because you never know when they might come in handy. 
Editor's note: Comment below to share your advice with incoming college freshmen. See our high school grads database to see where other incoming freshmen are headed to college. 
Want more buzz like this? Sign up for our Morning Buzz emails.
To leave a comment, please log in or create an account with The Buzz Magazines, Disqus, Facebook, Twitter or Google+. Or you may post as a guest.