Breaking Boundaries
Helping those with invisible disabilities
Click the Buzz Me button to receive email notifications when this writer publishes a new article or a new article in this column is published.
There are few people who can weather a heart-wrenching ordeal and then transform it into a mission benefitting an entire community. Liz Selig is among them. The Bellaire mom of 12-year-old Brooke and 10-year-old Jack, who has autism, is on a relentless crusade to bring help and financial relief to those who experience challenges from invisible disabilities.
Unlike those who use a wheelchair or cane, individuals who have autism might look typical until they speak or, in many cases, are spoken to. This was a problem a few years ago when Bellaire police first encountered Jack. We shared the story about Liz's scary-as-hell, heart-pounding nightmare the day her then-7-year-old son walked out of their Bellaire home to the neighborhood pool [in our Aug. 2019 issue]. Everyone involved tried to communicate with Jack, but he couldn't respond.
That incident led to creating the Home Safe program in Bellaire, a databank for police departments to help identify people with autism and dementia, who are nonverbal and might wander off. That was just the beginning of Liz's herculean advocacy efforts.
"It is a full-time job just to find the best doctors to treat and care for Jack and then I still take care of my neuro-typical daughter, Brooke. This is a mission which remains at the forefront of my life.
"To say life has become overwhelming for our family is an understatement," said Liz.
There was another tough day when Jack had a meltdown and would not get in the car. Contending with a screaming, wailing kid who could not calm himself, Liz, in near desperation, played music and almost instantly turned the tide on her son's emotional well-being. A saving grace that would have restorative power time and time again.
"The first time Jack suffered seizures, he was rushed to Texas Children's Hospital. I didn't know if he would survive," said Liz. "Once he was stable, I crawled into his ER bed, held him, with tears streaming down my face. His eyes were closed, and his body was exhausted. I didn't know what would come next. I just knew my son was in my arms, and I was doing the only thing I knew to do – love on him. I turned on his playlist, and I held it near his ear. He physically responded by touching my hand as I held his, and he tried to snuggle closer to me. Music was again his savior."
It was that moment of soothing relief which proved the catalyst to create Music Knows No Boundaries, a fundraising concert and auction to celebrate the connection between music and autism and to help middle class families pay out-of-pocket medical-related expenses.
The live music event, held at White Oak Music Hall, featured an acoustic song-swap and silent auction benefiting The Jack Stephens Scholarship Fund with Autism Society of Texas. There were live performances by Cory Morrow, Ashley Cooke, Sean McConnell, Owen Temple, Kyle Hutton, and Rodell Duff.
The concert, held last month, raised $50,000 for The Autism Society of Texas, which will directly use the funds for a scholarship in Jack's name.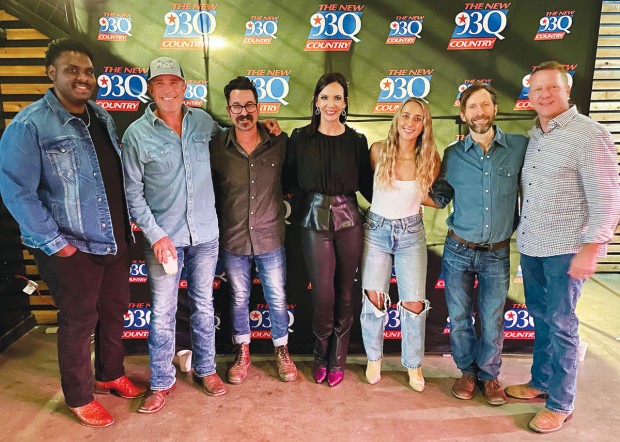 Jack's list of diagnoses have grown to include: epilepsy, focal cortical dysplasia, a chromosomal deletion, anxiety, ADHD, disruptive behavior disorder, speech delays, language disorder, obstructive sleep apnea, developmental delays, dysgraphia, acute febrile illness, and an impulsivity disorder. Needless to say, Liz's focus is always on Jack's safety and other kids like him.
"Now he knows his name. He knows his address. He knows my name and phone number," said Liz.
"He knows more and can say more, but I don't know how that would manifest itself in an emergency situation," said Liz. "People with autism may not be able to communicate in a typical or traditional way and it becomes even harder if they're very upset. That's why it's so important for emergency folks on the frontline to have specialized training."
That led to Liz's current partnership with a nonprofit organization called KultureCity that focuses on the sensory processing needs of individuals. They help create sensory-friendly rooms in stadiums and airports, and also offer a Sensory Inclusive First Responder Certification. Liz went back to the Bellaire Police Department, advocating for her hometown officers and community.
"The ability to really zone in and help these kids out and be able to recognize them and their needs is the most important thing that we can do," said Officer Chase Liccketto, Community Outreach Officer for support services with Bellaire Police. "When we get the phone call that somebody's in crisis, it's just another tool in our belt that we can use to help recognize what that person needs."
Last month, B.P.D. became the first police department in the state of Texas to be certified with this specific sensory training with 100 percent of the force embracing the knowledge. The program will equip patrol cars with sensory bags, which include noise cancelling headphones and different types of fidget tools.
"They really have stepped up and I'm really happy and proud about that," said Liz. "It's just another way to help make this world a safer place for our kids."
Editor's note: See mknb.org for more about Music Knows No Boundaries and for a link to donate to the scholarship fund. For the previous story published in The Buzz, see Home Safe: When Jack disappeared, by Michelle Groogan, Aug. 2019.
Want more buzz like this? Sign up for our Morning Buzz emails.
To leave a comment, please log in or create an account with The Buzz Magazines, Disqus, Facebook, or Twitter. Or you may post as a guest.