Anita Jaisinghani – Food as medicine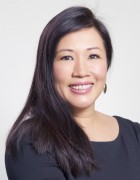 Click the Buzz Me button to receive email notifications when this writer publishes a new article or a new article in this column is published.
This morning, I followed the advice of Pondicheri chef-owner Anita Jaisinghani. I dropped a single green cardamom pod into a ceramic mug and poured a cup of boiling hot water. "Now, walk away for 10 or 15 minutes," she instructed. "When you come back, it'll be the most fragrant water you'll ever drink."
While the tea steeped, I brushed my teeth, washed my face, combed my hair, and dressed for the day. Then, rather than rushing out the door with my usual black coffee, I sat at my kitchen table and sipped warm aromatic cardamom tisane. Its warmth coursed through my body. Its bergamot-like tang and earthy perfume teased my nostrils.
I didn't linger for long. Weekdays are busy. And an hour later, I had my cup of coffee for the jolt. But easing into the early morning with warm water helped me to be more mindful of my actions and well-being. This simple act helped to set a measured tone for the day.
"You want your body to have something warm in the morning," Anita said. "And if your body is constipated, it helps lubricate it. I have no problem with bowel movements. But if you do, it will help fix that. You want to start the day with elimination, not with eating. That is the biggest thing you can do for yourself, and then you can exercise or have coffee. Having coffee isn't bad. But coffee is very acidic in the body, and that isn't the first thing you want to put in your body."
This is when many people declare their New Year's resolutions to live healthier. I've spent most of my life writing about food and restaurants for newspapers, travel publications, and since 2009, for The Buzz Magazines. But that has yet to translate into a healthy lifestyle. Just the opposite. Then, last month, I had my aha moment.
Anita sat at a table at her restaurant, Pondicheri, in the mixed-used chic development at 2800 Kirby Drive. I met her in 2001 when the North Indian of Sindhi descent blazed onto the scene with Indika restaurant. Back then, I knew little about Anita, only that she was a former housewife who walked into one of Houston's top restaurants and asked for a job. Even more impressive, Café Annie let her work for free until she proved herself. A month later, the pastry chef hired her.
Fast-forward two years, and her boss, James Beard Award-winning chef Robert Del Grande, invited himself and his staff to dinner and was so impressed afterward he said, "You should open a restaurant. How can I help?"
In 2015, Anita left Indika, and it closed in 2019. But by 2011, Anita had already moved on emotionally with Pondicheri, followed by the Bake Lab + Shop in 2014. Located above Pondicheri, the lab is a catchall – a dessert gallery, spice shop, deli, barista bar, gift store, and where Anita teaches her cooking classes.
Near the displays of laddu cookies and chai pie bites are stacks of her new book, Masala: Recipes from India, the Land of Spices. Through the years, I must have asked countless times, "Anita, are you done with that book?" Finally, after a decade of research, her love letter to India arrived. Condé Nast Traveler once said Anita Jaisinghani is dedicated to educating diners about Indian cuisine. She started with Indika, introducing Houstonians to fresh, farm-to-table Indian creations found in the homes rather than the typical rotation of cream and ghee-laden dishes such as chicken tikka masala and saag paneer plated in Indian restaurants across Houston and North America. These often heavy, rich dishes were standards for hotels in Mumbai and Delhi, and for foreign visitors, they represented Indian food. But they were just a glimpse, not the whole picture, Anita said.
Thanks to determined chefs like Anita, many Houstonians learned that Indian cooking is vast, with infinite creativity and nuances beyond red-stained tandoori chicken. And that curry isn't a spice, but a sauce used in tandem with various types of meat and vegetables. There are endless variations of curries.
In her 295-page tome, the self-taught chef walks through the history of this iconic, storied fare. The James Beard Award semifinalist also delves into how to source and store spices. She admitted that the most challenging part of writing this book was deciding what would go into the volume, so she relied on friends, families, and her students.
"I've been teaching cooking classes for so long that I would see how people react to the information I give them," she said. "There were things that people didn't know that I thought were obvious. For instance, people couldn't identify cumin. They hadn't seen mace before. They had seen nutmeg but not mace. Even something as common as black pepper. People would buy pre-ground black pepper, and that is such a no-no in the restaurant world. At least it should be. Café Annie had a special grinder for black pepper; when they ran out of black pepper, they would grind more. Home cooks were buying ground black pepper. But it loses its essential oils so quickly that you shouldn't do that."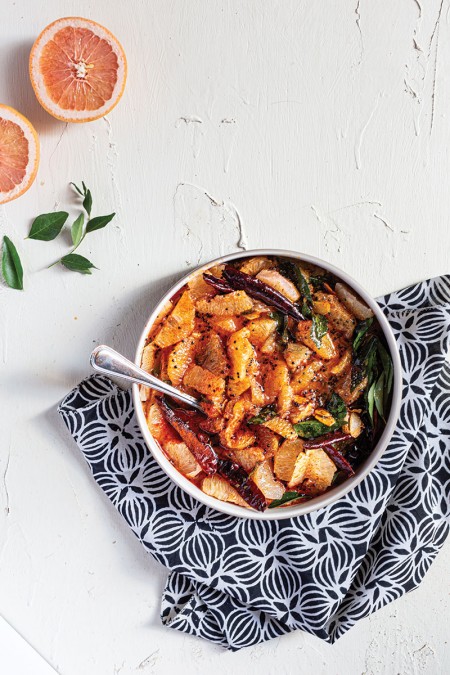 Anita eagerly shares her secret ingredients and techniques with the hope that readers will churn out dishes that are as good or even better than the ones in her book. She arms them with a bevy of tips.
There is a step-by-step chart on how to layer flavors. Anita also tells you how to save time by mincing two cups of peeled garlic cloves in the food processor and then storing the minced garlic in an airtight container with ¼ cup olive oil to prevent the garlic from spoiling and losing flavor. The garlic will keep for a month. I don't know about you. But not having to chop and mince garlic for a few weeks makes me happy. Another go-to is a caramelized onion puree to elevate sauces, soups, and stews.
But before diving into recipes for red beet soup, smoked eggplant, and seafood mulligatawny, Anita devoted a chapter to "Food as Medicine," which has "changed the way I look at food and cook," said the proponent of integrating ancient practices, like Ayurveda, with modern medicine.
Anita worked with a lawyer and Ayurvedic expert to approach this complex topic. Anita realized how people could be turned off by the idea of following a strict diet according to their body types or doshas: Vata, Pitta, and Kapha. Ayurveda practitioners typically pushed this idea. That wasn't for Anita. The body needs all three doshas.
Instead, Anita stresses balance and moderation. She shares uncomplicated, updated ideas that people can incorporate into their daily routines. It's no different than her sneaking a mound of antioxidant-rich sauerkraut onto a lunch bowl at Pondicheri or folding grated carrots into roti dough.
Also, no food is forbidden. This chapter, chock full of information, encourages baby steps in pursuing a healthier lifestyle through food. There is no guilt in not giving up sugar, caffeine, flour, butter, etc. As Anita pointed out, "no food in careful moderation is intrinsically good or bad for us." So, continue to enjoy all of it – in limited amounts. This approach has made me appreciate food in a way that I haven't in a long time. I pay closer attention to flavors, chew slower, taking time to feel the food's effect. I'm reminded of Anita's passage: Food speaks to all of us – we just need to learn to listen.
Spicing it up
Anita sprinkles tips and suggestions throughout her book on incorporating spices into your daily routine. For example, turmeric is known for its anti-inflammatory properties. But instead of taking turmeric pills, she suggests adding a slice of fresh turmeric root to a pitcher of water. It will slowly infuse throughout the day. Your body will absorb it better, consuming this way, she said. Here are other ideas:
• Add a pinch of ground turmeric to scrambled eggs or omelets.
• Add whole cumin seeds to vegetables before roasting them.
• Crush coriander seeds with a rolling pin and add to raw meatball mixtures.
• Add freshly crushed black pepper to brewed coffee.
• Sprinkle chili powder to chocolate cake batter or cookie dough.
• Soak a few fenugreek seeds in water overnight, strain, and drink water in the morning to soothe upset stomach.
• Add whole cardamom pods to a pot of rice or quinoa at the start of cooking.
• Add a stick of cinnamon to iced tea while brewing it.
Here is Anita's recipe for Seafood Mulligatawny. Mulligatawny soup emerged from the new hybrid cuisine that local cooks developed in India to please the British. This version from Anita has a velvety consistency that is hearty with vegetables. The soup can also be made with chicken or just vegetables. Serve it with plain rice or warm crusty bread. The broth keeps in the freezer for up to three months.
1/4 cup toor dal
One 3-to 4-inch piece fresh turmeric
2 cups cauliflower florets
1 large carrot, cut into 1-inch cubes
One 3-to-4-inch piece ginger, roughly chopped
1 or 2 whole serrano chiles
2 teaspoons sea salt
One (14-ounce) can coconut milk
1/4 cup ghee
Generous pinch of asafetida
1 teaspoon black mustard seeds
20 kari (curry) leaves
2 large celery stalks, cut diagonal into 1-inch pieces
8 ounces French green beans, cut into 1-inch pieces
8 ounces small shrimp, peeled and deveined
1 pound fresh mussels or clams
1 teaspoon garam masala (See recipe below)
Juice of 1 lemon
1/2 cup chopped fresh cilantro
Rinse the dal two or three times in several changes of water, add water to cover by a couple of inches, and soak for 5 to 6 hours. Drain.
In a large saucepan, combine the drained dal with 4 cups water and bring to a boil over high heat. Discard any scum that may arise – scum contains impurities that can make lentils hard to digest. Alternatively, drain the dal, through a colander or strainer if needed, into the sink, add 4 fresh cups water, and bring to a boil again. Add the turmeric, cauliflower, carrot, ginger, chiles, and salt and bring to a boil.
Lower the heat, cover, and simmer for 30 to 45 minutes until the dal is dissolved to a mushy consistency and the vegetables are cooked through. Turn the heat off and let the soup rest. Puree in a blender, in batches if needed, until smooth and pour soup back into the pot. Add the coconut milk, and if the soup is too thick, add ½ to 1 cup water.
Heat the ghee in a small frying pan over high heat. Pop the asafetida and mustard seeds (see note below). Add the kari leaves, and immediately scrape them into the soup. Stir in the celery and green beans, then add the shrimp and mussels and cook for 2 to 3 minutes, until the vegetables are still bright green and the seafood is almost cooked through; it will continue to cook in the hot soup. Add garam masala, lemon juice, and cilantro and serve. Serves 4-6.
Note: To "pop" whole spices such as asafetida, mustard seeds, cumin, or fenugreek seeds, heat ghee or oil in a shallow frying pan over high heat. When the oil shines and simmers, just shy of smoking, add the spices. Spices will make sizzling and popping sounds.
Indian cooks jealously guard their garam masala recipe. It is a kitchen must-have, and recipes vary wildly. Some contain coriander and cumin, but Anita prefers a blend of aromatic spices, like those here, which adds a delicious heady finish to a myriad of dishes.
½ cup green cardamom pods
6 large cinnamon sticks
5 star anise pods
5 black cardamom pods
1 teaspoon whole cloves
4 whole mace flowers
1 whole nutmeg
Preheat the oven to 300°F. Combine all the spices in a small bowl. Spread them on a baking sheet and toast in the oven for 3 to 4 minutes, until fragrant. Let cool and grind in a coffee grinder to a powder. Makes 1 cup.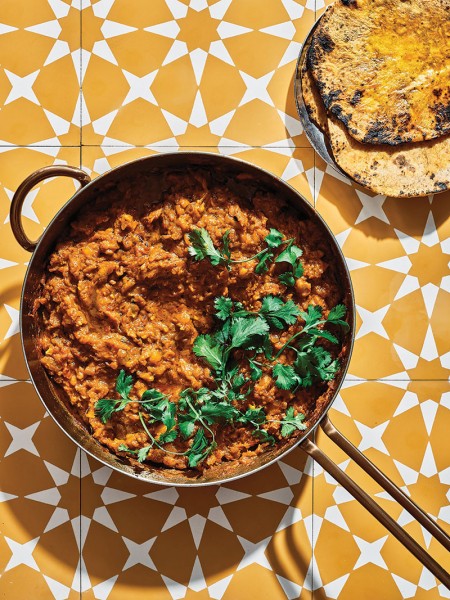 This recipe is inspired by Punjabi baingan bharta, or "spiced eggplant hash." Enjoy warm as main course with roasted vegetables or as a dip, spread, or side dish. Eat it with steamed rice or roti. Anita spreads it on warm toast the next morning for breakfast, and you can even throw it on a poached or fried egg.
2 large purple eggplants
2 unpeeled ripe plantains (optional)
¼ cup olive oil
1 teaspoon cumin seeds
1 cup minced white onion
1 teaspoon minced garlic
½ teaspoon ground turmeric
1 teaspoon red chili powder
1 teaspoon freshly ground black pepper
2 tablespoons ginger puree
1 ½ teaspoons sea salt
1 teaspoon garam masala
Lightly oil the eggplants and place them directly over two burners of your stove over high heat. If your burners are electric, you will need some kind of grate or rack to place the eggplant on. You can also cook the eggplant on an outdoor gas or electric grill. Char the eggplants on all sides, turning them with tongs. They will blacken and crackle on the outside and soften and smoke on the inside. To ensure that the eggplants are cooked all the way through, do not rush this part – the flesh should feel soft when prodded with a fork or table knife. Let the eggplants rest for 2 to 3 minutes, then discard the burnt skin by pulling it off in strips. If some parts are resistant, use a paring knife to cut them out. Mash or chop the inside pulp with a knife and set aside. While the eggplants are smoking, if using the plantain, char it until the peel is black on all sides. Set it aside separately.
Heat the oil in a large saucepan over high heat and pop the cumin seeds, then immediately add the onion and cook until sweaty. Lower the heat and cook until the onions soften and caramelize slightly, about 15 to 20 minutes. Stir in the garlic, cook for 1 minute, then add the mashed eggplant, turmeric, red chili powder, black pepper, ginger puree, and salt. Cover and simmer for another 5 to 6 minutes for the flavors to meld. Remove the plantain pulp, fold it in along with the garam masala, turn the heat off, and serve. Serves 4.
Editor's note: Buzz dining columnist Dai Huynh is a James Beard food-journalism award winner and longtime Houston-based restaurant writer.
Want more buzz like this? Sign up for our Morning Buzz emails.
To leave a comment, please log in or create an account with The Buzz Magazines, Disqus, Facebook, Twitter or Google+. Or you may post as a guest.