Fountain Pens
The good old days
Click the Buzz Me button to receive email notifications when this writer publishes a new article or a new article in this column is published.
There are a lot of things a person my age (78) remembers that have gone away with time and technology. Younger people have no idea what a slide rule is, and I would guess that they are only remotely aware of rotary dial telephones, manual typewriters, dome-shaped hair dryers, or washing machines with wringer rollers attached. Some may even think a floppy disc is a type of spinal disease.
What is on my mind now is the fountain pen. My brother Joe was cleaning out his desk and came across an Esterbrook pen, the kind we all used in high school. He sent it to me with a bottle of black ink as a birthday gift. The truth is, I had the identical pen, but mine had a crack in the cap, and the one he sent is in perfect shape.
I filled the pen with the black ink by pulling and releasing the lever on the barrel that squeezes the ink bladder inside. I put pen to paper, and what a pleasure it was to glide the nib across a notepad and see the meaningless words I scribbled. I wrote Joe a thank-you note with the pen, and the address on the envelope looked fine. There is something about script written with a fountain pen that smacks of elegance. I almost used a return address sticker, but I stopped and wrote that with the pen.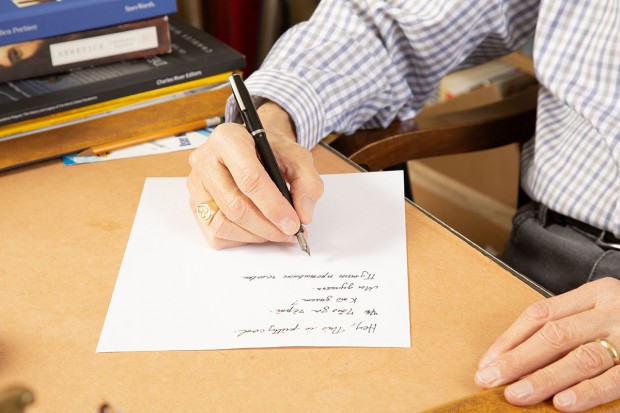 We do not write much anymore. School kids are barely taught cursive writing. If we have something to write, it is usually typed on a computer or smartphone. A message may be an email or, faster yet, a text message. Who would write a handwritten letter on such outdated material as paper? At restaurants, when the check comes, the waiter better provide you with a pen. Nobody carries a pen any longer. In many restaurants, the check comes on an iPad. Just tap it and you are done. Writing by hand is certainly a thing of the past just like soda fountains.
I used a fountain pen for most of my career as a doctor. I enjoyed carefully recording my notes with a favorite pen, but now at least a dozen unused fountain pens are stored in a box in my desk. Electronic records have replaced handwritten notes in doctor's offices and hospitals. And that ended my romance with handwritten notes created with a fountain pen.
What about ballpoint pens? Oh, they get the job done, but they have no class. You can buy them cheaply or acquire them with advertising on the barrel from all sorts of businesses. I have a sack with over 100 unused ballpoints, but I have no use for them, and the ink in them has likely dried up. With a ballpoint pen, you do not have to earn the right to use them. You just remove a little cap that inevitably gets lost or click a button, and you are ready to write.
With a fountain pen, you must be committed and plan ahead. You decide whether to use blue or black ink, and then you must search for a store that sells ink. To fill the pen, you must dip the point in a bottle of ink unless you are using one that takes, heaven forbid, disposable ink cartridges. Once filled, you wipe the tip with something, hopefully a disposable tissue. Does any ink stain your desk or drip onto your clothes? Maybe. Did any ink get smeared on your fingers as you were writing? Probably, but the ink stain on your fingers is a mark of distinction in my mind. It shows how committed you are to writing. Of course, you may run out of ink during the day, and then you have to resort to a ballpoint pen.
I have a doctor friend who still writes with a fountain pen. He is likely the last doctor in the United States who still writes by hand with such a pen. When he retires, there will be no more fountain pen using doctors. That makes me sad, but he is a bit younger than me and unlikely to retire anytime soon. Small consolation.
In case you wondered, this story was typed on a computer. That certainly tells you something. I guess I will consider this story a sort of tombstone memorializing the wonderful fountain pen and me.
Editor's note: Retired physician Dr. Ben Portnoy contributed to two recent features with Buzz writer Cindy Gabriel, Bow Ties: Retired doc still keeps old ties, May 2022 and A Simple Act of Kindness: A baseball story that's about more than baseball, June 2022.
Want more buzz like this? Sign up for our Morning Buzz emails.
To leave a comment, please log in or create an account with The Buzz Magazines, Disqus, Facebook, Twitter or Google+. Or you may post as a guest.