Going the Distance
Diving into a challenge together
Click the Buzz Me button to receive email notifications when this writer publishes a new article or a new article in this column is published.
Helping teens overcome life's challenges is the essence of the social work Sophie McCollum does on a daily basis. The driving force of her altruistic vocation naturally spills over into the pool at the Bellaire Family Aquatic Center, where you will find her most afternoons, comfortable in a bathing suit offering lessons and coaching the Bellaire Barracudas, a swim team for 5-18-year-olds in the Southwest Aquatic League.
As a certified water safety instructor and level 2 member of the American Swimming Coaches Association, the 39-year-old believes that swimming has everything to do with learning life lessons, and it's why she's placed discipline and hard work at the core of her coaching. Folks around here frequently refer to backing up your beliefs by "walking the walk" and last fall when the prospect of Bellaire's 100 Mile Swim Challenge reemerged, Sophie figured it was time she "stroked the stroke." The challenge was simply to swim 100 miles in any body of water with any type of stroke in six months, November – April. 
"I stand in the water a lot and I stand on the deck and around the pool but actually swimming laps is a different story," said Sophie. "I really just wanted to challenge myself and thought that this seems very hard, but something that even if we didn't get to 100 it would be a good way to get back into swimming." 
She decided quickly that the best way to swim 100 miles in six months was to incorporate accountability. So she recruited the perfect group of boosters – three people she knew from years of swimming, but who didn't all know each other. She extended the challenge to fellow Barracudas assistant coach, 25-year-old Audrey Tedore, Barracudas team manager Marc Soriano, 33, and longtime friend and fellow avid swimmer Kathy Cane, 60. They are all just as different as they are alike, agreeing to a personal challenge knowing they would need each other to do it. 
"In the beginning it was all we could do to get to maybe 50-60 laps," said Marc Soriano, a civil engineer who himself swam for the Bellaire Barracudas as a teenager. "We were all pretty out of shape. And then slowly but surely, we got to where we were doing 2,000 yards, 2,400 yards and our workouts just progressively got longer, until eventually I could swim nonstop for two solid hours and do over two miles. And so there were definitely a lot of personal bests and personal growths in there because of how consistent we were." 
Competitive swimming is an art form and doing it well takes physical strength and precise technique, requiring even elite performers to push past a breaking point – a level of intensity Bellaire Rec Center wanted to avoid for the 100-mile challenge. The Bellaire Rec Center Director Wes Chupa said he preferred "consistency" over "intensity." Wes sought to inspire as many swimmers as possible to stay active during the off-season, offering participants plenty of leeway when it came to logging laps between November and April. Some of the participants casually walked in the pool, rather than dive in. Out of 27 people who signed up for the Bellaire Rec Center Challenge, 14 completed it by the May 1 deadline. The first to complete the challenge two years in a row was 79-year-old Bellaire resident, Rosemary Schouten. 
Here's a breakdown of just how many laps are in the Bellaire's meter-style pool. 
¼ mile = 9 laps or 18 wall touches
½ mile = 18 laps or 36 wall touches 
¾ mile = 27 laps or 54 wall touches 
1 mile = 36 laps or 72 wall touches
That's a lot of strokes for a sticker and a T-shirt.
"We were all in it individually, but we came at it from a team perspective," said Sophie. "I could not have done it if I didn't have my three other swimmers pushing me. We had a group text and we created an Excel spreadsheet, documenting everything and keeping each other accountable and that made all the difference. I think my competitive spirit came out because I was determined to get to 100 once I saw it was possible."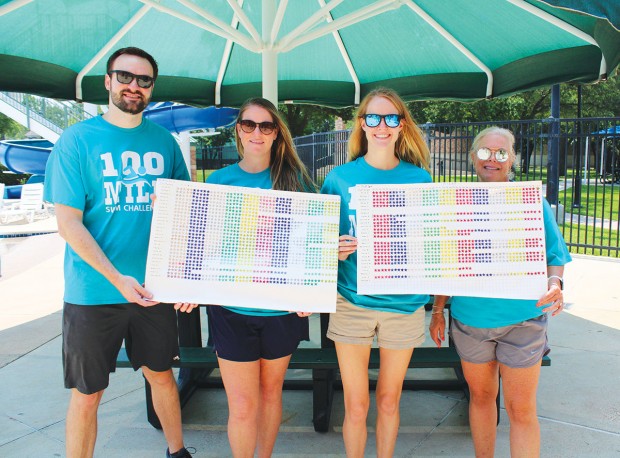 Six months sounds like it might be plenty of time to swim 100 miles, but this foursome all have full-time jobs, families, and other big life events happening. Sophie is getting married. Audrey was finishing up her senior year at the University of Houston with a math degree and minor in finance. Kathy was out of the country for a time but still recorded laps in the ocean. And Marc hit a swim slump when things got too busy with a job promotion, as well as buying a house. 
"I told Sophie, I can't do this," said Marc. "I've extrapolated our workouts out in the future and I'm not going to be able to do the Saturday morning swims because I have this house stuff going on and this that and the other, and work deadlines. Sophie pulled out her coach hat, which she does so well and somehow made me believe that I could do it."
Not to mention there were some frigid swimming days even though the Bellaire pool is heated to 84 degrees.
"I don't think I would have done it if it was just by myself," said Audrey. "It was a lot because I was working part time and doing school, but it was mostly for fun, and I thought at least I'm getting in shape and getting back into swimming. But in the end, I was like I've come this far, I can't quit now."
While Kathy loves to swim, doing this challenge is nothing she would have dreamed up, especially since swimming laps is something she hasn't done since the pandemic shut down pools. 
"What a neat feeling it was to accomplish this," said Kathy who works for her husband's family business making engineering copiers. "I turned 60 in May and so I was like this is going to be my birthday present to myself. I'm going to do 100 miles before I turn 60. And it wasn't easy."
They got stronger and faster. Marc reports losing 20 pounds. Board kicks were written into the workouts so they could talk and socialize while completing a lap. They discovered that at the same time they built a unique and fulfilling friendship. And they have continued to show up for each other. They all went to Audrey's graduation celebration. 
As the deadline of May 1 got closer, Sophie and Kathy found themselves slowing down so they could all touch the wall on the same day at the same time. Encouraging, motivating, and cheering each other on until the very end. And then they did it.... On April 30 at 4:15 p.m., they finished lap number 3,520 together.  
"We cheered," said Kathy. "We had a little bottle of champagne, and we toasted and wore our t-shirts." 
Perseverance, resilience, and a competitive spirit are all essential virtues of athletic success. But for this group of pool-embracing friends, the deepest joy clearly came through the collaboration and the kinship of a genuinely shared accomplishment. Some just call that teamwork.
Want more buzz like this? Sign up for our Morning Buzz emails.
To leave a comment, please log in or create an account with The Buzz Magazines, Disqus, Facebook, Twitter or Google+. Or you may post as a guest.