Summer Delights: Frozen treats from Mexico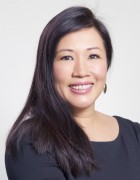 Click the Buzz Me button to receive email notifications when this writer publishes a new article or a new article in this column is published.
I attended several graduation celebrations in Minneapolis this past June. One soiree attracted 300-plus people, and the parents hired two notable chefs to cater the event. The food was terrific, but the hit of the party? The paleta cart.  
The line for Mexican popsicles wrapped around sprawling oak trees. The high school graduates and their parents compared flavors and gushed over the ice-cold treats that were similar to, yet so different from, the ones they grew up eating – guava, strawberries 'n cream, watermelon, and mango with Tajín lime-and-chili seasoning. 
Like everyone there, I had one of each. The paletas from Twin Cities-based La Michoacana Rose transported me back to the '80s when I would stop by La Brisa Ice Cream on Houston's Canal Street for a mango or lime popsicle. La Brisa's paletas were frozen fruit juices, whereas La Michoacana Rose's are hand-crafted "frozen desserts" with chunks of fresh fruit throughout the mango pop. The cookies 'n cream contains Oreo crumbles, and the lush strawberries 'n cream was chockful of fresh berries. 
It dawned on me that this wasn't the paleta I savored during my college days on the East End of downtown. I also was curious about the current Mexican paleta scene in Houston. Not surprisingly, the south-of-the-border summer treat is having a moment. 
Since 2016, several hand-crafted, artisanal paleterias have popped up around town. Most notable is Popston, a Cinderella tale in the making. With temperatures soaring, I couldn't resist the excuse to sample the icy offerings around town. There are plenty these days, but a handful stood out. Some are "elevated" and chef-driven, while others are more traditional. Also, you can make your own with recipes from award-winning pastry chef Ruben Ortega. It's super easy, with just a few seasonal ingredients.
My first stop was Popston (3401 Harrisburg Blvd., Suite B), one of several businesses at The Plant, a 20,000-square-foot space in Houston's Second Ward. This popsicle emporium sells seasonal creations that range from $5 to $7 each – on the pricier end, but this is where I would take my out-of-town guests for their frozen dessert on a stick. 
Owner Jonathan Delgado doesn't skimp on ingredients or creativity, either. "This paleta reminds me of the actual fruit. That's how I judge whether it's a good paleta or not. It has to have the flavors of real fruits," says 16-year-old Sareli Juna while enjoying a tamarind popsicle.   
Jonathan started selling popsicles at metro bus stops in 2016 after being laid off as a refrigerator parts salesman. His grandmother in El Salvador sold 25-cent horchata popsicles, so he thought, "Why not start creating flavors that mirror Houston's diverse food scene?"
With encouragement from his wife, Magda, he bought an ice cream cart and books on frozen pops from now-closed Half Price Books in Rice Village. Soon enough, he started peddling popsicles, but success didn't happen overnight. "Nobody was buying my pops," he recalls. "There is the Japanese Garden in Hermann Park, and I just sat down and started crying. I started praying, too. After an hour, I gathered myself and thought, 'You know, I'm just going to go a little bit more." 
Jonathan kept pushing his cart from the Houston Medical Center to the Museum of Fine Arts. Then one cart became 10  at pop-up events, music festivals, and the Houston Arboretum, where he still sells his popsicles on weekends. Finally, last year, the Houston native opened a retail space with outdoor seating near downtown, taking orders through a pink-framed, walk-up window. 
Popston sells thousands of popsicles monthly in unique flavors such as blueberry mojito, kiwi mango, lemon curd,orange honey salted lemonade, Mexican Bananas Foster, roasted hazelnut with Ferrero Rocher chocolate, creamy honey lavender, birthday cake, and pistachio rosewater. For me, the passion guava mango was the perfect respite from this summer's record-breaking heat. It was one of 10 terrific flavors I sampled, including his latest creation, Summer Wind, with guanábana (soursop). Named after Frank Sinatra's classic song about summer love, I've found mine.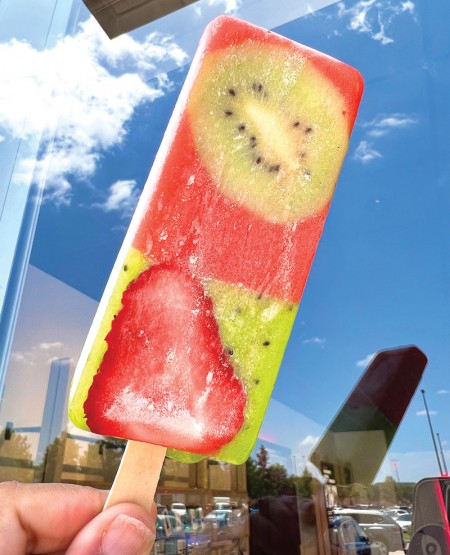 It's Sunday evening, and most businesses neighboring The Paleta Bar (9738 Katy Freeway, No. 600) have closed. And yet, families are gathered out front, swapping stories and eating ice pops. "You see people opening their truck beds and sitting there, talking," co-owner Amin Kamaluddin says. "They're just hanging out with their kids. At 8, 9 o'clock, we're the only place open on that strip, so all these people are parked there to hang out for 45 minutes to an hour. It just takes people back to their childhood." 
The Paleta Bar could barely keep up with the demand when it opened last year, thanks to word-of-mouth on social media about the Albuquerque-based concept's ability to customize the frozen dessert with options such as melted dark and milk chocolate, marshmallows, M&Ms, powdered chili, Cocoa Pebbles, chopped nuts, and sliced fruits. 
However, the franchise's top sellers are plain-old coconut, mango, cookies 'n cream, strawberries 'n cream, and the ubiquitous mango with chili. "Mango chili is hard to do in ice cream, but on a stick … you can do a lot of combination flavors," says Amin. The Paleta Bar's popsicles sell for $4.50, plus another $1 or $2 for customization.
You never know what to expect at Popfancy Dessert Bar (9393 Bellaire Blvd., A6). The décor and menu change monthly, but one thing that remains constant is popsicles, says owner Chris Doan, who quit his corporate gig to sell homemade popsicles in mall kiosks in 2015. 
"Gourmet popsicles were on the rise," says the Vietnamese-American entrepreneur. "At the time, no one was doing it in Houston, and I wanted to do a body of flavors that reflected the diversity of our city. I thought, 'Let's spice this up!' So, we started doing flavors like Thai tea, sweet taro, and creamy avocado– – Asian-inspired flavors. We threw in Mexican flavors, like mangonada, and Caribbean flavors." 
There are 20 flavors available, and each sells for $3.69. Granted, fans come for the frozen treats, but they also come for the immersive, miniature "theme park" experience. Popfancy is a "fan cafe," so it pays homage to a fandom each month. During my visit, the theme was video arcade games, so you entered a 1,800-square-foot video arcade space, and my kiddos played free arcade games while slurping popsicles. Popfancy also has celebrated K-pop groups, Marvel characters, Disney movies, and anime. Chris isn't sure what his next theme will be. Maybe Barbie because of the movie. One thing's certain: He plans to make it entertaining. 
I contacted a foodie friend to get a few recommendations on more traditional paleta offerings. She suggested Tarascos Ice Cream (13932 Westheimer Rd.), known for its fruit tacos. It offers a multitude of paletas for $3.75–$4.95. Still, you can't go wrong with the classics, including refreshing watermelon, cajeta (Mexican caramel), guanábana, tropical mango, and cookies 'n cream with two whole Oreos. Almost all of the fruit paletas we tried had chunks of real fruits. My personal favorite – watermelon – even had a couple of seeds. 
Tamales Don Pepe chef-owner Rene Hidalgo pointed me toward La Monarca (10804 S. Post Oak Rd.). "The paletas are like the ones I used to eat in Mexico City. They're very good, made with real fruit juice, not artificial flavorings like many places around town." 
The line was out the door when I arrived. The tiny ice cream shop was painted a bright, cheerful yellow. A sky-blue sign and a baby-pink sign listed the paleta and ice cream flavors, respectively. At $2.25 per paleta, I bought two dozen, one of each flavor, including cantaloupe, coffee, butter pecan, arroz con leche, and pineapple with chile. 
What makes La Monarca's paletas so refreshing and mouthwatering is their simplicity: natural, balanced flavors, made with finely pureed fresh fruit, blended with water, cream, or milk, and frozen onto a popsicle stick, or palo that gives paleta its name.
Paletas were an everyday affair in Mexico City for Chef Ruben Ortega. Thus, he included this symbol of his childhood in Hugo Ortega's Street Food of Mexico, which he co-authored with brother Hugo. Here are recipes for mango and raspberry popsicles from the James Beard Award-nominated pastry chef. 
1 cup granulated sugar
2 cups mango purée
2 cups water
Pour the sugar and water into a saucepan, whisk to combine, and place the pan over medium to high heat. Bring to a boil and continue boiling for five minutes. Add the mango purée, whisk for one minute, and immediately remove from the heat. Transfer to a bowl and cool to room temperature over an ice water bath. Pour the cooled base mixture into eight ice pop molds and place in a freezer for one hour to set, then insert wooden sticks into the center of each mold and freeze until fully set, about eight hours. Makes 8. 
1 cup granulated sugar
4 pints fresh raspberries
1 tablespoon fresh lime juice
3 cups water
Combine the sugar and water in a saucepan and place over medium heat. Bring to a boil, about four minutes. Stir in the raspberries and lower the heat to medium, about three minutes, then add the lime juice. Remove from heat, then strain and discard the pulp. Pour the cooled base mixture into eight ice pop molds and place in the freezer for one hour to set, then insert wooden sticks into the center of each mold and freeze until fully set, about eight hours. Makes 8.
Growing up, I would drink condensed milk straight out of the can. Love the stuff. Here's my recipe for key lime pie popsicles. You also can use regular limes or Meyer lemons when in season instead of key limes. 
14-16 key lime for  about ½ cup of lime juice 
3-4 teaspoons lime zest 
¾ cup sweetened condensed milk
1 cup half-and-half 
A pinch of salt 
3 cups coarsely crushed graham crackers
Zest the limes. Then juice the limes. In a small pot, pour in condensed milk and half-and-half. Stir over medium heat until just about to boil. Remove from heat. Stir in salt and allow to cool to room temperature. Drizzle in lime juice, mix well, then taste. Add more lime juice if you prefer it even more tart. Stir in the zest and whisk together until thoroughly combined. Pour into popsicle molds. Freeze for six to eight hours or until completely frozen. Dip in warm water for 10 seconds to unmold each popsicle. Before serving, sprinkle generously each side of the popsicle with crushed graham crackers. Makes 8. 
Editor's note: Buzz dining columnist Dai Huynh is a James Beard food-journalism award winner and longtime Houston-based restaurant writer.
Want more buzz like this? Sign up for our Morning Buzz emails.
To leave a comment, please log in or create an account with The Buzz Magazines, Disqus, Facebook, Twitter or Google+. Or you may post as a guest.