Texans in Telluride
Click the Buzz Me button to receive email notifications when this writer publishes a new article or a new article in this column is published.
Buzz editor Joni and publisher Michael Hoffman often find that work follows them everywhere they go. Even so, what happened in Telluride over the holidays took them by surprise.
They'd booked a room at the Fairmont Heritage Place's Franz Klammer Lodge and were looking forward to a winter escape. They also were on a mission: They hoped to meet another family from the Buzz readership area to interview for this story. They needn't have worried.
They hadn't been on the shuttle from the airport more than five minutes when it began. Michael and Joni struck up a conversation with the woman who shared their shuttle. Abbe Ulrich was her name, and it turned out she hailed from West University in Houston; she was there to meet up with other members of her far-flung family. Her parents had fallen in love with Telluride eight years ago and invested in a condo at the Fairmont so they could make that the family's point of reunion.
They exchanged information, and Abbe said she would be happy to have her photo taken during her stay.
Mission accomplished, the Hoffmans set about installing themselves in the Fairmont. They thought the lodge offered just the right blend of rustic and luxury, and Telluride was quaint and beautiful. But it wasn't long before they discovered their networking was far from over.
The next morning they got up to go skiing and a young man approached their son Matt. "Did you go to Bellaire High School?" he asked. It turned out they had taken a class together. That was Aman Narayan, who was there with his parents, Rakesh and Swati, and his two brothers, Deven and Milan, and family friend Arjun Ramsunder. Even their dogs had made a connection, as they later discovered; the Narayans' yellow lab, Shehalia, was being boarded at Rover Oaks Pet Resort along with the Hoffmans' two golden retrievers, Duke and Bailey.
Joni invited the whole family to be included in the following day's photo shoot.
Then, as Michael made his way up the mountain on the chairlift, he met Julie and David Brown. "Oh my God, we're in The Buzz this month!" exclaimed Julie when she learned who Michael was. The Browns are from Tanglewood and have owned a home in Telluride since this past spring, when they fell in love with the town during a fly-fishing expedition. Julie and family were invited to join the photo shoot, as well.
By the time they made it to the morning photo shoot, the group numbered 11. But that wasn't all.
The Hoffmans' friends, Myrna and David Engler from Bellaire, had come to join them, along with their daughters Kelly and Amy. They were all dining together at Allred's, Telluride's flagship restaurant at the top of the gondola. It was the very last reservation of the night on the last night of the Hoffmans'  trip, and the place was nearly empty except for them and the piano player. Kelly, who is in the musical theater program at Northwestern University, began to sing along.
"So we're listening to Kelly and the piano player, and all of a sudden a couple sitting at the fireplace came around the corner; they were enjoying hearing Kelly singing," Joni recalled. They struck up a conversation; it turned out the man was Chuck Horning, owner of the Telluride Ski and Golf Resort.
"Oh, yes, we love Houstonians," Horning told them with a laugh. He had just had dinner with Susan and Mike Plank, who live in Memorial. The couple had bought a second home in Telluride seven years ago and had been celebrating the holidays here for more than a decade.
"It was amazing," Joni said later. "The thing is, in order for us to be able to include people in the magazine, they can't just be from Houston, but they have to be residents in the Buzz readership areas – West U, Bellaire, Tanglewood, River Oaks and Memorial." Susan and Mike completed the quartet.
"What we like about it is that it's very laid back," Susan said. "You don't have to get dressed up to go out; it's not a frou-frou resort." Added Mike, "And it certainly doesn't hurt that it just happens to be the most gorgeous mountain setting in North America."
Susan says there's no room for pretentiousness, even given the town's status as a hangout for the stars.
Dennis Quaid had been on the mountain skiing two days earlier; on other occasions they've run into Tom Cruise or George Strait. Equally unusual is the complete lack of paparazzi.
Abbe, too, has grown accustomed to Telluride's star quality. "Yesterday I rode in the elevator with Kelly Ripa; one year I saw Jerry Seinfeld and his family, and once I saw Ben Stiller."
On Christmas Eve her family goes to Mass, and Kelly Ripa is always there. This year, she gave out communion.
Parents say they like the sense of safety and connectedness; they can relax while their kids explore the towns of Telluride and the neighboring Mountain Village, which are linked by a 13-minute ride on a free gondola system.
"The kids can take the gondola and go into town, get ice cream and come back by themselves," Susan said.
For the Englers, who were here for the first time, the true test of Telluride would be whether it was worth the trip if you couldn't ski. Kelly had stepped on a broken glass and sliced open her foot right before the trip, an injury that required a trip to the emergency room and eight stitches, and would necessitate crutches or a wheelchair for the duration of her stay.
Bad luck it was, but the family pulled together and made the most of it. Telluride passed the test with flying colors.
"It was very quaint, with gorgeous weather – just perfect," said Myrna. "Riding on the gondola was great, whether we were going out to dinner or sightseeing, and the hotel was magnificent."
Amy spent some time out on the slopes, but Myrna, David and Kelly spent their time exploring. They went into town, went shopping, ate out and saw the sights, taking turns pushing the wheelchair – a task that the Hoffman boys, Andy and Matt, stepped up for, as well. There was no shortage of things to do, as it turned out, and Telluride, despite its location on a mountainside, was enormously accessible.
The gondola, which has a ramp and accommodates wheelchairs, met Kelly's needs without a hitch.
One of most memorable activities came on their last day, when they scheduled a horse-drawn sleigh ride with Roudy the Cowboy. "They call him Roudy for a reason – he's a hell raiser," said Myrna with a laugh.
For the Nayarans, too, it was the first time to Telluride, and it probably won't be the last. They also stayed at the Fairmont, and they loved it.
The Narayans take a ski vacation every winter, usually choosing a different destination each year – but after their visit to Telluride, they've decided to go back and do it again. When Rakesh rattles off a list of the resorts he's been to, it sounds like Ski Magazine's Top 10: Beaver Creek, Steamboat, Whistler, Deer Valley, Mont Tremblant in Montreal. In Telluride, he was impressed by the convenience – a short flight, then a short shuttle ride – and, like the Englers, appreciated the short lines he encountered everywhere he went.
"It's a very nice place, nice and quiet – I was expecting it to be very crowded," he said. "It's much quieter than I expected. You could walk into restaurants at lunchtime or dinnertime, and you didn't have to wait."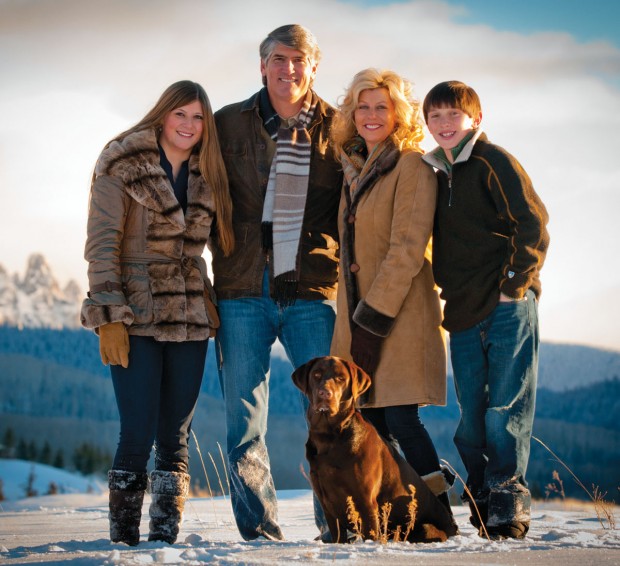 The Planks have raised their children as much in Telluride as in Houston. "We came here 15 years ago when some friends invited us up for a summer visit; they said, 'You've got to see this place,'" said Susan. "So we came up here, fell in love with it, and that was it."
At first they leased, and then they found the home that would hold their dreams – a beautiful log home right on the mountain with a 270-degree vista. Their eldest, Kendall, now a senior at Episcopal High School in Bellaire, was only three when they began coming here. Jared, now 13, was born a couple of years later.
They began celebrating every Christmas here, and in summer it was the logical place to beat the Houston heat with fly-fishing, whitewater rafting, hiking and golf – and some serious motorcycling for Mike and the kids. Every summer Wednesday there's a free concert in the town square.
The ski school is another draw. Kendall learned to ski at 4, their second year in Telluride, and Jared learned at just 2½.
For Julie and David Brown, it took longer to find Telluride, but once they did, it was no time at all before they found their second home. They have taken their family skiing all over – the names roll off Julie's tongue like a Top 10 listing from Ski Magazine: Lake Louise, Park City, Aspen, Snowmass, Vail, Beaver Creek, Steamboat, Whistler. Two of their three daughters have skied in France.
"We always thought we'd get a place in the Canadian Rockies, but we absolutely fell in love with Telluride," said Julie. All it took was a fly-fishing trip this spring to get them house hunting. That same trip they found the perfect log house right on a ski run, and they bought it on the spot.
Having a place where the whole family can feel engaged was key. They have three daughters: Ashley, 21; Madeline, 19; and Caroline, 18; and a son, Christopher, 25, and they can go out at night and ride the gondola home with no worries. The town has a tempting offering of fine restaurants and a lively nightlife, which the kids love. Julie often prefers to cook at home. On the way in from the airport in Montrose, they usually stop at City Market and the big box stores to stock up on groceries and supplies; she also frequents Telluride's vibrant Village Market for fresh meat and produce.
That doesn't mean she's hibernating, of course. "There's tons of stuff to do here – you can ice skate, you can snowboard, you can cross-country ski. Yesterday my parents were visiting from Texas and we took them snowshoeing with our border collies and there were all these ice fishermen out on Trout Lake."
The kids were busy being kids again when not snowboarding – building a highly engineered snow fort in the front yard with an ice axe and hammers, based on directions they downloaded from the Internet.
The family usually takes a one- to two-week winter getaway, but for some of them, this year it will be more. Madeline is taking the Dartmouth winter quarter off working for the Telluride Adaptive Ski Program, a part of a national network of sports and education programs for people with disabilities. Caroline is spending the Kinkaid interim term of January volunteering at TASP, so the sisters and mom will be enjoying Telluride's famous winter powder. One of the highlights will be a month without needing a car – thanks to the gondolas.
Halfway into their first winter in Telluride, they are sure they made the right decision.
"We wanted something that would be like a kid magnet," Julie said with a laugh, "that people would want to come back here and get together."
The constellation of Houstonians came as no surprise to Chuck Horning. "This is just the tip of the iceberg," he said in a telephone interview. "There's kind of a love relationship between Telluride and Houston, and I don't fully understand it, but I love it. They create fabulous energy and they add a lot to this place. They aren't just visitors; they're fully engaged. They're high-energy people. It's really a wonderful relationship."
People in this article:
Michael Hoffman
,
Joni Hoffman
,
Abbe Ulrich
,
Matt Hoffman
,
Aman Narayan
,
Rakesh Narayan
,
Swati Narayan
,
Deven Narayan
,
Milan Narayan
,
Arjun Ramsunder
,
Julie Brown
,
David Brown
,
Myrna Engler
,
David Engler
,
Kelly Engler
,
Amy Engler
,
Chuck Horning
,
Susan Plank
,
Mike Plank
,
Kendall Plank
,
Jared Plank
,
Dennis Quaid
,
Tom Cruise
,
George Strait
,
Kella Ripa
,
Jerry Seinfeld
,
Ben Stiller
,
Ashley Brown
,
Madeline Brown
,
Caroline Brown
,
Christopher Brown
Want more buzz like this? Sign up for our Morning Buzz emails.
To leave a comment, please log in or create an account with The Buzz Magazines, Disqus, Facebook, Twitter or Google+. Or you may post as a guest.