Sunday Mornings with Rania: The Women Behind the Movement
Click the Buzz Me button to receive email notifications when this writer publishes a new article or a new article in this column is published.
On Friday, Jan. 27, 2017, I had the incredible pleasure of announcing and cutting the ribbon on the very first Crime Stoppers of Houston headquarters anywhere in the world, The Dave Ward Building, Crime Stoppers of Houston. The new home will be in Midtown, on bustling Main Street. To say I am proud and was moved is an understatement.
As I stood at the podium and looked out to an incredible sea of media cameras, elected officials on the city, county, state and federal level as well as our friends HPD Chief Art Acevedo, Sheriff Ed Gonzalez, District Attorney Kim Ogg, Commissioner Jack Cagle, Constable Alan Rosen and so many others, I was overwhelmed. We have a great community. We have an incredible community and there are many in the spotlight who should be, who deserve to be and we are so proud. But I also thought of the many women behind the movement. The women who are behind the community events, behind the fundraising, behind the work. Today, I had to do a tribute piece to those women. And there are many.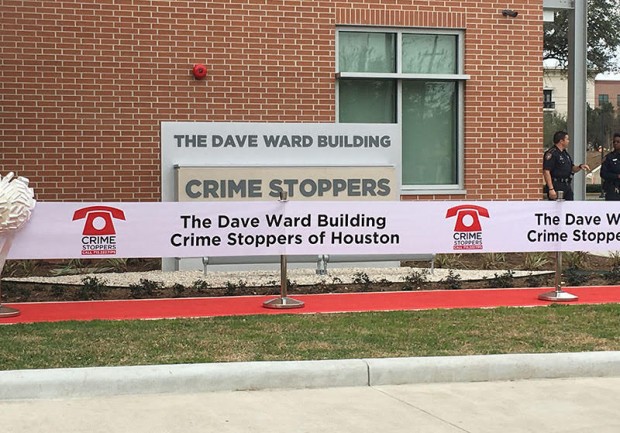 We all love and adore Dave Ward. That goes without saying. But I want to highlight his incredible wife, Laura. Many have said that with Laura in your corner, nothing else is needed. And that's true. A dedicated mother and grandmother, Laura has served Houston's other children through her work at Variety Club and now Houston's Children's Charity. In her "spare" time, she raises much-needed funds for our men and women in blue through her board position on the Houston Police Foundation. And as if I could add one more "and" – Laura has also become Crime Stoppers' largest and most active volunteer, offering guidance, support, direction and above all else, her time and talents. If Laura loves you and values what you are doing, you will know it and you'll be lucky. And those she fiercely values, value her right back. Crime Stoppers is truly thankful to her for her partnership and dedication.
The volunteer community in Houston is one that would leave any other city jealous. The following women come to mind: Debbie Pakzaban (who is chairing Crime Stoppers' spring prom event taking place at Tootsies thanks to Shelley Taylor Ludwick), Tena Lundquist Faust, Tama Lundquist (both superhuman advocates for our animal community); Council Member Brenda Stardig, Donae Chramosta, Jerri Duddlesten Moore, Cyndy Garza Roberts, Jennifer Reyna, Roula Christie, Michelle Heinz, Constance White and Sheila Aron (passionate about children and school safety); Ruchi Mukerjee and Stephanie Von Stein (committed to end domestic violence); Joy Partain and Tracey Faulkner (determined to end human trafficking); and then there are those who say just tell me what needs to be done and let's do it for our community: Carol Sawyer, Vicki Rizzo, Leisa Holland Nelson, Alma Kombargi, Officer Ann Marie Carrizales, The Buzz's own Joni Hoffman, Great Day Houston's Debra Duncan, Gail Stalarow, Sneha Merchant, Sippi Khurana, Crystal Parker, Nina Verma Magon and so many more.
Give me a moment to make a really important distinction though. Crime Stoppers, the critical work we do every day, quietly takes us into the deepest and darkest corners of this city to help those in greatest need. That is the work we do, every single day. But the criminals we deal with do not deserve the time or attention to be highlighted and the victim families require respect and discretion. When we highlight the volunteers it is because we are thankful for the power they give us to drive our efforts and mission forward.
People ask me all the time – how do you do what you do? My answer is simple. One, I was born with a deep love and passion for others, for children and for a safe community. Two, I know the key to success is to be surrounded by others who care too. Between our growing volunteer community and a staff that simply stands above the rest: Nichole Christoph, Mimi Zarenchansky, Tania Cruz, Cabell Wood, Allison Lewis, Michelle Sacks, Paige Holleck, Sonia Soto, Danesa Samuels, Stuart Hudson and the one and only, Jeff McShan – I have found my recipe for success. Together, we are making a difference for all and becoming a model for the nation. We build, we rise and we move forward because we stand so tightly together. And I am so thankful for it. 
For more information on Crime Stoppers of Houston, go to crime-stoppers.org and follow Crime Stoppers on Facebook. Have topics in mind that you'd like Rania to write about? Email her directly at [email protected]. Connect with Rania on Instagram and Twitter. Read past Sundays with Rania posts here.
Editor's Note: Views expressed here are those of the author and do not necessarily represent the views of The Buzz Magazines.
People in this article:
Rania Mankarious
,
Art Acevedo
,
Ed Gonzalez
,
Karla Cisneros
,
Sheila Aron
,
Gail Stalarow
,
Kim Ogg
,
Jack Cagle
,
Alan Rosen
,
Dave Ward
,
Laura Ward
,
Debbie Pakzaban
,
Shelley Taylor Ludwick
,
Tena Lundquist Faust
,
Tama Lundquist
,
Brenda Stardig
,
Donae Chramosta
,
Jerri Duddlesten Moore
,
Cyndy Garza Roberts
,
Jennifer Reyna
,
Roula Christie
,
Michelle Heinz
,
Constance White
,
Ruchi Mukerjee
,
Stephanie Von Stein
,
Joy Partain
,
Tracey Faulkner
,
Carol Sawyer
,
Vicki Rizzo
,
Leisa Holland Nelson
,
Alma Kombargi
,
Ann Marie Carrizales
,
Joni Hoffman
,
Debra Duncan
,
Sneha Merhcant
,
Sippi Khurana
,
Crystal Parker
,
Nina Verma Magon
,
Nichole Christoph
,
Mimi Zarenchansky
,
Tania Cruz
,
Cabell Wood
,
Allison Lewis
,
Michelle Sacks
,
Paige Holleck
,
Sonia Soto
,
Danesa Samuels
,
Stuart Hudson
,
Jeff McShan
Want more buzz like this? Sign up for our Morning Buzz emails.
To leave a comment, please log in or create an account with The Buzz Magazines, Disqus, Facebook, Twitter or Google+. Or you may post as a guest.