Yes to the Dress
A wedding memoir in silk and lace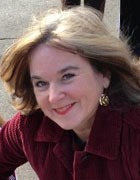 Click the Buzz Me button to receive email notifications when this writer publishes a new article or a new article in this column is published.
Tea. It's not just for drinking. Dip stark white lace into the hot brew and it takes on the shade of a lovely vintage ivory, explains Shirley Harper, 81, who keeps a trick or two up her perfectly tailored sleeve.
"Just dunk it in and then wring it out. If it's a shade darker than wanted, rinse it a bit."
Shirley muses about French Alencon lace like a poet immersed in verse. While the serial seamstress has tea-dyed many a piece of the delicate fabric, none were so steeped in love and sentiment as the trim stitched to one particular wedding gown.
On a Hill Country bluff outside of Fredericksburg, the Sunday after Easter, beaming bride Erica Reed, 24, exchanged vows with St. John's School sweetheart Benjamin Lee in the same classic wedding dress that her grandmother Shirley created for her own daughter, Mary Ann Reed, 37 years ago.
Silk chiffon had replaced its original skirt of satin. Fresh tea-dyed lace blended with old, gently aged by time.
New beginnings.
"I know I'll cry," says Erica's mother Mary Ann, blinking back tears. The three generations of women had gathered in Shirley's small apartment at Brookdale West University senior living, weeks before final fitting.
"My mom can get emotional," says Erica, matter-of-factly. "I didn't want to try any other dress. I liked the idea of wearing my mom's dress. It looked pretty and my grandmother made it, so it's meaningful. If she was up to the task, I was all for it."
If not for a bit of luck and steely resilience, the evolving story of the dress could have ended mid-chapter.
Two years ago on Mary Ann's birthday, Shirley had a stroke, losing half of her vision in both eyes.
"We didn't even know if she'd be able to sew again," says Mary Ann who, with husband Ted, settled her mom into Brookdale just three miles from their Bellaire home. She had been living alone in Peoria, Illinois, before.
She can no longer drive. But by golly and a miracle, she can still sew.
"It really hasn't affected it much," Shirley explains, "but I lost sight in both eyes on the left, half of my vision in both eyes."
As if that curveball weren't enough, Mother Nature lobbed one too.
Hurricane Harvey flooded Mary Ann and Ted's home last August. If not for neighbor Dana Corbett and her son Peter, the dress, stored in a cardboard box under the couple's bed, could have been ruined altogether. They moved it to higher ground.
"Ted and I had gone to Galveston to check on our house there and stayed the night then couldn't get back. They moved everything they could grab to higher ground. Thank God they saw that box under the bed!"
Surely the bulls-eye was off the family's back.
"You would think," Mary Ann says.
"Then Mom had another stroke."
Just weeks before the wedding, Shirley awoke to a left hand that wasn't working. "It felt like a foreign object." The stroke impaired mobility in her left hand and forearm. She was hospitalized for three days.
"I'm much better now," she says, happily obeying doctor's physical therapy instructions to keep on sewing. "Moving her hands, keeping them busy is the best thing, and she does that anyway," says her daughter. "Always."
"Well, yes, I'm always doing something with my hands," Shirley says. "I sew, but I also like needlepoint and knitting."
Shirley can scarce remember pre-sewing days.
She started out as a schoolgirl, pumping a treadle machine in home economics classes in Peoria. Putting stitch to fabric was thrilling. She was good at it and the skill came in handy for a girl who was 6 feet tall by the eighth grade. "I couldn't find clothes to wear. It was great that I could make them. I made a lot of skirts."
Her mom didn't sew. They didn't own a machine. The elderly widow next door made an offer. "You can use my machine." Gleeful as a kid on the first day of summer vacation, she bounded to her neighbor's house. "I was over there all the time," she recalls. "It was wonderful."
"Can you just picture this?" interjects Mary Ann. "I can so picture it."
By teen years, Shirley had stitched together a plan. She'd save babysitting money plus get a job at a department store that sold the objects of her affection. "I did that. I saved for two years. Put a sewing machine on layaway. It was $200."
Before long she was the family seamstress, adding to her own wardrobe and sewing shirts for her dad, a tall, strapping man and former basketball player for the Chicago Bruins.
"Oh, the story doesn't stop there," says Mary Ann, who, with younger sister Beth, wore Shirley's fashions from baby years on up while raised in Decatur, Illinois. "Mom was always in the basement," she laughs, "hunched over a sewing machine."
Cheerleader uniforms. Pom Pom girl outfits. She clothed entire cadres of girls at local Decatur schools.
While other friends might see their prom dress on someone else, not Shirley's daughters. Well, there was one year that Beth insisted on a store-bought gown. "It was cute. But when she saw two other dresses that were the same as hers she said never again," the seamstress chuckles.
Years came and went. Shirley kept sewing. Proms. Homecomings.
Weddings.
"That's why this is just so emotional for me," says Mary Ann. "My wedding gown was the first one my mom ever made. To see Erica in it…." Her voice drops off. "Really so special."
Shirley made Beth's wedding dress too. And the bridesmaid gowns for both daughters' weddings.
Then came a flurry of requests.
Friends of her daughters. Their bridesmaids now getting married. Would she make their wedding dresses? Their bridesmaid dresses? "It snowballed," says Shirley. After divorcing, she moved from Decatur back to hometown Peoria and opened a bridal shop, Custom Wedding Gowns by Shirley. Business boomed. Central Illinois clamored for Shirley's couture-quality wedding dresses.
"I did my dentist's daughter's wedding, I was involved in my doctor's daughter's wedding, and I did my attorney's daughter's wedding."
She points to Mary Ann's updated gown. "It didn't take much to make this work for Erica. It's very traditional, long sleeves. That's a new skirt I put on for her, silk chiffon. And I did some alterations on the back of the bodice, putting some lace up where the buttons are. The base of the bodice is all illusion, otherwise known as veiling, and it goes all the way down."
She recalls Mary Ann and Ted's wedding. Nov. 28 1981, a cold day. "So I made her a white velvet cape and put a fur trim boa all the way around it and made a muff. "
The piece de resistance, the veil with a hat. "We found the hat at Marshall Field's and they wanted $225 for it. I made it instead for $17. It's all illusion, a little hat form with the bell turned down, and I covered it in gathered illusion and I think a roll of pearls around the crease. The veil was as long as the train on the dress. And it had some lace all the way around it."
She goes to her closet, returning with an armful. A jacket in fine metallic brocade. A navy number in gold motif. A gold-tone dupioni silk skirt and matching jacket. "I love high quality fabric," she says, revealing a stash in her cabinet, next to her sewing corner. A sewing machine and racks of thread, every color, takes up residence next to her kitchen. She donated $2,000 of high quality fabric to the American Sewing Guild, of which she is a member, before downsizing to her apartment here.
"My mom could live at High Fashion Home fabric store," says Mary Ann. "Her favorite thing to do. Kid in a candy store."
"I admit I love a good fabric," interjects Shirley. "The silk chiffon skirt on Erica's dress is lovely. It makes me happy and proud to see her wear it."
Erica and Benjamin, graduates of The University of Texas, are creative types themselves. Erica, an advertising major, studies art. A beautiful bird rendering she made for her grandmother sits front and center on Shirley's wall. And her mechanical engineering husband Benjamin likes to dabble in all manner of artistic ventures. He made the leather belts for his groomsmen. Yep. There's that.
"So guess what they're getting for a wedding gift from this one?" Mary Ann asks, putting the sideways glance to her mom.
"Well, yes," quips Shirley. "They could use a sewing machine."
Want more buzz like this? Sign up for our Morning Buzz emails.
To leave a comment, please log in or create an account with The Buzz Magazines, Disqus, Facebook, Twitter or Google+. Or you may post as a guest.