West U Chuck E. Cheese Leaves Good-Bye Tokens of Memories
Click the Buzz Me button to receive email notifications when this writer publishes a new article or a new article in this column is published.
Back in 1984, a new neighbor moved into West University at the corner of Weslayan and Bissonnet. He was a pizza making, birthday celebrating, joke telling, robotic dancing, mechanical singing, band rocking, game playing, music blasting, lights blinking, colored plastic ball diving, car ride waving and kid loving five foot rat named Charles Entertainment Cheese, but his friends just call him Chuck E. Cheese.
Flash forward 34 years…(cue up wavy special effects and sound) our normally Zen-like friend, Pegi Newhouse, is a bit frantic on the phone. "They're emptying out the Weslayan Chuck E. Cheese's. They're loading everything into trucks and dumpsters. Arcade games, robotic characters, dining booths, climbing structures, you name it." We're both silent for a moment. Pegi lets out a sigh. I imagine she is recalling special times with her Episcopal High School graduating senior, Thomas, and Lizzie, who's an eighth grader at Pin Oak. Another nostalgic parenting chapter comes to an end.
The next day I pop by the Chuck E. Cheese (CEC) and peek in. Sure enough, the entire room is empty. The sign posted near the door reads:
"Chuck E. Cheese's announces that this location will cease operations effective September 23rd at 9 p.m. We truly thank our guests for your support and patronage. It's been a pleasure making magic with you for 34 years!"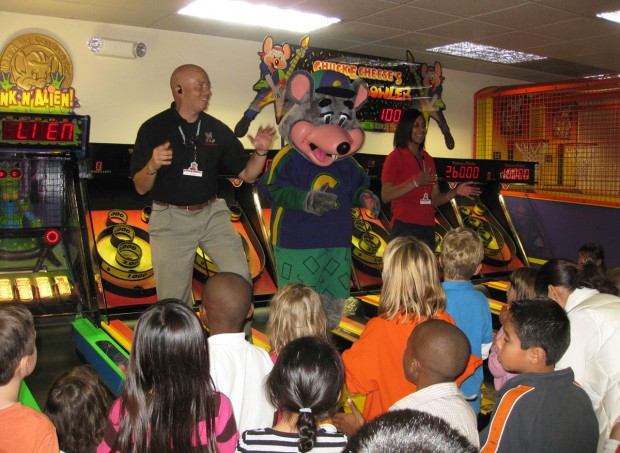 Any way you slice it, generations of Houstonians, including the following Buzz residents, make it easy as pizza pie to serve up some cheesy, delicious memories…
Kelly Steele Ownby fondly recalls going to the West U location through the decades. In the '70s, when it was still a Showbiz Pizza, she went with her "self-proclaimed Skee-Ball Queen" younger sister, Kathleen Steele Gaston, and their little (now almost 50) brother, Dale Steele. Kelly's mom, Margie Steele, remembers the store transforming into a Chuck E. Cheese during the '80's. In the '90s, Kelly and her husband, Ben, enjoyed taking their firstborn son, Michael (now in his 20s).
"I was also the Girl Scout leader for my niece, Angela Gaston Haggard, and would take her whole second grade troop to Chuck E. Cheese to play the games and enjoy the air conditioning." Kelly reminisces. "If you were a kid trying to survive Houston summers, Chuck E. Cheese was the 'it' place to cool off! Unfortunately, lots of people had that same good idea so it was super crowded." Kelly's CEC adventures have continued into the 2000s, with her youngest son, Craig (now a seventh grader at Pershing).
Denise Jones laughs thinking about the Crochet family's unique tradition at Chuck E Cheese.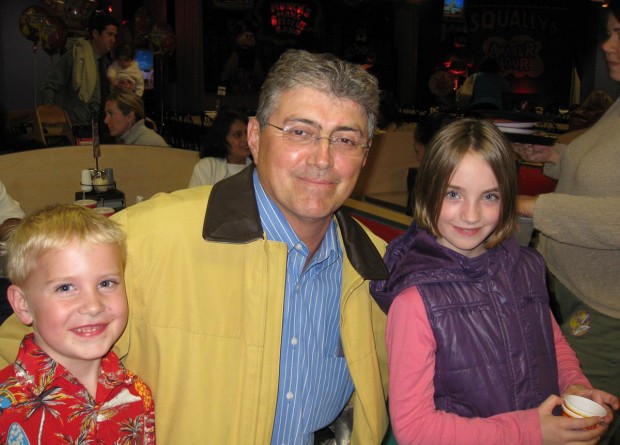 "Oh my. Those were the days," Rachel Crochet reminisces. "When our children, Cody and Caley, were at Condit Elementary, Chuck E. Cheese was one of our favorite places to go as a family. We went there on school nights a couple times a week, when it wasn't crowded. Many times we were the only people in there. After school the kids would get their homework done and then my husband, Dub, and I would take them. Often both sets of grandparents would meet up with us there."
The family got to know the manager so well that when Cody and Caley ran out of tokens, he would let them play the games for as long as they wanted with his tokens, which Rachel properly termed "A Kid's Dream."
"When most families [like the Jones' family] were finishing dinner and getting ready for bed, our family was heading to Chuck E. Cheese to eat, play and have family fun." Rachel said. "Let me be clear, both of my kids had perfect attendance every year, made good grades and are now both successful in their jobs. Caley was hoping to take our grandson, Cooper, to the Weslayan store before it closed. It was such a 'special time' for our family and obviously it didn't hurt my kids. It just gave them a lot of wonderful memories."
Julee Patterson couldn't help revealing her favorite Chuck E. Cheese memory. "Back in 2003 some fellow church lady friends and I were at the Weslayan Chuck E. Cheese location for our bi-weekly playgroup. The moms were talking and the kids were playing. All of a sudden, one boy came down the slide with NO clothes on. We all jumped into action. His mom had to climb up in that nasty thing to retrieve his clothes. The rest of us 'captured' this unnamed naked boy and 'covered' him until his mom got back down with his clothes. I can't remember if we ever figured out why he took his clothes off!" Julee is happy to report that as far as she knows, there haven't been any more streaking incidents.
When Mitchell Robbins, now a senior at Emery, was two, he adored the Teletubbies "ride" and couldn't get enough turns. His mom, Debbie Robbins, would know. "I stood there waving and making sure he didn't fall off. I kept putting tokens in while he rode over and over again!" Mitchell celebrated his fifth birthday at the pizzeria and even had a personal "Happy Birthday" visit from Chuck E himself.
Mitchell's older sister, Paige (now a student at The University of Texas), was never a big fan and cried a lot when they tried to meet up with friends for play dates. Go-with-the-flow third kid, Bonnie, now a freshman at Bellaire, had fun going to the wild and crazy Condit Family Fun Night fundraisers over the years. Debbie felt guilty when she recently discovered a long lost cup of Chuck E. Cheese tokens and receipts for 800 plus ticket credits. Bonnie was saving up to buy a Dora the Explorer backpack. "She would only use one or two tickets to buy a packet of smarties or a sticker or rubber bracelet then save the rest. I don't feel like a totally bad mom because she also had her eye on the giant sock monkey prize and we bought her that for Hanukkah one year!"
Even though she admits she's not the biggest fan of the Big Cheese, Julie Kuenstle is still thankful for the many family memories made during group play dates with her kids there. "They had this ride where kids sat in a car with Chuck E. Cheese. It took their picture and printed a copy. We also liked the sketching machine booth where people went inside and it sketched a picture. One of my all-time favorite photos (sketches) of my kids is from that machine. I love the impromptu moment it captured of Emily, Connor and Mark (now an eleventh grader, seventh grader and fifth grader). It even has Chuck E.'s famous 'signature' on the back dated 2009."
West University Elementary alumni, Lindsay Longshore Hawkins, and her younger sister, Lissa Longshore, are still recovering from traumatic Chuck E. Cheese childhood moments during the '90s.
"The Chuck E. Cheese character is still SO creepy." Lindsay, a senior recruiter today, states emphatically. "When I was little I would avoid going to Chuck E. Cheese at all costs. I dreaded when friends chose it for their birthday parties. I always stayed near an adult and would have laser vision eyes on the walk around Chuck E. the entire time. At any moment, you could ask me where Chuck E. was and I could point to him." Even now when her two boys (Hudson, age 5 and Holden, age 1) get invited to Chuck E. Cheese, Lindsay keeps her eyes on Chuck E. to see where he is lurking. She also reports, "And, yes, the pizza still tastes like cardboard."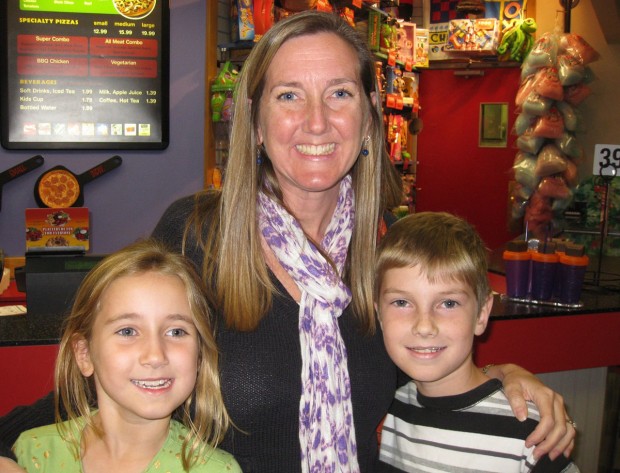 Lindsay's younger sister, Lissa, (now an elementary school teacher), feels the same way. "Those creepy eyes always got to us. The way the on-stage rat-looking robotic Chuck E. and his band's eyes would keep opening, closing and moving around looking at you even after their bodies had been turned off until the next show. If the Chuck E. mascot got near me I would death grip the nearest adult."
Tyler Longshore (now a sales consult/dad of Aedan, age1), weighed in with a bit different experience than his sisters. "Chuck E. Cheese is one of those iconic memories of my childhood. I still remember the song from the commercial, 'Chuck E. Cheese, where a kid can be a kid!' It was a special treat to go there, play the games and win prizes. I loved the pizza and thought theirs was extra cheesy. I loved watching the mechanical band and checking out their malfunctioning robot parts. My sisters were afraid of Chuck E. but the funny thing is that I had a real pet rat named Max and they weren't afraid of him. In fact, Lissa loved putting him on her shoulder!"
Meredith Vela admits that when she found out she was pregnant with child number three, Gianna (now a fourth grader at Condit), the veteran mother wanted to be clear about something, so one of the first things she said was "I'm done with Chuck E. Cheese and will never take this child there." She is happy to report that even after 10 years she has stuck to that promise.
Karen Edelman fessed up, "I admit I told Jared (now a student at Tulane) that Chuck E. Cheese was closed. Every time he asked about going there, I simply said they were closed. Every. Single. Time. For three years. Until one day, he got a birthday party invitation in the mail from his friend Nathan. So he tells me, 'Hey Mom! Guess what? Chuck E. Cheese is opening 'specially for Nathan!' Yeah, I was that Mom." (She uses #germaphobe to explain her little while lie.)
During the early 2000s, some ingenious Bellaire and West University parents of toddlers, including Suzanne and John Shelby, had a brilliant secret code word for Chuck E. Cheese restaurants. Their girls, Victoria (now a student at Texas A&M) and Abigail (now a junior at St. Agnes) were unaware when their parents were negotiating a possible Chuck E. Cheese outing since Mom and Dad would refer to the restaurant as Carlos E. Queso. The kids thought they were talking about some boring adult Mexican food restaurant so they didn't pay attention. Suzanne's college friend had shared the hot tip and the Shelbys were nice enough to pass it along. That phrase saved numerous families from an untold amount of meltdowns.
Over the years we came for the games, the rides, the birthday parties and the pizza (or at least the salad bar and birthday cake). There were tokens to spend, tickets to win and prizes to pick. And thanks to Chuck E. Cheese's Pizza, when it comes to fun family memories, we were all big winners. Chuck E. would definitely give a furry paw high-five, a two-tooth-wide grin and a big robotic-still-properly-functioning-and-not-creepy eyewink to that.
Before he left town, Carlos E Queso heard that an hombre named Torchy, who likes tacos, may be moving into 5535 Weslayan the summer of 2019. Stay tuned, Amigos.
The Chuck E. Cheese Weslayan location has closed its doors forever but there are still adventures to be had at other locations around Houston.
Share your memories of Chuck E. Cheese in the comment section below.
People in this article:
Pegi Newhouse
,
Thomas Newhouse
,
Lizzie Newhouse
,
Kelly Steele Ownby
,
Kathleen Steele Gaston
,
Dale Steele
,
Margie Steele
,
Ben Ownby
,
Michael Ownby
,
Angela Gaston Haggard
,
Craig Ownby
,
Denise Jones
,
Rachel Crochet
,
Cody Crochet
,
Caley Crochet Kovar
,
Dub Crochet
,
Julee Patterson
,
Mitchell Robbins
,
Paige Robbins
,
Bonnie Robbins
,
Debbie Robbins
,
Julie Kuenstle
,
Emily Kuenstle
,
Connor Kuenstle
,
Mark Kuenstle
,
Lindsay Longshore Hawkins
,
Lissa Longshore
,
Hudson Hawkins
,
Holden Hawkins
,
Tyler Longshore
,
Aedan Longshore
,
Meredith Vela
,
Gianna Vela
,
Karen Edelman
,
Jared Edelman
,
Suzanne Shelby
,
John shelby
,
Victoria Shelby
,
Abigail Shelby
,
Cooper Kovar
,
Rachel Reed
,
Eve Reed
,
Aidan Reed
,
Colin Mee
,
Fred Bowyer
,
Sarah Tomlinson
,
Grant Goodman
,
Sloan Goodman
,
Brooke Kayle
Want more buzz like this? Sign up for our Morning Buzz emails.
To leave a comment, please log in or create an account with The Buzz Magazines, Disqus, Facebook, Twitter or Google+. Or you may post as a guest.