ACL 2019: Lessons from a 55+ Year Old Rookie Festival-goer
Click the Buzz Me button to receive email notifications when this writer publishes a new article or a new article in this column is published.
Austin City Limits 2019, Weekend One. I arrived at Zilker Park and immediately felt a sense of returning home. I graduated from The University of Texas at Austin in '83 and spent a lot of time playing hacky sack in the park as a student. But that night, I also felt a sense of being out of place. I had decided to attend ACL for my first time – solo. At age 58. 
And right away, I realized I'd made a serious rookie mistake. I was wearing jeans. I had checked the weather app and it had shown that the temperature would drop in the evening, so I thought it made sense to wear jeans. Wrong. Very wrong. It was a record heat day in Austin, officially reported as the hottest ACL since 2005. I was the only one wearing pants. I was probably wearing the most clothing out of any attendee there. And I suddenly understood why many festival attendees essentially wear bathing suits. I started to wonder, is there a festival clothing line for women my age? And, what am I doing here?! 
Thankfully, the energy of the festival was contagious (despite the heat) and I rallied. Once I got my bearings and downed two Topo Chicos, I settled in and was ready for Guns N' Roses. I was especially excited to hear them play as this was an experience 34 years in the making.
In 1985, I lived in Santa Monica with a friend, Amy Wolff Kahan, also a UT alum. We lived in a rent-controlled apartment right behind a Thrifty Drug store. One Saturday afternoon, we had an impromptu "alley" sale. A tall, skinny guy with long hair and tattoos walked up and looked through our box marked $1 for any item. He bought my UT hat. He was really nice and asked us to go to his gig at a club nearby. We planned to go, but we never made it. Turns out, we blew that opportunity. It was Axl Rose and Guns N' Roses was just getting started. Rumor has it a photo exists of Axl in my hat. On my first night of ACL, I finally got to see Guns N' Roses. Ironically, in Austin, TX . . . where I bought that hat.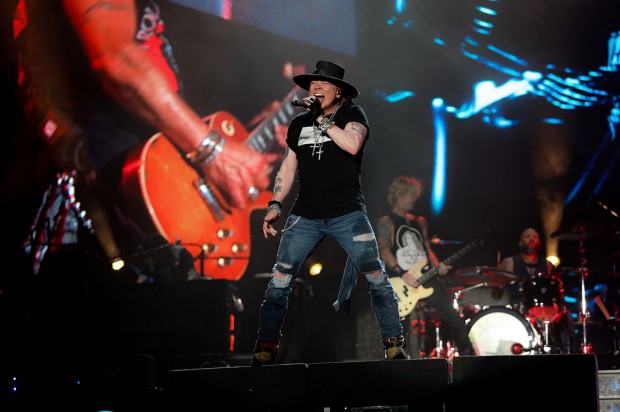 Seeing Guns N' Roses was a great way to kick off my festival experience and I found myself excited for day two (and more weather-appropriate in a comfortable dress). Though I was proud of myself for figuring out the festival experience solo, I found myself wishing I had someone to hang out with during the festival. It seemed everyone was with someone and having a blast in big groups. My day improved when I received a text from my childhood buddy, Alan Nirenberg, asking where I was and what flag I was near.
It turns out flags are a huge deal at ACL. Attendees who come in groups have a tradition of bringing funny, colorful flags that stand out so they can more easily spot their home base. My day improved exponentially once I met up with Alan and his wife, Jo. The two of them know how to do ACL right. They've been going for years. They always find a shady spot under a certain tree (note: several people mentioned this specific tree as their spot . . . just how many people can this tree cover, I wonder?). 
We saw Brittany Howard together. Admittedly, when I downloaded the ACL app and was looking over the lineup, I had never heard of most acts. But that is exactly the point: ACL is all about the discovery of music. For example, I hadn't heard of Brittany Howard; I was familiar with Alabama Shakes but didn't realize she was the lead singer. She performed alone and put on a great show. Then we saw Gary Clark Jr., who put on a killer show to a small crowd. It was really a great day. Until it wasn't. 
You know those photos of thousands of people watching a performance at a live music festival? I was one of those people. But not by choice. After Gary Clark Jr's show, Jo and Alan left but I figured I had such a great spot I'd stay there for Childish Gambino. It was really fun at first but, all of a sudden, the crowd literally swelled. I found myself in a sea of thousands of people. It was scary. No one was behaving in a scary or negative manner; I just felt suffocated being swarmed in that manner. Lesson learned: Watch from afar. I learned that I should find a good spot to listen to the music but away from the crowd. Still, it was a successful day two.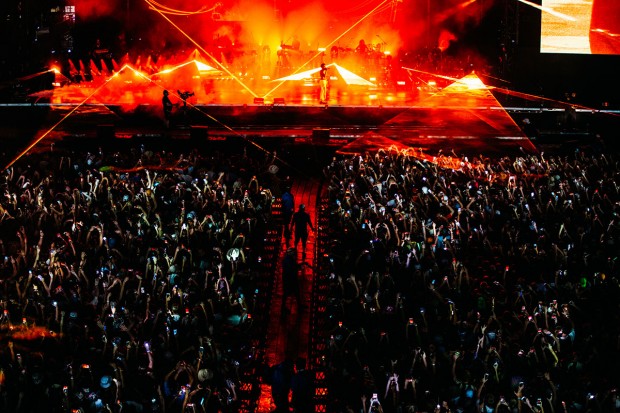 At breakfast the next day, I met a couple my age. They were having a blast. They have been going to ACL for years but, this year, they splurged for the VIP experience. They claim it's totally worth it. They told me a great story about an 83-year-old woman they befriended in the tent. ACL had been on her bucket list, so her family bought her a VIP package. They loved watching her having a blast and the woman told them she's coming back next year. Her favorites were Gary Clark Jr. and Childish Gambino. 
If I had an ACL do-over moment, I wish I had stayed to see Childish' incredible performance; I had heard from festival-goers and seen on Twitter that it was one of his best performances. But my anxiety got the best of me and I had to get myself out of that crowd. I called it a night and gave myself time to rest for day three.
By that point, I knew to take the advice from ACL veterans and found a shady spot to enjoy the music – away from the mobs. Some highlights from day three included Lizzo, Kacey Musgraves and Mumford & Sons.  
After three jam-packed days full of music, I headed back home to Houston. My 58-year-old body was achy and exhausted, but I am definitely planning to go again next year! And will heed the advice of Buzz residents who have been attending ACL for years.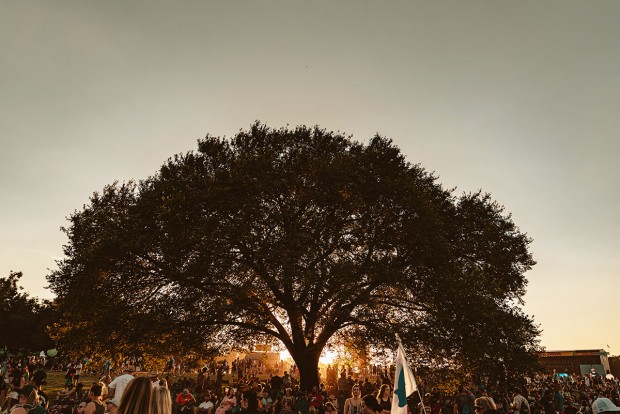 Here are some tips from veteran ACL attendees:
Wear comfortable shoes and weather-appropriate clothing.
Bring comfortable chairs and/or a blanket. Seema Mir brings a mini tarp that folds up to throw on the ground as her and her friend move around a lot. Alan and Jo Nirenberg suggest bringing three-legged collapsible stools from REI.
Bring a unique flag that will stand out of the crowd. 
Find a shady spot, such as by a tree. 
Drink lots of water before, during and after the festival.
Check the bag policy; measure your bag in advance to make sure it complies.  
Download the ACL app to help with the lineup and to find your way around festival grounds but be open to exploring and discovering new music.
Editor's Note: Buzz associate editor Pooja Salhotra will be covering ACL Weekend Two. Follow us on Instagram for behind-the-scenes ACL fun and be on the lookout for her coverage at thebuzzmagazines.com. Contact us at [email protected] if you'd like to share your festival photos.
Want more buzz like this? Sign up for our Morning Buzz emails.
To leave a comment, please log in or create an account with The Buzz Magazines, Disqus, Facebook, Twitter or Google+. Or you may post as a guest.