ACL 2019: Mosh Pits, Music and Mayhem
Click the Buzz Me button to receive email notifications when this writer publishes a new article or a new article in this column is published.
"I'm in a swarm of college kids waiting to see Lil Uzi Vert. Please pray for me." 
I sent this text to a friend at 6:03 p.m. on Friday evening, day one of Austin City Limits, Weekend Two. It was my first time at the festival, and I was there solo. Lil Uzi Vert — the 25-year-old rapper known for his top 10 single "XO Tour Llif3" — had unexpectedly cancelled his ACL performance during Weekend One, so I thought this would be a good show to check out first.
Twenty minutes late, the rapper sashayed onto the stage, wearing white sweatpants and a zip-down hoodie decorated with green flames – a look one can only pull off once famous. The rapper barely said two words before the crowd went wild, jumping up and down as though on pogo sticks and chanting "We love you Uzi!"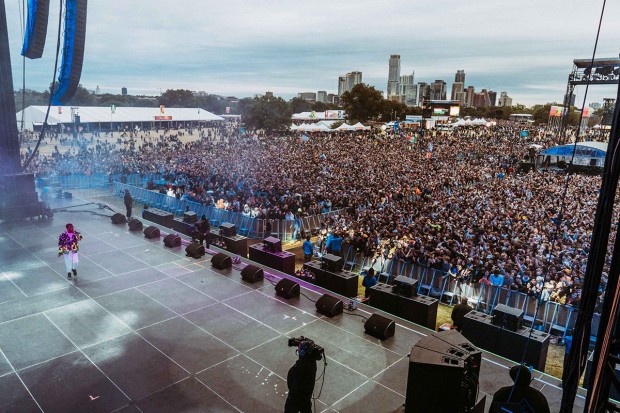 As a first-time ACL-goer, I wasn't quite sure how I'd approach the concerts, especially solo. Before going, I'd consulted with Hina and Rajiv Pandya, Bellaire residents who have been attending ACL with their two kids and with their friends Nirja and Jay Aiyer for the past six years.
"Some of the folks in the group, like me, we like to go and get as close as we can to the stage, which means it can get crowded and a little crazy," Rajiv had told me. "But Hina hates that. When she gets in there, she's just very uncomfortable and claustrophobic." What Hina and some of her friends do instead is set up a "basecamp" with blankets and lawn chairs. They are close enough to see the stage but far enough to avoid rubbing elbows with strangers fighting to get as close as possible to the performers. 
Standing in the middle of a mass of people, a mosh pit happening right in front of me, I knew I was with Rajiv on this one. Though I was initially nervous about being a sardine in a school of teenagers, the energy of the fans was contagious, and by the end of Uzi's set, even I was jumping up and down, trying to catch the words and sing along to songs I didn't know.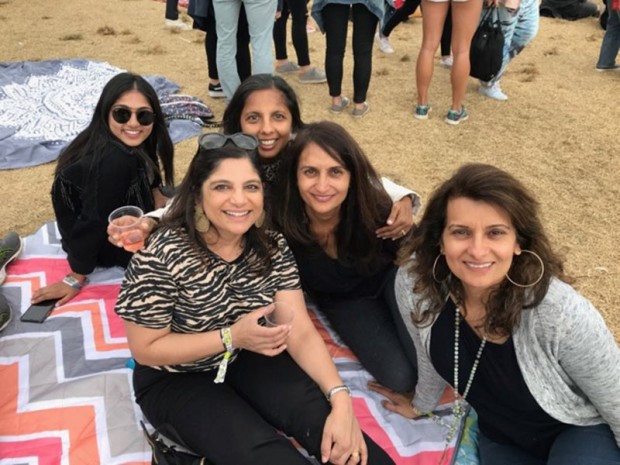 There's an incomparable energy when you're up close to the stage and can see the facial expressions of the artist. I loved seeing Uzi crack into a smile after pronouncing, "If you don't know me, I go by the name of Lil Uzi Vert. And if you do know me, you know I really do what I want," and then breaking into his hit song aptly called, "Do What I Want."
The next day, when I was front row for R&B artist Masego (I had napped in front of the stage for an hour to secure my spot), I liked seeing the soulful artist's finger-work when he picked up his saxophone and played the tune of his hit "Tadow." And that evening, I couldn't help but scream in delight when I saw Childish Gambino jump up onto the railing and take a selfie with someone hardly 10 feet in front of me. If only I had camped out there all day, that could have been me, I thought. I quickly realized I was willing to sacrifice my own personal space to experience that once-in-a-lifetime magic.
And so, as I continued throughout the festival, I found myself drawing closer and closer to stages. For Friday's headliner - Guns N' Roses, I told myself I'd stay far back and near the edges, so I'd have an easy escape route. I wanted to get out early before the crowds fled Zilker Park and caused a surge in Uber prices. After all, I still had two more full days of the festival, and Buzz editor Joni Hoffman had wisely advised me to take it slow. "Don't get too tired on day one," she told me, perhaps having made that mistake herself on Weekend One. 
And yet, once I heard "Welcome to the Jungle" come on as the fourth song in the set, I found myself inching closer to the stage, skirting around the lawn chairs and the dads carrying daughters on their shoulders — a very different audience than was at Lil Uzi Vert, I quickly noted. Soon, I was in the middle of the swarm of fans, yet again. 
One of the greatest things about going to a music festival solo is you can dance like nobody is watching, because, truly, nobody is watching. You quickly realize that when the music is that good, you don't even need a dance partner. 
Sometimes, you even end up making new friends. When I arrived at Childish Gambino over an hour early, hoping to get a good spot, I ended up standing next to a fellow 26-year-old woman, Ashlyn Parks, whose boyfriend and friends were too claustrophobic to venture close to the stage.
Ashlyn and I chatted and soon started talking to the people behind us. They had just moved from Portland to Austin. Then, to pass the time, everyone around us started singing karaoke songs, like Biz Markie's "Just a Friend" and Smash Mouth's "All Star." Some people understandably found this annoying. I appreciated it and joined in. When you're in that close quarters with strangers, what else can you do? 
When I left the festival Saturday night, I thought about what Nirja Aiyer told me – how every year, when she gets back to her room, exhausted, vibrations still ringing in her ears, she says "never again." Something has inevitably gone wrong – one year it was the bathrooms, another year it was bad weather, another year the group couldn't find the pineapple beer that she usually looks forward to getting at ACL. One year she felt like she almost got trampled while at a Lil Wayne concert. 
But the stories she comes back with and the new music she discovers every year makes all the struggles and annoyances worthwhile. When it comes time, Nirja again purchases her one-day pass and inevitably finds herself back at Zilker Park.
Editor's Note: Buzz editor Joni Hoffman shares what it was like as a first-timer attending ACL solo during Weekend One.  
People in this article:
Hina Pandya
,
Rajiv Pandya
,
Nirja Aiyer
,
Jay Aiyer
,
Joni Hoffman
,
Ashlyn Parks
,
Justin Densen
,
Megan Miller
,
Ema Ruzic
,
Angie Posada
,
Gaby Posada
,
Julia Hoffman
,
Paige Clardy
,
Alysha Goodwin
,
Jessica Waldhour
,
Audrey Harris
,
Anuj Kothari
,
Namrata Khotari
,
Renu Roy
,
Pinto Roy
,
Ayush Khotari
,
Pulin Khotari
,
Janvi Pandya
,
Shivani Pandya
,
Lauren Garcia
,
Chuck Weiser
,
Brenda Weiser
,
Sean Weiser
,
Harold Weiser
,
Kacey Musgraves
,
Pooja Salhotra
Want more buzz like this? Sign up for our Morning Buzz emails.
To leave a comment, please log in or create an account with The Buzz Magazines, Disqus, Facebook, Twitter or Google+. Or you may post as a guest.