Gingerbread House Holiday Home Tours
Click the Buzz Me button to receive email notifications when this writer publishes a new article or a new article in this column is published.
Run! Run! As fast as you can! You can't catch me, I'm the Gingerbread Man!
While it may be true that you're not fast enough to catch the gingerbread men, one thing you can catch while those doughy speedsters are out doing all that running around is look inside their houses!
Whether you're decorating or just appreciating the great curb appeal, this is one extra sweet home tour you won't want to miss. 
When you have four energetic kids, there's going to be some creative building happening in your house. For the past seven years, the Voelte family's pint-size builders Cole, Cade, Kevin Jr. and Katelyn, all students at West University Elementary School, have loved going with their parents, Courtney and Kevin, to watch teenagers and adults who are lucky enough to play with their food at the Architecture Center Houston's annual Gingerbread Build-Off.  
This year's Gingerbread Build-Off will take place at City Hall's Hermann Square (901 Bagby) on Sat., Dec. 7, 10 a.m.- 4:30 p.m. Teams create masterpieces using 100 percent edible materials and the public is invited to watch and enjoy entertainment.
Courtney shared, "Teams range from high school and college students to architecture firms. We love the amazing structures and themes they come up with. It's interesting to see how the builders cope with the different weather conditions, from melting frosting in the heat to freezing hands in the cold. There is a Public Favorite award, so we get to vote! Try to get some of the delicious leftover gingerbread. It is so yummy and festive!"
Or head over to get your sweet tooth fix at the St. Paul's Choir's Annual Gingerbread House and Bake Sale on Saturday, Dec. 7, 9 a.m.-2 p.m. (5501 Main St. in Fondren Hall located between Fannin and Main St.)  
For over 20 years, the St. Paul's Methodist Church choir has been hosting a Gingerbread House and Bake Sale fundraiser, which is free to attend and open to the public, to support choir outreach projects. Rebecca Terry, St. Paul's Choir Council President, gave us some of the behind-the-scenes work that goes into creating 75 gingerbread houses. "One Saturday in November about 30 choir members mix 80 pounds of dough. Another day they bake all the dough. On Thursday, the houses will be assembled and then on Friday, December 6, the choir elves and friends will work their decorating magic." 
Shoppers can choose from four different gingerbread house floorplans and if you're not in the market for a house at this time, you can also enjoy adorable giant gingerbread boys and girls and other sweet treats. 
Ready to create your own gingerbread house? Here's some inspiration and ideas from some seasoned sugar-and-spice-and-everything-nice builders. 
Since they became parents back at the turn of the century, every Sunday before Christmas, Suzanne and John Shelby have loaded up their daughters Victoria, a junior at Texas A&M, and Abigail, a senior at St. Agnes, in their car and headed southwest from Bellaire to Eagle Lake, Suzanne's hometown, for the Annual Corman Family's Great Gingerbread House Decorating Contest. Suzanne's parents, Cherry and Vic Corman (also known as Meme and Papaw), host the grand event in their completely-covered-in-tarps garage. 
Suzanne's sister, Lisa Weinheimmer and her husband, Ed, and their TAMU graduates, Bethany and Hannah, as well as El Campo High School senior football player turned Bob the Builder, Edmund, join in the fun. The Corman ladies have been craftmasters way before HGTV or Pinterest existed and, luckily, their offspring inherited those creative genes (and a healthy dose of competition). Suzanne and Lisa used to supervise the decorating so no one ate candy until their mouths, lips and teeth literally turned blue. Now the sisters catch up and sip down Colorado Bulldogs, the Corman holiday drink of choice.
Suzanne shared a few hot tips: "The main point is to have fun. A few ways we have simplified over the years include buying candy and cans of white frosting at the dollar store, using store-bought kits and assembling the main structure with hot glue guns. I learned the hard way to keep the kits put away up high when our dog chewed open the box. I decided to still use it and just borrowed a few plastic dinosaurs from my nephew and went with a dinosaur and volcano theme and made sure to not eat any of it!"
Crafty Suzanne continued, "Unenthusiastic participants can be motivated with gift card prizes. Pick an unbiased judge. One year, my parents' fun neighbor, Linda Balas, came over with her glass of wine in hand to pick the winning entry. Just be warned if you have a charming 10-year-old nephew, who may flirt and kiss up to the judge to improve his odds."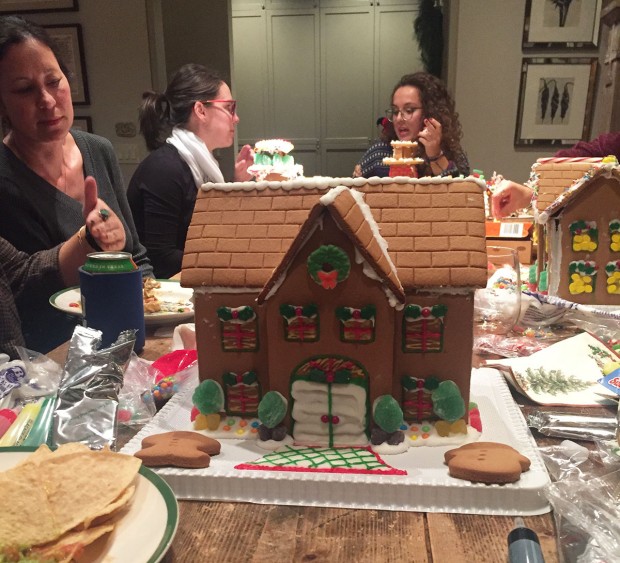 The staff of Camp Aranzazu, which supports campers with special needs and chronic illnesses, do have fun making gingerbread houses at their company holiday party. Camp Aranzazu president, Virginia Ballard, shared, "We are extra inspired in our decorating this year because we're going to give our gingerbread creations to Amazing Place, an adult day center for seniors with dementia. We hope the houses put smiles on the faces of AP's participants and staff."
Maybe there's a special non-profit or person or place that could use some cheering up (yes, that includes your own family) that would love your gingerbread house. (Added bonus if you're trying to be healthy and not nibble those sweet decorations or if you have a pet with a good vertical leap that might be licking their chops!)
Gingerbread House Events and Classes
Ready to try making a gingerbread house of your own? Sweet! Here are some opportunities to let your inner gingerbread artist shine.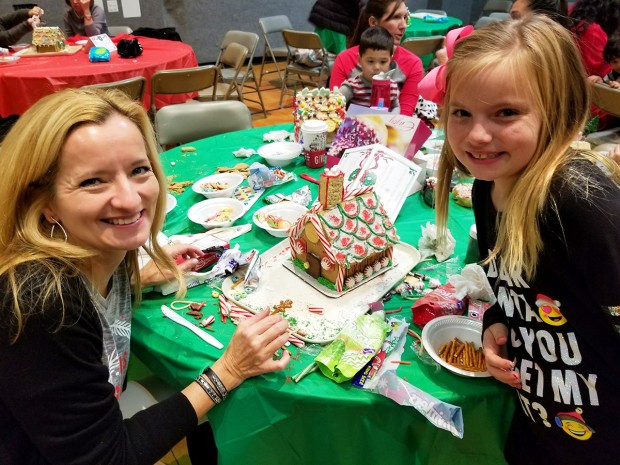 West U Baptist/Crosspoint Gingerbread House Decorating
Sat., Dec. 7, 9 a.m.-12 p.m. 
Crosspoint Church gym, 4601 Bellaire Blvd
Admission: $25/per house; Reserve your house here.  
Families are invited to decorate gingerbread houses at this massive, Candypalooza Christmas event.
Kraftsmen Baking's Holiday Gingerbread House Decorating Party
Sat., Dec. 14 (adults): 5-7 p.m.
Kraftsmen Baking
611 W. 22nd St.
Admission: $35 per house; Reserve your spot: [email protected]
In addition to gingerbread decorating fun, kids will enjoy light snacks and hot cocoa, while the over 21 "kids" get light snacks and adult beverages!
Houston SPCA's HOWLiday Pajama Party 
Sat., Dec. 14, 12:45-4 p.m.
SPCA Carruth Education Center
7007 Old Katy Rd. 
An afternoon of fantastic holiday kid drop-off fun for first through fifth graders. Decorate gingerbread houses, enjoy pizza, cookies and reading books to adoptable dogs.
Spindletap Gingerbread House Decorating Party
Sun., Dec. 15, 11 a.m.-2 p.m.
Spindletap Brewery, 10622 Hirsch Rd.
Admission: Purchase your gingerbread kit for $30 here.  
Santa will be coming by from 11 a.m.- 1 p.m. All ages welcome. Kits include: a pre-built gingerbread house, candy, frosting and decorations.  
Rice Epicurean Cooking School 
Fri., Dec. 13, 7-8 p.m.; Sat, Dec. 14,10:30-11:30 a.m. or 1:30-2:30 p.m.;
Sun., Dec. 15, 1-2 p.m. 
Rice Epicurean Cooking School
2020 Fountain View Dr.
Admission: $50; email Chef Pock to reserve your spot: [email protected]
Chef Carol Pock will guide you in decorating your one-of-a-kind house for Christmas or Hanukkah. Choose from 20 different candies. Space is limited. Open to 5 to 105 year-olds.
Of course your gingerbread house will be the best one on the block, but to see some other masterpieces, check out what these pastry chefs and their teams have been working on for months. 
Hilton Americas-Houston's 
1600 Lamar St.
Free House viewing available in lobby 24 hours
Dec. 7, 8, 14, 1, 21, 22: Complimentary Kids Cookie decorating and hot cider, 10:30 a.m.-12:30 p.m. 
Visit downtown's beautifully decorated lobby of the Hilton Americas-Houston to drool over the Grinch's styling 2.5 ton and 6.5 million calorie life-sized house. The walls are made from 700 pounds of gingerbread, with 250 pounds of royal icing used as mortar to secure each cookie-brick. It took crews 2,000 hours and five months to create the display.
Houstonian Hotel's Merry Mansions Gingerbread Display 
111 N. Post Oak Ln.
Through Sat., Dec. 28
Open to the public in the Lobby
The "Merry Mansions" gingerbread houses give tribute to architect John Staub, who designed the Bayou Bend mansion for oil heiress Ima Hogg in 1927 and many River Oaks homes. Through Dec. 28, 6-7 p.m., enjoy holiday entertainment, complimentary First Lady Barbara Bush's famous chocolate chip cookies for the kids, and roasted chestnut truffles for adults! 
See more holiday happenings here and see this past fun story on gingerbread traditions plus a recipe.                                      
People in this article:
Cole Voelte
,
Cade Voelte
,
Kevin Voelte
,
Katelyn Voelte
,
Courtney Voelte
,
Rebecca Terry
,
Suzanne Shelby
,
John shelby
,
Victoria Shelby
,
Abigail Shelby
,
Cherry Corman
,
Vic Corman
,
Lisa Weinheimmer
,
Ed Weinheimmer
,
Bethany Weinheimmer
,
Hannah Weinheimmer
,
Linda Balas
,
Virginia Ballard
,
Carol Pock
,
John Staub
,
Carson Patterson
,
Julee Patterson
,
Nancy Curry
,
Lillian Anfosso
,
Kate Plouvier
,
Alexa Rosenblat
Want more buzz like this? Sign up for our Morning Buzz emails.
To leave a comment, please log in or create an account with The Buzz Magazines, Disqus, Facebook, Twitter or Google+. Or you may post as a guest.