Kitchen Traditions
Recipes with staying power
Click the Buzz Me button to receive email notifications when this writer publishes a new article or a new article in this column is published.
The holidays have us all a little sentimental. Driving the same route to look at Christmas lights, using the tree ornaments our children made in pre-K and serving the food that everyone expects this time of year. For some, that means listening to their families and friends and making exactly the thing that they made last year, and the year before, and the years before that. Those recipes are the ones that make traditions.
A few readers agreed to share the recipes whose absence would spark an uprising if they didn't make an appearance during the holidays. We hope one or two might find a place in your holiday celebrations this year (and maybe next).
Blake Adams: Catharine Faulconer, Blake's college roommate, tells us that this cake is to-die-for. "Blake makes Chess Cake every Christmas as gifts," she says. "It is a true labor of love for her, and she only does it at Christmas. My whole family eagerly awaits the round tin she delivers the cake in. My kids will start texting on Dec. 1 from school to remind me not to eat all of it. I am sorry to confess that I will eat several squares and lie to everyone when they get home, saying how sad it is that what they see in the tin is all that Blake made. My neighbor, Katherine Tower, will even start questioning me about the arrival of the annual Chess Cake so she can come over and sneak a square!"
1 butter recipe cake mix
4 eggs
1 stick butter, softened
8 ounces cream cheese, softened
1 teaspoon vanilla
1 1-pound box powdered sugar
Preheat the oven to 350 degrees, and spray a 9- by 13- by 2-inch pan with cooking spray. Mix the cake mix, 1 egg and the softened butter together. Press it into the prepared pan. In the same bowl, mix the remaining eggs, cream cheese and vanilla, then beat in the powdered sugar. Pour over the top of the cake in the pan. Bake at 350 for 10 minutes, then lower the heat to 325 and bake another 40 to 50 minutes.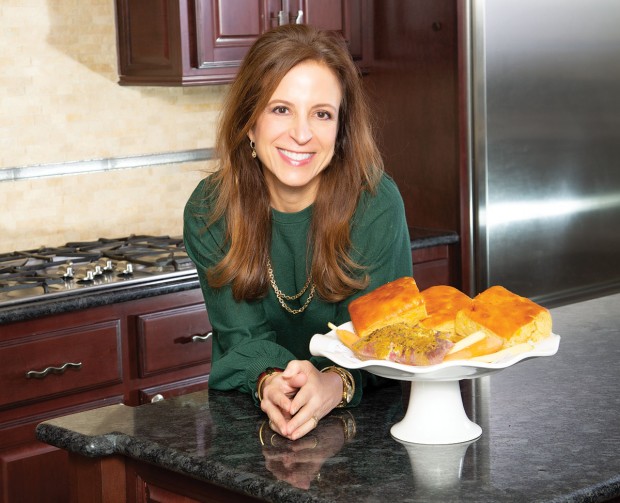 Shelly Levy: Shelly tells us, "I make a really good homemade corned beef, also known as 'Jewish soul food,' as my family describes it. My son, who now lives in San Francisco, regularly asks for this because it reminds him of his Southern roots. It's his first request when he comes home to visit."
Shelly says she keeps a corned beef in the freezer so it will be ready for requests. "Making it at home takes time," she says, "but it's fairly easy. My specialty is that I make a special sauce for the topping. When I cook the corned beef, I always know it's for a special occasion or a holiday, which usually means family is all around me, which makes me so happy!"
To go with the corned beef, Shelly makes a cornbread casserole she calls "pure comfort." 
Shelly Levy's Corned Beef with Honey Mustard Glaze
2 packages of flat-cut corned beef (it shrinks down)
1 teaspoon garlic, minced
1 Tablespoon olive oil
1 onion, quartered
Peppercorn packet that comes with the corned beef
Glaze: 2 Tablespoons mustard
2 Tablespoons honey 
2 Tablespoons brown sugar
Preheat the oven to 350 degrees. Remove corned beef from its packaging, rinse it off and pat dry. Trim the excess fat (Shelly uses an electric knife). Fill a large, deep pan with water halfway; place each corned beef in the water. Combine the garlic and olive oil and drizzle on top along with the peppercorn package. Place the onion around the sides of the corned beef. Cover tightly and cook in the oven for 3 hours.  
To make the glaze, mix together the mustard, honey and brown sugar. If the mixture seems too thick, add 1 teaspoon of warm water. 
Remove the corned beef from the oven and carefully remove about 1 cup of water. Drizzle the glaze on top of each corned beef; cook uncovered for another 30 minutes. Remove from the oven and let the corned beef sit for about 30 minutes. Slice and enjoy!
Shelly Levy's Cornbread Casserole
12 ounces cream cheese, softened
1 can sweet corn
1 can sweet creamed corn
1 small box cornbread mix
1 cup grated cheddar cheese
Small amount of butter
Preheat the oven to 350 degrees. In a medium bowl, mix the cream cheese with both cans of corn and canning liquid. Stir in the cornbread mix. Pour into a 13-by-9-inch baking dish and dot the top with butter. Bake for about 40 minutes or until the top is slightly brown. Remove from the oven and sprinkle cheese on top. Bake for another 10 minutes or so, until the cheese melts. 
Denise Rashti: "I found this recipe a long time ago from Good Morning America," Denise says. "They had a pie competition. David Hartman was on it; that's how long it's been. This was one of the recipes, and I've been making it ever since. Jake [her son] doesn't like pie, but he likes this." This pie didn't win the GMA competition, although it was in the top five. Denise says it's the one that her family asks for every time.
Denise Rashti's Malted Milk Ball Pie
For the crust: 1½ cups finely crushed vanilla wafers
½ cup chopped pecans
1⁄3 cup melted butter
Preheat the oven to 375 degrees. Combine the chopped vanilla wafers and the chopped pecans. Add the melted butter, and mix well. Press the mixture into the bottom and sides of a pie plate. Bake for 10 minutes. Cool before adding the filling.
For the filling: 1⁄3 cup firmly packed light brown sugar
2 Tablespoons cornstarch
¼ Tablespoon salt
1⁄3 cup malted milk powder
1½ cups whole milk
6 ounces semi-sweet chocolate chips
1 teaspoon vanilla
1 cup whipping cream
¼ cup powdered sugar
1 cup crushed malted milk balls (Whoppers)
In a medium saucepan, combine the brown sugar, cornstarch, salt and malted milk powder. Mix well. Slowly add milk and whisk the ingredients together over medium heat until the mixture boils and thickens. Do this slowly so that it doesn't spill over. Whisk continuously until thickened. Remove from the heat. Stir in the chocolate chips and vanilla until the mixture is smooth. Refrigerate for 25 minutes or until cool. 
In another bowl, beat the whipping cream until soft peaks form. Add the powdered sugar, beating until stiff peaks form. Fold the whipped cream into the cooled chocolate mixture. Stir in ½ cup of the chopped malted milk balls (save the other ½ cup for the topping). Pour the filling into the cooled pie crust. 
For the topping: 1 cup whipping cream
¼ cup powdered sugar
1 teaspoon vanilla
In a bowl, beat the whipping cream until soft peaks form. Add the powdered sugar and the vanilla until stiff peaks form. Spread over pie filling. Sprinkle with leftover crushed malted milk balls. Refrigerate the pie for at least 2 hours or until firm. (You can also decorate the pie with whole malted milk balls. The pie freezes well.)
Allan Fradkin: "My wife made this soup for me when I was sick one Christmas Eve," Allan says. "Henceforth, it became the year-round family favorite known as Christmas Eve Soup. [The recipe] was originally modified from The New York Times Cookbook by Pierre Franey and Craig Claiborne almost 50 years ago. The family and friends have enjoyed it ever since it was developed."
Allan usually makes this soup during the holidays, when the weather is cool. His daughter Allegra recently gave it to his son Brendan's fiancée at a family-recipe shower where everyone was supposed to bring an old family recipe. 
Allan Fradkin's Christmas Eve Soup
4-5 pounds chicken thighs and breasts with bones
Enough water to cover chicken
4 stalks celery, sliced
6 carrots, sliced
2 onions, sliced
5 cloves garlic, crushed
28-ounce can tomatoes
2 Tablespoons tomato paste
1 Tablespoon salt
3 bay leaves
1 teaspoon peppercorns
1 cup uncooked rice
½ cup chopped cilantro
Simmer the chicken in water with celery, carrots, onions, garlic, tomatoes, tomato paste, salt, bay leaves and peppercorns, covered, until the chicken is tender, about 2 hours. Bring the soup to a boil, and add the rice. Cook until the rice is tender, about 30 minutes. Add cilantro and cook another 5 minutes. 
Lana Rigsby: Lana says, "My mother had a herb farm and gave me her herb-rich recipe for the best dressing you have ever put in your mouth! It is such an effort to make, but worth every minute." Lana's mom, Gem Rigsby, sold Spur Ridge Herb Farm in the '90s. In its day, it was the largest herb and edible flower farm in Texas.
Gem Rigsby's Perfect Dressing: A Spur Ridge Herb Farm Classic
This recipe, submitted by Gem Rigsby, was created by Madeline Hill and Gwen Barkley.
1½ pounds French bread, sliced into small squares (1½ loaf)
1 medium batch cornbread, sliced into small squares
½ cup butter
2 large bunches green onions, sliced thin
1 large bunch flat leaf parsley, chopped
1 full bunch celery leaves, stemmed and coarsely chopped
2 Tablespoons fresh marjoram or oregano
1 Tablespoon fresh thyme
1 Tablespoon fresh savory
2/3 Tablespoon fresh sage
4 small bay leaves (minced if using fresh)
3 eggs, beaten
2 teaspoons salt
½ teaspoon fresh ground pepper
2 to 3 cups turkey or chicken stock
Preheat the oven to 350 degrees. Toast the French bread lightly until partially dried. Crumble the cornbread; add it to the French bread in a very large mixing bowl. Set aside. Melt the butter in a large skillet and saute the green onions, parsley and celery. Add the herbs gradually. Cook until just wilted, then add to the bread mixture and toss gently. Mix in the eggs. Season with salt and pepper, and moisten with hot stock until the mixture is softened. Pour the dressing into a buttered baking dish. Using an ice pick, or some such tool, remove all air pockets. Dot the top with butter. Moisten with more stock until rather wet to ensure a moist dressing. Bake about 1 hour, checking often to be sure that the middle is cooking and the bottom is not burning. 
"If you do not have an herb garden," Gem writes, "consider buying the herbs weeks ahead of your busy holiday season, prepare the dressing and freeze. If you are careful with the cutting of potted herbs, they will make nice decorations."
Jennifer Deutsch: "I enjoy gathering and entertaining, but I'd rather not spend all my time in the kitchen preparing food and cleaning up," Jennifer says. "So that's why for the past 18 years I've been making this dish for practically every holiday we celebrate. It doesn't matter the season or occasion. I have found that it works every time. Sweet-and-Sour Brisket from the Kosher by Design cookbook. Requires four ingredients and it's done in three hours. Boom!" 
Jennifer Deutsch's Sweet-and-Sour Brisket
From Kosher by Design 1 32-ounce jar sauerkraut, partly drained
5 pounds beef brisket
1 28-ounce can whole, peeled tomatoes
1 16-ounce box dark brown sugar
Preheat oven to 350 degrees. Pour the sauerkraut over the brisket. Add the tomatoes with their liquid. Sprinkle with the brown sugar. Cover with foil and bake for 3 hours.
Want more buzz like this? Sign up for our Morning Buzz emails.
To leave a comment, please log in or create an account with The Buzz Magazines, Disqus, Facebook, Twitter or Google+. Or you may post as a guest.