Weekend Project: Homemade Tortillas and Queso
Click the Buzz Me button to receive email notifications when this writer publishes a new article or a new article in this column is published.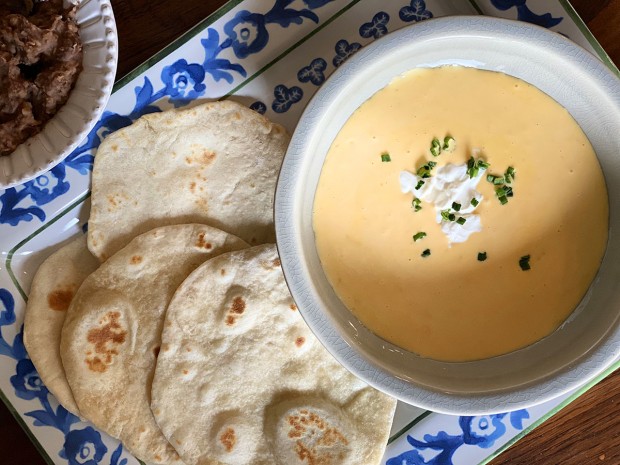 Last week, I mentioned that I was on the verge of eating queso with a spoon. This week seems to be shaping up a little better – we are all settling in, getting used to living very together at home. Still worried, still hoping everyone stays healthy, but the tangle of anxiety in my stomach feels a little bit looser. 
Then I made chef and restauranteur's Josef Centeno's queso, and I'm back to wanting to eat queso with a spoon. Not only because of my state of mind, but also because this queso is just plain yum. How could it not be? Cheese melted together with half-and-half? I'm betting you won't want to leave the bowl either. 
The recipe for the queso – and the homemade flour tortillas we made to accompany it – is from Josef's cookbook Amá: A Modern Tex-Mex Kitchen, which my friend Cindy Burnett reviewed last week. Josef says this "cheesy, gooey, molten" queso is the thing "almost every table at [his L.A. restaurant] Bar Amá orders at least one bowl of." We can see why.
Josef's recipe calls for eight ounces of Brebirousse d'Argental or Briana, in addition to six ounces of Velveeta. This was quarantine queso - I substituted Velveeta for the fancier stuff. 
And since we all are home, some of us looking for simple projects to do with kids or on our own, we decided to try Josef's homemade flour tortillas to go with the queso. Somehow getting your hands full of dough is both calming and exciting (homemade tortillas with dinner!). We served them with the queso and these homemade refried beans.
I know it's both Easter and Passover this week, and I know tortillas and queso aren't typical for either. But everything about these holidays this year is different. And if you've got people stuck in the house, or if you're stuck in the house on your own, you just can't go wrong with some really good queso and homemade tortillas. And maybe a spoon.
If you really need something more springy and Easter-worthy, give this carrot cake – also a bit of a project – a try .
Tía Carmen's Flour Tortillas
from Josef Centeno's Amá: A Modern Tex-Mex Kitchen
Ingredients:
1 cup all-purpose flour, plus more for dusting (I had to add another ¼ cup of flour to the mixer before the dough would pull away from the bowl)
1 tablespoon lard, shortening or rendered bacon fat
½ teaspoon baking powder
½ teaspoon fine sea salt
½ cup whole milk
Recipe directions: 
Put the flour, lard, baking powder and salt in the bowl of a stand mixer fitted with the dough hook. Mix at low speed just until incorporated. 
Warm the milk in a small saucepan over medium heat until it begins to steam (make sure it doesn't boil). With the mixer on medium-low speed, pour the warm milk into the flour mixture, and mix until the milk is completely absorbed by the dry ingredients and the dough forms a rough ball and separates from the bowl. It will happen fast, in about 20 seconds. Shape the dough into a smoother ball (it will be soft and slightly lumpy on the surface). 
Transfer the dough to a lightly oiled medium bowl, cover, and let rest in a warm place for 30 minutes and up to 1 hour.
Heat a skillet or griddle on medium-low heat. Uncover the dough and divide into six 1 ½-ounce balls. Generously four a smooth work surface and roll out each ball into an 8-inch circle.
Use a paper towel to lightly oil the hot pan, and gently place a tortilla on it. Cook until bubbles form on the entire surface of the tortilla, about 1 minute, and flip.
The tortilla will start to leaven once flipped. When the leavening stops and the tortilla is golden brown on the bottom, about 1 minute, remove from the heat and transfer to a plate. Repeat with the remaining dough. Serve immediately.
Queso
Adapted from Josef Centeno's Amá: A Modern Tex-Mex Kitchen
Ingredients:
1 cup half-and-half
14 ounces Velveeta, chopped 
¼ cup finely grated Monterey Jack cheese
¼ cup finely grated cheddar cheese
Fine sea salt
Optional garnishes: Crema Mexicana; finely chopped red onion; thinly sliced jalapeño 
Recipe directions: 
Heat the half-and-half in a medium saucepan over medium-low heat until hot (not boiling). Raise the heat to medium, and add the Velveeta, Monterey Jack and cheddar cheeses, melting each one before adding the next. Whisk in the salt. When all of the cheese are melted and fully blended, transfer to a serving bowl or bowls. Put the garnishes in bowls, if using, and serve immediately with tortilla chips. Store any leftover queso in a covered container in the refrigerator for up to 3 days. Rewarm in a saucepan over medium heat before serving.
Want more buzz like this? Sign up for our Morning Buzz emails.
To leave a comment, please log in or create an account with The Buzz Magazines, Disqus, Facebook, Twitter or Google+. Or you may post as a guest.