Fresh Ideas for Family Fun: Berry Picking
Click the Buzz Me button to receive email notifications when this writer publishes a new article or a new article in this column is published.
Nothing says summer like crisp, fresh produce. Sure, you could buy your berries at the store, but why pass up the opportunity for a uniquely fun family activity to pick your berries straight from the vine at a berry farm? This summer, the farms are open and the vines are waiting for your family to pluck off your own summer fruits. This is farm to table, and produce doesn't get fresher than this. 
There are a slew of farms on the outskirts of Houston, each with their own produce selection (depending on the season) including strawberries, blueberries, peaches, and tomatoes just to name a few. Plus, visiting a farm allows for easy social distancing for a pandemic-safe family-friendly activity. For example, Froberg's Farm is a produce farm in Alvin, TX, about 40 minutes from central Houston. Currently, they are open for blackberry picking through the end of July. The blackberries are $5 per pound, entry to the picking fields is $2, and their reusable bucket must be purchased for $1.25 as they are not permitting outside containers in an effort to promote a safe environment. They are also encouraging social distancing and mandating masks for anyone 10+ to enter their on-site store and bakery, which sells pies, baked goods, snacks and fresh vegetables from the farm.
Joanne Swartz and her kids, Andrew and Matthew, 14, and Sara, 20, stopped by Froberg's Farm during strawberry season in April and had nothing but good reviews to say about the activity. She described the farm as "convenient and fun outdoor activity to keep busy with amongst Covid lockdown." In regards to social distancing, Swartz approved of the safety measures they have been taking at Froberg's. Swartz and her family left the farm with a total of 10 pounds of strawberries and smiling faces. Once they brought the strawberries home and washed them, her kids made dozens of chocolate-covered strawberries to deliver to friends and neighbors. "Everyone needed something chocolate to make them smile," Joanne said. "Our neighbors loved them and it gave the kids an activity and an act of kindness all in one!"
There are endless ways to use freshly-picked berries, and many you wouldn't expect such as Blackberry Glazed chicken on the grill. If you're in the mood for a sweet treat, use your blueberries and store-bought puff pastry to make these blueberry hand pies. For an elevated breakfast, try macerated berry parfaits. And if you want a poolside afternoon refreshment, make this Blackberry spritzer mocktail. The versatility of your berries doesn't need to end with a plain berry smoothie; you can step it up a notch with new recipes while still keeping it simple. Going berry picking this summer doubles as an enjoyable outdoor activity for your family and provides you with the tastiest berries to use in unexpected summer recipes. 
Recipes:
Blackberry Glazed Chicken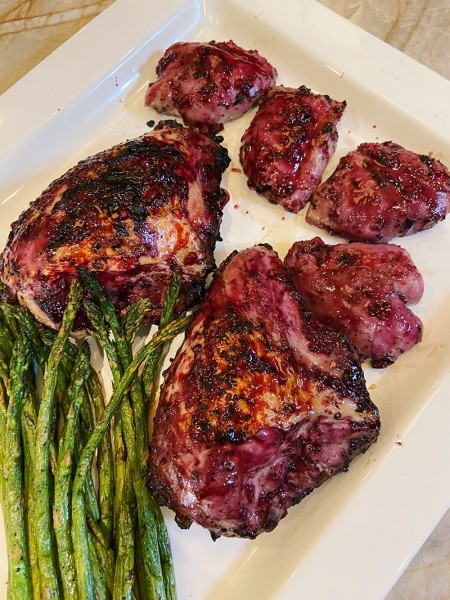 I used this recipe and swapped chicken drumsticks for breasts. Any kind of chicken would work but be aware it may alter cook time.
Ingredients:
1 (6-ounce) package blackberries
1/4 c. water
2 tbsp. white wine vinegar
1 tbsp. sugar
2 tbsp. cold butter
1 tbsp. whole-grain mustard
4 chicken thighs
4 drumsticks
Kosher salt and black pepper
Fresh, flat-leaf parsley
Directions:
Heat grill to medium. Combine blackberries, water, white wine vinegar, and sugar in a small saucepan; simmer, mashing occasionally, until liquid is reduced to about 2 tbsp., 18 to 20 minutes. Stir in butter and whole-grain mustard. Transfer half the glaze to a bowl; reserve. Meanwhile, pat chicken thighs and drumsticks dry; season with kosher salt and black pepper. Grill, skin-sides up, covered, 15 minutes. Uncover, baste with some of the glaze and grill, turning and basting occasionally, until cooked through, 10 to 12 minutes. Sprinkle with fresh flat-leaf parsley and serve with remaining glaze.
Blackberry Spritzer Mocktail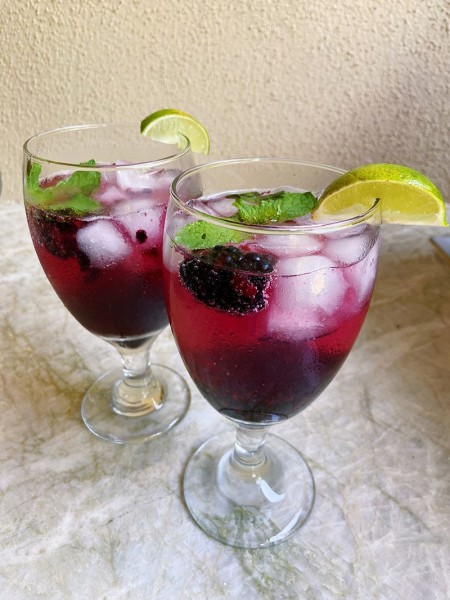 I love to come up with mocktail combinations using different fruits and herbs in the summertime as they are refreshing and easy to make but make you feel like you are on vacation! I came up with this blackberry lime combination, which is deliciously tart and fizzy when you add the club soda. If you like it a little sweeter, you can add extra honey, liquid stevia, or simple syrup. 
Ingredients:
10-15 fresh mint leaves, roughly torn
½ cup blackberries
2 teaspoons honey
Half a lime, cut into wedges
2 cups sparkling water or club soda
Directions: 
In a cup, muddle the blackberries and mint leaves into a puree-like consistency. Add the honey and squeeze of lime, then stir until combined. Top with sparkling water or club soda and garnish with a mint leaf and wedge of lime. Serves 2. 
Macerated Berry Parfait
I have been eating berry parfaits for breakfast almost every day recently, and this variation does not disappoint. Taking a little extra time to macerate the berries is very much worth it as it creates a natural syrup around the fruit that is perfect for topping yogurt and granola, or even some vanilla ice cream.
Ingredients: 
2 cups berries (strawberries, blueberries, blackberries)
½ cup sugar
Zest and juice of half a lemon
4 tablespoons granola of your choice
2 cups yogurt of your choice
Mint leaves for garnish
Recipe directions: 
Add berries, sugar, and lemon juice to a bowl and stir. Refrigerate for 45 minutes to allow to macerate.  Spoon yogurt in bowl and top with granola and macerated berries and add extra lemon zest to garnish. Serves 2. 
Blueberry Hand Pies
Here is the recipe I used. 
Ingredients
Filling:
3 cups blueberries
1/2 cup granulated sugar 
3 tablespoons cornstarch 
2 teaspoons lemon zest plus juice of 1/2 lemon 
1 teaspoon vanilla extract 
Pastry:
3 sheets frozen puff pastry (from two 17.3-ounce packages, such as Pepperidge Farm), thawed
1 large egg beaten with 2 tablespoons water
Glaze:
2 cups powdered sugar
1/2 teaspoon vanilla extract 
Directions
For the filling: Combine the blueberries and granulated sugar in a medium saucepan over medium heat. Bring to a boil, reduce the heat and cook, stirring, until the sugar is melted and the berries have started to burst, a few minutes. Stir together the cornstarch and lemon juice in a small bowl until combined, then add to the blueberry mixture. Add the lemon zest and vanilla and continue to cook until glossy and thickened, 2 to 3 minutes. Remove from the heat and let cool completely. Cover and refrigerate until ready to use.
For the pastry: Preheat the oven to 400 degrees F. Line 2 baking sheets with parchment.
To make the pies, unfold the thawed pastry and roll out to 10-inch squares if necessary. Cut each square in quarters, making four 5-inch squares from each. Spoon 1 1/2 tablespoons of cooled filling onto one corner of each square. Brush around the squares with the egg wash. Fold the pasty over the filling on each to make a triangle, pressing lightly to remove any air pockets. Crimp the edges shut with a fork. Put the pies on the prepared baking sheets. Brush the tops of the pies with the egg wash. Bake until golden brown, about 20 minutes. Transfer to a cooling rack set over a baking sheet.
For the glaze: Mix the powdered sugar, vanilla and 1/3 cup cold water in a bowl until smooth. Drizzle the glaze over the pies and let set until dry.
Editor's note: Buzz summer intern Abby Cowan loves to cook. See her Instagram blog, @abbysapron, for more. Abby was featured in this Buzz article in 2015 along with her mom, in which she shares her pomegranate parfait recipe. She was 11 at the time. 
Want more buzz like this? Sign up for our Morning Buzz emails.
To leave a comment, please log in or create an account with The Buzz Magazines, Disqus, Facebook, Twitter or Google+. Or you may post as a guest.