Lovely Like Mom
Mother-daughter beauty tips
Click the Buzz Me button to receive email notifications when this writer publishes a new article or a new article in this column is published.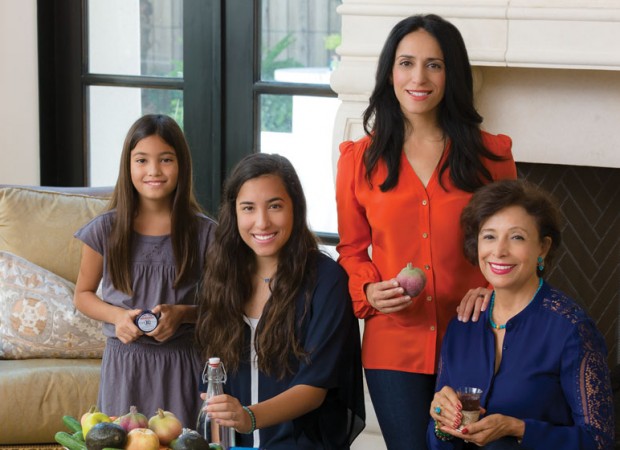 For Mojgan "Morgan" Shin, the lesson of learning beauty tips from her mother started the moment she was born. "In Farsi, the name 'Mojgan' is a poetic way of saying 'eyelashes,'" notes Morgan, who was born in Tehran, Iran.
Adds her mom, Azam Shadravan, "It is a name used in literature and poetry as a metaphor for sending an arrow to the heart of man, inspiring love. And when she was born, I just looked at her eyelashes and said: She is 'Mojgan!' Everything in our Persian culture is about love and beauty."
Both women's lives are as steeped in shared lessons as the tea they drink daily. "Persian people are very passionate about our food and our families, and we believe in being very hospitable," says Morgan, a Buzz resident who emigrated from Tehran to the United States in October 1979 with her family. "Persian women care very much about their appearance, and beauty is important in everything we do, from how we look to how we greet people and show our hospitality."
Morgan has tried to pass on her mother Azam's life and beauty lessons to her own daughters, Isabella, 14, and Sophia, 10. Isabella attends Episcopal High School, and Sophia attends Annunciation Orthodox School.
"Beauty is inside and out, and the key is to not put it on your face if it is not natural or filled with preservatives," says Azam, a Buzz resident and a former urban and rural planner who now enjoys retirement with her husband, Siavash. "We believe that beauty comes from the inside, so when you eat good, it reflects in your face."
Azam lists pomegranates, cucumbers, water, tea, lemons, honey, apples and henna among the most important items in both a kitchen cupboard and a beauty cabinet. "We like our faces to be shiny and clean and bright, so two times a week, I make a mask of 2 tablespoons fresh lemon juice and 1 teaspoon honey, and I mix it and put it on my face for 15-20 minutes and then wash it off – it is my Botox!"
Additionally, she credits a 20-minute nap with being a critical part of a daily beauty routine.
"My Mom has always told me that hydration is critical for supple skin," says Morgan, a former nurse who, with surgeon-husband David Shin, also has a son, Brandon, 14, who attends Post Oak High School. "So we drink a lot of water, and we drink a lot of tea. When you enter a Persian home, hot tea is made available to you, and we drink it from clear glasses to gauge how dark or strong the tea is, and we always make it from fresh tea leaves." The black-tea leaves often have cardamom, rosewater or saffron added in.
Morgan is a big fan of keeping $6 tins of Smith's Rosebud Salve, which she buys at Sephora, at home, in the car and in purses – for everyone in the family. "For us, it's like the Windex in My Big Fat Greek Wedding. We use it not just for chapped lips, but for everything. It is so soothing. We put it on a face blemish, cuts, sunburns, chapped lips, on eyebrows. When our kids were babies we used it for diaper rash."
Morgan says a common refrain growing up was "use henna to make your hair shinier and fuller and more nourished, if you get a blemish, put a little lemon juice on it, and eat pomegranates so your skin will glow."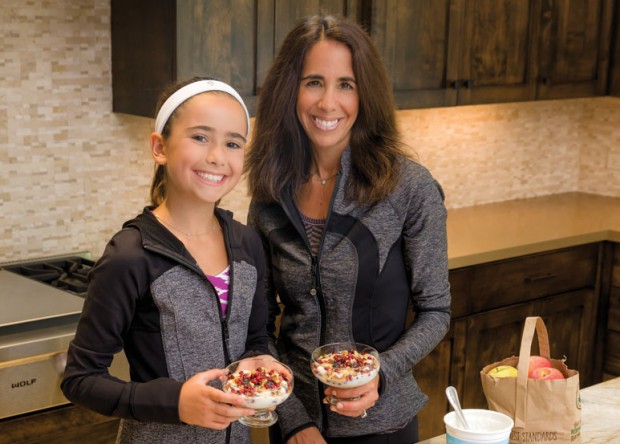 Pomegranates also have a place of healthful importance for Buzz resident Jennifer Cowan and 11-year-old daughter Abby, who attends The Emery/Weiner School. The fruit, rich in antioxidants, has such a prized place in their kitchen that Abby created a special yogurt parfait with pomegranates as the star of the dish.
Jennifer, who was raised in Oklahoma, believes beauty and healthful living go hand in hand, a message she shares with Abby, attorney-husband Ben Cowan and son, Eli, 13, who also attends The Emery/Weiner School. "First and foremost beauty comes from within," says Jennifer, a former social worker. "I definitely believe in a healthy lifestyle, which includes being healthy in mind, body and spirit. When you are healthy in body you eat right, exercise regularly, drink plenty of water and get lots of sleep. When you are healthy in mind you feel less stress, experience more peacefulness and greater focus to your relationships. When you are healthy in spirit you naturally connect with people in more meaningful ways.
"My parents always made me feel pretty, but not by telling me necessarily and focusing on outward beauty. Beauty was via philanthropy, being kind and accepting of others and not through materialism, even though there was plenty of that around. All of this and keeping us grounded."
Jennifer and Abby integrate exercise into their lives by playing tennis weekly and credit the sport for mother-daughter bonding. "For Abby and I, volunteering in the community is another form of beauty," she says. "We believe helping others makes the world more beautiful. As a mom, I would like to teach Abby the importance of beauty from within – to not be superficial and to not judge others by appearance."
Buzz resident Angela Perry, an international flight attendant, echoes the sentiment that beauty sprouts from within. She says she and husband Carlton Perry, a surgeon, have tried to be thoughtful about how to promote beauty and overall wellbeing to 8-year-old daughter Addison and son Caden, 10, who both attend St. John's School.
Angela adds that she and Addison do have their "girl" time by playing "spa" and getting their nails and hair done together.
With a job that takes her to Italy and back every month, Angela has some unique views on what it takes to stay healthy while traveling. "Never get on a plane without food and water," she says; hydration is critical to a healthy traveler. "Always have some ChapStick because your lips will dry out, put moisturizer on your hands and face, and always wash your face on a plane after dinner, so if you go to sleep, you will be more refreshed when you wake up."
Angela believes that beauty begins internally. "It doesn't matter what clothes you wear, what make-up you put on, what shoes you walk in — those things may make you feel good, but beauty starts when you feel good about yourself," she says. "You must feel good about you before you can be beautiful."
With three daughters, Buzz resident and obstetrician Dr. Nina Ali gets to bestow a wealth of beauty tips, mixing in elements of her family's Indian heritage, on to Nylah, 11, Nadia, 8, and Aneesa, 4. Nylah and Nadia attend St. John's School. Although Nina was born in London and raised in North Carolina, her parents and in-laws all are from Hyderabad, India. Nina, along with cardiologist-husband Asif, are mindful of the vibrant traditions that have been passed down from the women in their families.
"India has such a colorful history, and Indian people care very much about beauty, their hair and their skin," says Nina. "Although both Asif and I grew up here in the United States, we feel very lucky to include our Indian or South Asian cultural traditions in many things we do."
From floral scents to chai tea to henna, Nina's daughters love experiencing products that make up their Indian heritage. "My Mom was particular and did not want any chemical treatments in our hair," recalls Nina. "Her general philosophy was to use natural products and to hydrate. For hair and skin, we use a lot of natural henna, which grows on trees." Henna dyes are used for hair color and for elaborate, temporary designs that are painted onto hands. Nina notes that there are a number of Indian salons in Houston and recommends Aisha's Salon & Spa, which has multiple branch locations, as an excellent spot to get henna dyes and tattoos.
"For special occasions we enjoy henna — especially at Eid or during weddings," says Nina. "Part of the fun of henna is the getting together of the girls and ladies to have the henna done. Usually there is a party with food, music and artists who apply the henna, so it's a whole atmosphere of festivity."
Nina notes that the oils and spices used for generations in India are still relevant today. "For example we are always looking for hair detangler and conditioner," she says. "Once the girls learned about using coconut oil as a hair conditioner/detangler it's become their 'go to' hair product."
Besides coconut oil, spices such as ground sandalwood, turmeric powder, saffron and gram (chickpea) flour are all items that can be purchased at the grocery stores but also used for beauty purposes. "I make a yellow mask using gram flour, turmeric, sandalwood, rose water and milk," says 11-year-old Nylah Ali. "It's easy to make and fun to use things you find in your kitchen. And my mom notices the difference it makes in my skin." Nina says there are many Indian grocery stores in Houston and recommends Patel Brothers, 5815 Hillcroft, as a large store that carries all of these items.
Nina says colorful clothing and jewelry are also a highly regarded part of their culture. "We often wear traditional clothes to dinner parties and family events. The clothes are ornate with intricate embroidery and beading that is mostly hand done by skilled artisans. The girls and I love getting dressed up, and we'll have coordinating outfits made for special occasions." Sometimes Nina will wear a sari, and often she and her daughters will all wear shalwar and kameez, which are two-piece, pants and top outfits. The Ali girls also have a collection of colorful glass-beaded bangle bracelets, which they wear to add more sparkle to their outfits.
"I want my girls to be confident in who they are, what they believe and how they look," Nina says. "A confident woman is a force to be reckoned with."
Editor's note: Email [email protected] or leave a comment under this story to share your own beauty tips with fellow Buzz readers.
Want more buzz like this? Sign up for our Morning Buzz emails.
To leave a comment, please log in or create an account with The Buzz Magazines, Disqus, Facebook, Twitter or Google+. Or you may post as a guest.