Mailbag - August 2020
Click the Buzz Me button to receive email notifications when this writer publishes a new article or a new article in this column is published.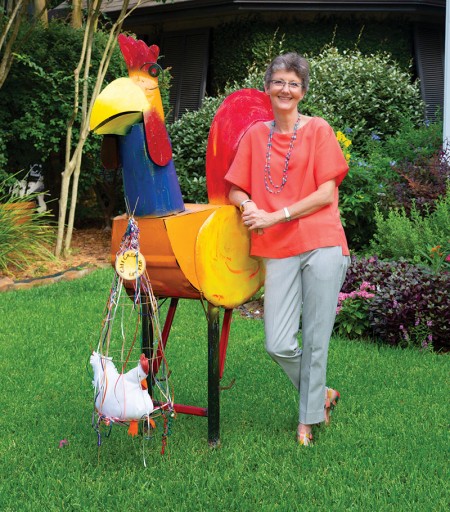 Yay for Ramon the Rooster
I just wanted to say how much we enjoyed the Buzz article on Ramon the Rooster from Sunset Terrace [Ramon the Rooster: The rusty Pied Piper of quarantine, by Pooja Salhotra, July 2020]. Ramon and Steffy Clingan's efforts lifted our entire community's spirit day after day during the pandemic. We all bonded together and had some great fun during this scary time of uncertainty, decorating yards, looking for Chicken Little and silly treasures throughout our neighborhood week after week. The article was a great reminder of how important neighbors and friends are!
Michelle Bunch
More on Med Center music plans
Thank you, Deborah, for your fantastic article [The Med Center Orchestra, by Deborah Lynn Blumberg, July 2020]! I am so happy you were able to share our story and our latest global collaboration. TMCO is a gem in our community, and I hope those who have yet to hear us will be intrigued to follow us.
In the midst of this pandemic, we are already planning our November concert at Miller Outdoor; the show must go on, and I hope that arts organizations will be able to survive the uncertainty of the pandemic. God bless you for your passion for writing; we all need some inspiration and hope!
Libi Lebel
Editor's note: See tmcorchestra.org for updates. In addition, find this story at thebuzzmagazines.com for a link to the collaborative video the orchestra recently participated in as part of the #ImStandingWithYou project, which featured performances by 170 musicians from across the world and raised more than $5 million for coronavirus relief efforts.
Pepper was lovely Miss July 
We loved seeing Pepper as "Miss July" in the new edition [Neighborhood Tails, West University Buzz, July 2020]! Thanks for the fun! I've shared it on Facebook and credited our neighborhood Buzz. Pooja [Salhotra], you're doing a great job for The Buzz! 
Susan Peterson
Editor's note: Thanks for sharing Pepper's "tail" with us! Each month, we feature neighborhood pets in The Buzz. Just submit 150 words from your pet's perspective and a high-resolution photo to [email protected]. Featured pets are automatically entered into our popular Pet of the Year Contest in December. Recently, we also kicked off a "Tuesday Takeover" on our Instagram Stories for more behind-the-scenes fun with our featured furry friends. 
Do you remember these restaurants? 
I am 72 years old and a native Houstonian. I knew and went to all of the restaurants you mentioned in the article [Restaurant Memories: A look back at Houston's dining past, by Russell Weil, November 2014], but there were also 2Ks in the brand new Galleria and Valian's near Main and Holcombe. Our family lived at Lee's Den. But we also went to a seafood restaurant that was a big ship, like a galleon, and you walked up a ramp into the restaurant. It was on the east side of Main, sort of near Playland Park. Same side of the street, and near that place (that also escapes me as to name) that had a big pool and in the deep end, there was like a metallic mushroom that you could swim down to and come up into the metal "head" and there was no water, so you could have a "secret" conversation.... Also, the LC cafeteria with, I believe, the first escalator that was almost the best ride in town and lunch at Battelstein's, which my older sister loved. Thanks for the memories. If you remember the restaurants and places I mentioned without a name, I would appreciate a response.   
P.S.: I would often stop at Alfred's on Stella Link and get three of their football-size pickles. Those were the days (sort of).
Lennie Roth
Editor's note: Writer Russell Weil responded: "I believe you are talking about The Ship Ahoy on South Main – but that was a little further north from Playland Park. The pool was the Gateway Pool, which was near the Main Street/OST split where Target is today." See thebuzzmagazines.com to read this still-popular story from 2014. If you have restaurant memories, share them with us all at [email protected]. 
Send letters to [email protected]. Please include your name, address, phone number and email address for verification purposes. Letters are subject to editing for clarity and space. Views expressed in letters do not necessarily reflect the opinions of The Buzz Magazines, and The Buzz takes no responsibility for the content and opinions expressed in them.
Want more buzz like this? Sign up for our Morning Buzz emails.
To leave a comment, please log in or create an account with The Buzz Magazines, Disqus, Facebook, Twitter or Google+. Or you may post as a guest.