Rumor Has It - February 2021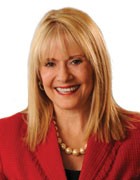 Click the Buzz Me button to receive email notifications when this writer publishes a new article or a new article in this column is published.
More than bridge. Long-time friends who play bridge have resorted to Zooming to communicate as a group. They decided to take an abridged Covid break with a jaunt to Maureen Turner's getaway on 80 acres near Kerrville. Patsy Andrews, Barbara Hammer, Sandra Hanscom, and Sally Kelly joined Maureen for pottery glazing and for an outing to the Augusta Vin Winery and Vineyards to laugh and drink in their own private dining area. Three of their gal pals couldn't join in the "convention," but their ears were surely burning.
Turn on the lights! It all started Oct. 1, when Mark Kobelan started stringing 15,000 LED lights in his front yard and 80,000 in the back yard while his wife Deborah called the caterer at Carrabba's for their 24th annual Christmas party. The party began with a handful of guests when they first moved to Memorial and reached a peak of over 200 guests. This year there were a comfortable 80 merrymakers to enjoy the themed areas in the yard with perfect weather. The choirs (21 singers instead of the usual 40) from St. John Vianney and St. Cecilia sang from the balcony as guests were on the deck below. Inside, Mark took precautions with two IVP air-filtration systems in circulation. Nearest and dearest Andrew and Ashley Kobelan and Michelle (Kobelan) and Scott Kneeland toasted with their parents.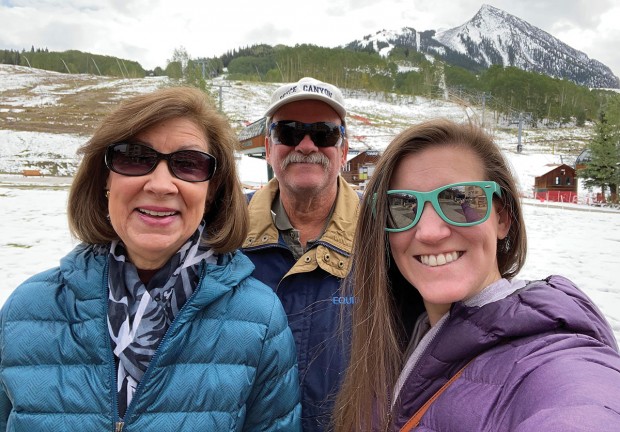 From 100 degrees to 2 degrees. Before Pat and Diane McDaniel left town, they had to repack their suitcase when the weather forecast changed the night before they left. On their road trip to Colorado to see their daughter, Angela McDaniel, in Denver, it was 100 degrees in their first stop, Amarillo. They journeyed on to Crested Butte after a few days in Denver and got there for the first snow of the season, with an 8-inch drop. The last stop was to Breckenridge. They hiked the mountains and canyons in the crisp air, and upon their return, Angela drove to Fredericksburg for another family get-together. A very driven family.
Drive by and donate. The Memorial Drive Garden Club usually has a holiday luncheon in December, but with Covid, opted for a drive-by-and-donate to a worthy cause. Bundled in coats at Kristi Barnhill's home, president Susan Diehl, treasurer Katherine Bodron, and ex officio Jana Stiffel handed out mini bottles of champagne and cheese sticks to those who dropped off checks. Raise up Families (formerly Westside Homeless Prevention) received $1,500 to empower lives through education and to stop homelessness. 
Chinese for Christmas. Same time and same place next year. It has been an annual Christmas tradition for 12-15 friends to have Chinese food at Peking Cuisine for lunch. This Covid year there were only seven, but the huge round table provided safe distance. Amy and Michael Lawch started the annual event 15 years ago, and as the group got bigger, they secured a private room. Not only does Amy reserve the room, but she reserves three ducks for the following year as soon as they finish lunch. The amusing table race with wind-up reindeer and a small informal gift exchange included Barbara and Al Marcus, Mickey and Mike Marvins, and Kathy Long.
Quite a splash. Joe and Merrill Hafner found a great respite to end the year when they took advantage of some airline credit and lavished in luxury at a new hotel that opened two weeks before they arrived. The One&Only Mandarina, one hour north of Puerta Vallarta. Their villa, built on the side of a mountain, overlooked the ocean and had a plunge pool on the patio. They watched scores of pelicans each day and people in paddle boats in the private cove beach as they spoiled themselves with sun and their own butler at their call. A golf cart with a driver took them to explore the spa, the three infinity pools, and the three cliffside/beach restaurants. That's when they discovered the treehouse bar overlooking the ocean. 
An unexpected gesture. Approximately 70 people were engaged in a Zoom-schmooze Hanukkah party through the Holocaust Museum Houston Survivors & Descendants group. A singer in Nashville and a magician in California entertained while planners Sandy Lesigg and Dr. Hy Penn and wife Lynn Gordon orchestrated volunteers to put together Covid-safe sanitizer gifts with chocolate gelt and deliver them to 87 survivors. Some of those beneficiaries were Bill Morgan, Ben Wasserman, Anita Rothschild, and Dr. Anna Steinberger.
Female family reunion. Sharon Cordes met up with her mom, Theresa Winkler, halfway between Kansas City and Houston in Carlton Landing, Okla., on Lake Eufaula. The 84-year-old monarch, "Mother," was surrounded by her five daughters and six granddaughters for a special gathering. Her husband and their father and grandfather passed away in April. The Christmas events at Carlton Landing lifted everyone's spirits despite the cancellation of the annual charity fundraiser to see inside the homes. Instead, the  "Deck the Porch" theme was Covid-friendly. A Central Square Christmas tree lighting, followed by a bonfire with hot drinks, warmed their souls. The men from the large Winkler family were either home taking care of little ones or, like Mo Cordes, on a weekend of bird hunting.   
Bear in mind. How to celebrate a milestone 60th birthday with Covid in mind? Get far away! Craig and Lana Armstrong took a first-class flight to Jackson, Wyoming, to venture onto the Grand Teton National Park's 310,000 acres. They stayed at an Airbnb condo in Wilson and packed lunches for their hikes. Sightings of bison, black bear (up and away on the hill from them), elk, and a moose were ahh-some moments. On a bike ride, a herd of deer bewildered them within 10 feet. When the perfect weather turned below freezing, they drove to Yellowstone to see the Old Faithful geyser up close, sans crowds. They rushed back for their reservations at a popular restaurant, where the maître d' offered them a spot outside while it was still sleeting and guests were making snowballs. The Armstrongs were game and said the food was worth it. Craig's 60th was snow picturesque.
The Crab Apple house. Julie Greenwood holds court in a 5-year-old farmhouse with French flourishes, set on many acres near Fredericksburg. For New Year's Eve, she walked to her three thriving gardens to pick arugula, vegetables, and herbs to celebrate dinner with daughter and son-in-law Meg and Phil Rife and grandchildren Lillian and Harris Rife and friend Jeremy Fain. The big excitement while Phil grilled steaks outside was the snow. The children were excited to see their first flurries, and it did not take long for snowballs to fly everywhere. Just the day before in the sunny weather, they were riding ATV four-wheelers while sighting deer and feral pigs. Wild! 
Double life. During the day, Lyn Sullivan is an escrow agent, but on the weekends and at night she shoots people. She uses a camera and her phone to capture unique images of her surroundings and, as a result, has accumulated many awards. The Plymouth Center for the Arts in Massachusetts, in their current online exhibit, "Beyond the Window," chose Lyn's image "Twiggy #1." Check out the link (on this story at thebuzzmagazines.com) to view all the photography in the exhibit.  
New ideas for new times. The annual afternoon Christmas block party where Lynda and Cecil Gilbreath live turned into a driveway party this past December. There were two long tables with approximately 20 people who brought a variety of snacks and beverages. Another idea the neighborhood had to create fun but keep the distance was a food truck, Luchi & Joeys, with tacos and margaritas that arrived four times. Lots of happy hours will continue until all have their vaccines. 
Have some good news to share? Email us at [email protected].
People in this article:
Maureen Turner
,
Patsy Andrews
,
Barbara Hammer
,
Sandra Hanscom
,
Sally Kelly
,
Mark Kobelan
,
Deborah Kobelan
,
Andrew Kobelan
,
Ashley Kobelan
,
Michelle Kneeland
,
Scott Kneeland
,
Pat McDaniel
,
Diane McDaniel
,
Angela McDaniel
,
Kristi Barnhill
,
Susan Diehl
,
Katherine Bodron
,
Jana Stiffel
,
Amy Lawch
,
Michael Lawch
,
Barbara Marcus
,
Al Marcus
,
Mickey Marvins
,
Mike Marvins
,
Kathy Long
,
Joe Hafner
,
Merrill Hafner
,
Sandy Lesigg
,
Hy Penn
,
Lynn Gordon
,
Bill Morgan
,
Ben Wasserman
,
Anita Rothschild
,
Anna Steinberger
,
Sharon Cordes
,
Theresa Winkler
,
Mo Cordes
,
Craig Armstrong
,
Lana Armstrong
,
Julie Greenwood
,
Meg Rife
,
Phil Rife
,
Lillian Rife
,
Harris Rife
,
Jeremy Fain
,
Lyn Sullivan
,
Lynda Gilbreath
,
Cecil Gilbreath
,
Nancy Dalinghaus
,
Nicole Curtis
,
Emma Dalinghaus
,
Danielle Glotzbach
,
Mollie Hiltibrand
,
Barbara Winkler
,
Janet Kramer
,
Elaine Ice
,
Heather Ice
,
Becky Brooks
Want more buzz like this? Sign up for our Morning Buzz emails.
To leave a comment, please log in or create an account with The Buzz Magazines, Disqus, Facebook, Twitter or Google+. Or you may post as a guest.