All About E-Sports
Serious gamers connect and compete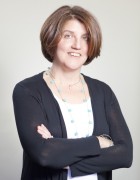 Click the Buzz Me button to receive email notifications when this writer publishes a new article or a new article in this column is published.
I don't get video games. This became all too clear as I watched people playing video games competitively – the definition of e-sports – on Twitch. (Go to twitch.com and click "e-sports" for dozens of live and recorded games being played all over the world.)
As I watched, "shoutcasters" (e-sports commentators) kept up a running commentary. Down the right side of the screen was a live-chat stream moving so fast that even if it were the only thing I was watching, I wouldn't have been able to keep up. It also seemed to be written in code. Meanwhile, in the main action, several animated characters were fighting it out, possibly with magic swords, probably to the death, when suddenly a winged dragon swooped down.
While I may not get it, plenty of people do. 
Twitch (or YouTube or Facebook, the other two big streaming platforms for e-sports) will tell you how many other people are watching the event with you. They often number in the thousands or even hundreds of thousands. According to CNBC, the World Championship Finals for the game League of Legends in 2019 had almost 100 million viewers across all streaming platforms. For comparison, the Super Bowl that year had just over 98 million. 
And get this: The highest paid professional e-sports athlete in 2020, Johan "NOtail" Sundstein from Denmark, made almost $7 million last year. 
Houston has its own professional team, the Houston Outlaws, who play the game Overwatch. Founded as one of 20 teams of the Overwatch League (OWL) in 2017, the team is owned by the Beasley Media Group, a Florida radio-station company, and counts H-E-B and Reliant among its sponsors.
Over 200 universities and colleges nationwide are members of the National Association of Collegiate Esports and offer over $16 million in scholarships annually. Meanwhile, high schools and middle schools in Texas are starting leagues or adding e-sports to existing sports leagues.
Rayne Beckman, 20, grew up in West University and went to the Kinder High School for the Performing & Visual Arts (HSPVA). A self-described "theater and dance kid," he now attends the Savannah College of Art & Design (SCAD), where he majors in sound design. He also plays on the university's varsity Overwatch e-sports team. (The school also fields a League of Legends team.) And yes, he got a scholarship for it.
He has attained the rank of Grandmaster in Overwatch, which means he ranks in the top one percent of Overwatch players in the world. "When Overwatch first came out in 2016, I played it for fun, casually," Rayne says. "I love Overwatch."
Overwatch is a team-based "first-person shooter," which means that you see the world through the eyes of your character, or hero, who shoots things. Two teams of six play against each other. There are 32 different heroes players can be, each with different abilities. There are several game modes, with different objectives, which can be played on 21 maps. And there is a long and elaborate backstory about warfare between hostile robots and humans which involves, among other colorful characters, Winston, a genetically engineered gorilla/scientist, Zenyatta, a robot Buddhist monk, and Wrecking Ball, a sentient hamster in a giant mech suit.
Currently, Rayne is home in Houston, but given that e-sports can be played remotely, he is still practicing Overwatch, he says, "at least six hours a day."
E-sports are intense. Professional players sometimes play 10 to 12 hours a day – or longer – and generally retire in their mid-20s, often because of burnout. Video games in general, of course, have had their controversies and concerns, about violence, video-game addiction, and the sometimes-toxic behavior of players online.
E-sports players are well aware of the stigmas but say some concerns are unfounded and others can be handled. For instance, unlike the stereotype of the unfit and overweight gamer never leaving his house, a recent study from the Queensland University of Technology in Australia showed that professional e-sports players are more likely to be a healthy weight and less likely to smoke and drink than average.
"It's all about moderation in all things," says Rayne, who balances his school work, e-sports, and his interest in rock climbing.
Angie Frederickson, staff writer for The Buzz Magazines, wasn't exactly on-board with her daughter Anna's interest in video games. "I'd rather children be outside or reading a book," she says. But Anna, a high school sophomore, loves e-sports and is one of the founding members of a new e-sports/gaming club at her school, St. Agnes Academy. She balances this interest with her others, which include lacrosse and speech club. 
Anna points out that the e-sports club, which already has 52 members, was able to keep functioning even when St. Agnes wasn't meeting in person and its other clubs had suspended their activities. "We communicate with each other and play games with each other on Discord," a chat-app for gamers, says Anna.
Abhinav "Navi" Upadhyaya, a senior majoring in chemistry at the University of Houston – Downtown, who is planning on medical school, is also the captain of the university's League of Legends team, which won its league championship last summer. 
"Video games changed my life," says Navi. His family moved several times while he was growing up, which made it difficult to have friends, and his parents preferred to have him home studying rather than out socializing. "If I hadn't been able to play video games online, I would never have been able to socialize and make friends," he says.
E-sports are new for colleges. The University of Houston – Downtown started its program in November of 2018; the University of St. Thomas started this academic year (2020-21). The University of St. Thomas's program is both a competitive team and a club. "Over 80 members signed up the first three months," says Justin Pelt, the university's assistant director of e-sports. Citing the growth in careers in the industry, St. Thomas began offering an academic course about e-sports last fall. E-sports are often compared to chess as an activity, and educators note a connection between video-game playing and interest in STEM (science, tech, engineering, math).
High-schoolers and their teachers note other benefits as well. Chris Schisser is a computer-science teacher and the e-sports coach at St. Pius X High School. The St. Pius e-sports program was started by students. "They came to me, talking about it, right before Christmas in 2019," says Chris. He's got about 20 to 25 kids on teams playing the games League of Legends and Rocket League, a game in which cars play soccer. For many of his students, this is the first extracurricular activity in which they have participated.
A group of Texas educators founded the Texas Scholastic Esports Federation (TSEF) last year. It already has about 50 schools statewide in its league. Its slogan is "Better Humans Through Gaming." Danielle Johnson, executive director of the federation and a middle-school teacher, says, "It's all about connecting kids to their schools. That's how we measure success."
"It's especially great for the international students," says Chris. "Many of them are shy about practicing their English, and this is a good, low-stress way for them to do that." The St. Pius teams made it to the state semifinals in their league, which is run by the Texas Association of Private and Parochial Schools (TAPPS), the same organization through which their athletics and other programs compete.
Of course, some people balk at calling e-sports sports because they are not physical. Others, however, see benefits even to that. For one, male and female players can compete against each other.
For another, many kids – estimates hover around 45 percent – don't play sports. E-sports can be a way for these kids to experience the benefits of playing a team sport. "They develop a lot of life skills," says Chris. "They need to be dedicated. They learn to work together, to communicate, to problem-solve."     
"Gamer moms are the new soccer moms," says Danielle, pointing out that gamer moms get to be inside, warm and dry, during their kids' competitions. And she says, "Watching your kids play on Twitch is super-fun. Unlike football or basketball, you can hear their conversations with each other as they collaborate and plan."
Richard Rodriguez, a student at the University of Houston – Downtown and the global team manager for its e-sports team, points out that video games and e-sports can be a way for parents and children to interact. "You can learn to play together," he says.
"I'm horrible at them; the kids laugh at me," says Chris. As he wrote to Jeff Wheeler, the faculty advisor for the St. Agnes e-sports/gaming club, video games are "fun and easy to get started, but very hard to get really good at." 
Anna Frederickson recently delivered a speech at school about how e-sports should be an Olympic sport. Elite e-sports players "reached their level by hard work, determination, and dedication, which are the core values an Olympian possesses," she said.
And e-sports are being considered for the Olympics. When Tokyo gets to host the next Olympics, originally scheduled for 2020 but delayed by the coronavirus, an e-sports showcase, the Intel World Open, will be held right before the Games begin.
Want more buzz like this? Sign up for our Morning Buzz emails.
To leave a comment, please log in or create an account with The Buzz Magazines, Disqus, Facebook, or Twitter. Or you may post as a guest.