Rumor Has It - September 2021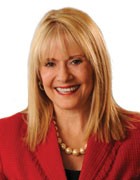 Click the Buzz Me button to receive email notifications when this writer publishes a new article or a new article in this column is published.
Step up. If you didn't know twins Joan Lebow and Jean Robin well enough, you would not  have been able to tell them apart at their well-heeled, shoe-themed celebratory birthday for their 70th.  They dressed in identical glam cocktail dresses and were adorned with bling. Their families that stepped up to give toasts included husbands David Lebow and Alan Robin and children Jeffrey and Ross Robin and Jacqueline Smooke. A surprise guest, "Marilyn Monroe," sang Happy Birthday with accompaniment from grandchildren Madison and Hannah Smooke and Lila Rose and Garret Robin. The extraordinary cake featured an edible size 70 shoe on top while other bling shoes graced the tables with flowers. Takeaways included Godiva candy and home-baked-by-"Jean" cookies.
Everyone's birthday. For a summer soiree, Chris Baker invited neighbors and friends from church, Scouts, and miscellaneous groups. The friendship birthday brunch celebrated all the birthdays missed during Covid. The 15 gals sang Happy Birthday to Everyone as Chris brought in a homemade hummingbird cake. Joan Evans, Juli Pendergrass, Cynthia Lange, Mary Tilton, Jana Kusin, Felicia Baker, Linda Schweitzer, Linda Dumesnil, Paula Kotlarek, and Pam Camp were in the singing group.
Mother/daughter trip. For Cathy Taylor's birthday weekend in July, her daughters, Dr. Kelly Simpson (Austin), Kristen Penrod (Dallas), and Kimberly Lloyd (Houston), met her in Round Top. Their annual trips include the grandchildren, but this one was just about the girls while the grands stayed with their dads. They shopped for antiques at Henkel Square Market, Market Hill, and Junk Gypsy Company. She was treated to dinner at Lulu's Restaurant followed by a chocolate cake and presents. Their rental, a redecorated farm-style house, Kobza Haus, was across from Henkel Square and had two verandas, a living room, and a gorgeous kitchen.
Happy place. Anywhere in Colorado suits Marlene and Lloyd Matzner in the summer. This year they met up with Marlene's brother, Jerry Gedaly, from Greensboro, N.C., to vacation in Keystone, Colo., during the Keystone Wine and Jazz Festival. They also went to the Bravo! Vail music festival to enjoy the chamber music of the Philadelphia Orchestra surrounded by a magical setting of trees, with a beautiful mountain backdrop in the outdoor amphitheater. Total chill.
All Geminis. Four gal pals celebrated their birthdays on a girls trip where two husbands couldn't resist and crashed it. It was the first time to go to Aruba for Joanne Naponic, Marlene Pfiefle, Tracy Evans, and Shannon Storm. They had to show proof of being vaccinated before boarding the plane as well as a negative Covid test within 72 hours of departure. Joanne warns: Don't rent a car at the airport – do it at the hotel. They stayed at the Hilton on the beach and were thrilled that there were no cruise ships. It was easy for lunch reservations and for shopping. The gals are ready to go back.
It's ok to have four left feet. You don't have to know how to dance. The Hey Lollies Square Dance Club has a free "Introduction to Modern Square Dance" event with free food Sept. 16, 7:30-9:30 p.m., at Ascension Episcopal Church at 2525 Seagler Road. Connie and Cal Dalton are regulars, as well as Kimberly and Patrick Guinn and Jean and James Krivan. When you attend, you will be tempted to sing along to the familiar melody being sung by the caller, but some of the words you won't recognize. Those are the dance cues. They typically dance the equivalent of up to five miles in the weekly two-hour evening. Themed parties during the year include Halloween, Summer Salad, and Ice Cream Night. Judy and Jim Glasford, Carol and Peter Kovac, Greg Johnson, Carol and Mel Maresh, Patty and Bill Menger, Mike Moore, Melinda and Joel Talley, and Cat and James Turner often participate. Do-si-do on over Sept. 16.
Six years in the making. The truth behind a Civil War veteran's military service came out of a Smithsonian Magazine article that author S.C. Perkins, aka Stephanie Perkins, read in 2013. It inspired her to write Fatal Family Ties (An Ancestry Detective Mystery, book No. 3.) Her  books are genealogy themed, hence the research on Civil War service records. One of the characters, Lucy Lancaster, comes to Houston. The book was released with a virtual launch and through Murder by the Book. Stephanie's own genealogy includes her biggest fans, Dick and Judy Perkins.
The threads that weave us together. Interfaith Ministries has scheduled the Tapestry Gala Oct. 27 at the Hilton Americas-Houston. The elegant event will celebrate honorees Paula Sutton, the Rev. Dr. Jim Bankston, and Sysco. Co-chairs Philamena Baird, Dr. Kathy Hanagan, Dr. Sushma and Devinder Mahajan, and Anuradha and Dr. Kohur Subramanian are interlacing golden threads of a good time for all. For more info, contact [email protected].
Have some good news to share? Email us at [email protected].
People in this article:
Joan Lebow
,
Jean Robin
,
David Lebow
,
Alan Robin
,
Jeffrey Robin
,
Ross Robin
,
Jacqueline Smooke
,
Madison Smooke
,
Hannah Smooke
,
Lila Rose
,
Garret Robin
,
Chris Baker
,
Joan Evans
,
Juli Pendergrass
,
Cynthia Lange
,
Mary Tilton
,
Jana Kusin
,
Felicia Baker
,
Linda Schweitzer
,
Linda Dumesnil
,
Paula Kotlarek
,
Pam Camp
,
Cathy Taylor
,
Kelly Simpson
,
Kristen Penrod
,
Kimberly Lloyd
,
JoAnne Naponic
,
Marlene Pfiefle
,
Tracy Evans
,
Shannon Storm
,
Connie Dalton
,
Cal Dalton
,
Kimberly Guinn
,
Patrick Guinn
,
Jean Krivan
,
James Krivan
,
Judy Glasford
,
Jim Glasford
,
Carol and Peter Kovac
,
Greg Johnson
,
Carol Maresh
,
Mel Maresh
,
Patty Menger
,
Bill Menger
,
Mike Moore
,
Melinda Talley
,
Joel Talley
,
Cat Turner
,
James Turner
,
Stephanie Perkins
,
Dick Perkins
,
Judy Perkins
,
Paula Sutton
,
Jim Bankston
,
Philamena Baird
,
Kathy Hanagan
,
Sushma Mahajan
,
Devinder Mahajan
,
Anuradha Subramanian
,
Kohur Subramanian
,
Marlene Matzner
,
Lloyd Matzner
,
Jerry Gedaly
Want more buzz like this? Sign up for our Morning Buzz emails.
To leave a comment, please log in or create an account with The Buzz Magazines, Disqus, Facebook, Twitter or Google+. Or you may post as a guest.