Rumor Has It - August 2022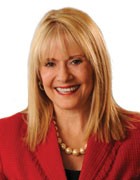 Click the Buzz Me button to receive email notifications when this writer publishes a new article or a new article in this column is published.
Red, white, and blue sea. The 4th of July found Paul and Amanda (Stark) Finnett in England in wetsuits and with surfboards. They joined Aon work colleagues, clients, and their families in group surfing lessons at Bigbury-on-Sea in Devon, South West England while their sons Benjamin Finnett and Kai Stark celebrated in Austin with UT friends. The sons joined them later in the summer at their house in East Preston, West Sussex. The water sports enthusiasts' buddies are a source of emotional support after the traumatic loss of Toby Finnett (age 15) in a boating accident in 2018, and have supported the charity set up in his name. Read more about it and Toby at wavesmusictherapy.com/the-toby-project/ and to support children suffering from complex trauma and/or emotional and behavioral issues with specialized music therapy.  It's a great way to make a wave and a perfect crescendo.
Expect strikes. The airport workers strike in Paris delayed their luggage, but Lauren and Chris Rutherford made up for lost time on their delayed anny Covid postponed trip this May with 50 miles on foot and by bike in Paris. Their belated anniversary was a dinner on a beautiful quaint garden patio and with champagne at a Cabaret show. In London, they saw the major sights and walked for miles in Hyde Park and visited old friends from Canada at dinner. One in five flights were expected to be cancelled but they made it back as scheduled.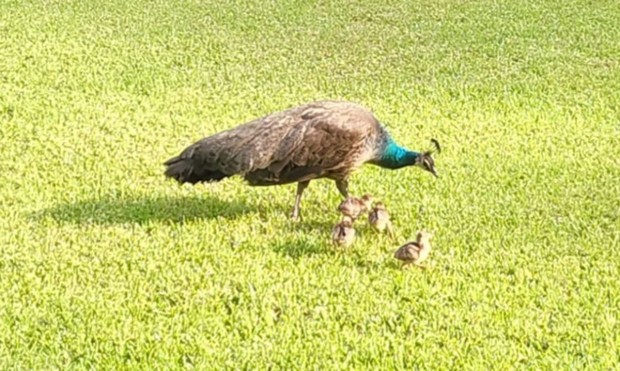 Peahen and peacock. Yep, the female is the peahen. Dr. Alex and Jennifer (Kades) Butkevich helped a Mother Peahen who strolls their Memorial neighborhood give birth to peafowl on their bar-b-que pit on their back patio. They cared for Mother as she sat on one egg. Then watched as she laid more. The mystery is where did Mom and babies go? Did they join the flock? Are they still on the street? Are they peahens or peacocks? Will they come back for bar-b-que?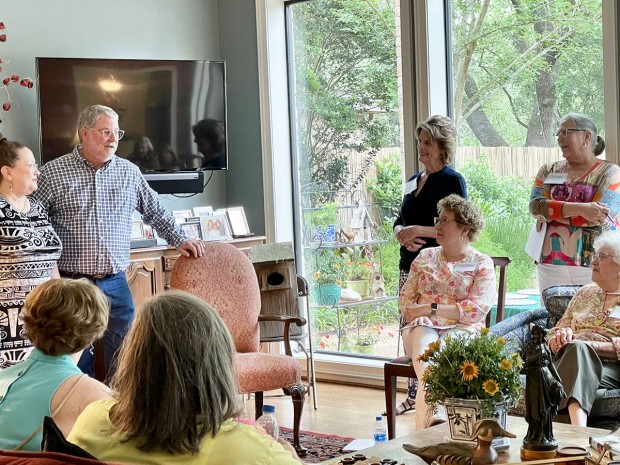 Quack up. The Memorial Drive Garden Club celebrated another fun year when Beverly Mattern introduced Robert and Michelle Eutsler who shared their knowledge of the wildlife particularly wood ducks and the ecosystem in the creek behind their house. Robert shared insights to help preserve the waterfowl. Continuing with a nature theme, Sue Shefman introduced the new officers that are ready to fly into place. The new President, Kristi Barnhill, and Past President-Parliamentarian, Susan Diehl, welcomed the new team who are: Jana Stiffel, Rochelle Lootens, Marsha Floyd, Susanna Jeu, Sharon Roark, Treasurer-Elect Pat Moon, yours truly, Beverly Mattern, Sue Shefman, Roz Cooley, Barbara Files, and Sandra Bryant.
Houston to Hollywood. Former Hunters Creek resident Will Greenberg is starring in comedy Doula: Rules of Contraction, now streaming on Prime Video, Apple TV, Google Play, and pay TV operators. Will plays Sascha who is hired to be a birthing partner for an unprepared mother-to-be whose controlling boyfriend can't take the pressure. In case you didn't know, a doula is a person, usually a woman, who is employed to provide guidance and support to a pregnant woman. Will's parents Jerry and Karlyn Greenberg, both creative themselves, are not surprised Will continues to make them laugh.
Candy thrown. The Villages 4th of July Parade featured the Memorial Villages' firetruck, police, the Villages' mayors, military, and scout troops, and lots of citizens in their cars. Chris Sweet rode his bike to the parade with one-year-old Serena in a buggy on the back. Lauren, Luke, and Jack Foley with Lab dog Addy in tow had a wagon for extra seating. Decked out in fashionable 4th attire were Nicole and David Durham and children Zach, Hannah, and Claire who went to Lakeway afterwards. Others that watched the fun were Renn, Mike, and Beck Lewis who went swimming afterwards; Dr. Mehrzad, Morgan, and Julian Zarghouni and neighbors Marnie, Nick, Juan Pablo, and Eva Luna Medina who went to a pig roast afterwards; and Ashley and George Clark who did a neighborly deed.
Sterling's Market. Sterling Reckling, an entrepreneur, had a vision for a weekly market offering goods to neighbors. When Sterling lost his life in 2021, his parents, James and Elise Reckling, and Rev. Dr. Russell J. Levenson, Jr., the Rector of St. Martin's Episcopal Church (who's also the Reckling family's next-door neighbor), came together to discuss creating a market in Sterling's honor. Hence Sterling's Market was born St. Martin's Episcopal Church, at Sage and Woodway. It takes place Saturdays, rain or shine, 9 a.m.-1 p.m. Typically, the market takes place outdoors in the west parking lot but, due to the Houston heat, it'll be held inside in Bagby Parish Hall through the end of August. A pop-up market on Weds., July 27 and Aug. 17, 3-7 p.m., will also take place in Bagby Parish Hall.  A portion of proceeds support St. Martin's Outreach Ministries. Some volunteers and supporters are Ellie Kight, Charlene and John Wolfe, the Rt. Rev. C. Andrew Doyle, Barbara Shoemaker, Elizabeth Johnson, Patricia Pate, and Patricia Lind. See sterlingsmarket.org.
Annual family trip. When Lynn and Ronnie Jacobe went to Napa for the first time in 2020, they decided to return as a family of six in Spring 2022 for Matthew and Katherine's 21st birthdays. Six days at the Silverado Resort and Spa were filled with several two-hour tastings at acclaimed vineyards in Calistoga, St. Helena, Yountville, and Napa. Outings included golf and massages, Bistro Don Giovani, Mustards Grill and herbal gardens and vineyards at Brix. And then Andrew, Jennifer, Matthew, and Katherine returned to their hectic lives while Lynn and Ronnie plan the next venture.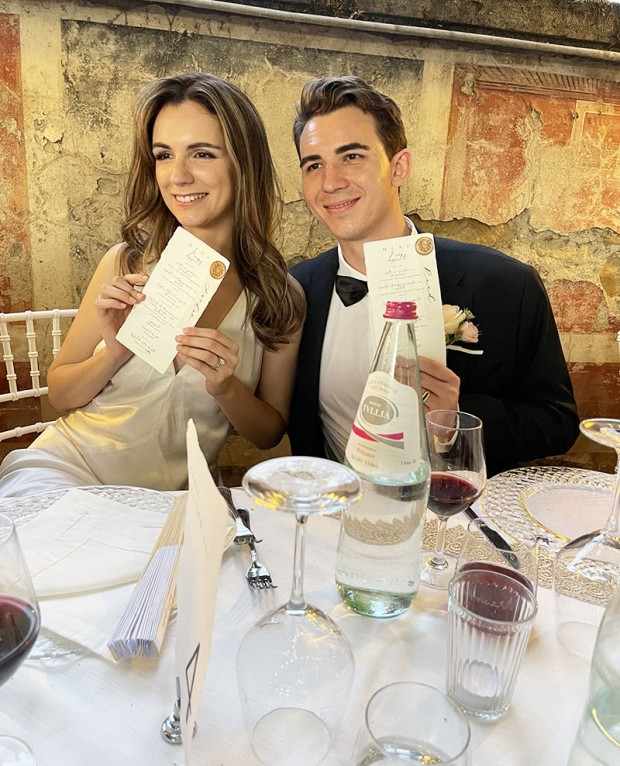 It wasn't in the business plan. They met at UT Austin in business school seven years ago. When Reed Hogan proposed to Jorden Jolley, they had no idea a wedding date might require crisis management. Originally planned for June 6, 2020, then June 12, 2021, and finally June 26, 2022, it happened at Villa Ercolano in Citta di Castello, Umbria, Italy at Reed's parents' villa. The setting provided a 360-degree vista of the Tiber Valley as guests chose from more than 30 appetizers before the main course. A Millefoglie wedding cake and a chocolate fountain were sweet touches. At the welcome dinner, Vittoria Perla surprised everyone when he played his accordion and sang Italian songs to the couple. After an over-the-top fireworks display, the wedding party and other friends held hands and jumped into the pool with their clothes on. The new partners honeymooned in Amalfi, Positano, and Ravello where they attended the Ravello music festival. The couple's parents, Terrie Hogan and Mike Turner and Kathy and Randy Jolley, agree it was a great merger.
Where are my pants? It was at a Friendsgiving in 2016 when Bhavuk Tandon from India met Sasha Millice in Los Angeles. Their shared love of the outdoors drew them together. While they hiked in Zion National Park, Utah, Bhavuk proposed to this Texas gal. Their three-day Western/Indian mixed wedding fest in May began with a Mehndi & Mingle for the family and a welcome party for the guests on day two at the Ventura Coast Brewing Co in Ventura, Calif. The ceremony and Indian-style feast, nestled in a grove of oak trees and enhanced with orange and pink flowers, was at Casa Locé Farm in Ojai, Calif. The groom forgot his pants for the traditional Indian outfit for the ceremony but luckily was able to borrow a pair. Parents of the couple, Wayne and Roma Millice and Rajeev and Naveli Tandon of New Delhi, India, toasted to the blending of cultures.
No-brainer trip. Mo and Sharon Cordes celebrated their 40th wedding celebration for five days in Turks and Caicos without a care in the world. They lapped up the tranquility that featured white glove service, white sand, aquamarine water, a catamaran ride, and kayaking. They never felt the need to leave the gorgeous Seven Stars Resort, steps away from Grace Bay. On the return, they took a simple Covid test at the resort before flying home.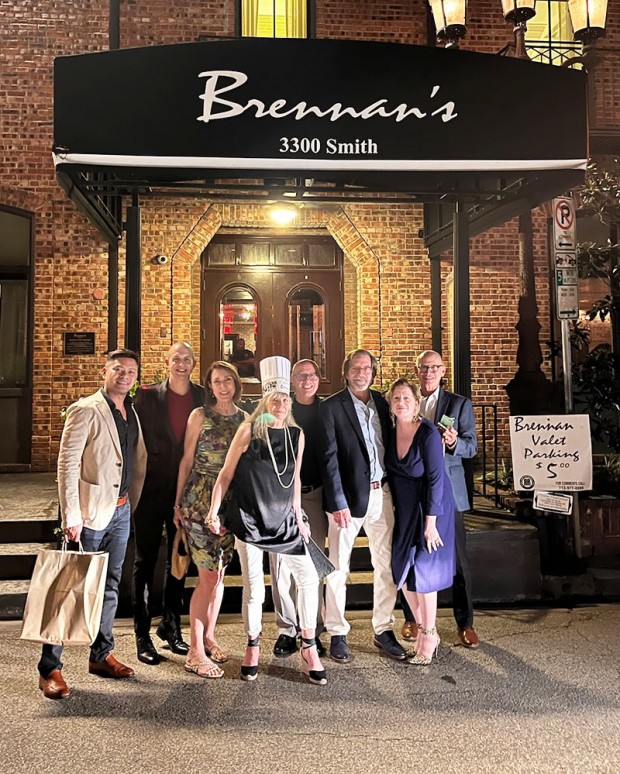 Give her a hand. Birthdays at Brennan's of Houston has been a tradition for Phyllis Hand. As a native Houstonian, she celebrated her 16th, 20th, 36th, and this year 70th birthday there. On May 28, Nicholson Glen, Chris Nodd, Mary Maxey, Pat Sullivan, Ray Hand, Lisa Bachman-Hand, and Pat Hensley gathered to toast Phyllis. Several recalled the framed photo place cards from Phyllis' famed "bold print" collection which identified seating in the Wine Room for her 36th. She also showcased black and white photos from behind the scenes at the many social events she documented.
Getaway. These Gemini gals all share an early June birthday and, true to their astrological characteristics, they are flexible, extroverted, and clever. Evelyn Leightman and Mirl Cohen met Connie Senter in Albuquerque for their celebration weekend for a few shopping days in 106-degree temp. They lunched in old town Albuquerque at the Church Street Café for the kind of food you eat only after you try on clothes. They ventured off to Santa Fe to luxuriate at Tamaya Hyatt resort and relish a birthday dinner at La Casa Sena. Memories forever.
Have some good news to share? Email us at [email protected].
People in this article:
Paul Finnett
,
Amanda Finnett
,
Benjamin Finnett
,
Kai Stark
,
Toby Finnett
,
Lauren Rutherford
,
Chris Rutherford
,
Alex Butkevich
,
Jennifer Butkevich
,
Beverly Mattern
,
Robert Eutsler
,
Michelle Eutsler
,
Sue Shefman
,
Kristi Barnhill
,
Susan Diehl
,
Jana Stiffel
,
Rochelle Lootens
,
Marsha Floyd
,
Susanna Jeu
,
Sharon Roark
,
Pat Moon
,
Roz Cooley
,
Barbara Files
,
Sandra Bryant
,
Will Greenberg
,
Jerry Greenberg
,
Karlyn Greenberg
,
Chris Sweet
,
Serena Sweet
,
Lauren Foley
,
Luke Foley
,
Jack Foley
,
Nicole Durham
,
David Durham
,
Zach Durham
,
Hannah Durham
,
Claire Durham
,
Renn Lewis
,
Mike Lewis
,
Beck Lewis
,
Mehrzad Zarghouni
,
Morgan Zarghouni
,
Julian Zarghouni
,
Marnie Medina
,
Nick Medina
,
Juan Pablo Medina
,
Eva Luna
,
Ashley Clark
,
George Clark
,
Sterling Reckling
,
James Reckling
,
Elise Reckling
,
Russell J. Levenson Jr.
,
Ellie Kight
,
Charlene Wolfe
,
John Wolfe
,
C. Andrew Doyle
,
Barbara Shoemaker
,
Elizabeth Johnson
,
Patricia Pate
,
Patricia Lind
,
Lynn Jacobe
,
Ronnie Jacobe
,
Matthew Jacobe
,
Katherine Jacobe
,
Andrew Jacobe
,
Jennifer Jacobe
,
Reed Hogan
,
Jorden Jolley
,
Vittoria Perla
,
Terrie Hogan
,
Mike Turner
,
Kathy Jolley
,
Randy Jolley
,
Bhavuk Tandon
,
Sasha Millice
,
Wayne Millice
,
Roma Millice
,
Rajeev Tandon
,
Naveli Tandon
,
Mo Cordes
,
Sharon Cordes
,
Phyllis Hand
,
Nicholson Glen
,
Chris Nodd
,
Mary Maxey
,
Pat Sullivan
,
Ray Hand
,
Lisa Bachman-Hand
,
Pat Hensley
,
Evelyn Leightman
,
Mirl Cohen
,
Connie Senter
Want more buzz like this? Sign up for our Morning Buzz emails.
To leave a comment, please log in or create an account with The Buzz Magazines, Disqus, Facebook, Twitter or Google+. Or you may post as a guest.