Thanksgiving Again
A new spin
Click the Buzz Me button to receive email notifications when this writer publishes a new article or a new article in this column is published.
For the cook, there's a little tension in planning the Thanksgiving dinner. Family will expect the tried-and-true staples – grandma's marshmallow-topped sweet potatoes, anyone? But the person (people) hanging out in the kitchen for a few days might get the urge to put a new twist on things.
Let's try this: let's throw a couple of super subtle spins into this year's menu. An appetizer that's unexpected but retro enough to get the old-schoolers excited. A fresher take on the beloved (and bemoaned) green bean casserole. And a leftover turkey sandwich that is simultaneously cozy and contemporary.
We went through our archives at "Back Porch Table," the online, cooking-centric version of "Back Porch," and picked some of our holiday favorites. Happy Thanksgiving!
Bar snacks, circa 1982
On top of all the once-a-year favorites we get to make at Thanksgiving, the bar snack is where I get abnormally excited. That's because our bar snacks, for me, are right up there in nostalgia with your green bean casserole.
Growing up, our house was always the one with people in it. My parents' motto was – still is – "the more the merrier!" Which is why I'm prone to invite people to join plans willy-nilly, which sometimes gets me in trouble, which is yet another story. But back to having people in and out growing up. In addition to the revolving door bringing spontaneous visitors, I remember my parents giving a lot of parties. I don't remember much about what they served, except for one thing: Bacon Crackers. Or maybe they should be called Bacon Crack. I don't know.
Fast-forward 30 years or so. The bacon crackers were still swimming in the back of my mind, but at this point, they seemed so retro, so 1982. And who actually eats Ritz crackers anymore – with bacon on them? A few Thanksgivings ago I decided to stop listening to that anti-sugarbuttergluten boring voice in my head. I wanted my kids and their cousins to know the joy of bacon crackers.
So I made them for the kids (okay, also maybe to go with the Bloody Mary and grapefruit-vodka-St. Germain bar that the grown-ups would be enjoying). And I couldn't keep them coming fast enough. "Addictive" doesn't quite describe how yummy these are: crisp and smoky bacon wrapped around buttery crackers that have soaked up all the bacon drippings. Bacon Crack, I tell you. Please do not curse me.
12 slices thin-cut bacon
48 buttery crackers (Ritz or Club work well)
Preheat the oven to 300 degrees. Line a rimmed sheet pan with foil and place a wire baking/cooling rack on top of the foil. Cut each bacon strip lengthwise, and then cut each of those long strips in half, making four rectangular strips (kitchen shears work well). Wrap each cracker with a strip of bacon, and arrange the crackers on the wire rack. Bake for about 45 minutes, or until the crackers are golden and the bacon crispy. Let the crackers cool a bit; they will crisp up as they cool. Serve immediately.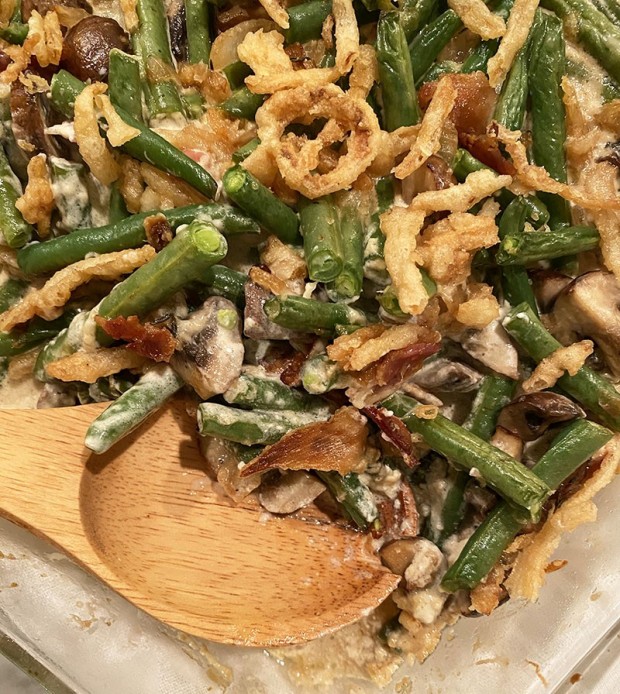 Classic Green Bean Casserole Remix
It's simultaneously one of the most beloved and most maligned staples on the Thanksgiving spread: The Green Bean Casserole.
Traditionally made with a goopy can of cream of mushroom soup, the green bean casserole is a throwback to the '70s era of TV dinners and…canned soup. But we are no longer wearing bell bottoms and eating Salisbury steak. We've come a long way. Green bean casserole notwithstanding.
This green bean casserole retake will have you loving green bean casserole in a whole new way. Gone is the gelatinous "soup," which we replaced with sour cream and heavy cream (it's Thanksgiving – save austerity for another day), plus some Monterrey jack. A little cayenne makes it spicy (leave it out if you're not a fan), and bacon makes it smoky (again, leave it out if you prefer a meatless version).
We stuck with the '70s and kept the French's onion rings because somehow that's still everyone's favorite. If you have moved on, try some panko dotted with butter as a topping.
6 slices bacon
2 tablespoons butter
1 onion, chopped
2 cloves garlic, minced
12 ounces mushrooms, cut into bite-sized pieces
¼ teaspoon nutmeg
1 teaspoon kosher salt
¾ teaspoon fresh ground pepper
2 pounds green beans, cut into 1-inch pieces
½ cup sour cream
1 cup heavy cream
¼ teaspoon cayenne pepper
1 cup grated Monterrey jack cheese
1 cup French's Original Crispy Fried Onions
Preheat the oven to 350 degrees. Spray a 9-by-13 inch baking dish with nonstick spray.
Cook the bacon over medium heat in a large skillet. Remove the bacon to a plate lined with paper towels. Remove all the bacon fat except 1 tablespoon. Add the butter to the bacon fat and melt over medium heat. Add the onion, and cook until it begins to soften, about 5 minutes. Add the garlic, mushrooms, nutmeg, salt and pepper, and cook for another 5 minutes, until the mushrooms are soft. Add the green beans, and cook for another 8 to 10 minutes, until they are crisp-tender. Remove from the heat.
In another bowl, whisk together the sour cream, heavy cream, and cayenne until it is smooth. Stir in the cheese, and then stir in the green bean mixture. Pour into the prepared baking dish. Top with French's onions. Bake for 30 minutes, until the top browns and the cheese bubbles. Let the green beans sit for 10 minutes before serving.
The Leftover Turkey Sandwich: Turkey, Cranberries, Apples, and Brie
There is a camp of people who believe that leftovers are the best part of the Thanksgiving spread.
For those who agree, here is a sandwich that is every bit as glorious in leftover status as any, only it's just a bit fresher tasting. This sandwich makes use of yesterday's cranberries, mixed together with mayonnaise to make a sweet-savory spread. Then it gets crunchy, thin-sliced apples, which were extras that didn't go into yesterday's pie. And to top it off, there is some brie that didn't get eaten during family hang-out time – that's going into the sandwich, too. All of that between two slices of toasted sourdough (or whatever bread you like).
Slip a little piece of apple pie into the mix to cap off the leftover love, and you've got one winning lunch.
Turkey, Cranberries, Apples, and Brie Sandwich
½ cup mayonnaise
½ cup leftover cranberries
8 slices sourdough bread (or whatever bread you like)
Leftover turkey
1 apple, thinly sliced
Leftover brie
In a small bowl, stir together the mayonnaise and cranberries. Spread the cranberry mayonnaise on the bread. Top with turkey and apples. Spread the brie on top of the apples. Set a skillet over medium heat and spray with nonstick spray. Toast the sandwich on each side, just until the bread is golden and the brie gets a little bit melty.
MORE ONLINE
For more recipes, see Back Porch Table every Friday.
Want more buzz like this? Sign up for our Morning Buzz emails.
To leave a comment, please log in or create an account with The Buzz Magazines, Disqus, Facebook, Twitter or Google+. Or you may post as a guest.