Rumor Has It - March 2023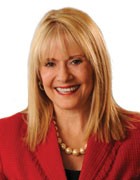 Click the Buzz Me button to receive email notifications when this writer publishes a new article or a new article in this column is published.
Retired but hardly tired. When Terry and Sonia Greiner retired, they amped up their travel plans. Terry planned a 40-day trip that would allow them to see puffins before they migrated and the Northern Lights; the trip coincided with the Meradalir Volcano lava flow, located on Reykjanes peninsula. They fired up for the 10 miles physically challenging round-trip hike to see the molten lava flow and erupted with enthusiasm. Terry's passion of fishing was fulfilled with trout and artic char bounty and Sonia's photographic instinct found an eyeful on the scenic adventure. Greece is next!
Christmas in Paris. The holiday lights were blazing in the window displays and the whole city sparkled. Kitty Strain and daughter, Sarah Strain, and son, Sam Strain and fiancé Nicole Acevedo, lost themselves in the Musée d'Orsay, La Galerie Dior, and haute cuisine with wine. Whoops, Sarah accidentally left the country with Kitty's passport, so Kitty had an unexpected stop and delay at the American Embassy to get travel documents. Sarah's friend Catherine Shoppa saw the social media post about the delay and reached out. She and Kitty spent the extra night on the town at the Ritz and Ralph Lauren's Restaurant and still managed to eat street food at one of Anthony Bourdain's old haunts before the fun wound down.
Lagniappe: Over the top. Chris and Anne Richardson had no idea of the fun in store at the 74th Washington Mardi Gras in D.C. Chris' cousin Jennifer and Fred Heebe, this year's King of the Mystick Krewe of Louisianians, invited them to the extravaganza. James Davison joined in as his granddaughter was the Queen. Senators Russell Long and John Breaux are the longtime Captains of the Krewe, which is led by U.S. House Minority Whip Steve Scalise. The Heebes hosted the Kings Carnival at the National Portrait Gallery one night. At the Grand Ball, Chris and Anne were in box seats to watch the grand parade and revelry. They caught up with alligator-hunting friend, Louisiana Attorney General Jeff Landry. Lots of party animals for sure.
One is not a lonely number. Kevin and Angela Mutisya's baby Naomi turned one with fanfare and a baby naming. Kim and Zac Harrington hosted the approximately 60 friends and family inside and out with Fadi's catered array of salmon and chicken. Naomi's Hebrew name "Naomi Simcha" was derived from grandmother Cindy Atlas's Hebrew name of Simcha and great-great-grandmother Faye Naomi Smith Tucker. Great-grandmother Helene Atlas and husband Harry Simmons were surrounded by seven great-grandchildren.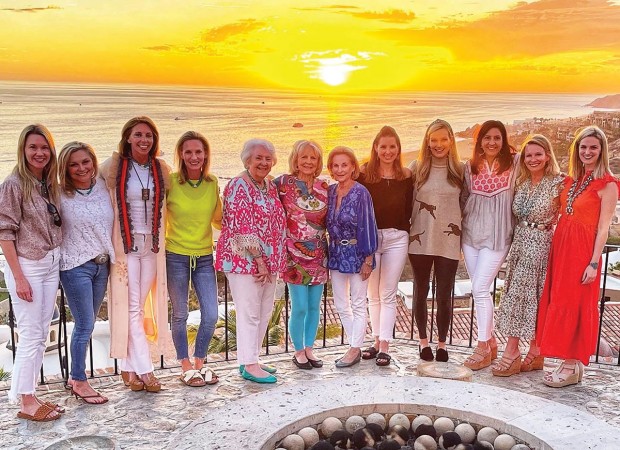 Girls trip to Cabo. Bess Wilson and her sisters, Jeannette Masraff and Ann Wise, took all the women in their family to Cabo for a fabulous escape on a long weekend. Daughters and daughters-in-law were happily included. They stayed at Bess and Rob Wilson's home in Pedregal. They watched whales breach in the ocean from the house and had a fun night of dinner and dancing at Bagatelle Los Cabos. There was a lot of down time by the pool and endless laughter telling family stories. What is said in Cabo stays in Cabo.
'50s style. Wear something from your "Glory Days" of the '50s. That is what the invitation said to Jack Hillman's old friends as he turned 90 with a '50s party. Daughter Susan Hillman Thomas hosted the party at Los Tios. Jack moved to New Braunfels about a year ago to live with Susan and her husband Tim Thomas. Faye Johnson wore her husband Tom Johnson's track letter sweater from Lamar High, and he wore his basketball letter Texas Tech jacket. Helping to celebrate were Russel and Pat (Waughtal) Orr. Friends also wore letter jackets from San Jacinto, Austin (where Jack went), Reagan, Strake Jesuit, and Texas Tech, and all got an A+ for attendance.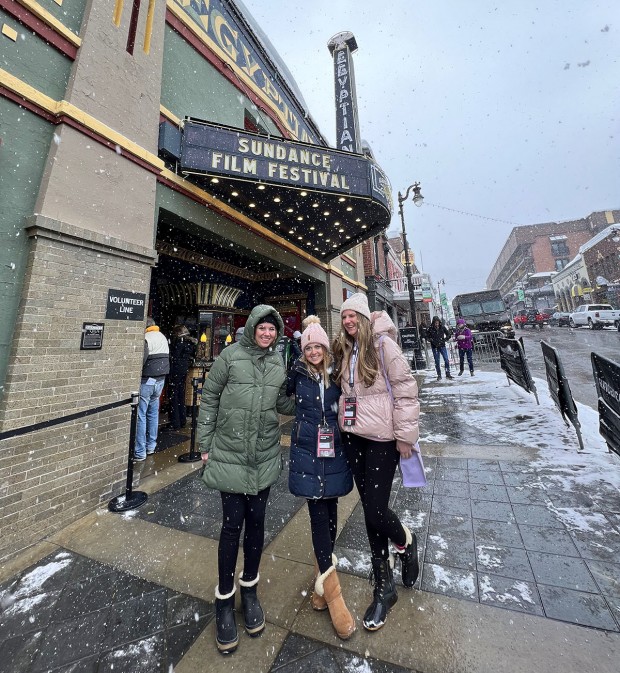 Snowed in but out. After two years of virtual screenings due to C-19, Randi Cleary Koenig, Melanie Sayed, and Casey Foster, friends from either high school or Baylor, met once again for Sundance Film Festival. They stayed with Joe and Cathy Cleary at the family home in Promontory at Park City, Utah. Randi's dad, Granddad "Pop Pop" Joe, took four-year-old Hayden Koenig skiing at Deer Valley during the day and he and Cathy joined the group for dinners. The gals went tubing while on an "intermission" between day and night films. Fave films were Radical (The Audience Favorite) based on a true story at Texas border town, Matamoros, The Pod Generation, Shayda, and Fair Play, which sold to Netflix for 20 million.
Goals. They met at a social kickball game practice (through Houston Sports and Social Club) and after practice and post-practice drinks and wings at Pluckers, Rabbi Aaron Sataloff scored a first date with Wendi Reichstein. They saw each other four times that week. She got the diamond on New Year's Eve at the St. Regis Houston. Their Chocolate Lab mix was honored at the wedding with an espresso martini called The Charlie and was also featured on the wedding cake, sneaking a bite on the side of the cake. A photo booth with a rose gold sequin backdrop was a hit with guests posing with props. At midnight, confetti poppers burst all around to ring in 2023 as mini cheeseburgers, fries, and champagne were served on the dance floor. VIPs were parents of the couple, Susan and Bruce Reichstein and daughter Samantha Reichstein (maid of honor) and Susan and Alan Sataloff.
No agenda. When Steve and Susan Jukes realized they had some down time, they spontaneously booked a plane trip to Spain without any hotel reservations. On a layover to Madrid, they found a parador to stay in. Since it was off season, they felt confident there would be choices and they were right. They rented a car and used their 25-year-old guidebook. One parador had been a former hospital and later a jail. If only the walls could talk! One of their favorite stops was in Ronda overlooking the beautiful gorge. A peek at Málaga with all the yachts and their two weeks was near the end. Back in town in time for Christmas.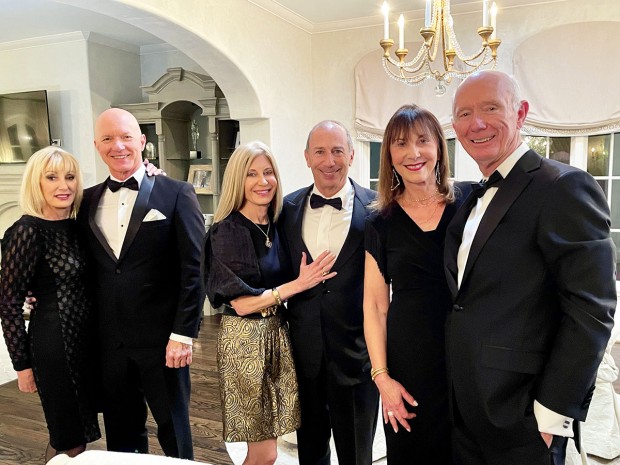 A progressive party. The elegant party catered by City View Catering started off at Vicky and Howard Dyer-Smith's home for cocktails and appetizers that included caviar. The night was chilly but the group of 16 walked over to Michele Hosko's where she and Scott Drysdale hosted a gourmet dinner. The grand finale for bananas foster and bite-sized desserts was at Joyce and Bob Diamond's with a specialty drink with a chocolate and salt rim. All the hosts live on the walkable Tangle Lane and all the friends have entangled lives in a good way.
Preparation for Groundhog Day. Birthday gals from Four Leaf Towers gathered at Café Annie for lunch but did not have ground anything or hog for that matter. Phyllis Milstein, who started the Social Club at the Four Leaf, enjoyed the camaraderie with Jo Reid and Esta Kronberg among the 12 others. And no one talked about their birthday or their age. They discovered the groundhog saw its shadow and six more weeks of winter is upon us.
Have some good news to share? Email us at [email protected].
People in this article:
Terry Greiner
,
Sonia Greiner
,
Kitty Strain
,
Sarah Strain
,
Sam Strain
,
Nicole Acevedo
,
Catherine Shoppa
,
Chris Richardson
,
Anne Richardson
,
Jennifer Heebe
,
Fred Heebe
,
James Davison
,
Russell Long
,
John Breaux
,
Steve Scalise
,
Jeff Landry
,
Kevin Mutisya
,
Angela Mutisya
,
Naomi Mutisya
,
Kim Harrington
,
Zac Harrington
,
Cindy Atlas
,
Faye Naomi Smith Tucker
,
Helene Atlas
,
Harry Simmons
,
Bess Wilson
,
Jeannette Masraff
,
Ann Wise
,
Rob Wilson
,
Jack Hillman
,
Susan Hillman Thomas
,
Tim Thomas
,
Faye Johnson
,
Tom Johnson
,
Russel Orr
,
Pat Orr
,
Randi Cleary Koenig
,
Melanie Sayed
,
Casey Foster
,
Joe Cleary
,
Cathy Cleary
,
Hayden Koenig
,
Rabbi Aaron Sataloff
,
Wendi Reichstein
,
Susan and Bruce Reichstein
,
Samantha Reichstein
,
Susan Sataloff
,
Alan Sataloff
,
Steve Jukes
,
Susan Jukes
,
Vicky Dyer-Smith
,
Howard Dyer-Smith
,
Michele Hosko
,
Scott Drysdale
,
Joyce Diamond
,
Bob Diamond
,
Phyllis Milstein
,
Jo Reid
,
Esta Kronberg
Want more buzz like this? Sign up for our Morning Buzz emails.
To leave a comment, please log in or create an account with The Buzz Magazines, Disqus, Facebook, Twitter or Google+. Or you may post as a guest.