Mailbag - April 2023
Click the Buzz Me button to receive email notifications when this writer publishes a new article or a new article in this column is published.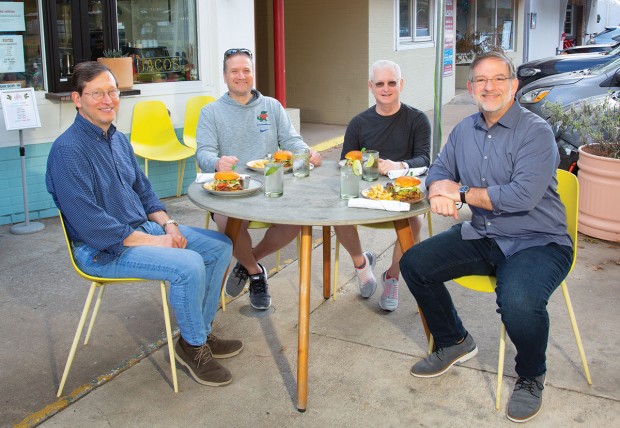 Buzz about burgers
What a great article you put together for The Buzz [Burger Buddies: For the love of hamburgers by Russell Weil, March 2023]. I thoroughly enjoyed it, and it has my mouth watering for a burger! I am now on a mission to try all the favorites you and your friends listed. Burger-Chan is also one of my faves along with Hubcap Grill (which sadly closed its Heights location). Keep up the great work!
Josh Powers
Editor's note: Thanks for your feedback, Josh! Russell has us craving a great burger too.
More burger fans
I read your article [Burger Buddies] to my husband as we drove home from Fredericksburg. So much fun to see these guys' friendships through the love of hamburgers. My husband and I have been eating through Jon Hopkins' list of best burgers in Houston, which was released through the Michael Berry show. We have eaten at six of the establishments and we have not had a bad burger yet.
I agree with some of the burger joints the guys also enjoy. Burger-Chan was a surprise, and the aioli was fantastic. My husband thinks True Craft is #1 but my #1 is Feges BBQ with their brisket burger and grilled onions. Thanks for adding some more we will be trying.
Stacy Cheesman
Great minds think alike
I called The Buzz to suggest a story about two lovely ladies who have been cleaning up trash on their morning walk in various West U. neighborhoods. Imagine my surprise when I discovered I was too late! The pair had already been featured in an in-depth article in The Buzz [Plogging Along: Their exercise regiment is picking up by Claudia Feldman, Nov. 2022]. The editor was kind enough to forward it to me and, subsequently, I was able to discover in a lot more detail, the wonderful background and motivation that has subsequently driven Pamela [Dwyer] and Angie [Sassard] to become extremely precious assets to our community. Two very special ladies!
Vic Graff
Editor's note: Vic, we were delighted to hear that you thought to share this idea with us – and that you enjoyed the story that was published in our November issue. Please reach out to us with any "buzzworthy" neighborhood story ideas.
Request to reprint an inspirational story
I was so impressed by the article about Margie Jenkins [And That's Margie: Tales of love, loss and laughter by Cathy Gordon, Sept. 2020]. She's 97 [at the time the article was published]. My husband and I are both 80. To think that someone did what she did at 97 is incredible. I was so impressed by the article; I ordered her books [You Only Die Once and My Personal Planner] and they're so helpful. I was dreading working through the workbook but because of the way Margie is, it isn't sad; it's beautiful work. I don't have her more recent book, but it was such an interesting title – I Don't Remember Getting Old – and I'm going to have to buy it. I think more of us need to read things from Margie's pen. The remark from her son [quoted in the article] is striking: "'She's a force,' agrees Margie's eldest son, Rick Jenkins. 'I hope we are all doing as well at 97. She's very determined and extremely focused when she gets something in her mind.'"
I hope we're all doing that well at 97. I know there are other people around our age who would be able to really glean something from her workbook, so I was hoping you would reprint the article. I tore it out of your magazine to cross-reference. Margie is so inspirational.
Jeannine Bergt
Editor's note: Jeannine, thanks for bringing this article – and inspirational individual – back to our attention. We aren't able to reprint an article, but we hope you will all take the time to read this story online.
Send letters to [email protected]. Please include your name, address, phone number and email address for verification purposes. Letters are subject to editing for clarity and space. Views expressed in letters do not necessarily reflect the opinions of The Buzz Magazines, and The Buzz takes no responsibility for the content and opinions expressed in them.
Want more buzz like this? Sign up for our Morning Buzz emails.
To leave a comment, please log in or create an account with The Buzz Magazines, Disqus, Facebook, Twitter or Google+. Or you may post as a guest.