Serving Up Chicken Soup for the Soul: 'The Jewish Deli' Exhibit at Holocaust Museum Houston
Click the Buzz Me button to receive email notifications when this writer publishes a new article or a new article in this column is published.
For most of us, there is a dish or two or three that automatically transports us to another time. Maybe it's the rich smell of your grandmother's pot roast or your mom's spaghetti and meatballs, enjoyed every Sunday evening growing up. Maybe it's the sugary taste of a certain cake, served at every birthday celebration. Maybe it's a favorite appetizer, shared at a favorite restaurant with family. 
For me, one such nostalgic dish is matzah ball soup. It has been a beloved comfort food since I was a child. My great-aunt Sylvia was known for her homemade matzah ball soup, served every Passover. Her recipe has been passed down, but I haven't dared make it in my own kitchen yet. One day. Regardless of the time of year, even on sweltering Houston summer days, I crave the matzah ball soup offered at Kenny & Ziggy's (the "mishmash" bowl, which includes matzah balls, noodles, chicken, and veggies). 
My dad – who always demonstrated his love through food – knew I loved it and would often drop it off for me. If I was feeling under the weather: Matzah ball soup. When I was pregnant: Matzah ball soup. When he just happened to be nearby: Matzah ball soup. The idiom "It's like chicken soup for the soul," feels literal, at least for me. Chicken soup is soothing to the soul and this particular soup, brimming with memories and love and all those nutrients, is healing for the mind and body.
It's with this in mind that I visited Holocaust Museum Houston's new exhibit, "I'll Have What She's Having: The Jewish Deli," which opens Friday, May 5. Food is inexplicably intertwined with culture and history – our personal histories within our own families as well as broader cultures and histories. The exhibit explores how American Jews imported traditions, culture, and community through the experience of food upon immigrating to the United States. Walk through the exhibit and you'll see neon signs, classic menus, ads, film and TV clips, historical footage and artifacts that highlight how delis evolved from specialty stores catering to immigrant populations into the institutions they are today. Houston's own "deli man," Ziggy Gruber of Kenny & Ziggy's New York Delicatessen, contributed old menus and photos from his personal collection as well.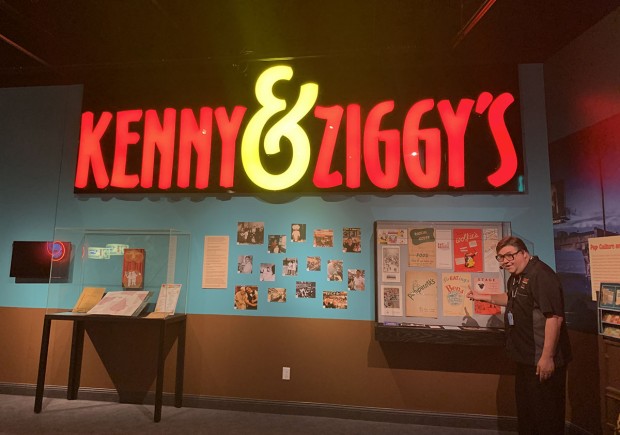 At a media preview for this exhibit, Gruber shares why he decided to go into the deli business – his family business – as a young man. His dad had tried to persuade him to go into a "fancier" kind of restaurant. But delis were "the center of the universe of the community," Gruber remembers. "It's where the community would get together for life cycle events. When things were good, when things were sad. When things were tough. Every time, we would go to the delicatessen." He remembers that everyone who worked at the deli seemed to know the customers and their families, which was "something that really touched me." 
One particularly moving memory was of a Polish customer during the early days of his time in the deli business. Gruber noticed the customer was crying. When he asked why, the customer replied, "I haven't had stuffed cabbage like this since my mother made this for me." And the last time he had seen his mother was before she was sent to a concentration camp during the Holocaust.
"Naturally, I broke down crying," Gruber says. "When you can do that to somebody, when you can remind someone of their mother in that way, it's everything to me. That's the difference between cooking in another kind of restaurant and the kind of cooking I do." 
Also at the exhibit preview were two local Holocaust survivors, Ruth Steinfeld and Bill Orlin. Steinfeld remembers that when she and her sister came to America, they didn't have any of their family recipes, but she was determined to figure out how to make chicken soup like her mother used to make. She says she knew she'd have it down by the smell in the room. That matzah ball soup recipe is still part of her family gatherings, she says. (Read the stories of local Holocaust survivors, including Ruth and Bill, in this powerful 2019 story here.)
Holocaust Museum Houston CEO Kelly J. Zúñiga pointed out that when individuals who survived the Holocaust recall their experiences, they often mention that they were hungry. Starving. For many Jewish immigrants, the dishes those classic delis served provided the kind of nourishment they needed.
There used to be thousands of classic delis around America, Gruber says. Before the pandemic hit, there were around 150. Today, mostly due to inflation, he believes there are 105. It's sad to see the decreasing number of delis these days, he says.
"You know, I have meetings with parents and younger kids all the time. I say with the younger kids, it's very important to be proud of your Yiddish culture, your Yiddish heritage. A lot of them hide. Italians are proud of being Italian. Greeks are proud of being Greek, which is great. Jewish kids should be proud of being Jewish and not feel like they have to hide it. That goes for food, all kinds of stuff. They hide in the shadows a little bit. That's why you see a lot of aspects of Jewish life and culture disappearing."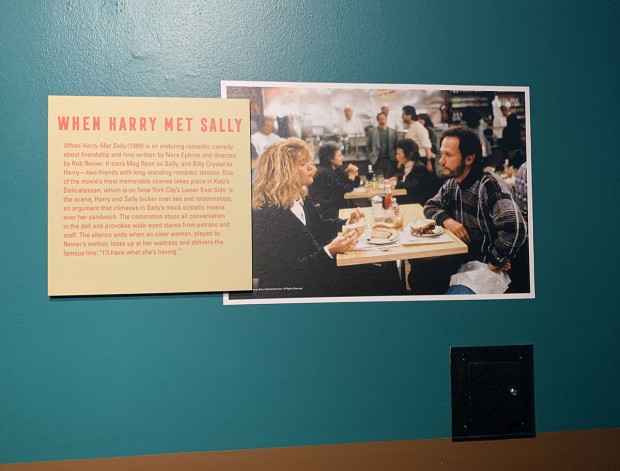 "I'll Have What She's Having: The Jewish Deli" is on view at Holocaust Museum Houston through Aug. 13, 2023. Tickets are $22/adult; $16/senior age 65+; free/18 and under. Free admission on Thursdays, 2-8 p.m. through Aug. 24 (excluding July 13). Free admission May 5 and May 14. Special events will take place later in the summer including a pickle-making workshop and a special film screening of Deli Man, directed by Erik Anjou and starring Jerry Stiller, Larry King, and Ziggy Gruber. The exhibit was organized by the Skirball Cultural Center, and co-curated by Skirball curators Cate Thurston and Laura Mart, and Lara Rabinovitch, renowned writer and producer, and specialist in immigrant food cultures. Find more information here.
Want more buzz like this? Sign up for our Morning Buzz emails.
To leave a comment, please log in or create an account with The Buzz Magazines, Disqus, Facebook, Twitter or Google+. Or you may post as a guest.