Elaine Phan
Click the Buzz Me button to receive email notifications when Elaine Phan appears in an article.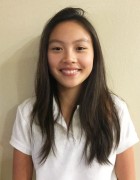 School Buzz Reporter
Hi! My name is Elaine Phan and I'm a freshman this year. I have four siblings and all of us were born and raised in Houston. One of the things I love about Houston is that there are many restaurants with numerous different types of food. As a hobby I enjoy rock climbing and dancing. I have been dancing for almost six years and am a part of Tiger Girls. On weekends I go rock climbing all day. Although it's tiring it's extremely fun. A fun fact is that I love traveling everywhere. One of the things on my bucket list is to travel to Antarctica and see the Northern Lights.