Brackets, Baskets and Balls: March Madness
Click the Buzz Me button to receive email notifications when this writer publishes a new article or a new article in this column is published.
March Madness is officially upon us! The 2019 NCAA Men's Basketball Tournament's brackets have been announced. The University of Houston Cougars are fired up to be a number 3 seed, the highest tournament ranking they've had since 1984. Cheer on UH, Friday, March 22, at 6:15 p.m.
Want to join millions, including offices and families vying for bragging rights in trying to predict the winners of 61 basketball games played by 64 colleges over the next three weeks? The deadline for turning in brackets is Thurs., March 21, 11 a.m. CST when the first official tournament game will be played. 
Don't know the difference between a basketball bracket and a tennis racquet? Visit the NCAA website for a March Madness tutorial.  
Afraid you won't pick a perfect bracket? Don't worry, no one ever has! According to the NCAA basketball website, the odds are one in 128 billion. It can be so unpredictable that picking teams by the cutest mascot or your favorite colors might just have you beating the biggest sports fans in your life. 
These Buzz residents and fans have been celebrating March Madness with brackets and more fun over the years. 
Amanda and Ryan Dearborn will never forget the 1989 March Madness tournament that inspired Amanda to love college basketball and also helped get them out of debt. During the summer of 1988, Amanda and Ryan started dating as college students while working as valets at a hotel in Annapolis. In the fall, Amanda headed back to Emory University in Atlanta and Ryan headed back to the University of Maryland. Long-distance phone calls helped the sweethearts stay in touch. It also helped them run up a $600 phone bill. That next spring, Ryan worked at a liquor store that had an annual March Madness bracket pool. The owner picked the team names out of a hat for each entry.
Amanda remembers, "It was $2 per team. Ryan's team was Michigan. We were so excited when Michigan kept advancing. Sure enough, when the tournament was over, Ryan's team, The University of Michigan, was the winner. We felt like we had won a million dollars!" The future Mr. and Mrs. Dearborn were ecstatic to put their $128 winnings toward paying off their phone bill.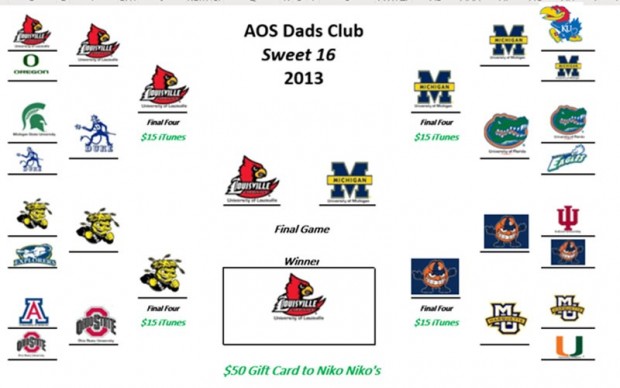 Back in 2013, Michael Grant decided a great way to rally the Annunciation Orthodox School (AOS) Dads Club was to have a Sweet 16 watch party. The dads gathered together at the Marquis II for some good old-fashioned male bonding. Michael shares, "I thought it would add some excitement and get everyone mixing a bit." Michael wrote the names of each team in the tournament and put them in a bag. 
As the first five or six dads drew their team, Michael asked them not to look until everyone had drawn. "When it was time for everyone to look at which team they had drawn, one of the dads groaned and revealed he had Florida Gulf Coast, a huge underdog." There were more groans. Once everyone started sharing their picks, the dads realized that Michael had stuffed the entire bag so all 16 choices were Florida Gulf Coast! Luckily before they kicked him out of the Dads Club, Michael pulled out a second bag with all 16 teams included so everyone could draw legitimate selections. As karma would have it, Michael ended up actually drawing Florida Gulf Coast! He added, "And no, they did not advance!"
The 1997 NCAA Men's Basketball National Championship in Indianapolis was the first time Leslie Willard and his dad, Larry, attended the Final Four together. They lived in different states, so it was nice to spend time together and the tradition continued. Over the years they met up in San Antonio, Tampa, Minneapolis, Atlanta and New Orleans. The last championship game they attended was 2004 in San Antonio. They started attending earlier bracketing rounds and discovered they were much more fun.
Leslie shared, "A favorite experience was at the 2006 Division Championships in Dallas at the American Airlines Stadium. Three days of basketball, and yes, I actually watched all of them. The best part was watching the underdog teams like NCSU and Bucknell play their hearts out for the Cinderella dream of making it to the first cut to play for the 'Sweet Sixteen' bracket."
The last few years, Leslie traveled to Larry, who now has Parkinson's. Larry recently moved to Midland for additional care so this year Leslie will travel to West Texas to watch the games. Although Larry's den may not have as much fanfare as in the fancy stadiums they've experienced, it may end up being the most special Final Four they've ever enjoyed together. 
Last year, dedicated UH fans Patty and Kevin Godfrey were extremely fired up that the Cougars went to the first round of the tournament for the first time since 1991 and actually won a tournament game for the first time since 1984. They weren't able to travel to Wichita to see the games in person so instead they hosted a watch party with 75 of their favorite Cougar fans. There was lots of red-and-white celebrating that night…both in UH clothing and the color of wines drank! (Yes, the Godfreys are very excited that UH's team is doing well again this year and plan to host another watch party!)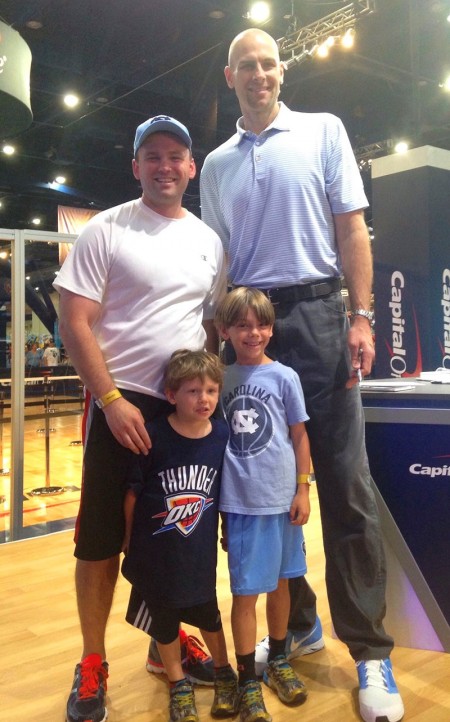 Many Houstonians were able to enjoy the 2016 Final Four events when the tournament championship was played at NRG Stadium. Kevin, Colt and Cade Voelte had fun visiting the Final Four Fan Fest at the George R. Brown Convention Center. They're devoted Nebraska fans, but were okay to root for North Carolina since grandma and grandpa on mom's side are Tar Heel alums. Ben and Lainey Kugler and Emma Youngblood enjoyed dribbling basketballs with 3,400 other kids from City Hall to the Convention Center for the NCAA Final Four Dribble. They still have the basketballs and t-shirts from the event. I was lucky enough to attend the Final Four semi-final game between Oklahoma vs. Villanova with my "bleeds red" Sooner friend, Kristen Nelson Lauro and her children, Nelson and Paris. We also scored the opportunity to meet basketball greats, Elvin Hayes and Kareem Abdul Jabar.
Best wishes to our hometown favorite, University of Houston Cougars, as well as these other teams proudly representing the Lone Star Stare: Prairie View A&M, Abilene Christian, Baylor and Texas Tech. 
Free Online Brackets:
Texas Teams' 1st Round Schedules (CST) 
Thurs, 3/21
6 p.m. Abilene Christian #15 vs. Kentucky #2
8:55 p.m. Baylor #9 vs. Syracuse #8
Friday, March 22
12:30 p.m. Texas Tech #3 vs. #14 North Kentucky 
7:15 p.m. Houston #3 vs. Georgia State #14
Read about more UH men's basketball longtime fans, including the Godfreys, here.
Want more buzz like this? Sign up for our Morning Buzz emails.
To leave a comment, please log in or create an account with The Buzz Magazines, Disqus, Facebook, Twitter or Google+. Or you may post as a guest.