A Pandemic Road Trip Experience
Click the Buzz Me button to receive email notifications when this writer publishes a new article or a new article in this column is published.
As the beating sun and salty air kiss my skin slathered with SPF 70, I lay reclined in my lounge chair with my eyes closed and I feel as though I'm in a hallucinatory trance. Suddenly, I hear a dog panting in my ear with muffled whines. "Wait a second, I didn't bring my dog to the –", but before I can finish my thought, I feel a slobbery lick on my face. That definitely wasn't ocean spray. My eyes jolt open to the sight of my dog George staring at me next to my bed, impatiently waiting to be let outside, and I realize it was all a dream.
Although summertime feels different this year, there is still a way to get out of town and escape reality for a bit. Summer vacation is one of the biggest highlights of the year for my family and many others. It's a time to take a break from the office or put away the school textbooks and just enjoy being with the people you love. It's also an excuse for a change of scenery because everyone needs a little getaway bliss. Although most vacation plans have been put on hold this summer due to Covid-19, my family recently found a way to travel safely and went on a social distancing road trip. We learned some things along the way and faced a few challenges, but hopefully with these tips and tricks, your family can safely hit the road this summer too. 
Over a 10-day round trip, my parents and I traveled roughly 1,000 miles from Houston to Bluffton, SC with some stops along the way. This road trip was unlike any other we had taken before, for two reasons. The obvious first being we had never traveled during a global pandemic and the second being we had never traveled with a Tesla, which meant not a drop of fuel went to waste. Thinking ahead, my mom packed plenty of masks and hand sanitizer while my dad mapped out our route based on where the EV charging stations were located. And just like that, we were ready to rock n' roll. 
On the road, we stopped around every two hours to charge because my dad wanted to avoid driving with less than 20 percent power, just in case we ran into unexpected traffic. Many of the Tesla charging stations were located in mall or hotel parking lots, most of which were empty. For the 30-45 minutes that it took to charge up, we would take the opportunity to stretch our legs, go to the bathroom or grab a bite to eat. We made sure to wear masks whenever we went into a public indoor space and kept a six-foot distance from others, plus we used hand sanitizer before entering and after exiting any establishment. 
That first night, after hours on the road filled with car jam sessions and Dairy Queen blizzards, my parents and I stopped just outside of Mobile, AL in the city of Fairhope and we stayed at a local hotel, which is where we ran into a couple of problems. The property was crawling with guests and when my mom checked in at the reception desk, she learned that the hotel was running like normal at full capacity. "I would've never booked that hotel in the first place if I had known that it would be at 100 percent occupancy. If you're planning to travel and stay at hotels, I recommend you ask that question before booking," she said.
With a 45-minute wait time, we found it impossible to get an outdoor table for dinner at the main hotel restaurant. My dad said, "We had to break our rule and eat inside because outside was packed with people not eating six-feet apart, and it didn't make us feel any better that the servers weren't wearing masks and gloves." His advice is to call restaurants ahead and ask about their Covid-19 safety protocol and only reserve outdoor tables when possible. 
We learned a lot from that experience and the rest of the road trip went fairly smoothly because we knew how to avoid future issues. On the second day, we drove eight hours to Athens, GA and stopped to charge the Tesla accordingly. We stayed there for the night and picked up one of my best friends from college, Sydney Goodstone, who tagged along for the last leg of the trip to South Carolina. Her family had been strict about quarantine, so my parents and I felt comfortable traveling with her.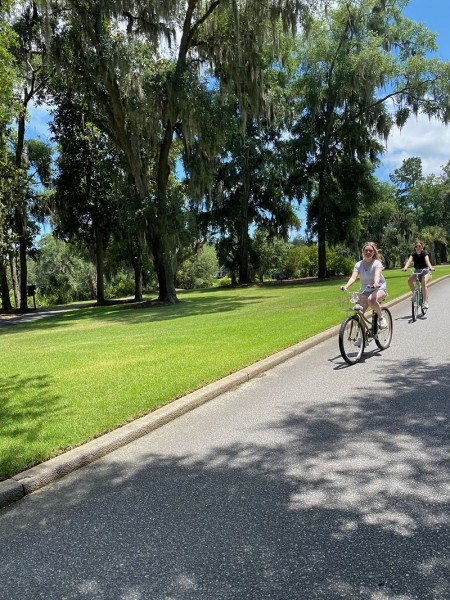 Arriving at the Montage Palmetto Bluff outside of Bluffton put us all at ease and we finally felt like we were on vacation. All staff members on the property wore a mask and many wore gloves while guests practiced social distancing in public spaces. Palmetto Bluff encompasses 20,000 acres so there was plenty to see and do. Most days, Sydney and I would ride our bikes under the Spanish moss or lounge by the hotel pool (that dream came true!) and one evening, we went on a boat ride and explored the breathtaking South Carolina marshes followed by making s'mores. Although times are difficult and each day brings another Covid-19 update, it's important to put down our phones once in a while and cherish the beautiful moments. 
Pandemic Travel Tips 
Keep in mind when planning during the pandemic that US travel laws may change; stay up to date with the CDC's recommendations here. Here are some tips we learned from experience: 
How to Book 
Before booking a hotel or an Airbnb, read up on their Covid-19 policies. Don't hesitate to call and ask specific questions.  
Make dining reservations ahead of time.
Request outdoor seating when possible. 
What to Pack
Masks, gloves, and hand sanitizer are the essentials when leaving the house anytime. Buzz editor Joni Hoffman recently returned from a road trip with Buzz publisher Michael Hoffman. They organized an impressive "Covid Road Trip Box" to take with them on the road. Their kit included:
disposable and cotton masks
gloves
Dr. Brite disinfecting spray (70 percent isopropyl alcohol)
hand sanitizer
Clorox wipes and wet wipes
Kleenex, toilet paper, paper towels
trash bags and Zip Loc bags
paper plates and plastic utensils
water
Digital thermometer, Tylenol, cough syrup, anti-nausea medicine, Pepto Bismol
Where to Stop 
Restroom breaks on the road during a pandemic can be a challenge because you can't count on everything to be open. For example, a fast food restaurant drive-through might be running as usual, but their inside dining area (and restroom) might be closed to the public. Joni found on her road trip to North Carolina that Subway restaurants were a dependable, safe option. "No matter where we were, the Subways were spotless, and their bathrooms were so clean … They had this plastic [barrier], protecting their employees [and guests]," she said. 
Overall Experience
Joni said a valuable reminder she learned from veteran traveler Julie Brown is: "Pack your patience." This is helpful to keep in mind anytime – not just during the pandemic – as no matter how organized we are, something won't go according to plan. Traffic jam? "Turn up the tunes or play trivia games," Joni suggested. Read more general travel tips here. 
Editor's note: Has your family hit the road during the pandemic? Share your story with us here. See more on road tripping during coronavirus in this Travel Buzz story. Find Texas road trip inspiration here and here. 
Want more buzz like this? Sign up for our Morning Buzz emails.
To leave a comment, please log in or create an account with The Buzz Magazines, Disqus, Facebook, Twitter or Google+. Or you may post as a guest.