Pets during Quarantine: Wisdom through Ruff Times
Click the Buzz Me button to receive email notifications when this writer publishes a new article or a new article in this column is published.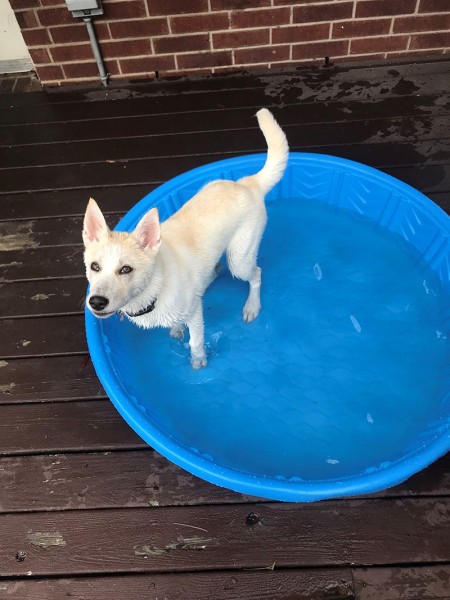 For many, quarantine has meant spending more time at home alongside the people we live with, which for many of us includes the arguably cutest members of the family – pets.
I'm an only child but throughout my childhood, there were always at least a couple of pets at home to round out the family. However, after losing our dog Luke this February, the house was unusually quiet when I moved back in with my parents at the start of quarantine. That is until we met Luna, a three-month-old Husky mix that some family friends were fostering at the time. We weren't looking for a new pet, but it was a classic story of "she found us." The past few strange months have been made much more bearable by her adorable puppy energy.
I recently read a story by The New Yorker called "Quarantine Tips from my Cat" and it made me think about my own time spent with Luna. Quarantine is full of stress and what-if's, but if you want to see what being utterly unaffected by the state of the world can look like, pets are often the best reflection of that dream life.
From living with Luna, I have learned to spend more of my time outdoors. Instead of continuing to sit for long hours in front of my laptop or on my phone, I would rather be like her, running in the yard or laying on the deck in the sun. She shows me that there is much to enjoy about the world outside, even if it's just within a fenced backyard. And of course, she reminds all of us at home that sometimes a nap is the best use of one's time.
Joy Zhou, a neuroscience PhD student living in Houston, adopted her now four-year-old guinea pigs, Tinker and Belle, in 2018 and she said that during quarantine, they have been a reminder to her that there can still be good times during life indoors.
"Despite not being able to see much except the same four walls every day, the pigs have a great attitude and are content with the small pleasures in their lives," Zhou said. "Every day they literally squeal and squeak with excitement when I bring over their daily treat of lettuce, bell peppers, or fruits. It never seems to get old for them, even though it's pretty much the same routine every day. Their happy attitudes have made me reflect on the fact that I can also be grateful for the simple pleasures in life, as they are."
Buzz summer intern Elizabeth Barineau said her dogs have likewise modeled for her the best kind of attitude to have in the face of quarantine.
"My two Labradoodles have set a really good reminder for me to be optimistic during this season," said Barineau. "Day to day we don't know what's going to happen, there's a lot of uncertainty, and my dogs are always in a good mood, no matter what's going on. They're always so happy to greet me, they're always relaxed, they're patient, and I think that's the mentality that everyone needs to have right now. Just stay optimistic because there is light at the end of the tunnel and we're all going to get through this."
The bonds between pets and families keep us deeply connected, and that has never been clearer than now, as we all try to figure out this unfamiliar world together. Luna for one seems to be a fan of quarantine so far, since it means that at least one of her humans is home at all times. But I think this week she's started to understand our feelings a little more, as she goes through her own small version of quarantine life. Usually, Luna spends a couple days a week at a doggy daycare, where she can run around and stay active with her other dog friends. But this week she came down with a respiratory infection, and while she's doing much better already with some antibiotics and TLC, it does mean she has to stay away from camp for a couple weeks. She is definitely not a fan of this change.
Buzz resident Ellie Malavis and her Chow Chow puppy, Zoe, who was recently featured in Neighborhood Tails, said they too have been facing the difficulties of quarantine side by side. Zoe spoke for the pair when asked how they have been handling all the changes.
"I've had to forgo going to the groomer and having my nails clipped. My owner has had to do the same," says Zoe. "I miss seeing everyone and their dog at Starbucks, just like my owner. But we're both staying in touch through social media. If I can learn new tricks every day, so can my owner. We are both doing Zoom and adapting to how technology is changing the way we interact."
Zoe assures that her presence has been a comfort during quarantine, as she shows her owner how to remain optimistic despite the uncertainties.
"I appreciate being in each moment. Whether it's the toy in front of me, the walk I'm about to take or the lizard I chase, my tail is always wagging. I'm content with each simple pleasure as it presents itself. And that reminds my owner that each moment she has is pretty special, too," Zoe says. "I choose happiness and happiness is contagious – I wag my tail for no reason. And I never worry about the past or try to anticipate the future. I make my owner smile, no matter what's going on."
Editor's note: If your furry friend inspires you and deserves some recognition, consider submitting Neighborhood Tails. This includes 150 words written from the pet's perspective plus a high-resolution photo of the pet. 
Want more buzz like this? Sign up for our Morning Buzz emails.
To leave a comment, please log in or create an account with The Buzz Magazines, Disqus, Facebook, Twitter or Google+. Or you may post as a guest.