Hiking around Houston: Exploring on Foot this Fall
Click the Buzz Me button to receive email notifications when this writer publishes a new article or a new article in this column is published.
As temperatures drop in Houston this autumn, there is no better season to step out into the trees for a gentle hike at some of the city's best tucked-away trails. Our lush, tropical hometown offers many nearby escapes, shielded from the big city life. Here are a few of my favorites for walking, bird watching and just enjoying nature.  
While these trails are generally a safe place to get some exercise and fresh air with the ongoing coronavirus pandemic, I still bring a mask to keep handy during encounters with fellow nature enthusiasts. 
Ravine Trail at the Houston Arboretum & Nature Center
Location: 4501 Woodway Drive or 120 West Loop North
Hours: 7 a.m. to dusk
Trail map  
Parking: Hourly fee to park, free on Thursdays; see more details here
Restrooms: Available with exterior access at the Nature Center building
Distance: Approx. .5 mile loop, includes stairs and uneven terrain
Dog-friendly: Yes, on leash only
Use: Walking, but no running or cycling
Access this trailhead from the 120 West Loop North parking lot at the Arboretum, and step onto a trail featuring a stunning blend of architecture and nature, with a broad staircase winding down into the ravine. Standing on the newly refurbished bridge over the waterway, I have watched snakes swimming in their natural habitat and looked up to observe birds nesting in the treetops. While not stroller or wheelchair-friendly, this path is comfortable for a gentle hike for all ages with its deep and wide steps between tiered decks.
The Ravine Trail offers a different perspective on the wildlife of this region of the state. The grand finale of the trail is a breathtaking mural bringing you face to face with a Great Horned Owl - a local native - by Houston-based artist Anat Ronen. 
If you visit before Oct. 31, be sure to wander by the Nature Center before heading back to your car; a temporary art installation titled M.E.&T. by artist James Douglas Templeton is showcasing the relationship between art and nature with a drawing machine plotting the rate of photosynthesis in a plant. The plant creates a self-portrait in the process. 
Couch Birding Trail at the Houston Arboretum & Nature Center
Location: 4501 Woodway Drive or 120 West Loop North
Hours: 7 a.m. to dusk
Trail map 
Parking: Hourly fee to park, free on Thursdays; see more details here
Restrooms: Available with exterior access at the Nature Center building
Distance: In conjunction with the Outer Loop trail, approx. 2-mile loop with uneven terrain in some places, minimal elevation gain
Dog-friendly: Yes, on leash only
Use: Walking, but no running or cycling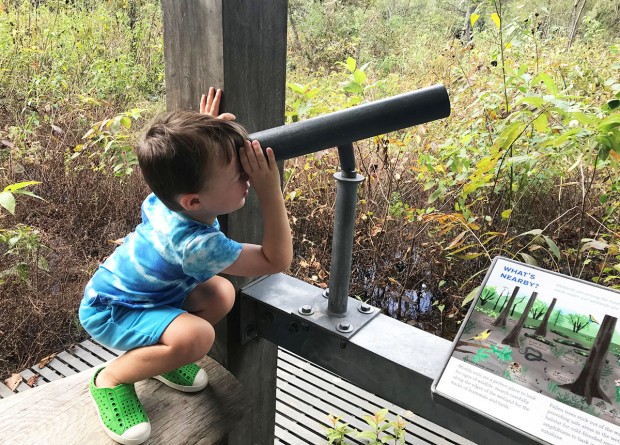 Following the broad Outer Loop Trail (accessible from either parking lot) around the outskirts of the Arboretum leads to a small side trail called the Couch Birding Trail. This detour from the main path offers benches to take a deep breath and observe the migratory birds traveling through Houston at this time of year as they take a respite over the Buffalo Bayou.
Along the route, take a minute to stop at the Field Stations scattered throughout the Arboretum, offering informative photos and descriptions of the animal and plant life you might find on your journey.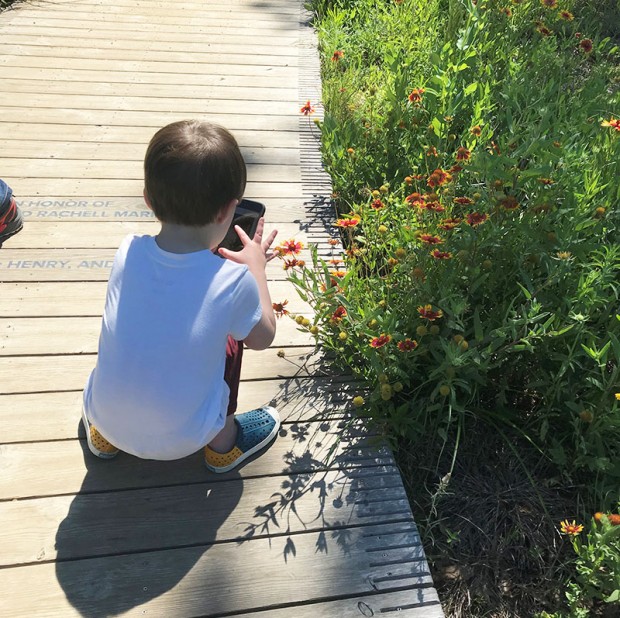 This trail is a bit longer, so for my family of young boys, we like to travel with snacks to pull out at the Couch Birding Trail overlook. To keep momentum as we walk the path, a scavenger hunt, such as this printable chart from Highlights, is the perfect way to energize the journey. 
This route is enjoyable year-round. The day after Thanksgiving last year, we brought my out-of-town family to this location to enjoy the leaves changing. In summer, the otherworldly mushrooms growing on fallen tree trunks on either side of the path are a sight to behold.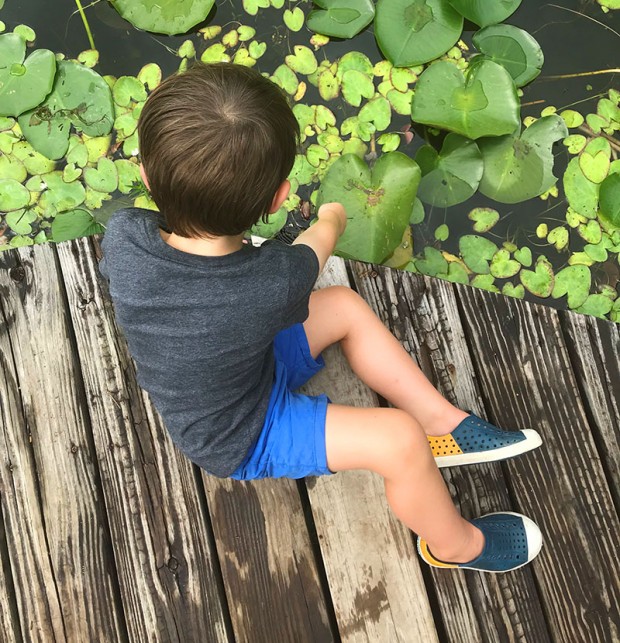 As you journey back to Nature Center and parking lots, be sure to stop by the Meadow Pond to scout for the resident young alligator, often found sunbathing on a log. 
If you are lucky enough to visit before Oct. 10, 2020, you may even catch sight of more than 120 goats "mowing" the meadow fields as part of an eco-friendly conservation program with Rent-A-Ruminant Texas.
Edith L. Moore Nature Sanctuary 
Location:440 Wilchester Blvd., Houston, TX 77079
Hours: 7 a.m. to 7 p.m.; through end of 2020, opens at 12:30 p.m. Tuesdays for maintenance
Trail map 
Parking: As a COVID-19 precaution, the only entrance is at the east gate in the Memorial Drive United Methodist Church parking lot, where parking is available
Restrooms: Not open due to COVID-19
Distance: 1-mile loop, some uneven terrain with minimal elevation gain
Dog-friendly: No, dogs not permitted
Use: Walking, but no running or cycling
The Edith L. Moore Sanctuary and its trails through the woods are quietly tucked away in a neighborhood off Memorial Dr. The trails have been restored in recent years with new decking, and the path follows along the high banks of Rummel Creek, offering multiple overlooks. Watch out if visiting with young children, though; the overlooks are not all well-fenced. 
Doubling as the home base for the Houston Audubon Society, the sanctuary also features an active scene with bird feeders for all varieties of Houston birds. Sit a while and watch for hummingbirds in spring and fall. 
This trail is a favorite destination for taking my young boys out for an easy brush with nature - the parking lot is near the trailheads, and you are immediately rewarded with a pond for watching tadpoles and turtles in the shallow water. The historic log home of the land donor, Edith L. Moore, stands near the pond, so this path has earned the nickname "the cabin trail" among my youngsters. Learn more about this beautifully restored cabin and Edith L. Moore here. 
Cullen Park North Trail from the Bear Creek Methodist Cemetery
Location: Texas Highway 6 at Patterson Road
Hours: Dawn to dusk
Trail map 
Parking: Free parking in lot adjacent to Bear Creek Methodist Cemetery 
Restrooms: None
Distance: 7.9 miles out and back, paved asphalt, minimal elevation gain
Dog-friendly: Yes, on leash only
Use: Walking, running, cycling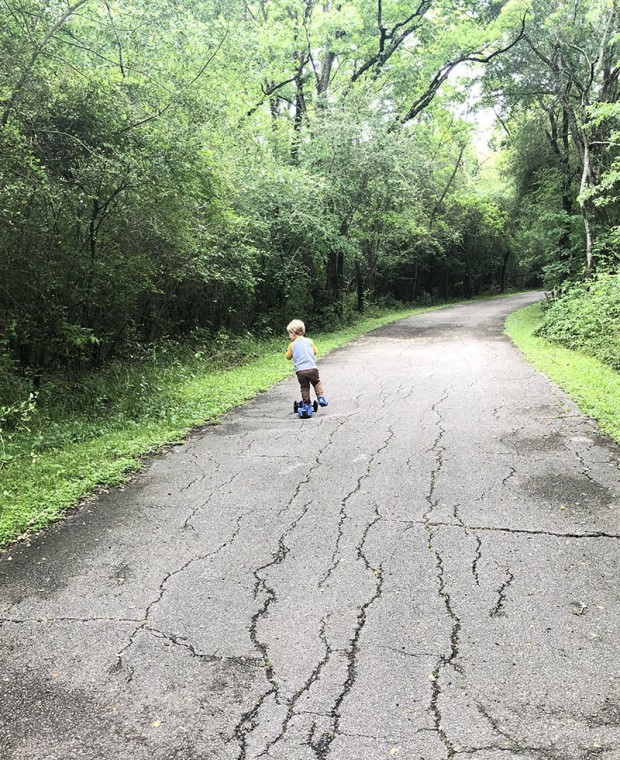 Slightly farther afield but providing a deeper sense of escape, the Cullen Park North Trail is accessible from Highway 6 at Patterson on the north edge of the Addicks Reservoir. This paved asphalt trail permits cyclists – and in my case, kids on scooters – but it is far less populated than other cycling trails in Houston. 
Within steps from the road, you immediately feel like you've crossed into another world as the forest stretches as far as the eye can see. With its proximity to Addicks Reservoirs, be aware the path can flood, so plan your visit accordingly. After some recent heavy rains, the path was laden with large puddles, but my boys had no problem racing through the water on their scooters. (I, however, wished I'd worn my rainboots as I chased after them in sandals.) 
The path continues for nearly 8 miles to Cullen Park, passing the West Houston Airport. While walking the path, you will be treated to the sight of interesting, and oftentimes historic, small planes as they take off and land. Parking is simple at the lot adjacent to the Bear Creek Methodist Cemetery, a Texas Historical Commission site dating back to the late 1800s. 
Buffalo Bayou Park Trail at Spotts Park
Location: 401 S Heights Blvd, Houston, TX 77007
Hours: Lighted areas 6 a.m. to 11 p.m., all other areas dawn to dusk
Trail map
Parking: Free parking in lot adjacent to Spotts Park; see trail map for more locations
Restrooms: At Lost Lake, on south side of bayou, 3422 Allen Parkway; at Lee and Joe Jamail Skatepark, Eleanor Tinsley Park, 103 Sabine Street
Distance: 20 miles of trails with various routes
Dog-friendly: Yes, on leash only
Use: Walking, running, cycling
If you seek a view of the Houston skyline while you stretch your legs, look no farther than the Buffalo Bayou Park trail system. There are many ways to access the trail, but my favorite is at Spotts Park on Heights Boulevard. Here you can wander down the hill from the parking lot and walk toward the towering skyscrapers with the bayou on your right. Pedestrian bridges cross the water at several points, or you can walk all the way into downtown to turn around and head west again from the foot of the Hobby Center for the Performing Arts. 
This trail is paved throughout, so it's great for scooters, strollers and bicycles. However, it is a popular trail system in a densely populated area of the city, so try to come outside of peak exercise times for easier social distancing. 
If you want to bring your puppy companion, the beautiful Johnny Steele Dog Park is found along the south side of Buffalo Bayou Park at 2929 Allen Pkwy, Houston, TX 77019. 
Editor's note: For more outdoor ideas, see Where to run in Houston by Pooja Salhotra, Family bike rides by Annie McQueen and Discovering Houston's Trailways by Janvi Pandya.
Want more buzz like this? Sign up for our Morning Buzz emails.
To leave a comment, please log in or create an account with The Buzz Magazines, Disqus, Facebook, or Twitter. Or you may post as a guest.