Thanksgiving Al Fresco
Penny Haber cooks up a feast
Click the Buzz Me button to receive email notifications when this writer publishes a new article or a new article in this column is published.
Warning: This story will make you hungry. And Penny Schoelman Haber would not want it any other way. A devoted fan of cooking and entertaining, Penny believes there is no stage bigger – or better – than Thanksgiving.
Take one look at her roast turkey paired with savory, Italian sausage-infused crouton dressing, goat-cheese stuffed dates drizzled with honey, silky butternut squash soup and sumptuous pumpkin roll, and you will be begging for seconds.
In anticipation of the season, Penny and husband Tom Haber hosted Penny's sister and brother-in-law, Bobbie and Ken Alexander, for an early al fresco Thanksgiving meal at their vacation home in Bachelor Gulch, Colorado. Don't worry: she will be having another one at home in Houston on Thanksgiving Day. Penny loves the holiday and the food so much, having a second Thanksgiving feast is as easy as her (caramel) apple pie.
"Thanksgiving is my favorite meal," says the outgoing, golden-blonde Penny. "It does not matter what religion you are, and there are no expectations of gifts. This holiday is all about gratitude and being together."
Growing up in a large family (she has three sisters and one brother), Penny is influenced by memories of her grandfather's generous Thanksgiving Day celebrations.  "It was always like a family reunion with all my cousins there," she recalls. "My dad's sister made the best desserts ever: fudge, divinity, and all of her famous pies, including chocolate cream pie and coconut cream pie. I just remember being overwhelmed. My dad was one of five kids, and we always had a lot of people there. Additionally, my mom always made the best turkey and sage dressing." 
Taking a cue from her relatives, Penny has created family- and food-focused Thanksgivings that harken back to her childhood. "My mom and dad are excellent hosts and cooks, and they make sure everyone is happy," says Penny. "My aunt had no idea that her pies mattered to me, but they did. You just don't know what part of the holiday will matter to people, so I try to make it magical."
The magic, she says, comes in many forms, but it all starts with the food. "I definitely feed people. That is my way to comfort them," she says with a smile. "I am either celebrating with food or comforting them with food. The different food choices make people feel luxurious and special."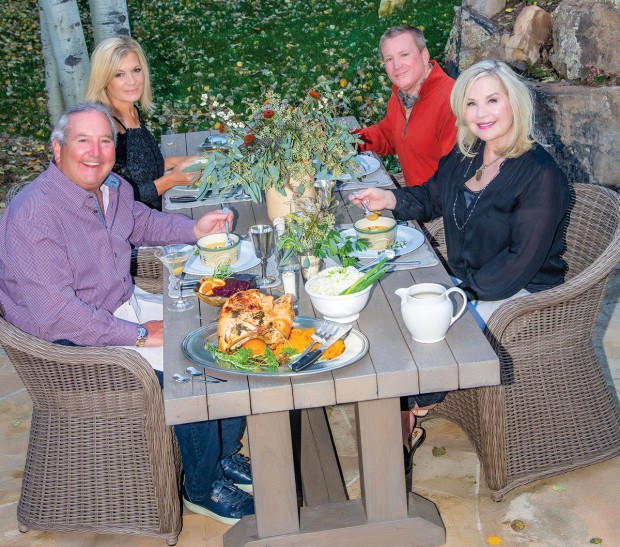 To that end, Penny will tailor her menu to the guests. She has her standards (roast turkey with her special dressing, russet potato mash, green bean casserole) but always adds in what people crave. "Everyone has to have their favorite. If my brother-in-law Scott comes, we definitely have Brussels sprouts. If my sister Bobbie is coming, we have the apple pie. Grandsons Mason and Charlie want the turkey and rolls." For daughter Alex Mitchell, she always makes the pumpkin roll and stuffed dates.
Her Houston Thanksgivings always follow the same routine. "I ask people to come around 3 p.m., and we typically have football on and a puzzle going," she says. Their house, just blocks from Rice University, looks out over treetops. "Years ago, I started buying Liberty puzzles, which are these beautiful, wood puzzles. Each puzzle shape is literally die cut; they are so wonderful. As we work on the puzzle, Tom will grill sausage and put it out on a cutting board with a little mustard. People can take in the gorgeous views from the fourth-floor patio."
While guests nibble the sausage and dive into the puzzles, Penny chats with those who visit with her, putting the finishing touches on the meal. "We normally eat around 5:30 p.m., and when we serve the butternut squash soup – which is probably our favorite part of the meal – Tom will give a welcoming toast. Then, we go around the table and share something that we are all thankful for over the past year."
After the Thanksgiving feast is concluded, Penny serves desserts back up on their fourth-floor patio. "To finish the night, we serve a Spanish liqueur called '43' in little cordial glasses. It's really good and really rich and tastes like citrus with vanilla or butterscotch." 
When planning the menu, Penny makes sure to cook extra. "I go overboard with the food because everyone wants leftovers, and we make enough so that they take home something they love to eat. I buy those big Glad containers, and people fill them up for themselves to take home." As far as leftovers go, Penny has a plan for that, too. "I reinvent the leftovers the next day so it does not feel the same," she says. "We make these wonderful sourdough roll turkey sandwiches the next day, and we drink soup in a mug."
For her Colorado al fresco Thanksgiving, Penny put a playlist by Michael Kiwanuka on, and the evening played out like a song. "It was great. We could hear the chipmunks and the magpies, who were like little gossips because they are very noisy and banter. We had a beautiful flow of music and a beautiful wine, and it was very cozy and lovely."
Tom agrees. "I think that Penny is a type of person that just goes all out to make everyone feel loved and feel special. She goes way above the call of duty to do that. Having family and friends to be with you, that is what Thanksgiving means to me. 
I am thankful for having a great family, great wife, and everybody's healthy and that is what I am thankful for this year – and her apple pie is pretty spectacular!"
Likewise, for Penny, it's the feeling of gratitude that makes the holiday meaningful, especially this year.  "My overarching feeling is thankfulness," she says. "I am grateful for FaceTime and social media to stay in touch with my daughter, son-in-law [Matt] and grandsons who live in Austin, and I cannot be with them as much as I want. FaceTime spans the miles. Also, I am a cancer survivor, and I have gratitude for just being here. This year I was more grateful for the freedom that I have. Tom built this beautiful backyard for us, and just having my family around that outdoor dining room table felt like love to me. It was like being wrapped in a blanket with my family."
Penny's Goat Cheese Date Appetizers
2 dozen dates, pitted and halved
1 roll of goat cheese
24 toasted walnut halves
Honeycomb pieces
Honey
Stuff dates with approximately a teaspoon of goat cheese. Garnish with a walnut half and piece of honeycomb. Drizzle with honey.  Refrigerate and serve. May be made a day in advance. Yields 24 pieces if you don't snack while preparing!
6 Tablespoons salted butter
6 cups of cooked butternut squash cut into 2-inch cubes (about 3 pounds of uncooked squash)
2 cups chopped leeks (use white and pale green section only)
1 cup chopped celery
1 cup chopped Granny Smith apples (for tartness)
1 cup peeled and diced carrots
2 Tablespoons dried thyme
2 teaspoons dried sage
6 cups low sodium chicken broth (boxed broth preferred)
1 cup apple cider
1 cup sour cream
Crème fraiche (for garnish – usually in the cheese department)
Fresh chives and sage (for garnish)
Melt butter in a heavy Dutch oven. Add squash, leeks and celery. Sauté until softened (10-15 minutes). Stir in apples, carrots, thyme and sage, chicken broth, and cider. Bring to a boil. Reduce heat and cook until apples and carrots are tender, usually 30-45 minutes. Use an immersion blender to puree soup. Blend in sour cream. Transfer to serving bowls. Garnish with a dollop of crème fraiche, fresh chives and sage. Serves 8-10 guests.
Penny's Italian Sausage Dressing
3-4 Tablespoons olive oil
½ cup thinly chopped leeks (use white and pale green sections)
¾ cup diced celery
½ cup diced white onion
½ teaspoon salt
1 teaspoon freshly ground black pepper
1 cup roasted chestnuts, halved (I buy these from a gourmet grocery)
1½-2 pounds Italian sausage, crumbled and cooked
1 pound of large seasoned croutons
3½-4 cups warm low sodium chicken broth (boxed preferred)
Nonstick spray
Leek mixture: Sauté olive oil with leeks, celery and onion in a small skillet until onion is translucent. Add salt and pepper. Stir in roasted chestnuts. Cook for 5 more minutes.  Remove from heat.
Transfer leek mixture to a large mixing bowl. Add sausage and croutons. Mix lightly so croutons keep shape. Pour in warm chicken broth a cup at a time until you have your desired texture. Note: Less broth will render a crumbly dressing, and more broth will give you a casserole type dressing. Make sure to use warm broth, or your baking time will be extended and dry out the dressing.
Pour mixture into a prepared baking dish (3-4 quart). Cover and bake at 375 degrees for 20-30 minutes. Uncover and bake another 20 minutes or until golden on the top. Rest for 10-15 minutes before serving. Serves 8-10 guests.
1 pound fresh cranberries
1 large orange to be used for the rind and juice
½ cup water
1 teaspoon cinnamon
¼ teaspoon ground cloves
1 teaspoon ground ginger
¼ cup brown sugar
2-3 Tablespoons Grand Marnier or port
In a saucepan, combine cranberries, juice of one orange and water. Stir in cinnamon, cloves, ginger and brown sugar. Cover and simmer for 8-10 minutes, stirring occasionally. Remove from heat. Stir in Grand Marnier or port. Garnish with orange rind. Chill and serve. Yields 2 cups.
3-4 Tablespoons salted butter
1 cup chopped white onion
1 cup sliced mushrooms
1 cup heavy cream
1 can cream of mushroom soup
1½-2 pounds frozen cut green beans (steamed and drained)
1 cup shredded cheddar cheese
Salt and pepper to taste
1 can French fried onions
Sauté butter, onion and mushrooms until golden. Stir in cream and mushroom soup. Cook on low 5-10 minutes until warm. Stir in steamed green beans and cheddar cheese. Use fewer green beans for a richer casserole. Season with salt and pepper to taste. Transfer to a prepared casserole dish. Top with French fried onions. Bake at 350 degrees until bubbly, approximately 30-45 minutes. Serves 8-10 guests. 
Cooking spray
3 large eggs
1 cup sugar
¾ cup flour
2 teaspoons cinnamon
1 teaspoon baking soda
1 teaspoon baking powder
1½ teaspoons ground ginger
½ teaspoon salt
1½ teaspoons ground nutmeg
2⁄3 cup canned pumpkin
1 teaspoon squeezed lemon juice
½ cup powdered sugar for dusting
Icing ingredients:
6 ounces cream cheese, softened
1⁄3 cup softened butter
1 cup powdered sugar
1 teaspoon vanilla extract
1 teaspoon squeezed lemon juice
Additional powdered sugar for garnish.
Plastic wrap for wrapping the finished roll to keep shape.
Spray a jelly roll pan with cooking spray. Line with parchment paper. Spray top of parchment paper with cooking spray.
Beat together eggs and sugar.  Combine flour, cinnamon, baking soda, baking powder, ginger, salt and nutmeg. Add to egg mixture. 
Combine pumpkin and lemon juice. Add to batter. Mix well. Spread evenly in the prepared jelly roll pan. Bake at 375 degrees for 15 minutes or until center is done.
Lightly dust a slightly damp dish towel with ½ cup of powdered sugar. Loosen the edges of the baked pumpkin sheet. Turn pan over and transfer pumpkin to the dish towel. Remove parchment paper. Roll the pumpkin and towel together in a tight roll. Cool on a wire rack, seam side down.
Prepare icing. Beat together cream cheese and butter. Add 1 cup powdered sugar. Stir in vanilla and lemon juice.  
Unroll cooled pumpkin roll. Remove towel. Spread cream cheese icing evenly over the roll. Leave a 1-inch border. Roll the pumpkin and place seam side down. Sprinkle with powdered sugar. Wrap in plastic wrap and refrigerate for 2-3 hours. Slice and serve.
1 prepared pie crust
Apple mixture:
½ -¾ cup sugar
3 Tablespoons flour
2 teaspoons ground cinnamon
Dash of salt
6 cups thinly sliced apples (usually 6-8 apples. I use Fuji and Golden Delicious)
Crumb topping:
1 cup brown sugar
½ cup flour
½ cup rolled oats (quick cooking oats)
½ cup salted butter
Pie garnish:
½ cup chopped pecans
6-8 ounces caramel topping (in the ice cream section)
Apple mixture: In a large bowl mix together sugar, flour, cinnamon and salt. Pour over apple slices. Set aside.
Crumb topping: Mix together brown sugar, flour and rolled oats. Cut in butter until you have a crumb mixture. Set aside.  
Place the prepared pie crust in a prepared pie pan. Pour in apple mixture. Spread crumb topping over the apples.
Cover pie crust edges with a foil wrap to protect from burning the edges. Bake the pie on a cookie sheet (it will drip over the sides). Bake at 375 degrees for 25-30 minutes.  Remove the foil edges and bake another 25-30 minutes.  
Remove from oven. Sprinkle pecan pieces over the pie. Drizzle caramel topping over the top. Let the pie rest. Serve room temperature or warmed. 
Penny's Thanksgiving Friday Sandwiches
Sourdough or croissant rolls, halved for sandwiches
Thanksgiving leftovers:
Cranberry Relish
Sliced Turkey
Italian Sausage Dressing, warmed
Gravy, warmed
Spread cranberry relish on rolls. Layer turkey and Italian Sausage Dressing on one half of roll. Drizzle with warm gravy. Top with remaining half. Serve.
Want more buzz like this? Sign up for our Morning Buzz emails.
To leave a comment, please log in or create an account with The Buzz Magazines, Disqus, Facebook, Twitter or Google+. Or you may post as a guest.