Starting With Watermelon
Deep summer at the farmers market
Click the Buzz Me button to receive email notifications when this writer publishes a new article or a new article in this column is published.
Summer break may be over for the kids, but it is still in full swing as far as Texas weather is concerned. Not every plant can survive the extreme heat we see in Texas' "deep summer," but there are more than enough hearty fruits and vegetables to make a trip to the farmers market worthwhile.
Melons: While all you need is a knife to enjoy a Texas watermelon, cantaloupe, or honeydew melon, you can make your melons go farther – and hydrate the family – with a quick transformation into a refreshing agua fresca ("fresh water"). Bring this beverage on a picnic, serve it after school to thirsty kids, or make it adults-only by adding a splash of vodka or rum and finishing with sparkling water.
From The Taco Tuesday Cookbook by Laura Fuentes (Founder of MOMables.com)
2 cups water, divided
¼ cup honey
4 cups cubed watermelon
4 cups ice
In a microwave-safe bowl, warm ½ cup of the water. Add the honey and stir to dissolve.
Pour the sweetened water into a blender and add the remaining 1½ cups plain water and the watermelon. Blend until smooth.
Strain the watermelon juice through a fine-mesh sieve into a pitcher. Use the back of a spoon to press the watermelon through the sieve. Add the ice to the pitcher and stir.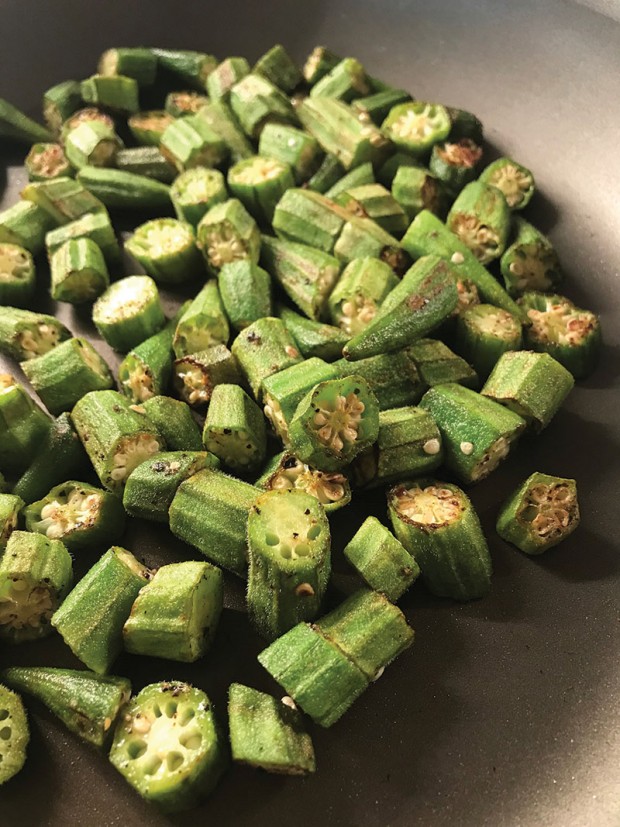 Okra: Okra is tried and true in the South through the deepest months of the summer and early fall. You will find it at the farmers market from June through October; its slimy interior serves as a powerful defense mechanism against the heat, so it is a reliable staple here in Texas.  
If you (or your kids) have not been a fan of okra in the past, try this simple semi-homemade jambalaya recipe to give okra another chance. The key to the okra is the pan-frying, which eliminates any traces of slime and replaces it with a beautiful char and caramelization. At the grocery store, I love to grab a box mix for this Creole fried rice, which seamlessly incorporates any fresh vegetables from the fridge or this week's farmers market haul.
2 Tablespoons canola or vegetable oil, divided
1 pound of okra, sliced into ½-inch rounds
14 ounces of plant-based Italian or andouille sausage (such as Tofurky or Field Roast), sliced into rounds
1 green bell pepper, diced
1 onion, diced
1 stem of celery, diced
1 8-ounce box of jambalaya rice mix (such as Tony Chachere's or Zatarain's)
Heat 1 tablespoon oil in a skillet over medium heat. Add okra and cook until tender and dry, 5-7 minutes, flipping occasionally to ensure an even sear on both sides. Remove from pan and set aside. Add sausage to skillet and cook until brown on both sides. Remove from pan and set aside with okra.  
In a large saucepan, heat remaining oil over medium heat. Add bell pepper, onion, and celery, and cook for 2-3 minutes. Add rice to the saucepan and cook following the directions on the box. After the rice is ready to eat, stir in okra and sausage; serve. 
Roselle: While we're on the topic of viscous fruits, allow me to introduce you (or possibly re-introduce you) to the roselle flower pod. Roselle is a species of hibiscus plant, and its buds are harvested for infusing tea, syrups, and other treats with its tangy floral flavor.  
You can find the red buds, the calyx of the roselle plant, at local farmers markets in the late summer months through fall. Native to Africa and grown around the world, roselle is also known as red sorrel, Jamaican sorrel, or even just "Jamaica." 
After trimming the petals, you could simply steep them in a saucepan of simmering water to reap their tart and floral flavor, but it's common to add orange peel, warm spices, ginger, and sugar. Other recipes may include rum, orange juice, mint, or lime. Roselle offers a bright flavor that you can build on to suit your tastes. In this persistent heat, though, I highly recommend drinking it over ice for a beverage reminiscent of Starbucks' Iced Passion Tea. 
2 cups roselle pods
Peel of one orange 
1 cinnamon stick 
1 teaspoon cloves
¼ cup sugar
2 cups water
Remove the petals from the stem of the roselle pod by slicing around the diameter of the base with a paring knife. Add petals and all remaining ingredients to a small saucepan. Bring to a simmer, then remove from heat and allow to cool. Strain the tea into a pitcher using a sieve and serve over ice.
Hearty greens: Hearty greens, like mustard greens, chard, or Malabar spinach, are classic Southern staples for a good reason – they're tough enough to handle the deep summer heat. Grab any greens you see on the stand with a neutral flavor (ask the farmer) and try out this Breakfast Strata with Spinach and Gruyere – which, trust me, is delicious for breakfast, lunch or dinner.  
Breakfast Strata with Spinach and Gruyere
From America's Test Kitchen
8-10 slices supermarket French bread or Italian bread (6-7 ounces)
5 Tablespoons unsalted butter, softened, divided
4 medium shallots, minced (½ cup)
1 (10-ounce) package frozen chopped spinach, thawed, and squeezed dry (or substitute your farm-fresh spinach by cooking it down in a skillet until dry)
1 teaspoon salt
Pepper to taste
½ cup medium-dry white wine, such as Sauvignon Blanc
6 ounces Gruyere cheese, grated (½ cup)
6 large eggs
1¾ cups half-and-half
Adjust oven rack to middle position and heat oven to 225 degrees. Arrange bread in a single layer on a large baking sheet and bake until dry and crisp, about 40 minutes, turning slices over halfway through drying time. (Alternatively, leave slices out overnight to dry.) When cooled, butter slices on one side with 2 tablespoons butter; set aside.
Heat 2 tablespoons butter in medium nonstick skillet over medium heat. Saute shallots until fragrant and translucent, about 3 minutes; add spinach and salt and pepper to taste, and cook, stirring occasionally, until spinach and shallots are combined, about 2 minutes. Transfer to medium bowl; set aside. Add wine to skillet, increase heat to medium-high, and simmer until reduced to ¼ cup, 2 to 3 minutes; set aside.
Butter 8-inch square baking dish with remaining 1 tablespoon butter; arrange half the buttered bread slices, buttered-side up, in single layer in dish. Sprinkle half of spinach mixture, then ½ cup grated cheese evenly over bread slices. Arrange remaining bread slices in single layer over cheese; sprinkle remaining spinach mixture and another ½ cup cheese evenly over bread. Whisk eggs in medium bowl until combined; whisk in reduced wine, half-and-half, 1 teaspoon salt, and pepper to taste. Pour egg mixture evenly over bread layers; cover surface flush with plastic wrap, weigh down with a plate or bowl, and refrigerate at least 1 hour or up to overnight.
Remove dish from refrigerator and let stand at room temperature 20 minutes. Meanwhile, adjust oven rack to middle position and heat oven to 325 degrees. Uncover strata and sprinkle remaining ½ cup cheese evenly over surface; bake until both edges and center are puffed and edges have pulled away slightly from sides of dish, 50 to 55 minutes (or about 60 minutes for doubled recipe). Cool on wire rack 5 minutes and serve. 
Gourds: While it's too early to carve your pumpkin for Halloween or bake your pie for Thanksgiving, it is not too early for these autumnal gourds to ripen in the Texas heat. Grab a sugar pumpkin, and cook it down to freeze. A pumpkin pie with homemade pumpkin puree is out of this world. Or pick up a butternut squash and a can of chickpeas for one of the most unexpectedly delightful combos in a taco. 
Chickpea and Butternut Squash Tacos
From The Taco Tuesday Cookbook by Laura Fuentes
1 Tablespoon taco seasoning
3 Tablespoons lime juice, divided
1 Tablespoon olive oil
1 Tablespoon water
1 can (15-ounce) chickpeas, rinsed and drained
1 pound diced butternut squash 
1 cup plain Greek yogurt or sour cream
1 cup chopped fresh cilantro
Salt and pepper to taste
8 corn tortillas, warmed
1 cup finely chopped red cabbage
1 jalapeño, seeded and sliced
1 large avocado, pitted, peeled, and diced
1 lime, cut into wedges
Preheat the oven to 400 degrees and line a rimmed baking sheet with parchment paper. 
In a large bowl, combine the taco seasoning, 1 tablespoon of the lime juice, olive oil, and water. Add the chickpeas and squash cubes and toss to coat well.
Transfer the seasoned chickpeas and squash to the prepared baking sheet. Roast for 30 to 35 minutes, stirring occasionally, until the chickpeas are slightly crispy and the squash is tender.
Meanwhile, in a small bowl, whisk together the Greek yogurt, remaining 2 tablespoons of lime juice, and cilantro. Stir well. Season to taste with salt and pepper.
To assemble each taco, start with a warm tortilla and top with bed of cabbage, roasted chickpeas, squash, jalapeños, and avocado. Drizzle on some cilantro-lime sauce and serve with additional lime wedges. 
From Cook's Country
1 sugar pumpkin, halved from top to bottom, seeds and pulp removed
Note: A sugar pumpkin is about 8 to 10 inches in diameter and usually has a darker orange exterior compared with jack-o-lantern pumpkins. Its flesh has more flavor and is also denser and drier than that of bigger pumpkins, so it will take less time to cook. 
Adjust oven rack to middle position and heat oven to 375 degrees. Place pumpkin halves cut side down on parchment paper-lined rimmed baking sheet. Roast until the flesh can be easily pierced with a skewer, 45 to 60 minutes. Turn halves over and continue to roast 30 minutes longer. Scoop flesh from skins and puree in a food processor until smooth. Drain puree in fine mesh strainer set over bowl for at least 1 hour.
To test consistency, pack puree into a small drinking glass and unmold it onto a plate. It should slump gently toward base but otherwise hold its shape. Loosen as necessary with drained liquid or return puree to strainer and continue to drain if it is too loose. Puree can be refrigerated for up to four days or frozen in an airtight container with parchment pressed on its surface for up to two months. You can substitute this puree for an equal amount of canned product. 
Figs: There is no recipe necessary here, but keep an eye out for figs as they reach their second season in early fall. They are perfect for a lunch box or – my favorite way – diced over Greek yogurt and drizzled with honey.
See Meg Scott's April 2021 article, "What's In Season? At the farmers market in early summer" for nearby Houston farmers markets.
Want more buzz like this? Sign up for our Morning Buzz emails.
To leave a comment, please log in or create an account with The Buzz Magazines, Disqus, Facebook, Twitter or Google+. Or you may post as a guest.