Tribute to Beloved Condit Principal, Mr. Fred Bowyer
Click the Buzz Me button to receive email notifications when this writer publishes a new article or a new article in this column is published.
Mention the name "Mr. Bowyer" to any neighborhood families who attended Condit Elementary from 2000-2013 and you are guaranteed to get a great big Condit Cat smile. 
Fred Bowyer was a legendary principal at Condit for 13 years. His thousands of fans were sad to learn about his passing on Oct. 21 and many expressed gratitude that Mr. Bowyer had been part of their lives. His tremendous kindness and sense of fun is still giving people reasons to smile.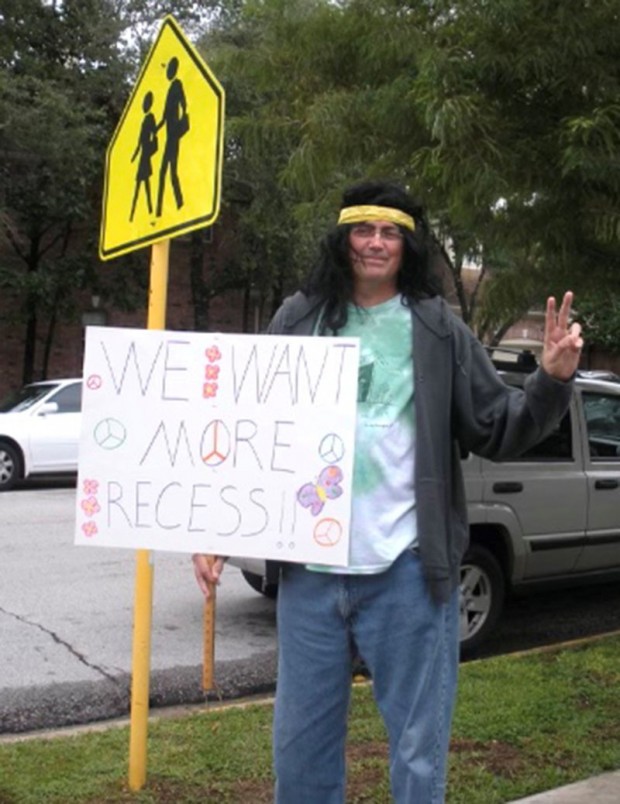 Highlights over the years Mr. Bowyer was principal included joking with parents and younger siblings in carpool line, creating fun nicknames for kids, reading out the winning names for the greatly anticipated Halloween carnival baskets, Halloween costume parades around the school, watching the trail riders pass by Condit on Go Texan Day, inspirational welcome and closing speeches at PTO meetings, Family Fun nights, Spirit fundraiser nights at local restaurants, Field Day competitions including throwing rubber chickens, and fifth-grade graduation celebrations.
Thoughts and memories from some of Mr. Bowyer's thousands of adoring fans:
"Fred was so much to so many people…mentor, boss, father figure, comic relief, husband, father, and friend, to name a few. He was a larger-than-life personality that will be missed by thousands of people. I loved that man as many of you did. He will be dearly missed." -Coach Bill Johnson
"Fred saw something in all of us that changed our lives for the better. What a valuable and effective life he lived. When our house flooded in Harvey, Fred called to check on us. He asked me if we needed anything and I jokingly said, tequila. In a few hours, he showed up with all this! Could not have a better friend!" -Halley Erickson, Condit interventionist 
"He was undeniably one of the best principals and leaders there ever could be and we feel so fortunate to have had our girls at Condit with him. What a legacy he leaves to have touched so many lives in such a positive way." -Jennifer Macia (and husband Mario and daughters Sarah and Anna) 
"I still remember meeting Fred when he happened to be in the Condit office the day I sent to register my son, now 26, for kindergarten. He was wonderful with the parents, the kids adored him, and Condit thrived under his leadership. He was such a wonderful person and the kind of principal every school should have." -Mandy Nathan (and husband David and kids Zach and Max)
"Mr. Bowyer was a wonderful principal and made such a positive impact on so many young peoples' lives." -Anne Kayl (and husband Bob and kids Ethan and Brooke)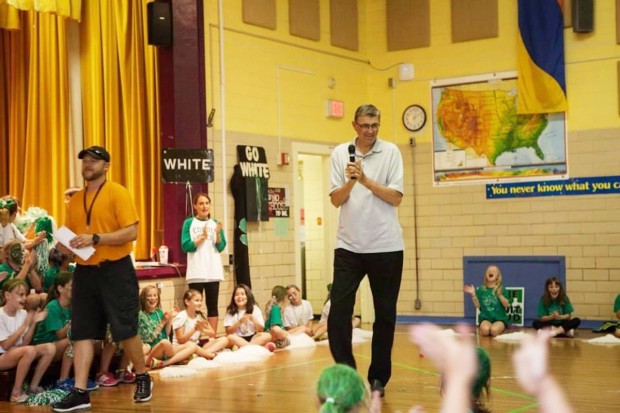 One parent shared how Mr. Bowyer responded during the Sept. 11, 2001 attacks. "All of the students and their parents gathered into the cafeteria at the end of the school day and Mr. Bowyer spoke to the students in his commanding and gentle way: 'You're going to see and hear a lot of things when you go home, but don't think that all people are all bad because that is not true. Know that we care very much for you and that your parents love you.'" -Roman Reed (and wife Sally and children Suzy, Travis, and Forrest)
"We got called into Mr. Bowyer's office so many times because of our youngest son, Ethan, that we honestly didn't think he would graduate 5th grade, lol. Yet, Mr. Bowyer still asked Ethan to introduce the principal at the 5th grade graduation - such a wonderful man! When I ran into Fred at the tire shop years after he had retired, he still remembered Ethan." -Renu Roy (and husband Pinto and sons Nikhil, Vinay, and Ethan) 
"We always remember hearing Mr. Bowyer before we saw him. Our son Mitchell recalls looking forward to seeing Mr. B in the morning and high-fiving him. It was always such a fun, positive way to start the day! Our daughter Paige (who is 23) vividly remembers Mr. B. coming into their classroom every time they had a STAAR or Taks test and sprinkling 'fairy dust' for good luck! Our family agrees that the best memories of him included just seeing him and being in his presence! He was truly the best! Not just a great principal but a great man!" -Debbie Robbins (and husband Sammy and children Paige, Mitchell, and Bonnie)
Buzz editor Joni Hoffman also vividly remembers meeting Mr. Bowyer for the first time when her sons, Andy and Matt Hoffman, were students at Condit. She said that, upon meeting Mr. Bowyer, she immediately fell in love with his magnetic personality, dynamic energy, and great sense of humor. Not long after beginning his role as principal, she and a few other parents were coming up with prizes for a read-a-thon student contest. "Would you be willing to dye your hair pink for a day?" she asked. "Absolutely!" he responded.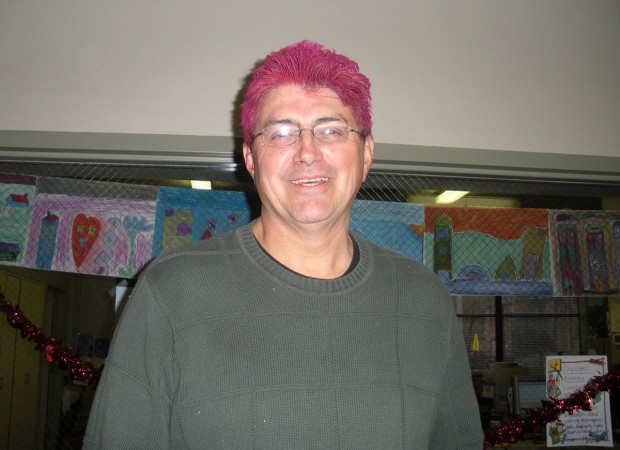 The kids overdelivered, so Mr. Bowyer was on the hook. Joni remembers taking him to her hairdresser and "he was such a great sport about it – that's just the kind of leader he was." The day of the announcement, he proudly appeared with a cape and showed off his bright pink hair. "The kids went nuts. He of course assumed it would wash out that night. Little did he know. I think if you looked closely even years later there was still a little hint of pink. Of course, he loved it." Unbeknownst to Joni (until we researched this article) Fred continued the tradition.
When Fred retired in 2013, he passed the baton to current Condit principal Dan Greenberg. 
Mr. Greenberg said, "I would not be who I am, or where I am without Fred. He saw something in me I didn't even see in myself."
Dan continued, "Fred was always a big believer in 'it will all work out' - he knew that if we did what we knew to be best for kids, this would sort themselves out exactly as they should. I think that kind of confidence comes from a combination of personality and experience. He had a gift of defusing a tense situation with a bit of humor."
Even seven years after he retired, proof of Mr. Bowyer's kindness and wise words to his former students continued. When the Class of 2020 graduated from high school, he sent this letter: 
I want to congratulate all of my Condit students on their 2020 graduation. It's unfortunate that the pandemic has spoiled the ending of your senior year, but what a story you will have to tell your grandchildren in 50 years!
The memories of my time with each of you brings me great joy and I wish all of you the very best as you continue your journeys. Remember, your best friends will always be your parents. You need to cherish them and keep them close. If I can ever be of help to you, don't hesitate to reach out.
God bless each of you,
Mr. Fred Bowyer
As Mr. Bowyer told his former students in the letter above, I think he would say the same to all of us…The memories of my time with each of you brings me great joy and I wish all of you the very best as you continue your journeys.
Fred Bowyer's service will take place Sat., Nov. 5, 11 a.m., Earthman Bellaire, 4524 Bissonnet. More details can be found here. Our thoughts are with Fred's family, including his wife, Olga, his daughters, Delyla and Katelyn, son-in-law, Ryan, and all of those whose life Fred touched over the years. 
A special thank-you to all who shared memories and photos for this article, including Kristi Coffey, LaWana Sieckmann, and Sheryl Moore. Comment below to share your memories as well. 
People in this article:
Fred Bowyer
,
Bill Johnson
,
Diane McLaughlan
,
Pat McLaughlan
,
Kolby Brown
,
Milan Narayan
,
Halley Erickson
,
Steve Erickson
,
Jennifer Macia
,
Mario Macia
,
Sarah Macia
,
Anna Macia
,
Mandy Nathan
,
David Nathan
,
Zach Nathan
,
Max Nathan
,
Anne Kayl
,
Bob Kayl
,
Ethan Kayl
,
Brooke Kayl
,
Roman Reed
,
Sally Reed
,
Suzy Reed
,
Travis Reed
,
Forrest Reed
,
Renu Roy
,
Pinto Roy
,
Nikhil Roy
,
vinay Roy
,
Ethan roy
,
Debbie Robbins
,
Sammy Robbins
,
Paige Robbins
,
Mitchell Robbins
,
Bonnie Robbins
,
Joni Hoffman
,
Matt Hoffman
,
Andy Hoffman
,
Dan Greenberg
,
Kristi Coffey
,
LaWana Sieckmann
,
Sheryl Moore
,
Cameron Moore
,
Sydney Moore
Want more buzz like this? Sign up for our Morning Buzz emails.
To leave a comment, please log in or create an account with The Buzz Magazines, Disqus, Facebook, Twitter or Google+. Or you may post as a guest.