Jenna Blumrosen
Click the Buzz Me button to receive email notifications when Jenna Blumrosen appears in an article.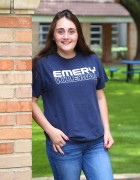 School Buzz Reporter
I have always had a passion for writing and journalism, so when I found out about School Buzz, I could not wait to sign up. What most people do not know about Emery is that everything is planned by the students, for the students. I have been on the executive board of the booster club for two years now, and it has been so cool to see how much of an impact I can make on campus. I have helped plan the homecoming dance and our winter formal, and both have been such great learning experiences for me. They both required a lot of time and work, but made me appreciate all of our school functions much more because I saw how much work is put into them.