#schoolbuzz
Meet our 2016-17 correspondents
Click the Buzz Me button to receive email notifications when this writer publishes a new article or a new article in this column is published.
This fall marks the third year of our popular School Buzz blog, a program for high school students to share what's going on at their campuses through stories, photos and videos on our website. School Buzz editors, reporters and photographers have published hundreds of blog posts presenting a behind-the-scenes look of their campus culture and students. 
We currently have 54 students representing 22 local schools for the 2016-17 year. If you're in high school and love to write or take photographs, it's not too late. Go to School Buzz on our website and click apply to join a team or start a new one.
Here, some of our School Buzz contributors introduce themselves and tell us what makes their schools special.
Becca Stetzer, editor: "My main hobbies are playing volleyball, traveling, philanthropy and hanging out with friends and family. The great thing about being in such a small school are the amount of opportunities, as well as the relationships you form with your teachers and the feeling of camaraderie. Alexander-Smith was my third high school. I was behind on credits and was close to having to repeat a year, but with the help of the staff, I was able to regain control of my education, and I am beyond grateful."
Pranay Palvadi, editor: "I have enjoyed writing since I was a young child. When I was around 6 or 7, I wrote short stories and poems for fun. I gradually stopped writing and finally started again when I joined my school's Newspaper Club last year. In my free time I play tennis, create art and play guitar. I was born in Little Rock, Arkansas, and have been living in Houston for about eight years now. I enjoy living here because of the immense diversity. I am delighted to be writing for School Buzz."
Meher Qazilbash, editor: "I realized that I loved writing when I wrote my first diary entry. Writing about my experiences helps me remember things more vividly. I joined School Buzz because Awty is such a weird and incredible school, and I want to tell other people about the unique things it offers. I write for my school newspaper, the Awty Rampage. I also love cats, videos of people falling down and exploring Houston with my friends."
Maya Kanani, editor: "Writing is something that I have always enjoyed. It began as an outlet for the thoughts in my head and has become a way to share stories. I have found a passion in journalism, leading me to be a part of the School Buzz team for the third year. Additionally, I am an online editor-in-chief for the Bellaire High newspaper, the Three Penny Press. I am excited to spend another year sharing Bellaire's stories with the community."
Angela Liu, photo editor: "From the scribbles that covered the walls of my childhood room to the present-day doodles that riddle my lecture notes, I've always loved showing my immense fascination in the art around me. Only recently, after joining my school yearbook, did I unearth my infatuation with words and realize their great role in capturing others' hidden stories. This year, I'll be taking on the position of the Bellaire Carillon yearbook's editor-in-chief as well as executive chair of the Texas Gulf Coast Region Red Cross Youth Service Council and president of Bellaire's Red Cross and Kids with (Dis)abilities clubs."
Abbie Seay, editor: "I never thought I was good at writing until my eighth-grade language teacher said I was. I was shocked. Now, I have been published yearly in our school's literary magazine. I'm involved in varsity tennis, yearbook, Executive Student Council, the Dyslexic College Panel and theater at school. I'm starting my 13th year in Girl Scouts and am working on my Gold Award, and am involved in National Charity League. A fun fact about me: I used to live in Saudi Arabia, and by the age of 4, I had visited 13 countries."
Mackenzie McAnear, editor: "I was in second grade when I found out I had dyslexia and ADHD, but knowing that didn't stop me from reading and writing. I've had a love for literature since I was young and it has grown over time. I'm involved in basketball, tennis, theater and yearbook photography. I have a poem published in the Anthology of Young Poets 2015 and 2016. A teacher once told me, 'If you have a gift, share it with the world.' I have had some ups and downs, but I always say, 'You gotta fall before you fly.'"
Stacey Yard, editor: "Ever since I can remember, I loved writing stories and poems, and sharing them with my family. I've recently began writing screenplays, and I hope to double major in screenwriting and law. I love playing soccer, drawing and watching all the independent films I can. This year I will finish my last year at Carnegie Vanguard High School, and I truly dread the day I have to leave. Even with the prestige and challenges of the academics, Carnegie has one of the best atmospheres, with students who are focused, caring and supportive."
Duchesne Academy of the Sacred Heart
Grace Burgert, editor: "As an avid reader of newspaper articles and countless emails updating me on local, national and international news, I could not be more excited to start reporting myself. I love to write and have been taking pictures since my stubby little fingers could press down the buttons. I am thrilled to have this opportunity to share what is going on at Duchesne through such an accessible medium."
Eva Van Pelt, reporter: "I run on the varsity cross country team, and I'm captain of the varsity soccer team. After college, I want to pursue a career in the medical field. I've wanted to be a doctor since I was 4 years old. In my free time, I like to play the piano, read, bake and spend time with my friends and family. I'm looking forward to sharing information and news of my school with the Buzz community."
Paige Clark, photo editor: "I am on the field hockey team, and I love participating in Campus Ministry. I hope to become a teacher or professor one day. I love taking pictures and tutoring after school when I have time. I am a big reader and an avid fan of Jane Austen. I can't wait to capture some great memories at Duchesne."
Benjamin Cohen, editor: "I first began my pursuit of journalism when I joined the yearbook staff my freshman year. Ever since, I have been working my way and am currently the editor-in-chief. As a summer intern at The Buzz Magazines, I grew my passion for writing and reporting. Living in Houston allows me the ability to do anything that I want as long as I set my mind on it. As a Student Ambassador, it is easy to represent The Emery/Weiner School, but through my writing I am able to express what makes Emery truly different. Along with the many trips that we take, to me, the teacher-student relationships set Emery apart."
Will Bazarsky, sports reporter: "I first discovered my passion for sports journalism during my sophomore year when I joined The Emery/Weiner School Sports Podcasting Club. From this club, I found a love for ESPN's College GameDay and college football as a whole. This love of football prompted me to begin broadcasting Emery football games live on thecube.com. Since then, I have started my own sports blog and have become an editor of my school's newspaper. Growing up in a city like Houston gives me the freedom to write about anything that I desire. As a sports broadcaster at Emery, it is easy to talk about players, but through my writing, I hope to demonstrate the determination and will that Emery students have when they step onto the fields." 
Emma Lapin, reporter: "Writing is a way to express my feelings and ideas. I'm excited for the opportunity to write for School Buzz about all the special qualities my school has to offer. The Buzz has a unique way of bringing our community together by sharing our stories, and community is something that is important to me. I'm active in a lot of different unique community activities including B'Nai Brith Youth Organization. I have been an Evelyn's Park Ambassador since sixth grade and have been working to raise money to make the park a reality. Emery is a small, private school, but we have lots of school spirit, competitive sports, a great sense of community and an amazing theater program."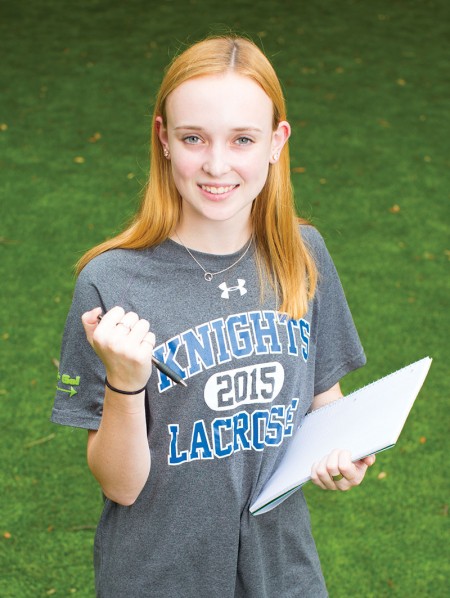 Sophia Wayne, editor: "I became interested in photography during eighth grade when I took a yearbook class and had the opportunity to go around school taking pictures of students and events. During sophomore year, I took a film-photography class where I got to develop my own pictures. That same year, I took a photojournalism class. I have the photography bug! I also play for my school's varsity tennis team. In addition, I participate on our students of service committee as the media director, and I participate in the admissions council."
Sara Koch, editor: "I have always been interested in writing, and taking creative writing my sophomore year and working on the school literary magazine, Light and Shadow, really grew my love for writing. I am excited to write for School Buzz because I have never done journalism before, and I think it will be interesting to experience a different form of writing. My junior year, I will be in World Affairs Club and Light and Shadow and play lacrosse. My favorite thing about living in Houston is, of course, the rodeo."
The High School for the Performing and Visual Arts
Savanna Lim, editor: "My dream is to travel the world and to document every leg of it, be it through videography, photography or journalism. I have lived in four countries, Singapore for the longest, but I'd like to categorize myself as a global citizen. My interests include international policy, advocating for social change, peeling string cheese instead of biting it and photography. I attend HSPVA with a focus on set design, but my passion for the arts is not limited to the stage. When not in action, I can be found feasting at one of the myriad of restaurants Houston has to offer. "
Mallory Jenkins, editor: "I love playing basketball, being a student ambassador and being the president of my sophomore class. I was born in Birmingham, Ala., and moved to Houston when I was 9 months old. Although I miss my family in Alabama, I love living in Houston. I think one thing that makes Houston Christian one of the best schools in Houston is how welcomed and loved you feel the moment you step onto campus."
Cristobella Durrette, editor: "I'm a recluse who grew up in a suburban area where the only light in the sky was green and flashing. Between visits to the existential void and hours spent drawing comic characters, I went to the library, which was empty of anything bearing a human resemblance, except for a marble statue that would occasionally move when I wasn't looking. However, I hardly noticed; when I opened a book, I escaped into a world far from the monotony of my own. Over time, my world expanded far beyond the confines of a page; it grew to have magnificent places I had never been that I called home and incredible people I had never met that I called friends. Then, when I realized that I could create my own magnificent places and imagine my own incredible friends, I picked up a pen and began writing. I haven't stopped since and can be found hunched over a desk, surrounded by piles of books and empty coffee mugs."
Sarah Bass, editor: "I fell in love with writing at a young age, and I read every book I could get my hands on. I discovered my passion for journalism my sophomore year and have enjoyed working on the Kinkaid newspaper ever since. As a senior this year, I plan on running a community-service project, playing varsity lacrosse, being an associate editor of the newspaper and enjoying my last year as a high school student. Kinkaid is a unique place with great sports teams, amazing performing and visual arts, and rigorous but rewarding academics. I can't wait to share all of the exciting events happening at Kinkaid through School Buzz."
Ella Morgan, editor: "This is the first year that Kinkaid has been a part of School Buzz and I can't wait to show Houston how our community works. I've always loved creative writing and joined my school's newspaper staff in 10th grade. I don't spend a day without listening to music, and I am a total foodie. I love that Houston has so many different layers, whether you go to a new restaurant, concert or sports event, there is always something new and exciting going on. Kinkaid is unique because it encourages students to be a part of every aspect of the community, but still manages to bring everyone together."
Sara Burpeau, reporter: "My love for writing began my freshman year in Mr. Tyson Morgan's English I class. We were assigned to write a creative piece about an event in our life, and I wrote about playing Sandy in my school's eighth-grade production of Grease. I also love alternative music and someday hope to work in the music industry. I'm a member of my school's dance company and will be participating in Kinkaid's winter musical, Into the Woods. Kinkaid is such a great school because of its stellar arts department and inclusive community."
Julia Davis, reporter: "I am the web editor of The Kinkaid Falcon, where I cover school-related topics. I also write my own blog, The World of Antiques, with a focus on art, history and antique furniture. I plan on studying journalism in college and eventually pursuing a career in it, hopefully working at a fashion magazine."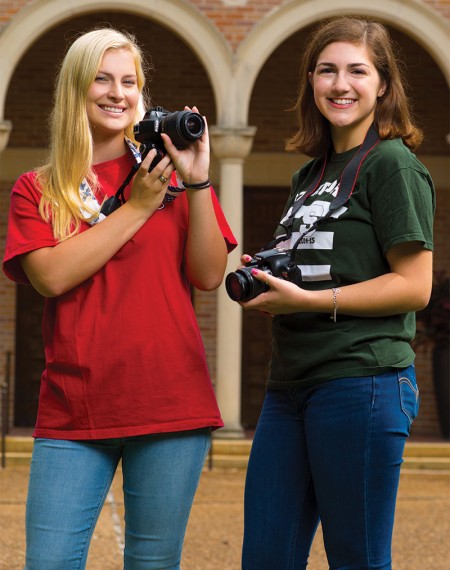 Rachel Amran, editor: "I fell in love with writing during my freshman year when I took my first journalism class. I will be a senior this year at Memorial and I will serve as the co-editor of our school magazine, The Anvil. A fun fact about me is that I have two sets of twins in my family. My favorite part about living in Houston is having the opportunity to discover new parts of the city."
Holly Kurisky, photo editor: "I developed an interest in photography when I was young because there were so many interesting moments that I wanted to capture. I am excited to have the chance to do this while representing my school. I am captain of the Memorial swim and water polo teams. I am also a Junior Olympic water polo player. Connecting with a wide audience of people in Houston is such an amazing opportunity. I love that I can experience a variety of ways of life in just one city."
Andi Minter, reporter: "Ever since I was little I've loved writing. I had dozens of notebooks filled with stories and journal entries. This past summer, I explored this innate passion in my internship at The Buzz Magazines. I loved the community I found there; everyone was so supportive and willing to help me succeed, which is why I'm excited to continue to be a part of the Buzz family through School Buzz. I'm on the JV volleyball team and hope to continue through the program next year as well as join yearbook or the school newspaper."
Isabelle Nuzzo, photo editor: "When I was in preschool, I had a Little Mermaid digital camera, and I took it with me everywhere. Ever since, I've been eager to capture moments wherever I go. While my camera has changed, my love for photography has not. When I'm not snapping photos, I can be found on the diving board as a member of the Memorial High School Diving Team or at one of Houston's great concert venues seeing my favorite bands, especially Twenty One Pilots."
Sarah Cowan, reporter: "In seventh grade, I realized I had a passion for books. The more I read, the more appreciation I had for authors who were able to create stories that captivated my attention for hours. At some point along the way, my love for reading turned into a love of writing. Houston has exposed me to many different cultures and experiences, and I am looking forward to working with School Buzz as I represent Memorial High School for a second year."
Madeline Muschalik, reporter: "I became interested in writing almost at the same time I became interested in reading. From a young age I have always loved them both. I'm looking forward to writing for School Buzz because I have read articles in The Buzz Magazines since elementary school and find them so interesting. This year I am participating in cross country, lacrosse and MMOB (Memorial's charity group). A fun fact about me is that I have lived in Qatar and Hong Kong. I love that Houston is such a melting pot of cultures and that it has some amazing restaurants. I think something that makes my school stand out is how hard working and well-rounded its students are."
Michael E. DeBakey School for Health Professions
Liana Salehian, editor: "I picked up my first camera back in middle school, and that's when I fell in love with telling stories through pictures and words. I plan on taking art classes and participating in another year of Health Occupation Students of America and my school's Persian Club. Even though DeBakey is a medical-focused school, many of us enjoy hobbies that aren't science- and math-related. Next semester, DeBakey will get a new building in the heart of Houston's Medical Center to bring more opportunities for students to work alongside talented professionals."
Deborah Brown, reporter: "As a kid, I was never seen without a book. My passion for writing came not far behind, and by the time I was in middle school my class notes were already infamous for their detail and complexity. Beren Academy gives me opportunities beyond taking notes. I am a member of National Honor Society; on the Teen Board of Yachad, an organization that promotes inclusion of individuals with disabilities; and a member of the Model United Nations team. This year I am assistant director of our drama society. I also take TaeKwonDo and I'm working to earn my Girl Scout Gold Award."
Leora Geralnik, reporter: "I have always loved reading, and at some point that love extended to writing. Telling the news and people's stories is amazing, but I have always loved writing fiction. This year I hope to take part in the basketball team as well as volunteer at Texas Children's Hospital. My favorite part about writing for School Buzz is that I get to talk to so many different people at my school. "
Saint Thomas' Episcopal School
Celia Houston, editor: "A year ago, if you had told me I would be writing articles voluntarily for a magazine, I would have laughed. I was told about this opportunity one morning when I was running late and in the front office getting a tardy slip frantically racing to second period (my normal morning routine). I was surprised when I found out I would have to write an article once a month for fun. I have learned so much through this program and learned to really enjoy writing. I am involved in most aspects of student life: cross country, swimming, track, Hope club, Latin club, class president, student foundation, mock trial, ambassador, ceramics and design, captain of the sailing team, you name it. Being involved like this enables me write about all the different things that happen in my tiny, but very lively, school."
Reena Kudchadker, editor: "When I first joined Saint Thomas' Episcopal School, the first thing that sparked my interest was their outstanding yearbook and newspaper. I told my English teacher that the middle school deserved a chance to be heard and the next year the middle-school paper, The Loop, was created. When I was in eighth grade, I had the privilege to be its editor-in-chief. I started dancing ballet and tap at age 5 and continued on to an Indian classical dance form called Bharatanatyam. This past summer, I graduated with a two-hour solo performance in front of 200 people. Volleyball is another passion of mine."
Celine Lai, editor: "I am eager to share about my school's state-winning sports teams, student-led programs and once-in-a-lifetime trips. I am serving as my school's Publicity Prefect, which means it's my job to publicize student achievement inside and outside the school through Eagle Edition, a student-run online newspaper, and SBTV, a student-led broadcasting show. I also love music. I enjoy playing a large variety of instruments for my church, school and myself."
Natalie Farrell, editor: "My school has so many fun traditions, from Veritas Vacation Day to the International Food Festival. When I first came to St. Agnes, I saw a poster about joining the yearbook staff, and I knew I wanted to try it. Three years later, I am the editor-in-chief of the yearbook. I have developed a passion for writing, photography and graphic design. In my free time I enjoy watching Netflix and shopping."
Catherine Gassiot, reporter: "I'm in my final year at 'the Academy,' and everything is bittersweet. Amidst fervently filling out college applications, I am treasuring my last year with my friends and activities like School Buzz. Writing gives people the opportunity to express themselves in a way that no other outlet does. My love of writing – supplemented by classes and The Buzz – has fostered the desire to tell a story that readers would normally never know in a way that they haven't heard it before. I am delighted to share the unique experiences and traditions held by St. Agnes Academy, and am holding my last year with the School Buzz close as it is undeniably an experience that has shaped me into who I want to be."
Claire Furse, editor: "My interest in writing initially came from my love of reading. Now that I'm in high school, I don't have as much time to read, but I still love it. I am an assignments editor at our school newspaper, The Review, and I think journalism is an interesting, important field, so I'm looking forward to participating in the School Buzz program for the first time. I also love community service and enjoy exploring new areas of Houston."  
Robert Coghlan IV, editor: "Ever since I was a kid, I've known that I wanted to be a sports analyst on ESPN. I remember sitting in one of my dad's meetings and I kept interrupting because I was talking to my dad's friend about the Astros. The next day I was watching basketball highlights on SportsCenter, and Stephen A. Smith was emphatically analyzing the game. That's when I knew what I wanted to do for the rest of my life. I also realized that before I can go on TV I must learn how to write well."
Strake Jesuit College Preparatory 
Trevor Schneider, editor: "Ironically, it was through a sixth-grade assignment in which I declared my distaste for writing that I first found enjoyment in the medium. To my surprise, having the chance to employ creativity in my work led to the 'stunning revelation' that neither the writing process nor the finished product had to be boring. Thanks to that page-long essay, I've become the person and writer that I am today – for better or for worse. Beyond sitting in a dark room and writing until 2 a.m., my interests include theater, politics, Internet memes and obsessing over obscure heavy metal bands."
Bayle Goldman, editor: "I have enjoyed writing and shooting photographs for as long as I can remember. During middle-school English class, I truly realized that writing was something that gave me a great amount of joy. I'm looking forward to using my passion for both to share news with the area about my school. I love the fact that despite being so large, Stratford still feels like a close-knit community. In addition to being on The Oracle newspaper staff I am also involved in the Stratford Playhouse, choir, Student Council, Junior Girls and Link Crew. A surprising fact about me is that I am trained to eat fire!"
Elisa Flores, editor: "I acquired a love for writing through excessive amounts of time spent reading followed by countless displeasures obtained from most book endings. Inspired to take matters into my own hands, I started fabricating stories. Be that as it may, my natural passion for composition and an undeniable knack for gossip soon led to my pursuit of journalism. Being born in Mexico, I pride myself on being bilingual in Spanish and English, as well as having a wide cultural perspective among current issues and attending an international school. I spend much of my time playing basketball, listening to music and contemplating the ultimate purpose behind human existence."
Julia Randolph, editor: "I was born in Greenville, South Carolina, and enjoy reading, writing, photography and painting. I have worked as a lead counselor for the summer camp program at The Village School, as well as being a student photographer at various school events. I have always had a passion for writing and am excited to report for School Buzz, as I feel this will help toward my goal in becoming a professional writer."
People in this article:
Becca Stetzer
,
Pranay Palvadi
,
Meher Qazilbash
,
Maya Kanani
,
Angela Liu
,
Abbie Seay
,
Mackenzie McAnear
,
Stacey Yard
,
Grace Burgert
,
Eva Van Pelt
,
Paige Clark
,
Benjamin Cohen
,
Will Bazarsky
,
Emma Lapin
,
Sophia Wayne
,
Sara Koch
,
Savanna Lim
,
Mallory Jenkins
,
Cristobella Durrette
,
Sarah Bass
,
Ella Morgan
,
Sara Burpeau
,
Julia Davis
,
Rachel Amran
,
Holly Kurisky
,
Andi Minter
,
Isabelle Nuzzo
,
Sarah Cowan
,
Madeline Muschalik
,
Liana Salehian
,
Deborah Brown
,
Leora Geralnik
,
Celia Houston
,
Reena Kudchadker
,
Celine Lai
,
Natalie Farrell
,
Catherine Gassiot
,
Claire Furse
,
Robert Coghlan IV
,
Trevor Schneider
,
Bayle Goldman
,
Elisa Flores
,
Julia Randolph
Schools in this article:
Alexander-Smith Academy
,
The Awty International School
,
Bellaire High School
,
The Briarwood School
,
Carnegie Vanguard High School
,
Duchesne Academy of the Sacred Heart
,
The Emery/Weiner School
,
Episcopal High School
,
Kinder High School for the Performing and Visual Arts
,
Houston Christian High School
,
Incarnate Word Academy
,
The Kinkaid School
,
Memorial High School
,
Michael E. DeBakey High School for Health Professions
,
Robert M. Beren Academy
,
Saint Thomas' Episcopal School
,
Second Baptist School
,
St. Agnes Academy
,
St. John's School
,
St. Pius X High School
,
Strake Jesuit
,
Stratford High School
,
The Village School
Want more buzz like this? Sign up for our Morning Buzz emails.
To leave a comment, please log in or create an account with The Buzz Magazines, Disqus, Facebook, Twitter or Google+. Or you may post as a guest.